2021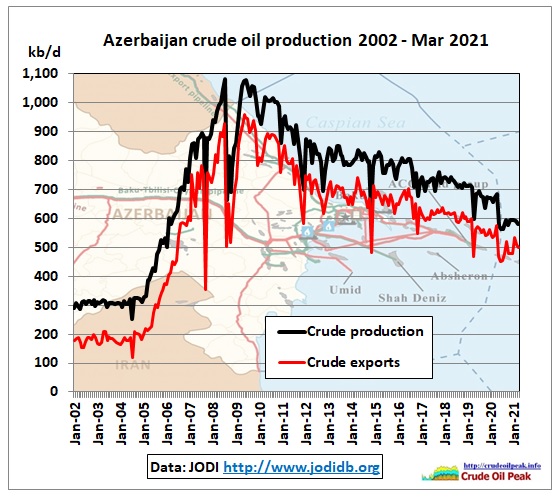 2020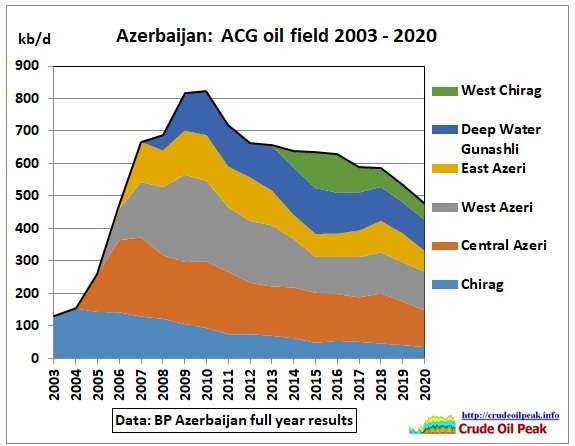 https://www.bp.com/en_az/azerbaijan/home/news/business-updates/2020-full-year-results.html#accordion_1
Armenia-Azerbaijan clashes kill at least 16, undermine regional stability
27 Sep 2020
Pipelines shipping Caspian oil and natural gas from Azerbaijan to the world pass close to Nagorno-Karabakh. Armenia also warned about security risks in the South Caucasus in July after Azerbaijan threatened to attack Armenia's nuclear power plant as possible retaliation.
https://www.reuters.com/article/us-armenia-azerbaijan/clashes-between-armenia-and-azerbaijan-threaten-south-caucasus-stability-idUSKBN26I06E
2019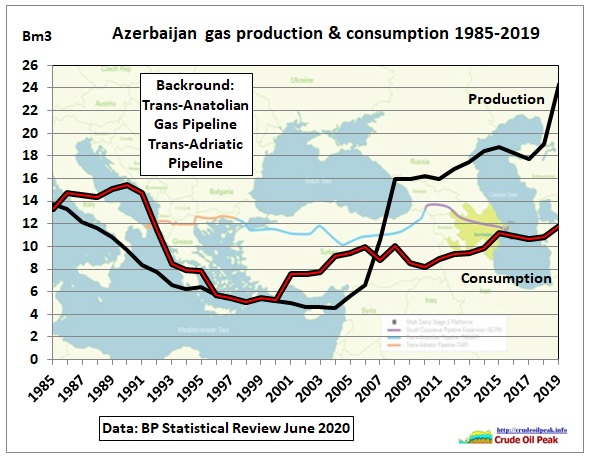 2017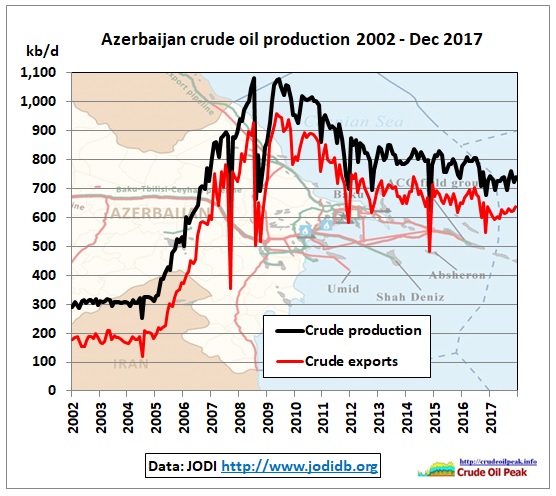 Data from: http://www.jodidb.org
2016
Azerbaijan forced to cut bread taxes after widespread protests
16/1/2016
Azerbaijan has been forced to cut taxes on essential foods after widespread protests over deteriorating economic conditions that have seen the prices of essentials such as flour and bread rise steeply in recent months.
Troops were called in to disperse demonstrations in several cities this week, with security forces using tear gas against stone-throwing protesters and arresting dozens of people including opposition activists.
The unrest follows a steep drop in the value of the national currency, the manat, against the US dollar, with residents hard-hit by rising inflationand unemployment. Falling oil revenues, which make up the vast majority of Azerbaijan's exports, have also damaged the economy.
http://www.theguardian.com/world/2016/jan/15/azerbaijan-forced-to-cut-bread-taxes-after-widespread-protests
Azeri-Chirag-Deepwater Gunashli
Update for 2015
Total ACG production for 2015 was on average 634,000 barrels per day (b/d) (231 million barrels or 31.3 million tonnes in total).
ACG achieved a total of 2.8 billion barrels of oil production since first oil.
Investment in ACG had reached $32 billion by the end of 2015.
On 28 January 2014 West Chirag production began from one of the pre-drilled wells – J05
Start-up of the West Chirag platform completes the Chirag Oil Project (COP) sanctioned in 2010.
Total West Chirag production was on average 109,400 barrels per day in 2015.
http://www.bp.com/en_az/caspian/operationsprojects/ACG.html
Azerbaijan in crisis as currency plummets
22/12/2015
Azerbaijan's currency has plummeted after moving to a floating exchange rate, causing a rush on dollars and shops as customers try to buy goods before prices increase.
The manat lost 32% to the dollar yesterday following the central bank's decision to stop protecting its value in the face of falling oil prices. The bank said it had lost more than half its foreign reserves trying to defend the currency.
http://www.theguardian.com/world/2015/dec/22/azerbaijan-currency-plummets-oil-price
Update October 2015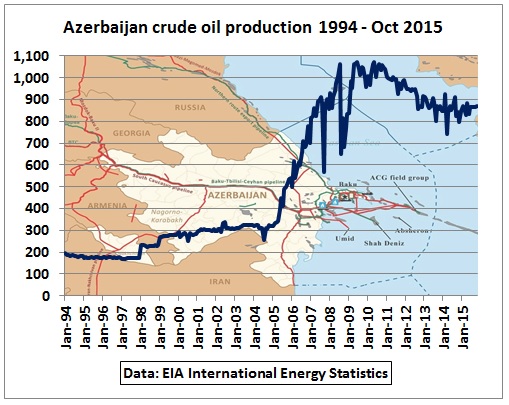 June 2014
IMF Article IV consultation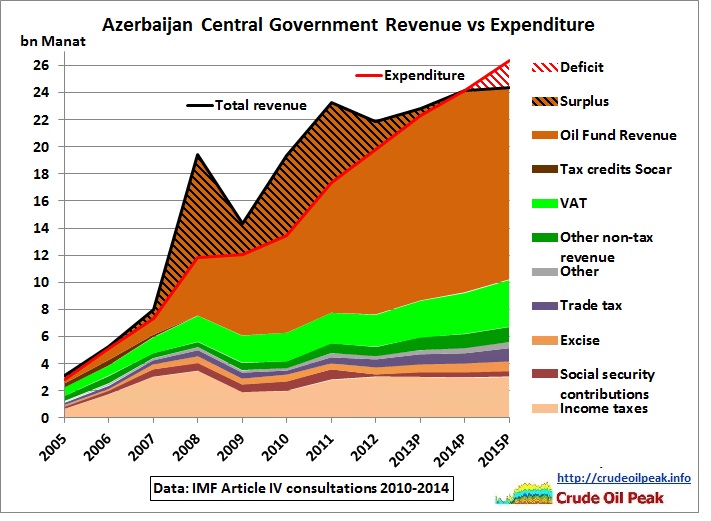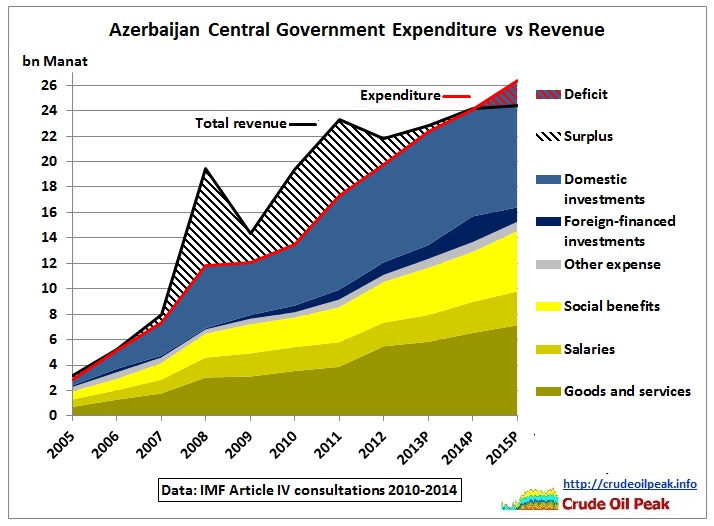 https://www.imf.org/en/Publications/CR/Issues/2016/12/31/Republic-of-Azerbaijan-Staff-Report-for-the-2014-Article-IV-Consultation-41622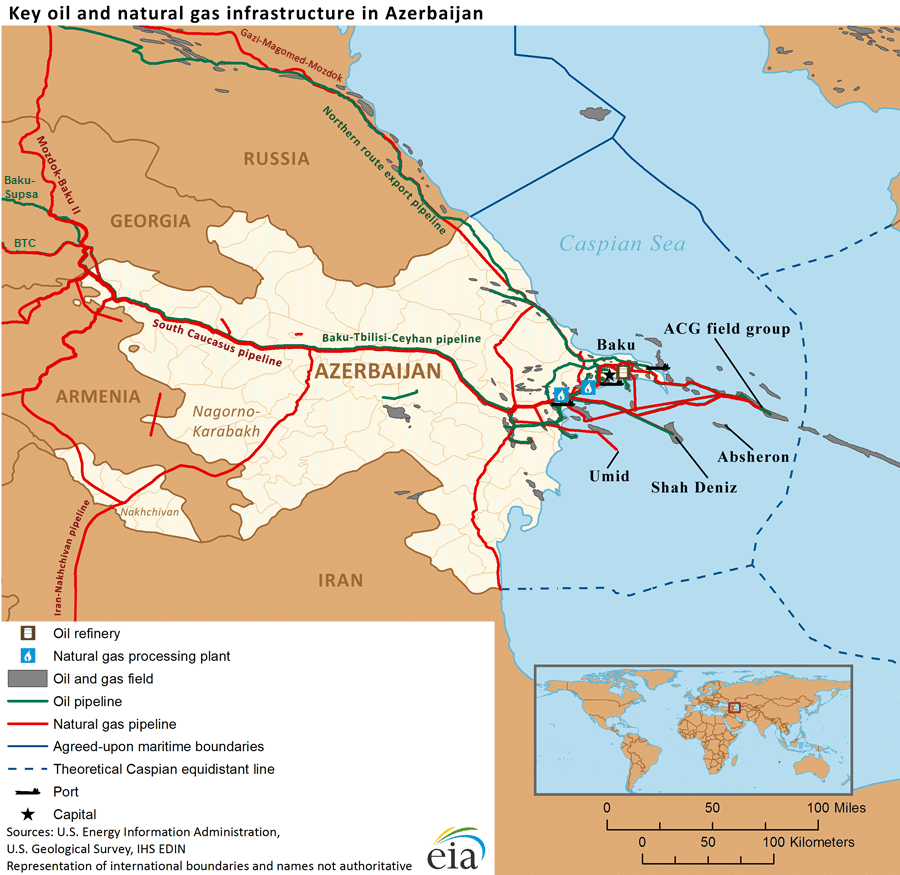 https://www.eia.gov/beta/international/analysis.cfm?iso=AZE
Azerbaijan crude oil peaked in 2010 at 1,034 kb/d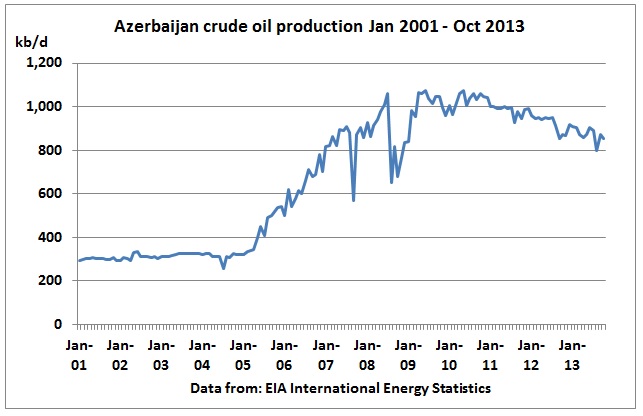 Oil exports are via pipelines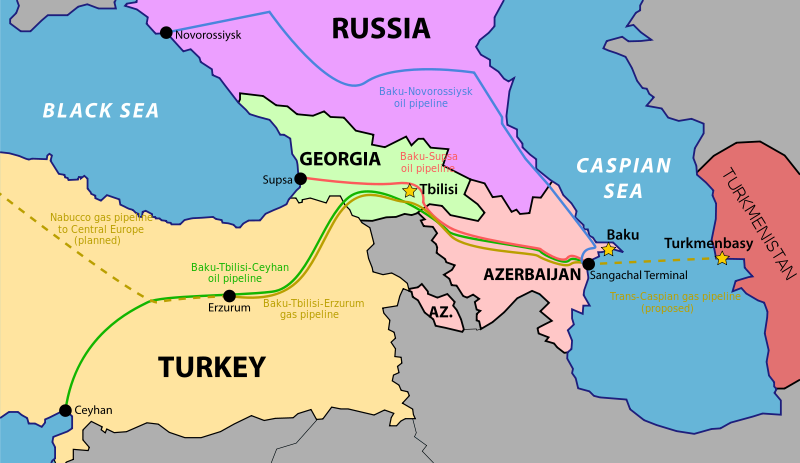 http://en.wikipedia.org/wiki/Baku%E2%80%93Tbilisi%E2%80%93Ceyhan_pipeline
http://en.wikipedia.org/wiki/Baku%E2%80%93Supsa_Pipeline
http://en.wikipedia.org/wiki/Baku%E2%80%93Novorossiysk_pipeline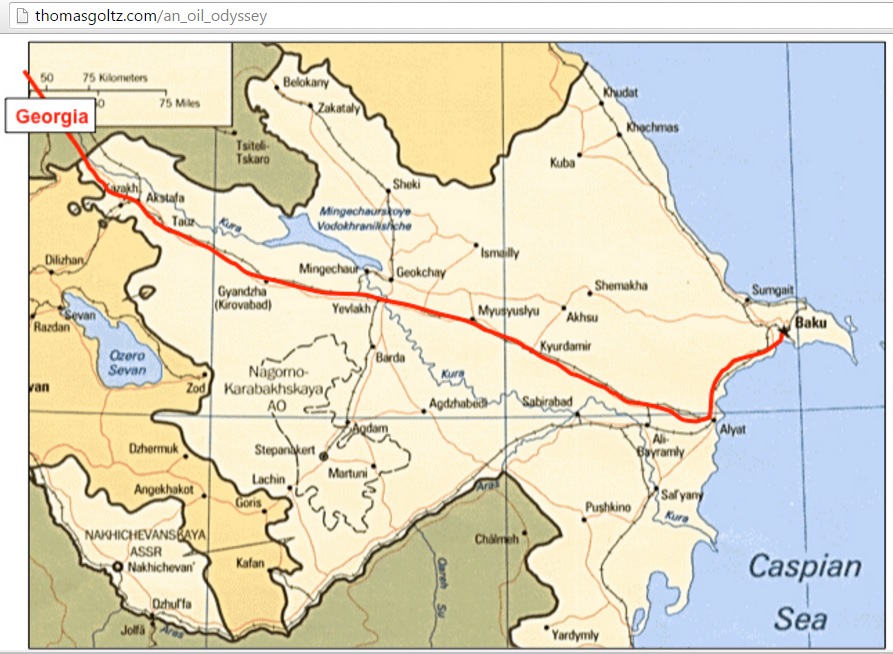 2006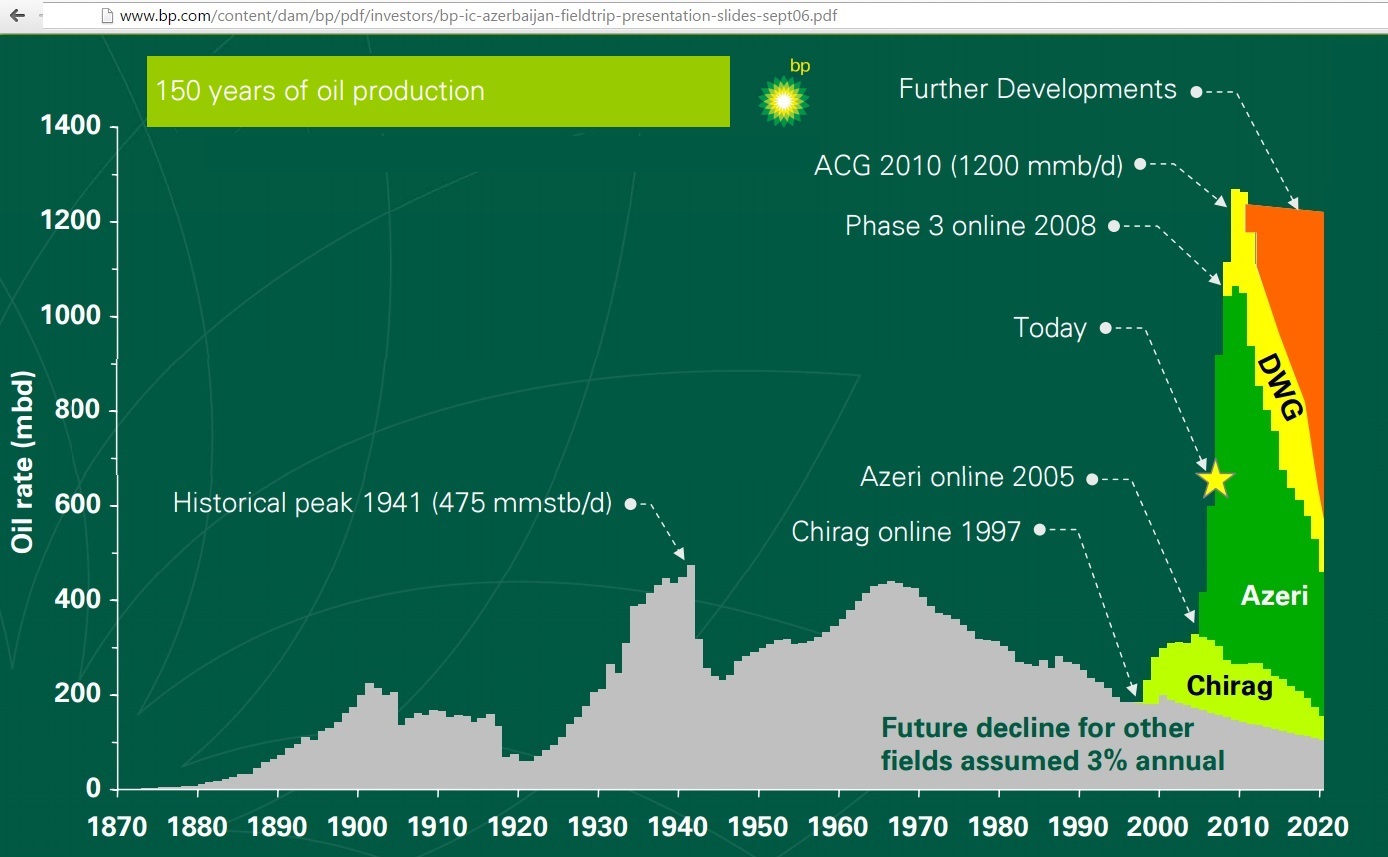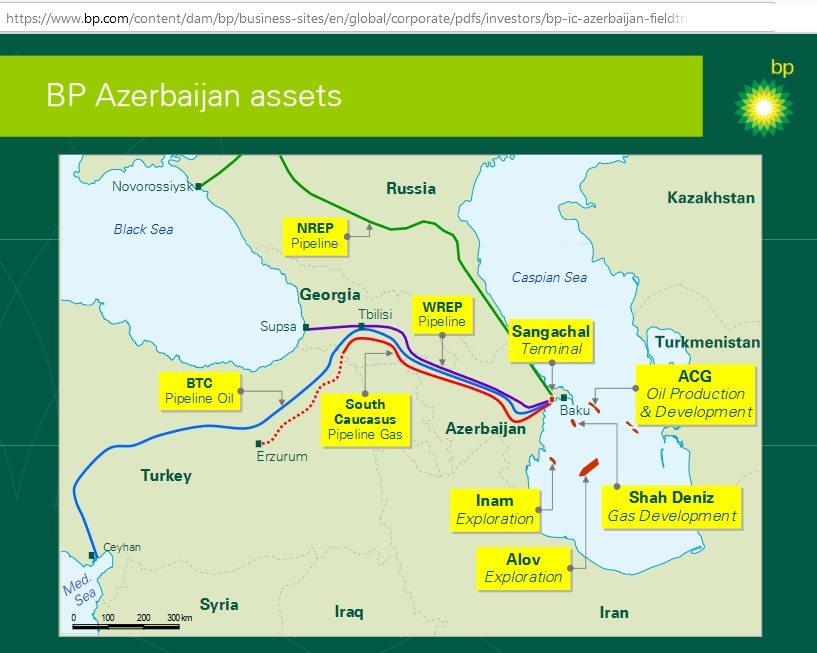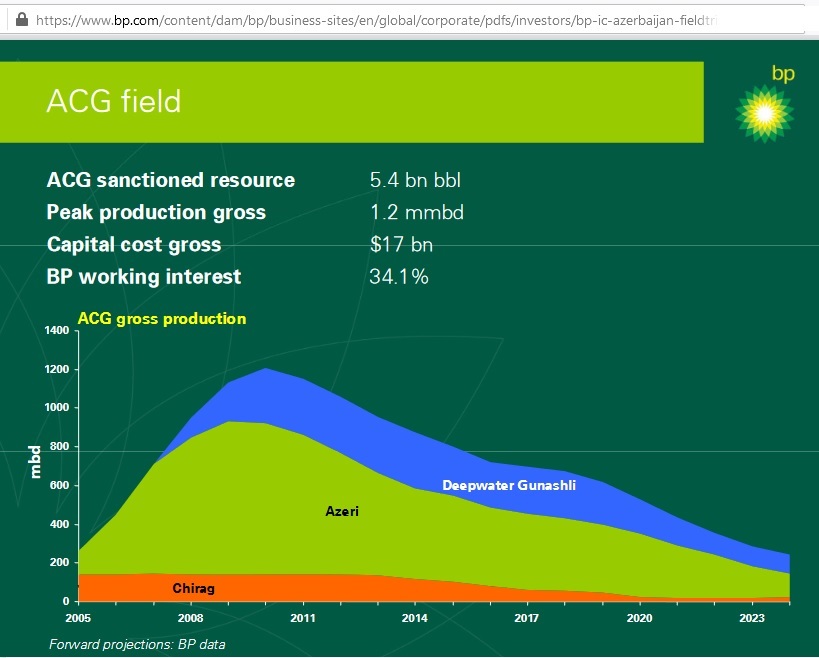 https://www.bp.com/content/dam/bp/business-sites/en/global/corporate/pdfs/investors/bp-ic-azerbaijan-fieldtrip-presentation-slides-sept06.pdf
2004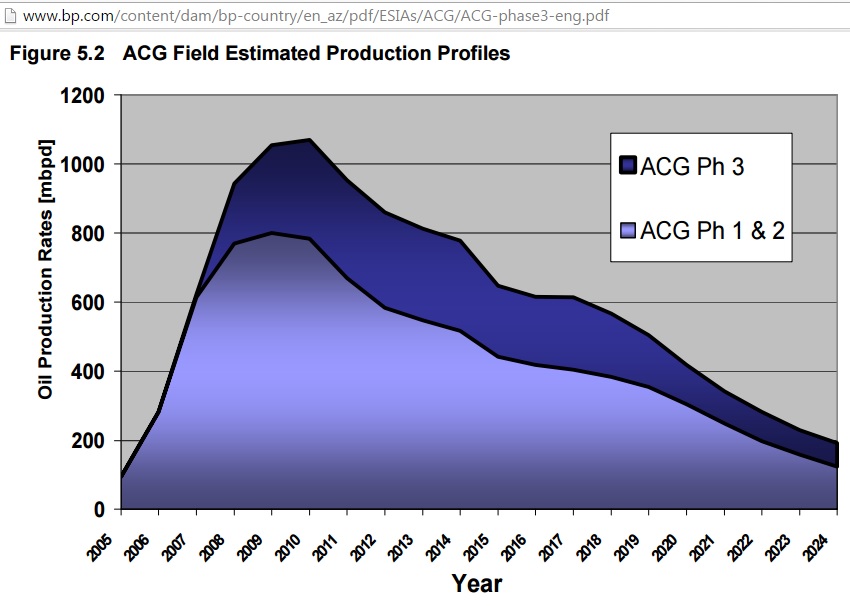 http://www.bp.com/content/dam/bp-country/en_az/pdf/ESIAs/ACG/ACG-phase3-eng.pdf