Update July 2017
Using data from BP Statistical Review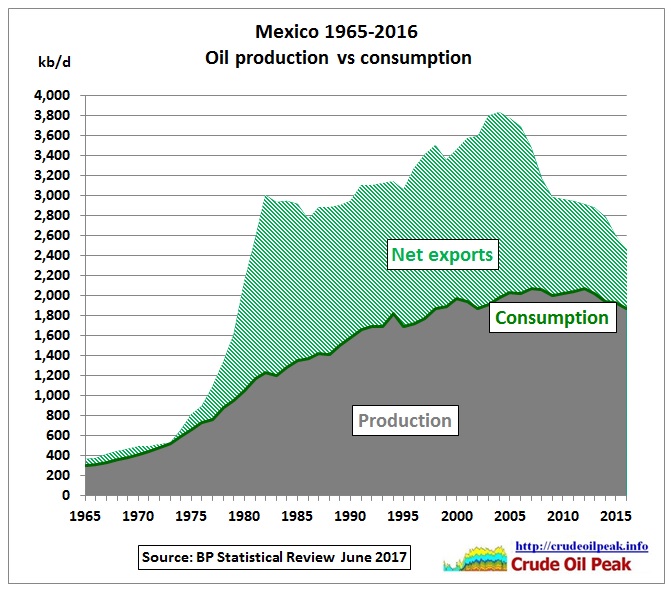 Update May 2017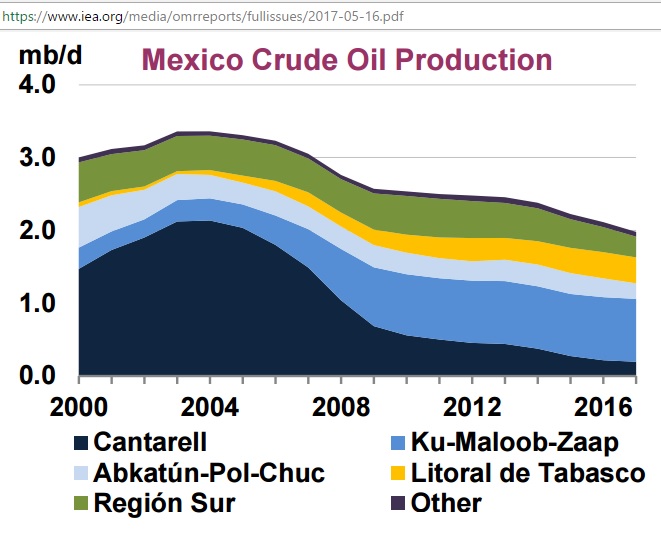 https://www.iea.org/media/omrreports/fullissues/2017-05-16.pdf
Update January 2017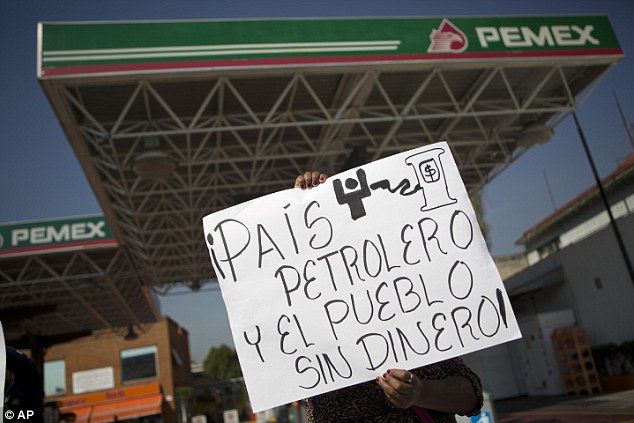 Looting and riots erupt in Mexico as gas prices spike 20 percent in one weekend as the government stops regulating oil prices
5/1/2017
http://www.dailymail.co.uk/news/article-4089408/Mexican-president-defends-gas-price-hike-protests-spread.html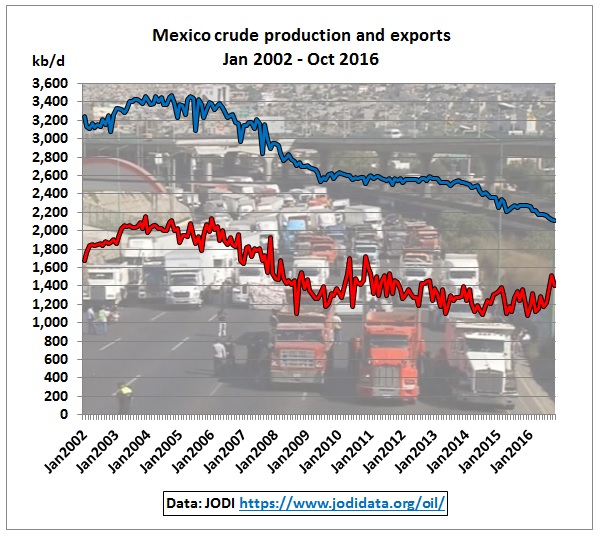 October 2016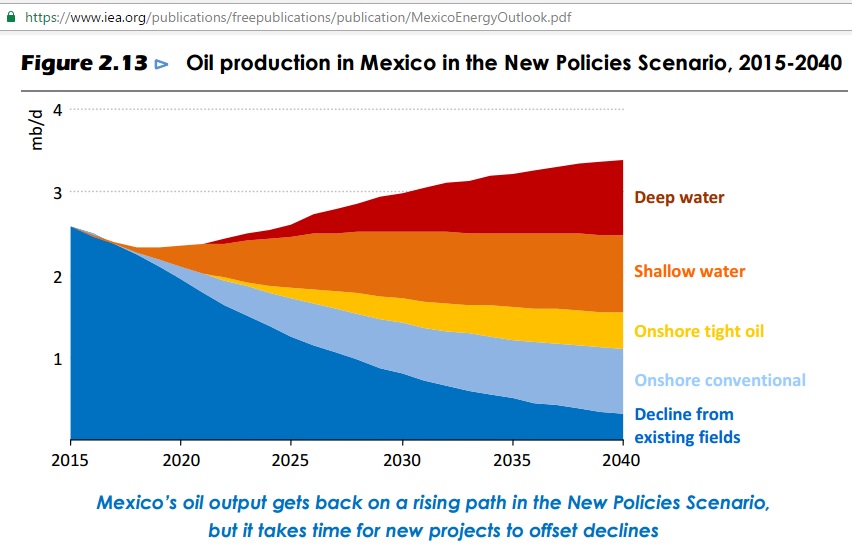 https://www.iea.org/publications/freepublications/publication/MexicoEnergyOutlook.pdf
This Scenario is much more optimistic than the WEO 2014 (Fig 3.13 below). It assumes that Mexico's oil industry reform is fully implemented.
Pemex reform bills were introduced in August 2014
https://www.brookings.edu/articles/mexicos-energy-reforms-become-law/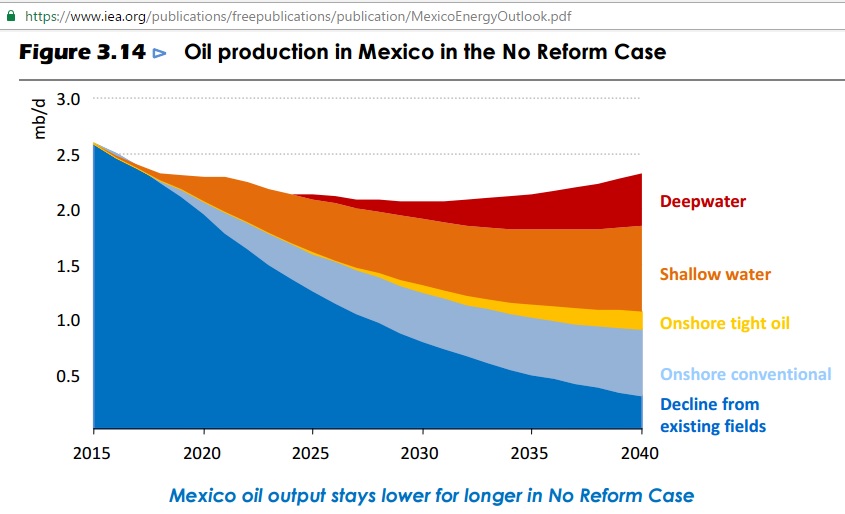 The IEA explains:
"The difference in projected oil production between the New Policies Scenario and the No Reform Case widens steadily over the period to 2040, by which time it exceeds 1 mb/d (2.3 mb/d versus the 3.4 mb/d reached in the New Policies Scenario) (Figure 3.14). The divergent trajectories take some time to become apparent, reflecting the lead times of the projects that are awarded in the New Policies Scenario but that fail to proceed in the No Reform Case. The key difference between the two trajectories is the amount of capital available for the upstream investment. In the New Policies Scenario, investment (and technology) comes from many sources. In the No Reform Case, the more limited capital available to PEMEX (especially in the current period of lower oil prices) needs to be spread over a wide range of assets, including capital-intensive deepwater projects. The company continues to do a commendable job (as it has done, for example, in exploring the deepwater Perdido area in the northern Gulf of Mexico), but the amount of upstream activity is significantly lower."
Leftist Candidate Could Threaten Pemex Reforms.
12/8/2016
"A firebrand leftist who twice narrowly missed becoming Mexico's president is riding high with a fresh bid for election in 2018, vowing to upend a landmark energy sector opening championed by President Enrique Pena Nieto"
http://www.maritime-executive.com/article/leftist-candidate-could-threaten-pemex-reforms
Both IEA scenarios are quite different from the Rystad graph shown below. The only agreement is on decline in producing fields.
June 2016

March 2016
Estimate from Rystad
"Figure 1 shows Mexico's production, split by projects, life cycle and onshore/offshore from 2010 to 2025. Production is in decline, a trend driven mainly by the country's supergiant offshore oil fields, Ku-Maloob-Zaap, Cantarell and Litoral De Tabasco. From 2016 and onwards, production is expected to continue declining, but at a slower pace, thanks to substantial contribution from the new discoveries in the Litoral De Tabasco (Xikin, Esah and Batsil) and Cantarell (Cheek), infill drilling at Ku as well as the deepwater project Lakach. "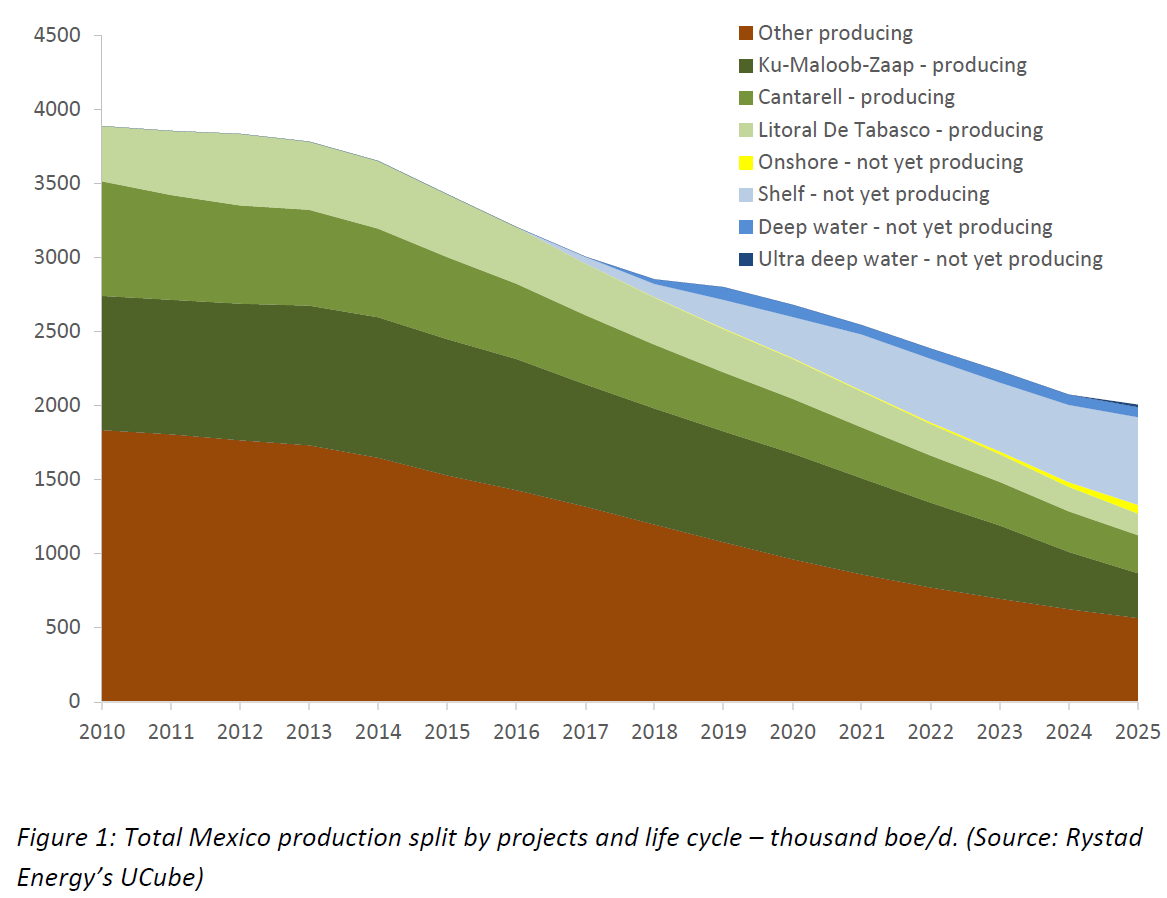 Figure 2 shows the discovered volumes for Mexico from 2005 to 2015. The year with the highest discovered volumes in the last decade was 2008. Two major discoveries, Ayatsil-Tekel and Tsimin (Litoral De Tabasco), make up around 60% of the 2008 discovered resources. After three years of low exploration success, Pemex discovered the deep water Kunah, Trion and Puskon fields in 2012. None of these discoveries, however, are expected to be put into production before 2025 and are not considered to be commercial at the current oil price forecast (and are not shown in Figure 2).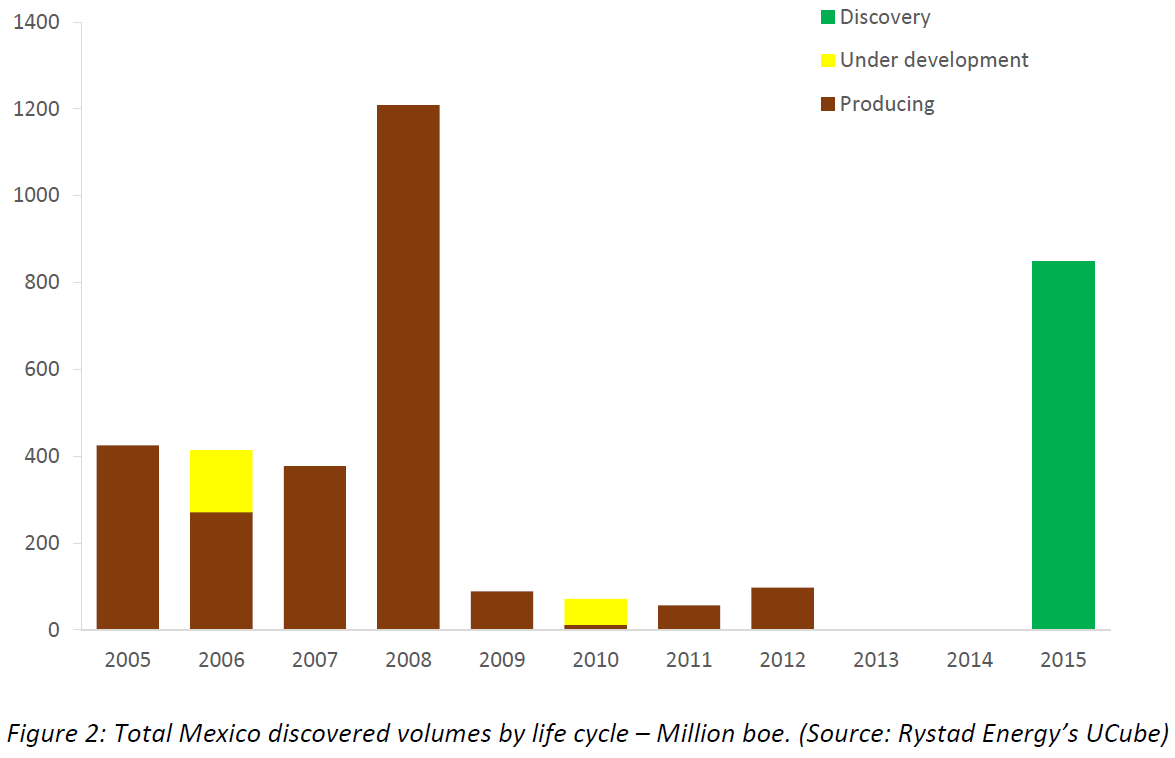 http://www.rystadenergy.com/NewsEvents/PressReleases/are-mexicos-2015-discoveries-enough
January 2016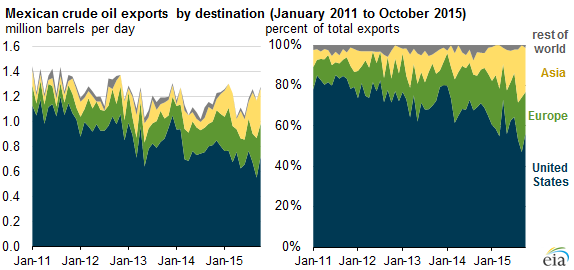 http://www.eia.gov/todayinenergy/detail.cfm?id=24112
November 2014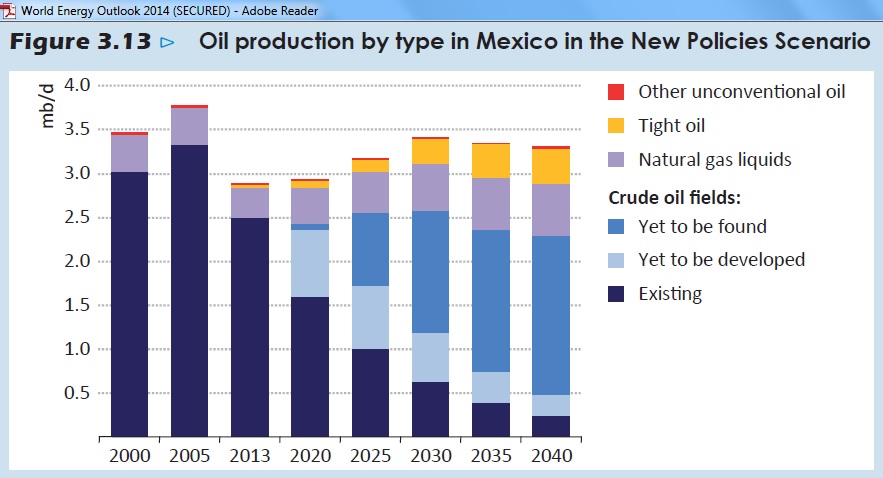 http://www.worldenergyoutlook.org/weo2014/
June 2014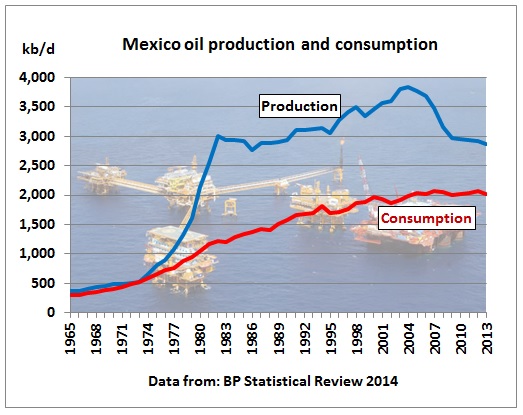 December 2013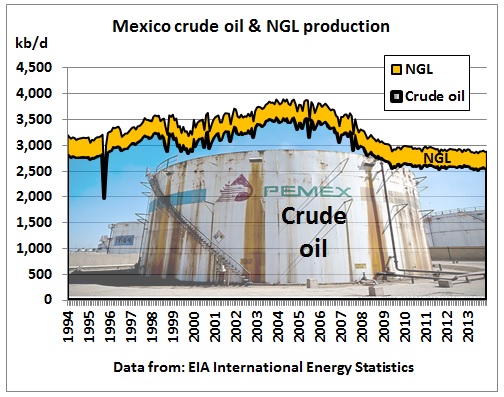 Data from here: http://www.eia.gov/cfapps/ipdbproject/iedindex3.cfm?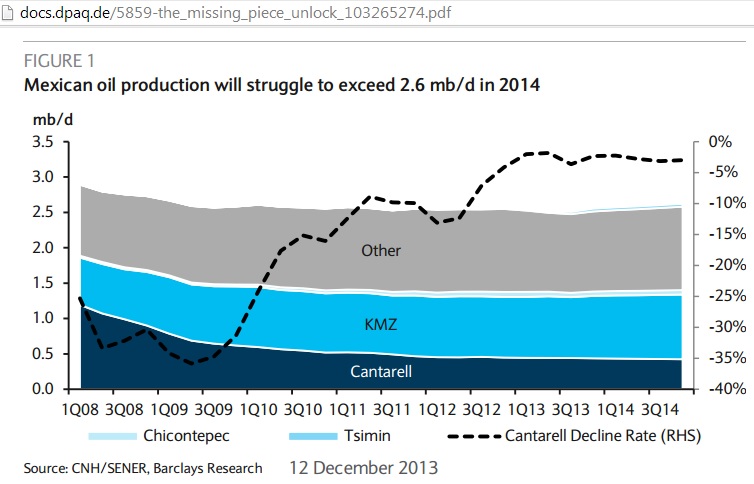 .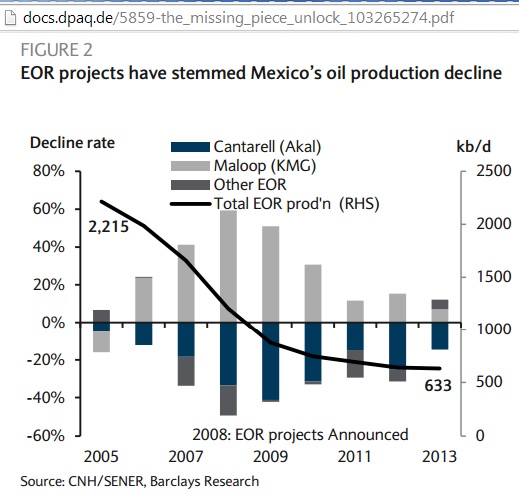 http://docs.dpaq.de/5859-the_missing_piece_unlock_103265274.pdf
June 2013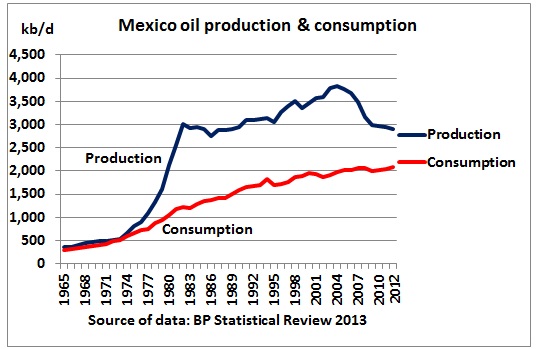 February 2012
Mexico: time for action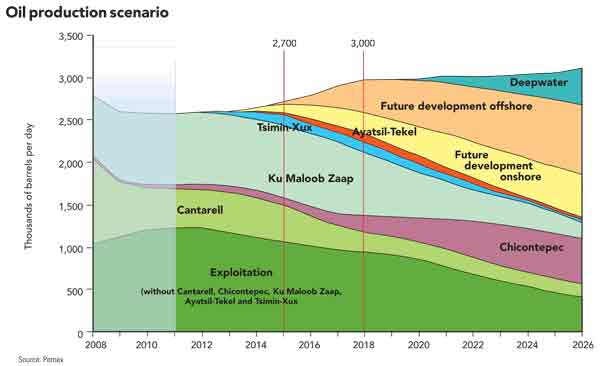 http://www.ogfj.com/articles/print/volume-9/issue-2/features/special-report/mexico-time-for-action.html
2010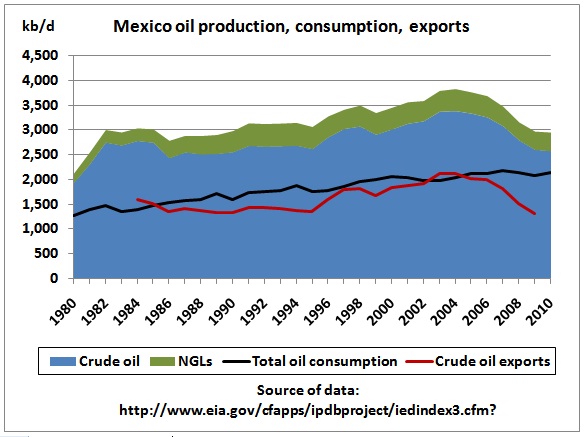 Crude oil exports declined by 800 Kb/d between 2004 amd 2009, mainly caused by the peaking of the Cantarell field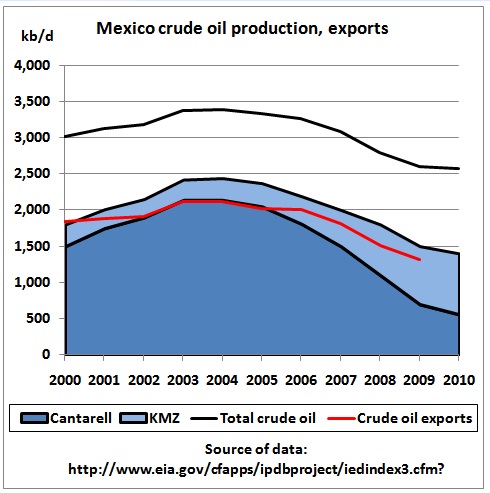 Source of data: http://www.eia.gov/cfapps/ipdbproject/iedindex3.cfm?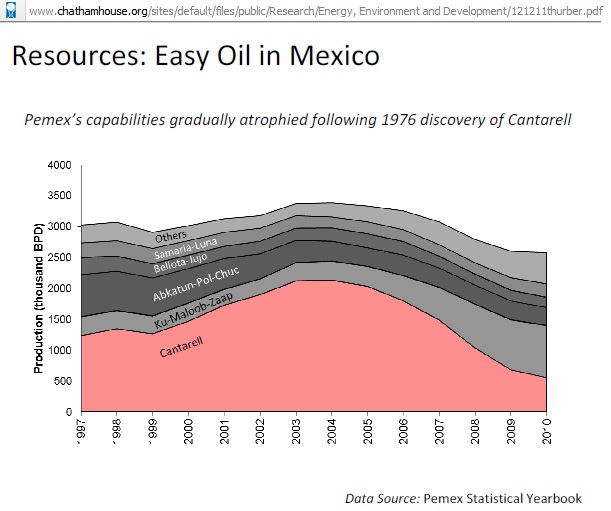 Heavy Maya crude, around 60% of total Mexican production is exported to the US which has the refining capacity for this oil. More details here:
http://www.eia.gov/cabs/Mexico/Full.html
2009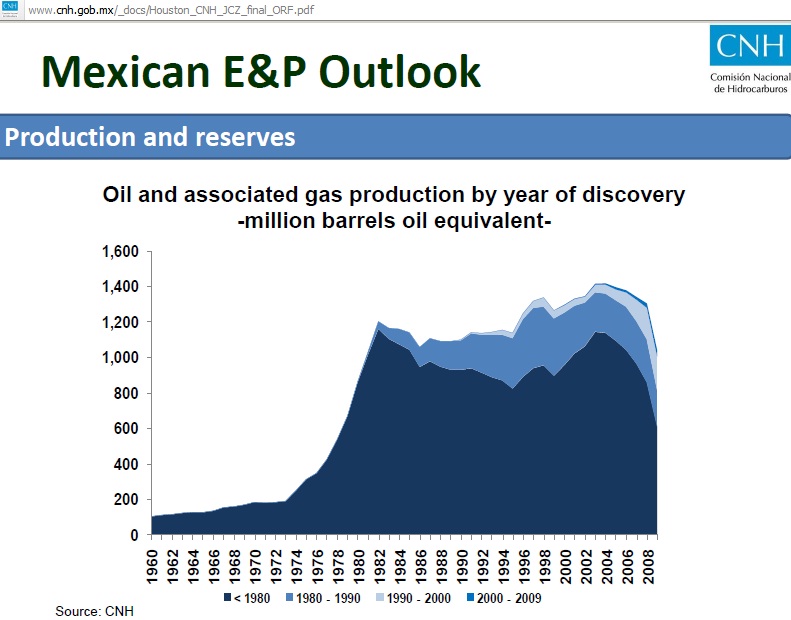 http://www.cnh.gob.mx/_docs/Houston_CNH_JCZ_final_ORF.pdf
http://geo-mexico.com/?p=6357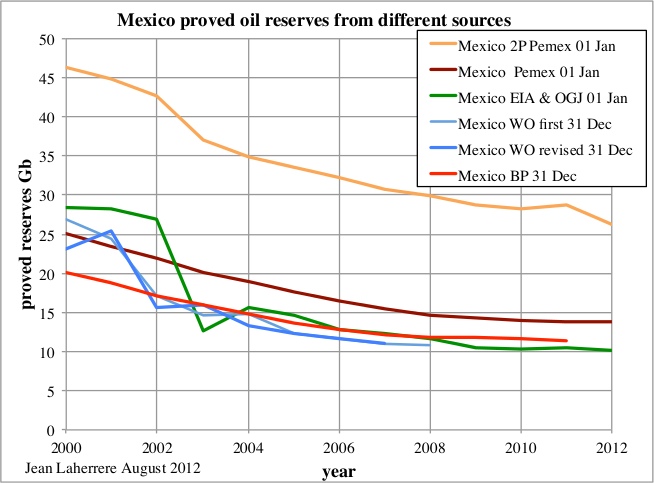 From:  http://www.theoildrum.com/node/9547#more