Update May 2018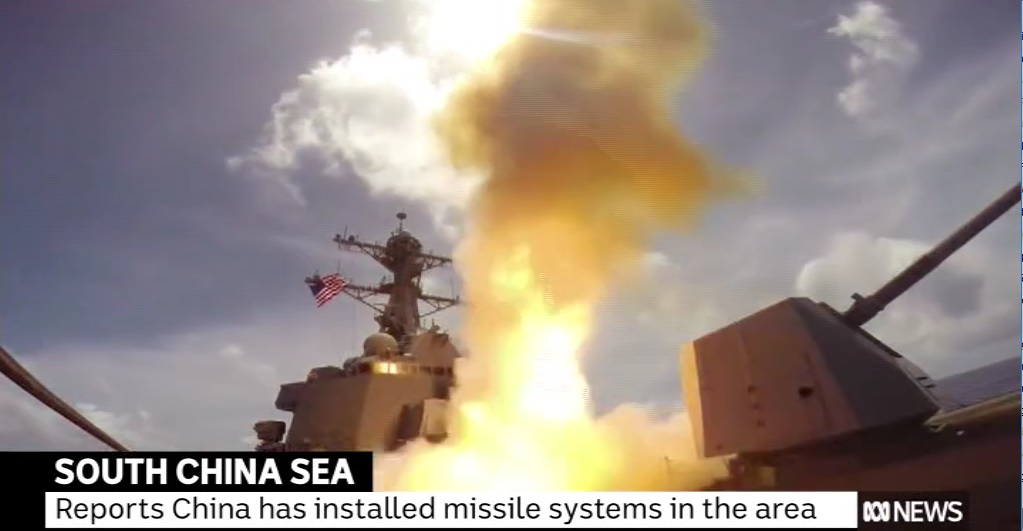 http://www.abc.net.au/news/2018-05-04/us-warns-china-after-new-missiles-placed-in-south-china-sea/9726208
This is about securing oil supply routes to the Middle East
Update April 2018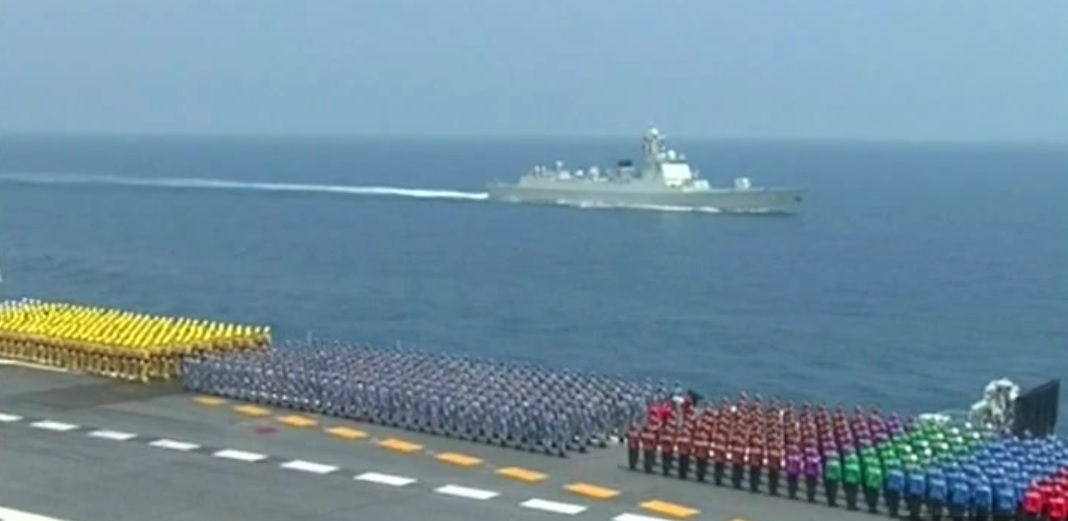 .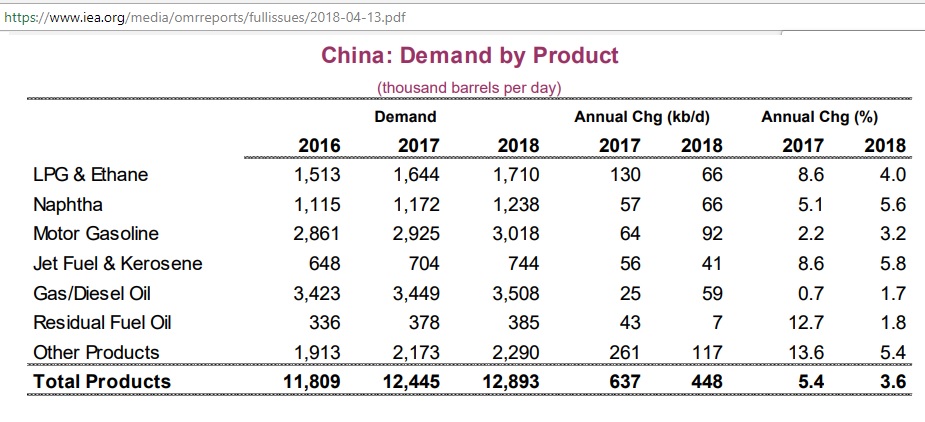 .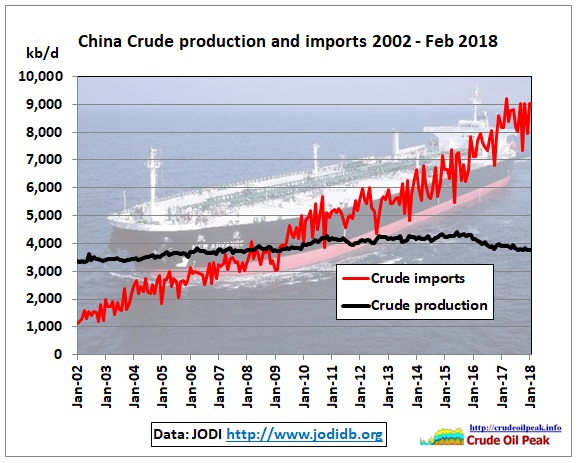 .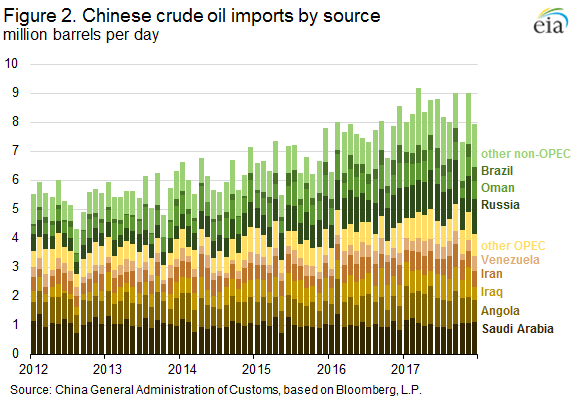 https://www.eia.gov/todayinenergy/detail.php?id=34812
Update September 2017

Underlying map from:
http://carnegieendowment.org/2014/05/06/china-s-oil-future-pub-55437
Update June 2017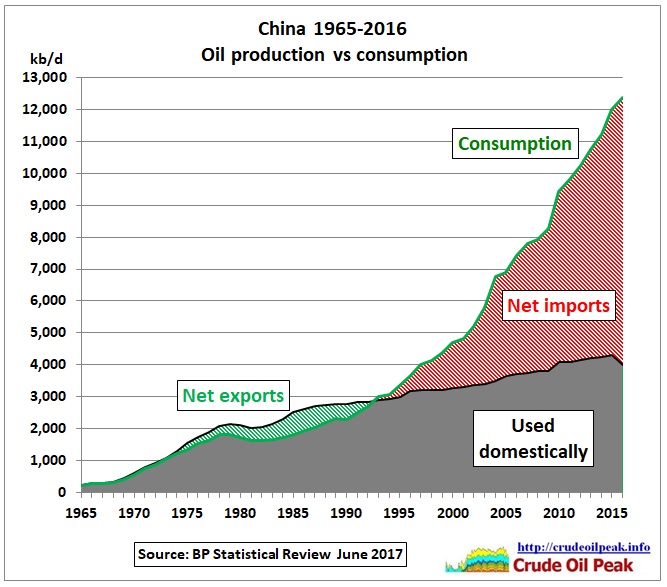 More on PFC's 2009 report: http://www.crudeoilpeak.com/?paged=98
Update March 2017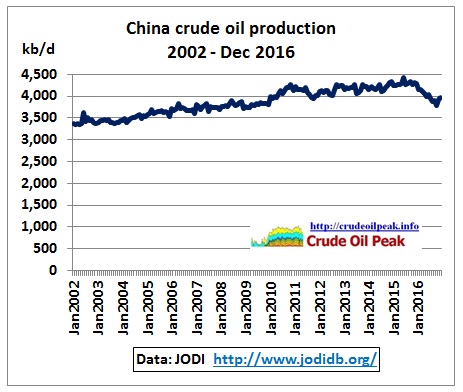 More details on PFC: http://www.crudeoilpeak.com/?paged=98
Update January 2017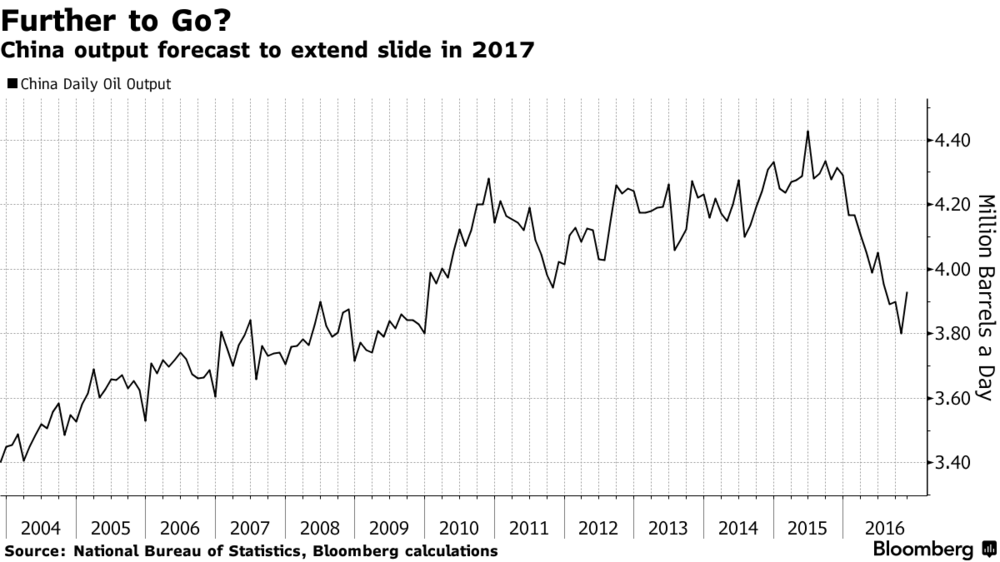 https://www.bloomberg.com/news/articles/2017-01-17/china-s-inescapable-oil-slide-is-a-record-breaking-gift-to-opec
Update December 2016
From a CSIS report
The Changing Political Economy of Energy in China
by Kang Wu and Jane Nakano
"China's net oil imports as a share of total oil consumption increased from 7% in 1995 to 44% in 2005 and 67% in 2015, the highest among all types of energy in China"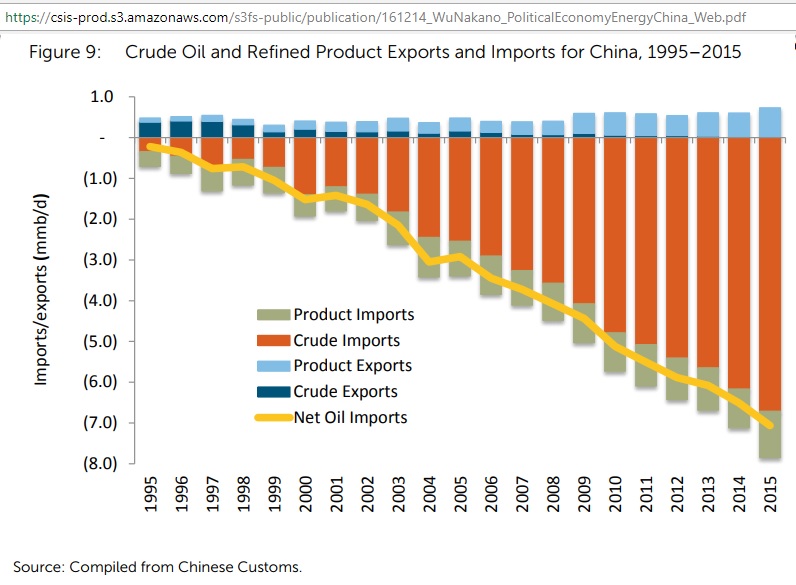 https://csis-prod.s3.amazonaws.com/s3fs-public/publication/161214_WuNakano_PoliticalEconomyEnergyChina_Web.pdf
Update August 2016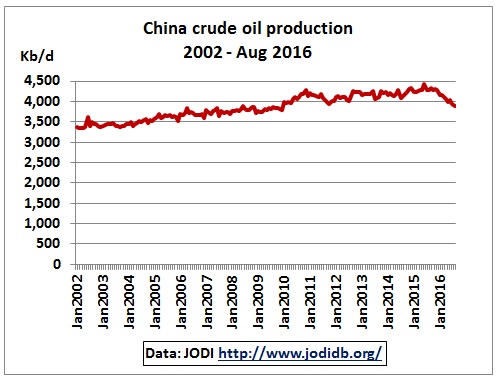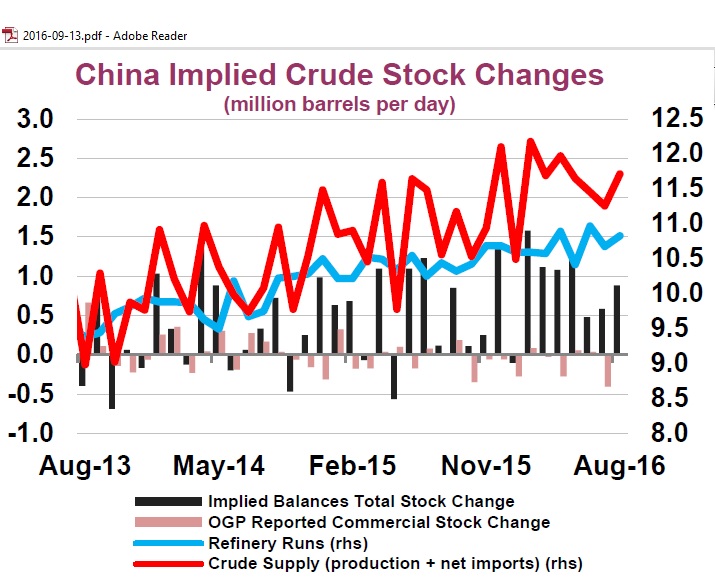 https://www.iea.org/oilmarketreport/omrpublic/
Wall Street Journal
August 25, 2016

China's Decline in Oil Production Echoes Globally
http://www.wsj.com/articles/chinas-decline-in-oil-production-echoes-globally-1472122393
Update June 2016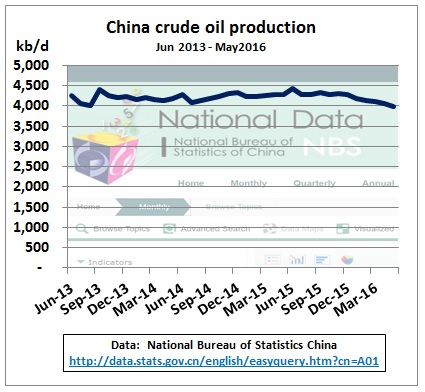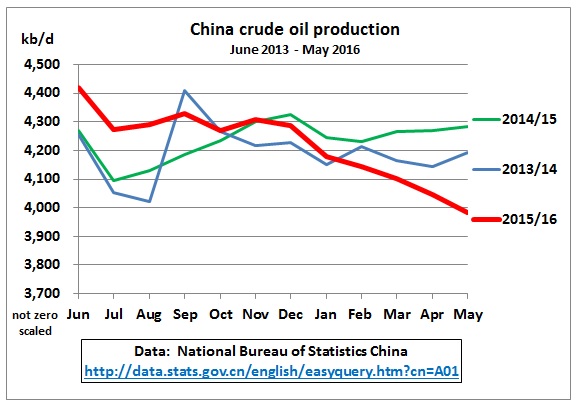 Year on Year comparison
http://data.stats.gov.cn/english/easyquery.htm?cn=A01
Update Nov 2015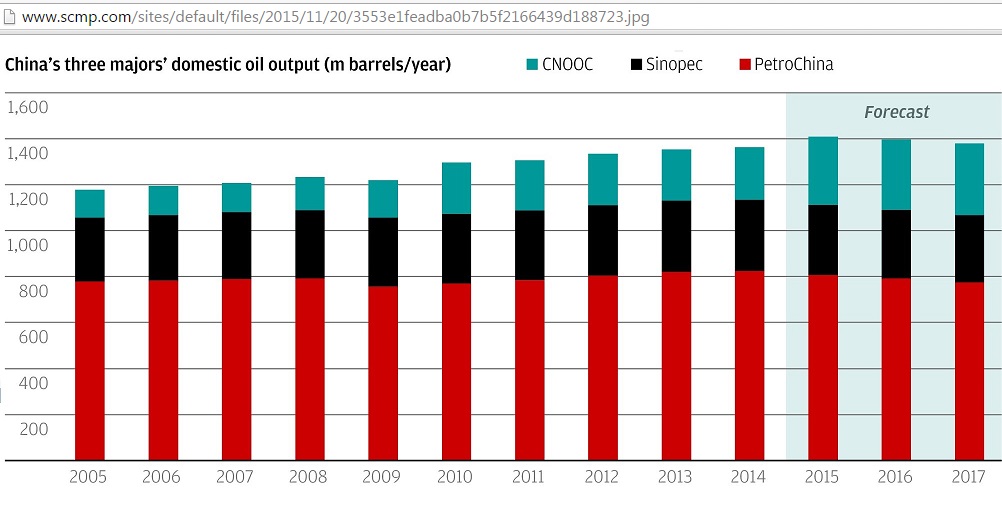 http://www.scmp.com/business/commodities/article/1881188/chart-day-no-turning-back-chinas-oil-production
Update Dec 2014
Daqing, China's largest oilfield, to reduce output
29/12/2014
By 2020, Daqing's annual output will be slashed to 32 million tonnes with an annual reduction of more than 1.3 million tonnes, the conference said.
As China's largest inland oilfield, Daqing has produced more than 2.1 billion tonnes of crude oil since production started in 1960.
It produced slightly more than 40 million tonnes of crude oil in 2013, marking the 11th consecutive year in which the crude oil output of Daqing exceeded 40 million tonnes.
Limited oil reserves, high cost of development and declining international oil prices have caused the fast-depleting Daqing Oilfield to reduce output, a staff who declined to be named from Daqing told Xinhua.
http://www.wantchinatimes.com/news-subclass-cnt.aspx?id=20141229000039&cid=1202
18 Nov 2014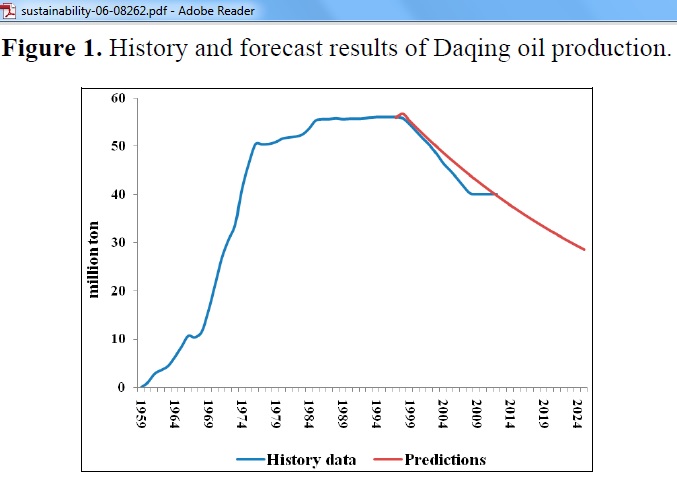 http://www.mdpi.com/2071-1050/6/11/8262/pdf
Nov 2014 IEA Monthly Oil Market report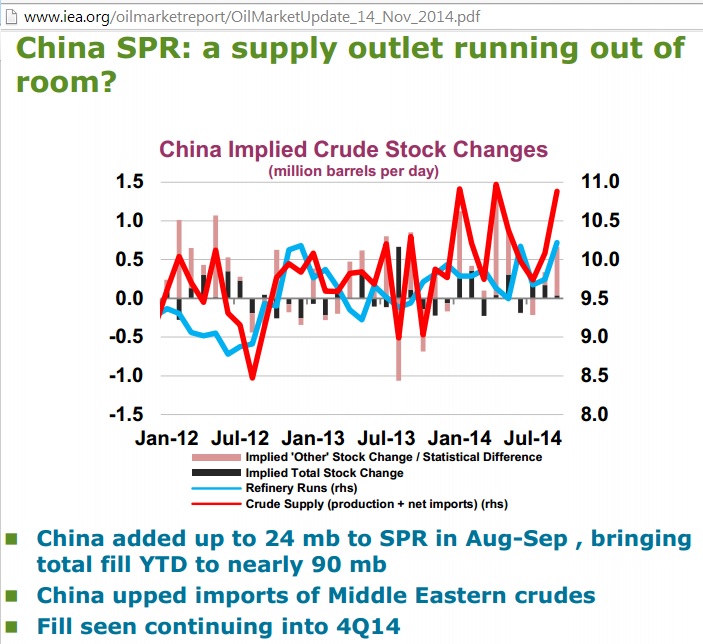 http://www.iea.org/oilmarketreport/OilMarketUpdate_14_Nov_2014.pdf
July 2014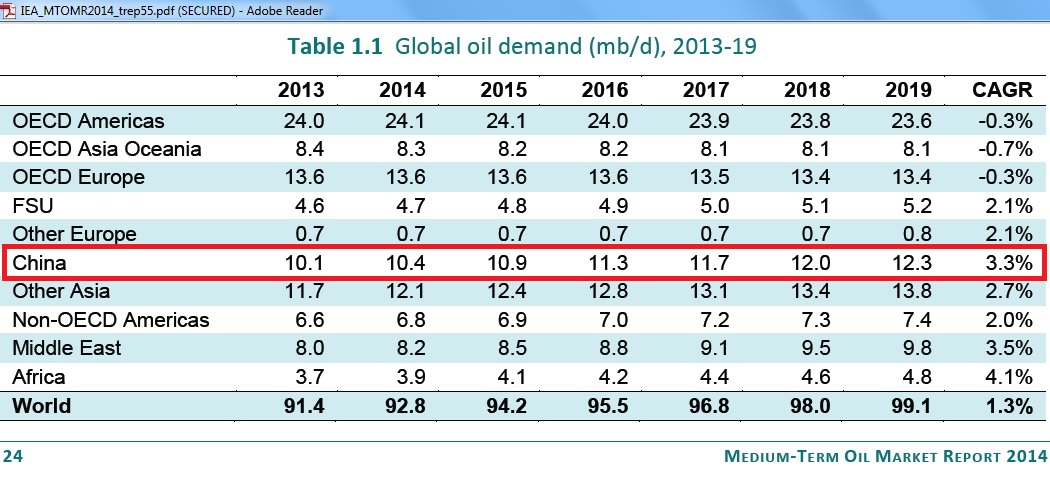 .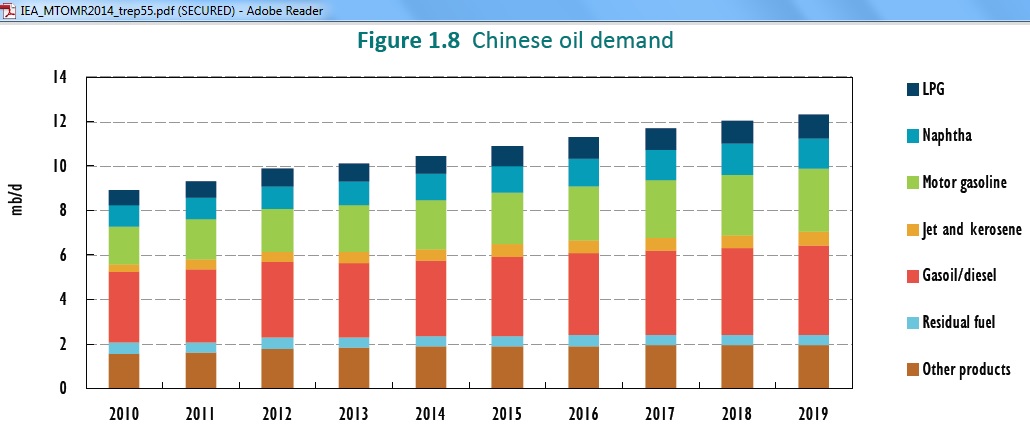 http://www.iea.org/W/bookshop/464-Medium-Term_Oil_Market_Report_2014
Update May 2014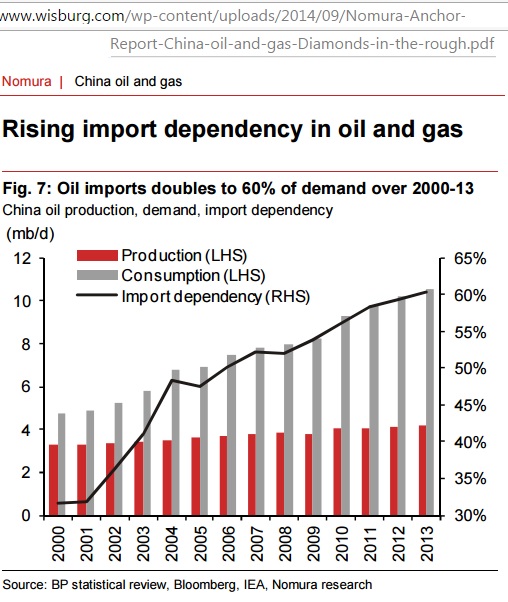 http://www.wisburg.com/wp-content/uploads/2014/09/Nomura-Anchor-Report-China-oil-and-gas-Diamonds-in-the-rough.pdf
Update Sep 2013
New research from Wood Mackenzie put in context of historic oil production and consumption graph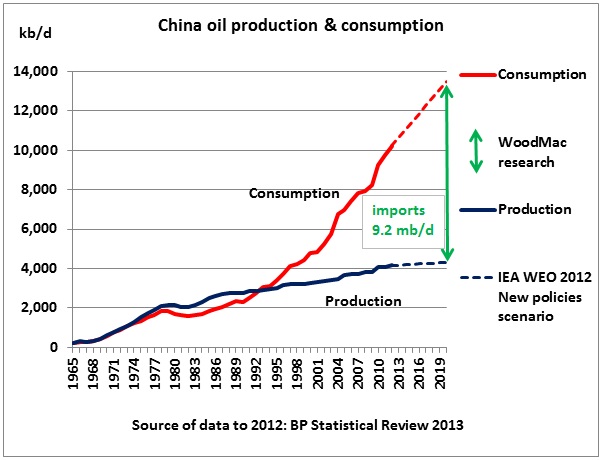 20/8/2013 "From 2005-2020, China's oil imports will rise from 2.5 million barrels per day (mb/d) to 9.2 mb/d"
http://www.woodmacresearch.com/cgi-bin/wmprod/portal/corp/corpPressDetail.jsp?oid=11495385
From BP Statistical Review, June 2013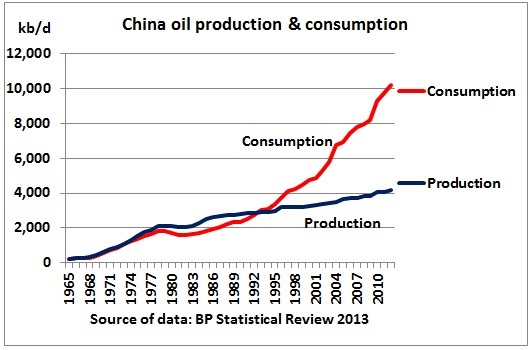 From "China's Oil Supply Security"
Presentation by Dr Kang Wu Senior Fellow at the National University of Singapore, Feb 2012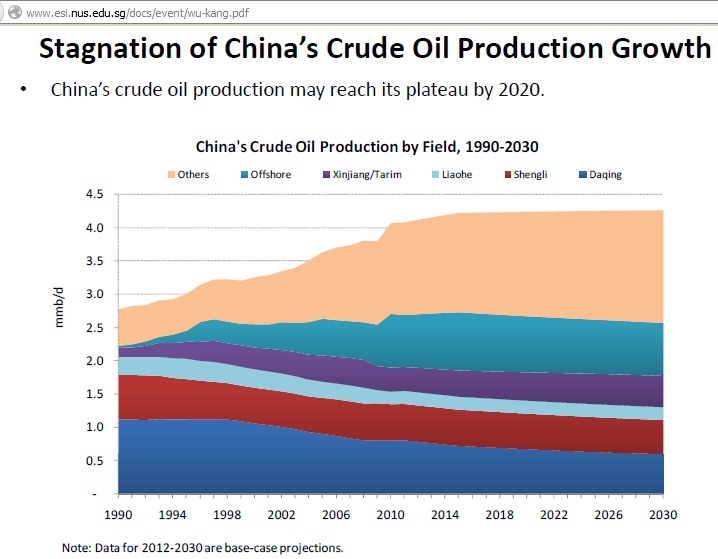 http://www.esi.nus.edu.sg/docs/event/wu-kang.pdf
…..
By Prof. Aleklett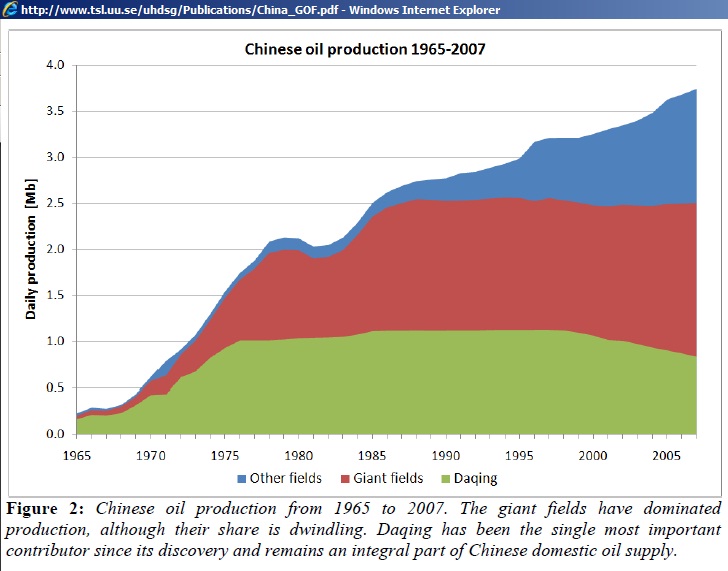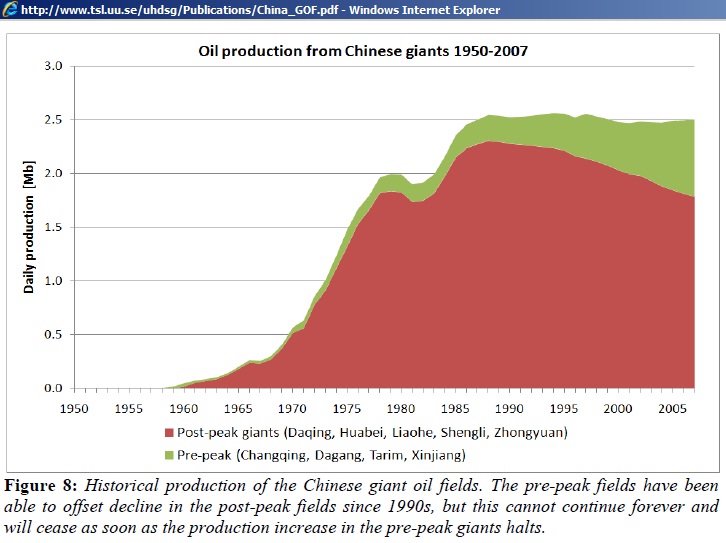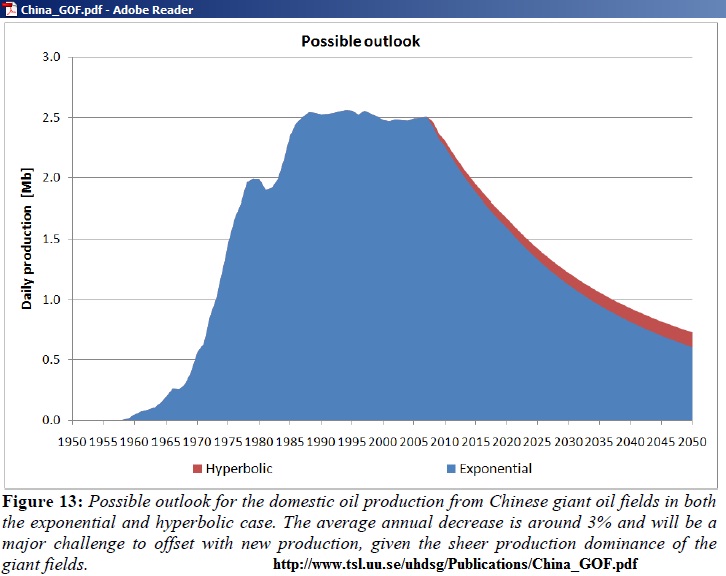 Development journey and outlook of Chinese giant oil fields
http://www.tsl.uu.se/uhdsg/Publications/China_GOF.pdf
Forecast of oil reserves and production in Daqing oil field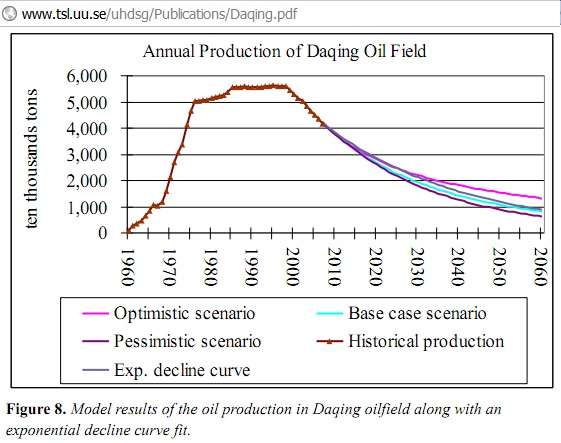 http://www.tsl.uu.se/uhdsg/Publications/Daqing.pdf
.