February 2015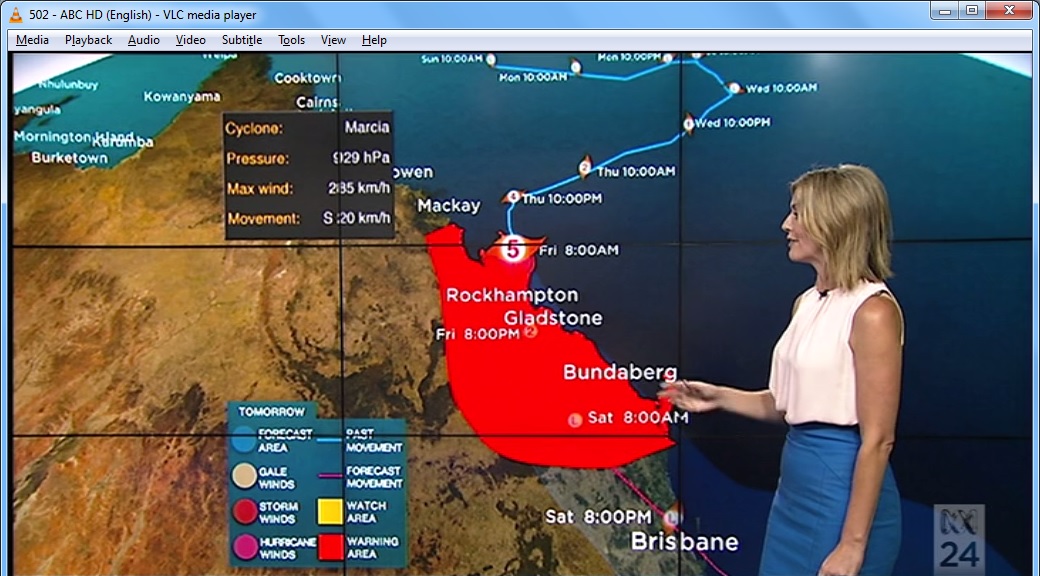 http://en.wikipedia.org/wiki/Cyclone_Marcia
Extract from a Sydney Morning Herald article
Petrol has been in high demand for generators and water pumps since Tropical Cyclone Marcia swept across the city on Friday, tearing down power lines and ripping roofs of hundreds of houses.
There have been more than a few punch-ups as motorists queued for up to three hours to access the Caltex service station opposite Central Park.
Already tens of thousands of litres of diesel and unleaded fuel have been sold.
This petrol station has been the only one in town with the electricity, fuel and manpower to cope since clean-up efforts begun.
Most people lining up on Sunday said they had no choice, having been told power might not be restored for several weeks.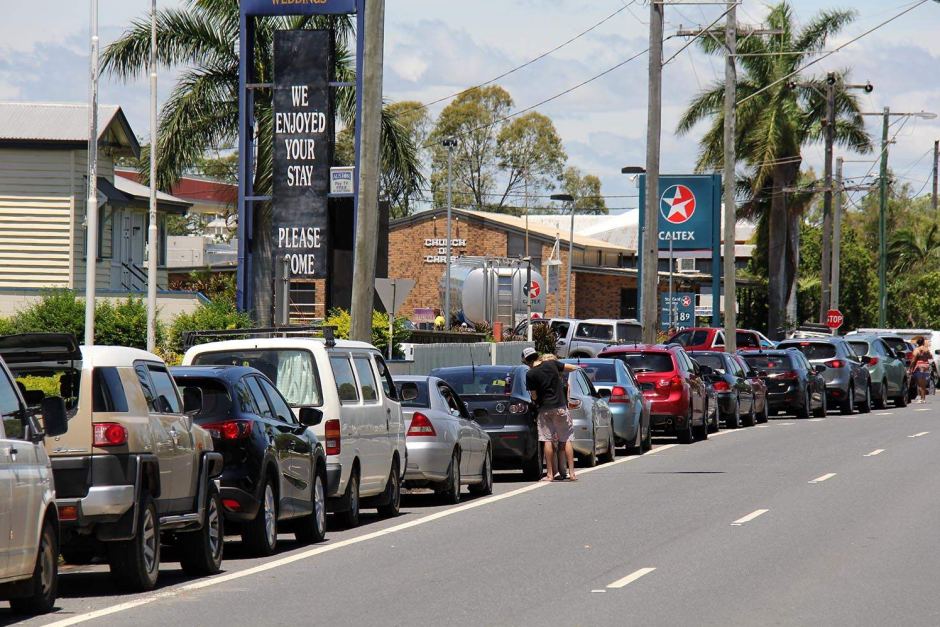 Kate Perrin joined the queue at 5.30am. She said her generator ran out of juice on Saturday night. "I'd siphoned all my mowers and my work ute to get fuel to run the generator to pump water," she said.
"It's very quiet and very dark at my place at the moment. Because we're rural, the only way to get access to water is via pumps."I did ask my other half and he said he wasn't sitting in line for three hours. I said, 'well, someone's got to just have the patience'.
"I had some idea the line would be like this. I picked my daughter up from work nearby at midnight and the line was like this."
Ms Perrin had already been waiting for three hours when she spoke with ABC News. "I've seen a few people do the queue. A few people got out and tapped on their windows," she said. "No one has really left the queue either – I was hoping they would."
She said there should have been a special line up just for rural people who needed the fuel to bring necessities back online. "I don't understand the people in town lining up – they just panicking and need fuel now. But they're not having to drive anywhere," she said.
"In town, you can turn on the tap and have water, you can have a shower. Out there you need fuel to run your generators. "We run a landscaping business and I'm not even contemplating bringing my machinery in."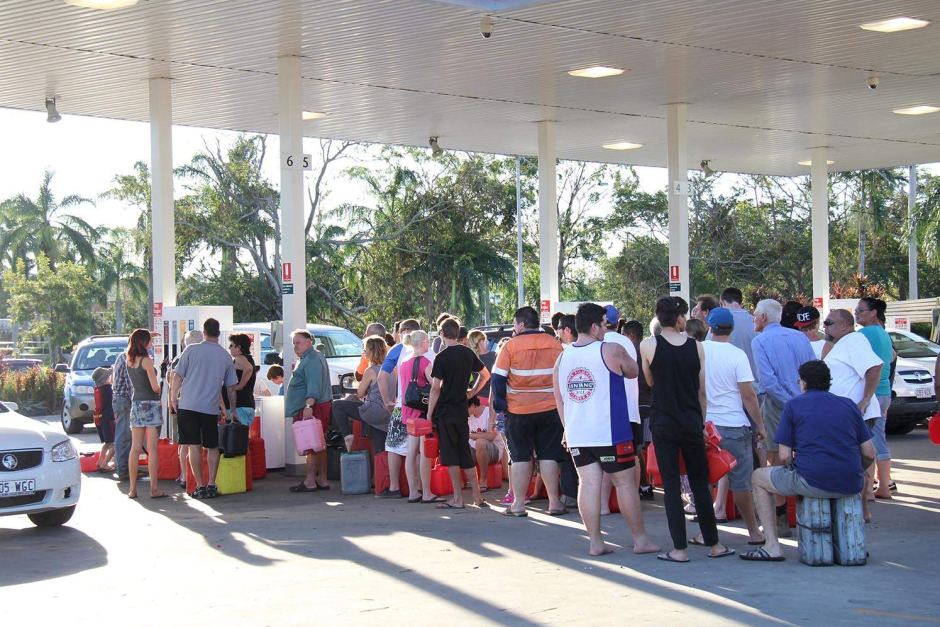 'We've never seen anything like this'
Mark and Melissa Mitchell from Rockhampton's southside joined the queue on foot with a couple of jerry cans this morning. At any given time there was a group of about 60 people lining up for bowers sealed off especially for those on foot.
"We bought a generator this morning … store must have got them in yesterday afternoon," Mr Mitchell said. "We lined up at the store from 7am – about an hour before they opened – to get it."
"We've been without power for about 30 hours – we had a lot of ice that's run out. The pair were picking up about 55 litres of fuel but admitted they had no idea how long it would last.
"It's a bit of a trial run," Mr Mitchell said. Mrs Mitchell said the scenes surrounding the service station were unlike anything she had seen before. "We've never seen anything like this. Not even close," she said.
http://www.abc.net.au/news/2015-02-22/rockhampton-locals-queue-hours-for-fuel-after-cyclone-marcia/6189472?section=qld
Cyclone Marcia: Climate change is expanding the tropics
20/2/2015
The southward shift of cyclones under climate change will force planners to demand stronger building standards as far south as Coffs Harbour on the NSW North Coast, Cairns climatologist Steve Turton says.
Storms such as the category 5 Cyclone Marcia which crossed the central Queensland coast on Friday, "are going to become more common in the future along the eastern seaboard of Australia," Professor Turton from James Cook University told Fairfax Media.
Climate change is resulting in the expansion of the tropics at the rate of 150-300 kilometres every 30 years, bringing more regions in the path of potential cyclones, Professor Turton said. (See his essay in the 2014 State of the Tropics report.)
———-
http://stateofthetropics.org/the-report
http://www-public.jcu.edu.au/events/idc/groups/public/documents/information_about/jcu_138321~1.pdf
Expansion of the Tropics –
Evidence and implications
http://stateofthetropics.org/wp-content/uploads/Essay-5-Isaac-and-Turton.pdf
———-
"The research is suggesting that, in a warmer world, we'll get more intense cyclones because there'll be more energy in the oceans and also the atmosphere," he said.
Climatologists say the atmosphere can hold about 7 per cent more moisture for every degree of warming, potentially adding clout to major storm events.
Last year, a study led by scientists at the US based National Oceanic and Atmospheric Administration, /The Poleward Migration of the Location of Tropical Cyclone Maximum Intensity/, argued that the areas where cyclones were reaching their most powerful were shifting towards the North and South Poles at the rate of 56 kilometres a decade.
"With their devastating winds and flooding, tropical cyclones can especially endanger coastal cities not adequately prepared for them," the NOAA said.
"Additionally, regions in the tropics that depend on cyclones' rainfall to help replenish water resources may be at risk for lower water availability as the storms migrate away from them."
Planning for storms
For north-eastern Australia, cyclones may become fewer in number but more intense when they form, Professor Turton said.
At present, buildings are required to meet high wind speeds only from Caboolture near Brisbane and northwards, leaving much of the Queensland capital uncovered by the tighter structural rules.
"I think they need to move that line down to Coffs Harbour this century [as part of] planning for a warmer world," Professor Turton said.
While south-east Queensland and northern NSW have been hit by big storms in the past – including the "Great Gold Coast Cyclone" of February 1954 – it is likely such events were "hybrids or intense east coast lows" rather than cyclones, he said.
"They didn't have the gales all the way around the centre and they didn't have the warm core" of cyclones, he said.
Kevin Walsh, a cyclone expert at the University of Melbourne agreed that Cyclone Marcia was an abnormal storm.
"It's pretty unusual for a category 5 cyclone to strike the coast of Queensland this far south," Associate Professor Walsh said.
Other big storms included a cyclone "very close to category 5" near Mackay in 1918 and Cyclone Dinah, a category 4 storm that stayed mostly offshore, Professor Walsh said.
Having more such storms tracking further south is "consistent with what would happen in a warmer world", he said.
The Bureau of Meteorology said the near-simultaneous landing of Cyclone Lam on the Northern Territory coast and Cyclone Marcia is the first recorded instance of twin severe cyclone events
Professor David Karoly, a scientist at the University of Melbourne, said the prospect of fewer – but more intense – cyclones in the western Pacific basin under global warming is because of expected changes to atmospheric circulation.
The expansion of the tropics would likely result in a strengthening of the high-pressure belt over southern Australia, leading to reductions in rainfall, Professor Karoly said.
Some of that shift is already evident in south-western WA, where cool season rainfall in particular has dropped sharply in recent decades, according to the CSIRO and the Bureau of Meteorology. Similar reductions in rainfall are also becoming evident across the south-east.
http://www.smh.com.au/environment/climate-change/cyclone-marcia-climate-change-is-expanding-the-tropics-20150220-13kdfi.html
Climate scientist discusses Copenhagen summit
07/12/2009
TONY JONES: …. why worry about carbon dioxide when water vapour is a stronger greenhouse gas and actually occurs naturally?
JAMES HANSEN: Yeah, that's the screwiest argument which keeps being made again and again and again. The amount of water vapour in the atmosphere is determined by the atmosphere's temperature, everyone should know that. Look at the difference between winter and summer.
As you go to a warmer climate the atmosphere holds more water vapour because at the places where the humidity reaches 100 per cent the water vapour falls out as water or snow. And therefore, as the planet becomes warmer, the atmosphere holds more water vapour.
That's why we get heavier rain falls as the planet gets warmer. So this water vapour is an amplifying feedback. It makes the greenhouse effect much stronger. But it's not something that just changes on its own accord; it changes in response to the temperature changes.
http://www.abc.net.au/lateline/content/2008/s2764523.htm