Update June 2021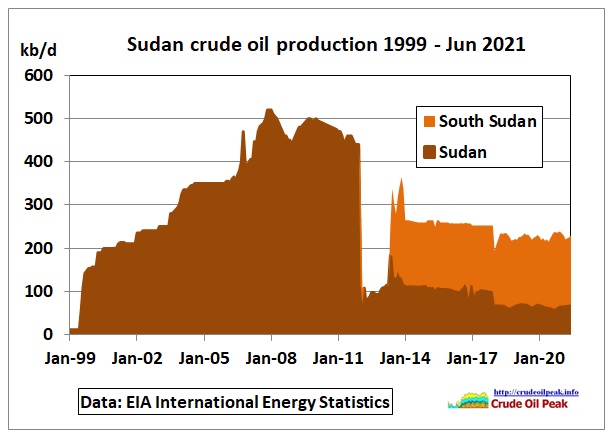 Update 2014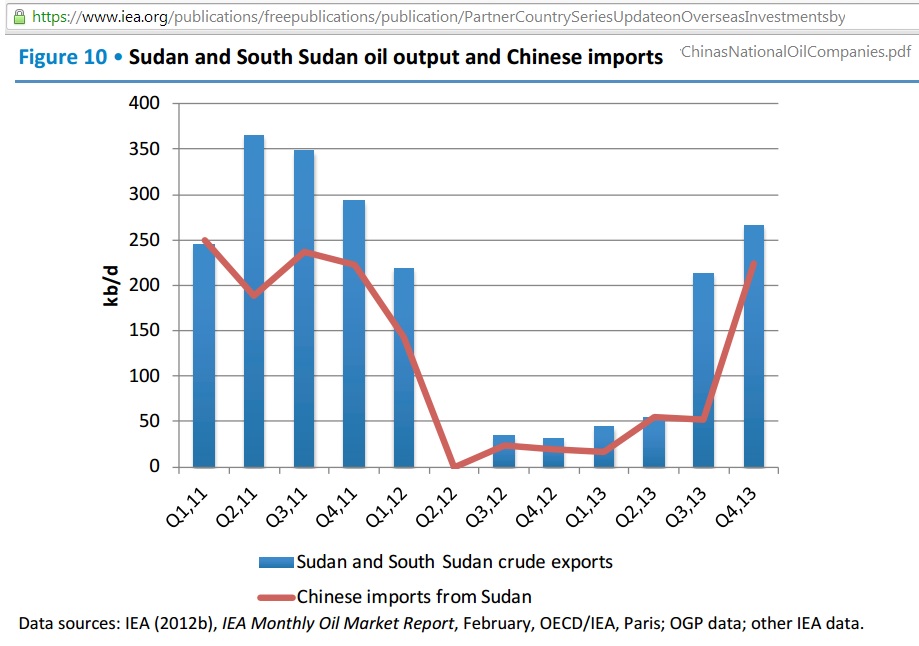 "On 9 July 2011, supported by the United Nations, South Sudan declared independence from Sudan. But at that time, Sudan and South Sudan failed to reach oil-sharing agreements and resolve border issues. Over 75% of pre-independence oil production was located in South Sudan, and Sudan attempted to charge South Sudan a USD 32 per barrel to USD 38 per barrel transit fee for using Sudan's pipeline for export. Negotiations reached a deadlock in early 2012, upon which Sudan impounded two cargoes. South Sudan then stopped production. According to the IEA Oil Market Report of 10 February 2012, all 274 wells in block 1/2/4 and 600 wells in block 3/7 were shut or forced to reduce production by 25 January 2012. Liu Yingcai, the president of Petrodar, the Chinese-Malaysian oil consortium, became the first person ever to be expelled from South Sudan on the grounds of "non-co-operation".
In mid-April 2012, the South Sudanese army attacked Heglig, located north of the border. Sudan declared war and retaliated. Heglig is where block 2 and the Greater Nile Petroleum Operating Company15 central processing facility are located. Block 2 adjoins block 1, which is located to the south of the border. On 4 May 2012, the UN Security Council passed a resolution warning Sudan and South Sudan to halt hostilities within 48 hours with possible sanctions attached. While the two countries eventually reached agreement, ethnic conflicts within South Sudan continued.
Instability and violence in Sudan and South Sudan have been the most severe blows to Chinese NOC overseas investment activities, at a time when NOCs were also facing challenges in other parts of the world. In 2010, CNPC production in Sudan was 210 kb/d, and, in 2011, its combined production in both Sudan and South Sudan was 211 kb/d (Sudan 59 kb/d; South Sudan 152 kb/d). China imported 260 kb/d of crude from Sudan and South Sudan in 2011, accounting for 5% of total imports, but this level fell sharply as conflict escalated, culminating in late 2013 with an alleged coup attempt in South Sudan and the resulting factional conflict leaving some 500 people dead. On 21 December 2013, the South China Morning Post reported that CNPC had evacuated workers from South Sudan (South China Morning Post, 21 December 2013). By the end of 2013, CNPC and Sinopec recorded oil production of 84 kb/d in South Sudan, half of its 2011 level (Figure 10). However, CNPC maintained its production level in Sudan at 56 kb/d.
The continued political and ethnic violence in the two Sudans came at a time when China was already facing pressure to reduce imports from Iran and diversify its oil imports away from the unstable Middle East. The ongoing security issues in South Sudan may force a complete shutdown of some of China's fields due to safety concerns, especially in the border areas where 29 Chinese workers (from state-owned Sinohydro) were kidnapped in 2012.
https://www.iea.org/publications/freepublications/publication/PartnerCountrySeriesUpdateonOverseasInvestmentsbyChinasNationalOilCompanies.pdf
Update 26 Sep 2013
At least 29 people have been killed in Sudan in three days of rioting over a government decision to scrap
subsidies on fuel, medical officials have said.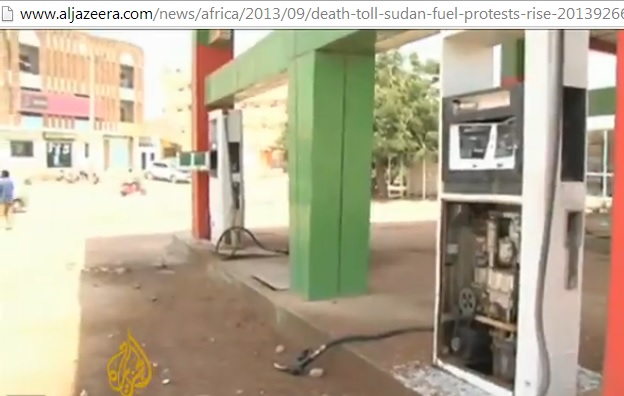 The protests were triggered by a government announcement on Monday to hike prices for petroleum products.
Oil prices at the pump have risen to 20.80 Sudanese pounds ($4.71) a gallon from 12.50 pounds ($2.83), while diesel has risen from 8.50 pounds a gallon to 13.90 pounds.
http://www.aljazeera.com/news/africa/2013/09/death-toll-sudan-fuel-protests-rise-20139266329806170.html
Death toll in Sudan fuel protests rise
http://www.youtube.com/watch?v=RLhG8igtCp0
Update June 2012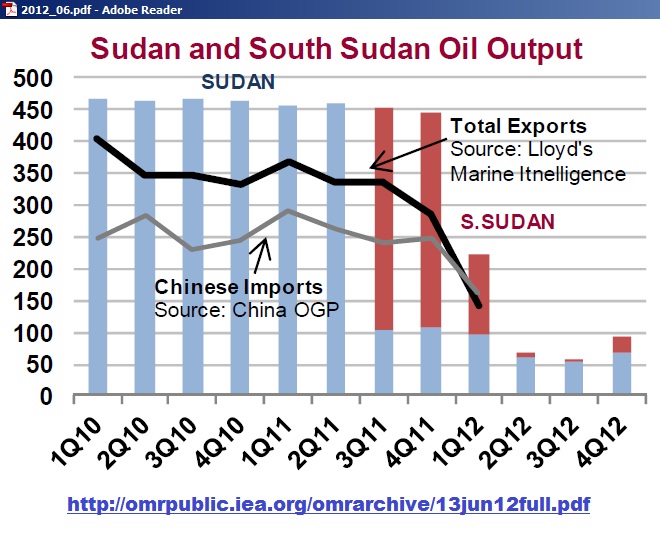 The June 2012 IEA Monthly Oil Market Report writes: "Negotiations between the governments of Sudan and South Sudan ended at the beginning of June with little progress, but discussions will continue on 21 June. Meanwhile, production of over 300 kb/d in South Sudan remains shut in, and there is no evidence that any volumes from the South are being exported by truck. The sides remain at odds over their border and over the amount of transit fees that South Sudan should pay to Sudan. Sudan threatened new hostilities as South Sudan continues to dispute the 2009 Permanent Court of Arbitration ruling that said that Heglig and other oil producing areas are not part of the disputed Abyei area. As the dispute between the countries enters its sixth month, with concomitant implications for both countries' economies, South Sudan recently announced it would raise taxes and customs duties. However, austerity measures and efforts to triple non‐oil revenue pale in comparison to oil revenue flows. A World Bank analysis published by the Sudan Tribune on its website in May estimated how long it would take for the country's reserves to be depleted. Assuming the government reduces expenditures by a quarter, reserves could last until August; and if they are reduced by around 40% (which is unlikely), reserves could last until October. The analysis warned that the sharp decline in dollar‐based oil revenues would rapidly increase inflation and depreciate the exchange rate."
http://omrpublic.iea.org/omrarchive/13jun12full.pdf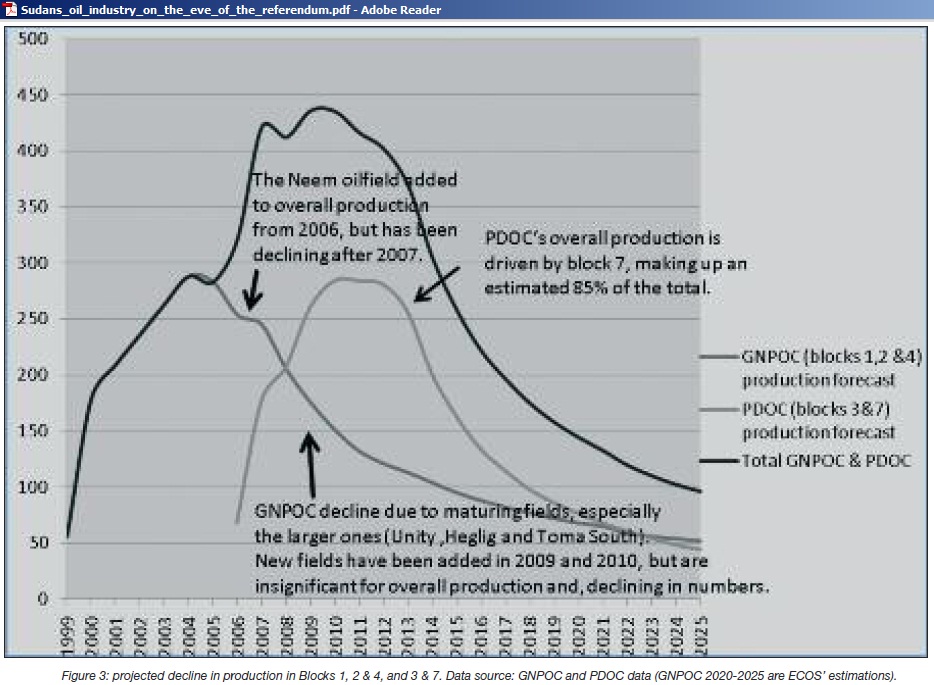 http://www.ecosonline.org/reports/2010/Sudans_oil_industry_on_the_eve_of_the_referendum.pdf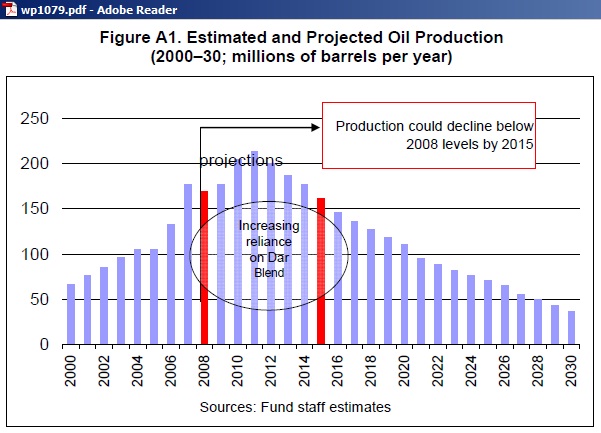 http://www.imf.org/external/pubs/ft/wp/2010/wp1079.pdf
31/5/2011
Sudan's Nile blend in decline – why we should be concerned
http://crudeoilpeak.info/sudan-nile-blend-in-decline-why-we-should-be-concerned