Last week's fuel shortages in Malawi give us a glimpse into the future of what will happen when these shortages arrive at our own filling stations. While there are many speculations on the internet about the impact of fuel shortages, this post takes this opportunity to document the reality. Some events are country specific and may not happen here in Australia but this summary is a foretaste  – the supporting links are below. The headlines are typical for the situation.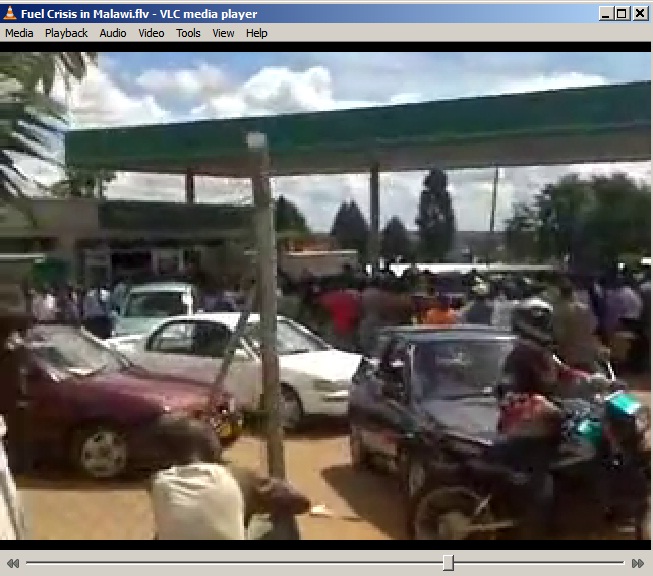 http://www.youtube.com/watch?v=Iad7z8y0MTI
Fuel queue on Kamuzu Highway, Blantyre
http://www.youtube.com/watch?v=oJXDcPDB-L8
Traffic
Long queues at service stations blocking other traffic on arterial roads
Drivers are abandoning their cars when the wait for the tanker truck is too long
Black market prices are around double the pump price
Commuters are forced to walk as diesel buses don't turn up
Protest marches
Protest rallies clash with police
Vehicles set on fire
Army needed to control service stations
Politics
A continuous party-political blame game on all TV channels, radio stations and newspapers
Prime Minister summoned by Parliament to explain reasons for fuel crisis
Demands for resignation of the Energy Minister
Energy Minister offers resignation – but problems remain unsolved
Luxurious travel arrangements of government are criticised
Overseas travel bans for civil servants and Ministers
Government claims that neighbouring countries are to be blamed for supply problems
Public is always told that fuel supplies will improve in the next days
Oil companies
Oil companies accused of hoarding, price gouging and administrative inefficiencies
More takeovers of service stations
Not enough storage facilities
Police banning the use of jerry-cans
National oil company proposed
Public transport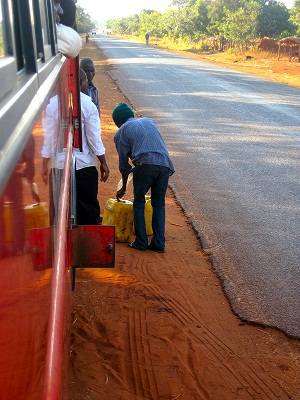 Bus gets fuel from a black market bush pump
http://seedingmalawi.blogspot.com/2011/06/malawi-fuel-shortages.html
Financial
Problems with letters of credit
Drop in revenues from excise duty on fuels worsen budget deficit
All fuel saving measures of the government will officially come under the objective of reducing the budget deficit
Fights with international monetary organisations
Devaluation of currency
Fuel import bills create trade deficit
Economic
Mining operations are delayed or interrupted
Too many new cars registered for which there is not enough fuel
Farmers are unable to bring their crops to local markets
Companies  relying on diesel generators are halting production
Employees searching for petrol instead of working
Country is relying predominantly on one export commodity
Sports
Games are delayed or cancelled
Education
Parents can't drop kids at school
Emergency Services
Ambulances cannot transport patients to hospitals
Police not able to bring suspects to court
See also: http://crudeoilpeak.info/malawi-fuel-shortage
http://crudeoilpeak.info/my-experience-oil-crisis-1979
———
Background information
Malawians said they were protesting against persistent fuel and foreign exchange reserve shortages. The fuel crisis has been so severe that petrol has been rationed at the pump and people have resorted to parking at petrol stations overnight to get a place in the queue. The country is also facing severe shortages of foreign exchange, leading to strict controls on the export of hard currency and causing problems for businesses that need foreign currency to pay for imports. Power cuts in the country's ageing electricity system have compounded public dissatisfaction. Public anger has been directed at President Bingu wa Mutharika, a former World Bank economist who was first elected in 2004.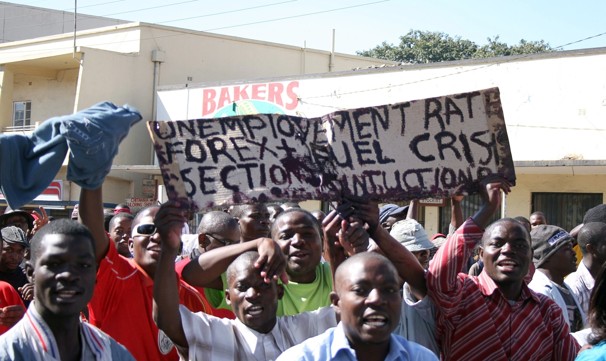 Malawi has enjoyed economic growth of about 7% in the last five years, with a peak of 9.7% in 2008, thanks to several bumper tobacco harvests.
Malawi, which relies heavily on foreign aid, has fallen out with all its major aid donors. Last week, Britain indefinitely suspended part of its aid programme, worth £19m, over what it said was the country's repeated failure to address concerns over economic management and governance. The World Bank, the African Development Bank, the EU, Germany and Norway have also suspended or ended budget support for Malawi. The UK's Department for International Development (DfID) said demonstrations had been suppressed, civil society organisations intimidated and an injunctions bill passed that would make it easier for the government to place restrictions on opponents without legal challenge. On economic policy, DfID expressed concern over Malawi's overvalued exchange rate, which has badly hurt the Malawian private sector. The IMF has been pressing for the government to devalue the kwacha, pegged at K150 to the dollar, on the grounds that the current exchange rate is a barrier to "economic diversification as it discourages local and foreign investment". The Malawian government argues that devaluing the kwacha would trigger inflation and hurt the poor.
http://www.guardian.co.uk/global-development/2011/jul/21/malawi-anti-government-protests
Links on the above events
From the website of the Malawi Chamber of Commerce
The economy has already started suffering as some companies have stopped production. The Tea Industry has closed Satemwa because they could not operate with their diesel generators.
In the Textiles and clothing Industry , our own weaver and spinning company, MAPETO's Dyehouse section has been at zero operation. No new design /colours can be sent onto the market. They use almost 5,000 litres of diesel a day. Due to reduced trips they are losing on average cash sales valued at MK 15 million and MK 150 million from their shops and distributors respectively per week.They are unable to export goods to Zimbabwe (a) no new designs due to no production. (b) no vehicle to take the cloth to that country.
In the transport sector, trucks have spent more than 2 weeks without trips to transport goods. Passenger transport has also been heavily affected as Bus companies have either reduced trips or manage the crisis at the cost of getting fuel where it is available. Siku transport grounded more than 150 vehicles yet they are supposed to deliver fertilizer which has a deadline this early December. Similar sentiments have been said by our Shippers and forwarders, like MANICA whose major impact seen is that their long haul fleet is on average losing between 8-12 days per month waiting for fuel.
In the agriculture sectors, companies that ought to deliver seeds and other agriculture inputs cannot deliver far areas. This may have an impact on the food security which is one of the major area of focus by government.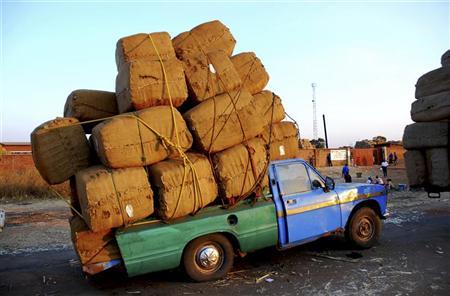 Made it: bales of tobacco arriving at the Kasungu auction floors
http://www.afrikanpost.com/2011/05/malawi-sees-higher-economic-growth-of-7-0-percent/
In the telecommunications sector, Telecom Networks Malawi is doing about 10% to 20% less to the normal distribution trips and there is Intermittent network supply in areas with sites powered by diesel.
A new unlicensed business has emerged as Diesel is being traded at more than MK250 per litre.
Companies are likely going to incur increased labour costs as workers will receive un earned income for working less hours than normal. In other words labour productivity will drastically be reduced. Working hours are not being followed
http://www.mccci.org/newsarticle.php?id=34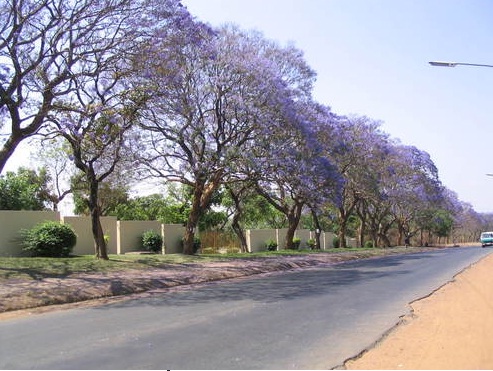 Beautifully landscaped Jacaranda trees in Lilongwe
http://www.panoramio.com/photo/15791935
Newspaper articles and blogs:
Bingu told to admit Malawi's worst fuel crisis
8/7/2011
Malawian motorists have urged President Bingu wa Mutharika to swallow his pride and admit publicly and with determination that all is not well with his administration other than wasting time woofing at his critics.
http://www.nyasatimes.com/national/bingu-told-to-admit-malawi%E2%80%99s-worst-fuel-crisis.html
Last week's problem started earlier this year:
Malawi's fuel crisis worsens
10/2/2011
A good number of commuters were seen walking to and from work in many urban areas as the number of minibuses also decreased due to the fuel shortage.
In the interim, black market suppliers in Blantyre, Zomba and other parts of the country were selling petrol at K 700 (about $4.60) per litre, K410 ($ 2.69) above the K 290 ($ 1.91) recommended retail price. They were selling the same for K 500 ($ 3.29) over the weekend.
Minister of Energy Grain Malunga came out of his cocoon to push the blame on the petroleum Importers Ltd (PIL), a consortium of private oil companies that buy the country's fuel, for what he described as "inefficiency"
But IPL general manager Robert Mdeza on Sunday attributed the crisis to shortage of forex to pay suppliers.
The opposition UDF and other commentators have been asking for Malunga's resignation for failing to contain the persistent fuel shortage.
http://www.nationmw.net/index.php?option=com_content&view=article&id=14197:malawis-fuel-crisis-worsens&catid=1:national-news&Itemid=3
Grain Malunga offers to resign over fuel crisis
10/2/2011
BLANTYRE–Malawi's Energy and Mining Minister Grain Malunga has challenged that he is going to resign his position as a cabinet minister if the fuel situation in the southern African country will not normalise by the weekend.
But earlier in the afternoon, following demands by opposition legislators for a government statement on the prolonged fuel crisis, Malunga told Parliament that Malawi wasn't being able to import enough fuel because of lack of enough foreign exchange (forex) reserves.
Taking his turn, Finance Minister Ken Kandodo told Parliament that Malawi was indeed experiencing bottlenecks in raising enough forex.
"Let me confirm that our forex situation is pathetic," he said.
Kandodo said the problem stems from the fact that Malawi's source of forex has been constant. He said 70 per cent of Malawi forex comes from tobacco which rakes in around US $400m a year. He said other exports like tea, cotton and sugar add very little to the government purse.
"The annual bill for fuel is close to US $300m, add to that the cost of fertiliser, the cost of medicine and all that we're importing," he said.
http://www.maravipost.com/-life-and-style/people/4698-energy-minister-malunga-offers-to-resign-over-fuel-crisis.html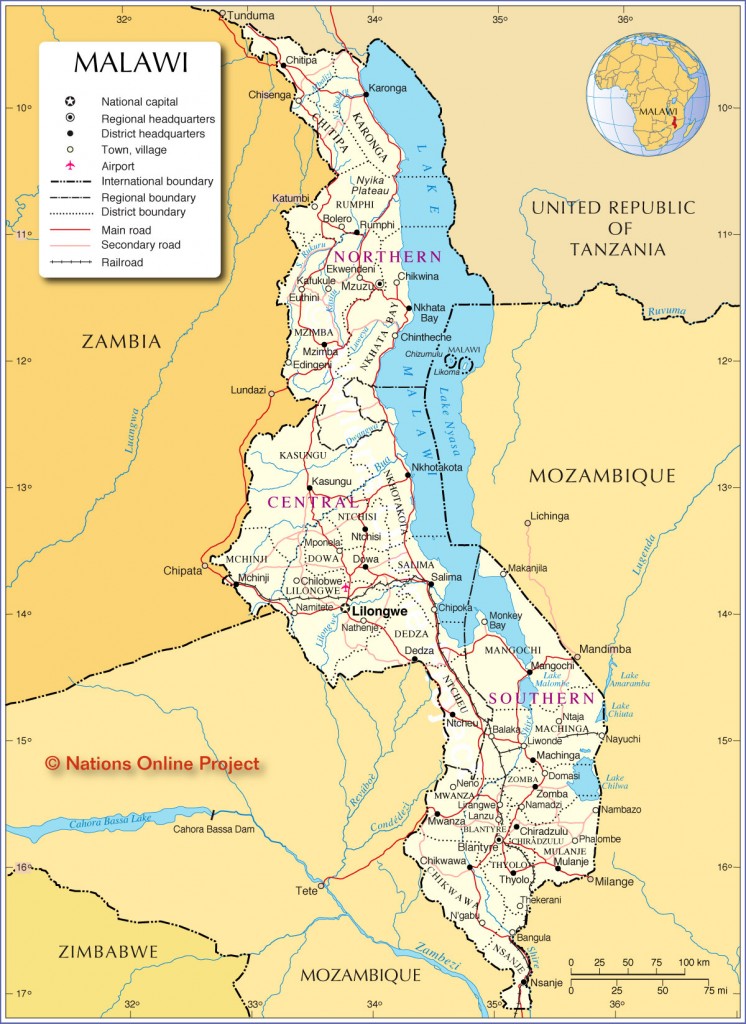 http://2pat.files.wordpress.com/2009/10/malawi_map.jpg
The big bicycle march on the fuel crisis
11/2/2011
We are therefore inviting members of the general public and any other willing persons to join the peaceful march. If you can, we ask you bring:
– a bicycle (if you can, not a must, but extremely important if you can manage to bring one)
http://wilifodi.blogetery.com/2011/02/11/the-big-bicycle-march-on-the-fuel-crisis/
Malawi cops block fuel crisis march
14/2/2011
Blantyre – Riot police blocked a march to protest crippling fuel shortages in Malawi on Monday and detained organisers for several hours, officials said.
The government of the poor southern African country said last week it was seeking a $50m foreign exchange credit line to re-stock low fuel supplies.
Mutharika warned the marchers at the weekend not to be inspired by events in Egypt, and said the shortages in the land-locked country were caused by congestion at Beira and Nacala ports in neighbouring Mozambique.
Malawi, which depends on its tobacco crop to generate most of its foreign exchange, needs fuel imports of $300-400m annually.
http://www.news24.com/Africa/News/Malawi-cops-block-fuel-crisis-march-20110214
Malawi fuel crisis disrupts uranium production, Paladin says
17/2/2011
Australia-based Paladin Energy Limited says uranium production at its Kayelekera Mine in Malawi's northern district of Karonga has been affected by a severe shortage of diesel in the country.
http://www.nyasatimes.com/national/malawi-fuel-crisis-disrupts-uranium-production-paladin-says.html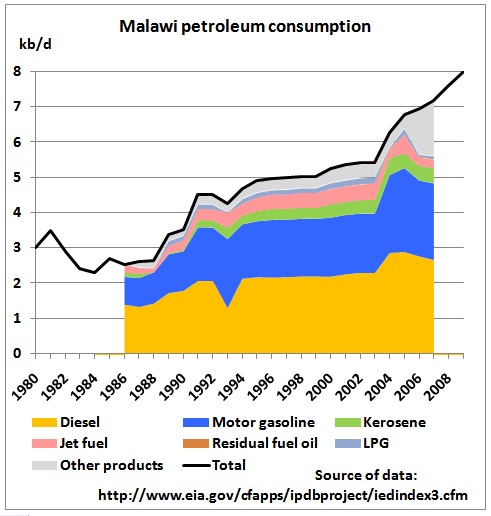 Fuel consumption in Malawi has grown rapidly in the last years
Fuel crisis bites Malawi Football
23/2/2011
The fuel crisis in Malawi has not spared the football fraternity with the regional leagues being the hardest hit, leading to a backlog of postponed matches.
http://www.mwnation.com/index.php?option=com_content&view=article&id=14905:fuel-crisis-bites-malawi-football&catid=33:national-sports&Itemid=31
Malawi Govt's Mishandling of Fuel Crisis Threatens Diplomatic Tensions with Mozambique
3/3/2011
The perennial problem of fuel shortage in Malawi is no doubt one of the main Achilles' heel on the side of the government that has largely thrived on reputation of "good economic management" if not only good maize harvests in the last four harvesting seasons. The fuel problem is well document and irrefutable. What is not clear however is its cause.
Malawi government continues to claim that the fuel shortage is due to congestion at ports of Nacala and Beira in Mozambique; a claim that many local observers and NGOs continue to refute. Their contention is that the root of the problem is shortage of foreign currency in Malawi.
http://jimmykainja.co.uk/malawi-govts-mishandling-of-fuel-crisis-threatens-diplomatic-tensions-with-mozambique/
2 years earlier:
Fuel crisis-hit Malawi questions presidential jet purchase and Zimbabwe loan
12/11/2009
Malawi has been hit by crippling fuel shortages as the country is running out of foreign currency because Zimbabwe is failing to pay back a debt. The money was lent to Zimbabwe in June 2007 loan via the Reserve Bank of Malawi.
The loan, guaranteed by the Malawi government on the basis of a "personal understanding between President Mutharika and his close political pal President Robert Mugabe" of Zimbabwe, is due for repayment at the end of December.
In addition, media reports indicate that the Mutharika Government has bought a presidential jet for about US$15.9million.
http://www.afrik-news.com/article16461.html
Blantyre filling stations hoarding fuel
9/6/2011

Ambulances in some district hospitals failed to transport patients to Queen Elizabeth Central Hospital, the major referral hospital in Malawi.
Malawi Police Service is also hit hard. In some cases prosecutors are failing to take suspects to court denying them justice.
By Thursday around noon, reports were heard that fuel was trickling at some filling stations but long queues were the order of the day forcing employee to spend time looking for the gasoline instead of working.
http://www.nyasatimes.com/national/blantyre-filling-stations-hoarding-fuel.html
Malawi loses K 122 m over fuel crisis
10/6/2011
Malawi Government road fund levy collection on fuel dropped by K122m between March and June 2010 due to the critical fuel shortage that hit the country.
Government introduced road fund levy to support Roads Funds Administration  (RFA) which is mandated to fund road construction and maintenance works throughout the country
http://www.nationmw.net/index.php?option=com_content&view=article&id=20977:malawi-loses-k122m-over-fuel-crisis&catid=62:national-news&Itemid=59
Get used to the fuel crisis – Minister
10/6/2011
Natural Resources, Energy and Environment Minister Grain Malunga has said it is time Malawians got used to persistent fuel shortages affecting Malawi.
In an interview in Malawi's capital, Lilongwe, on Thursday, following the fuel crisis that has resurfaced in the country, the minister said the problem cannot go away immediately.
Malunga also blamed some filling station owners in Malawi's commercial city, Blantyre, and Lilongwe for aggravating the problem by hoarding fuel. He claimed that in the Capital City, some service station attendants are even demanding money to sell the commodity to motorists.
He argued that unlike in the previous shortage when international fuel suppliers suspended credit facilities, currently the country has such facilities running for six months but the problem is that commercial banks are facing problems to replenish the facilities.
During the presentation of the 2011/2012 national budget, Minister of Finance Ken Kandodo said increasing demand for fuel in the country and logistics are two major problems causing the chronicle fuel shortages.
He said the country registers almost 3 000 new vehicles monthly and the daily demand for fuel stands at 1.124 million litres and that almost K55 billion ($366 million) is required to meet annual fuel demand.
The Economics Association of Malawi last year estimated that the country's economy lost almost K111 billion (about $730.3 million) due to the fuel shortages.
http://www.malawitoday.com/news/740-get-used-fuel-crisis-minister
Puma Energy takes over BP Malawi
17/6/2011
http://www.malawidemocrat.com/business/puma-energy-takes-over-bp-malawi/
Malawi Parliament summons President over fuel crisis
24/6/2011
LILONGWE (Africa Review) –  Opposition legislators in Malawi have summoned President Bingu wa Mutharika to appear before Parliament Monday  (June 27) to answer questions on fuel scarcity following his ministers' failure to give satisfactory answers.
http://www.malawidemocrat.com/politics/malawi-parliament-summons-president-over-fuel-crisis/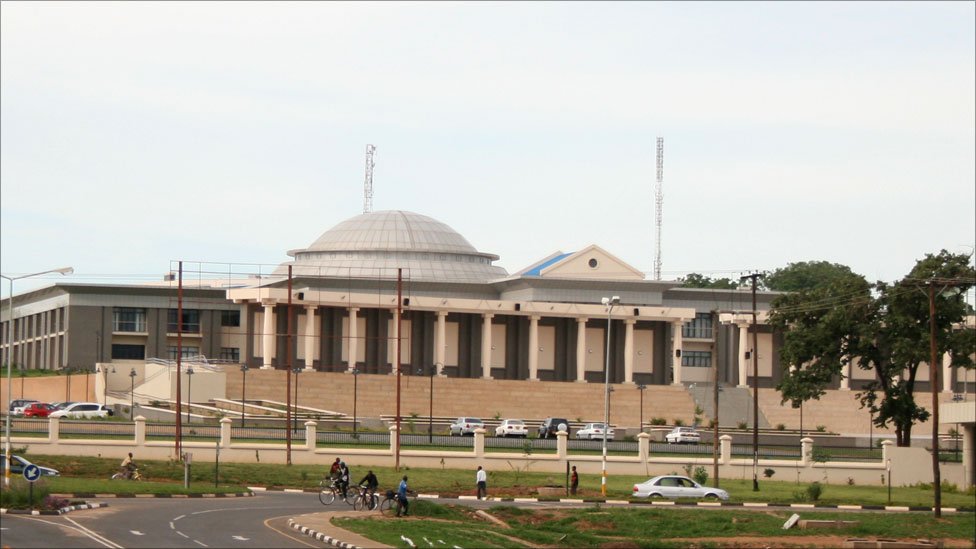 Malawi's Chinese built Parliament in Lilongwe
http://www.bbc.co.uk/news/world-africa-12357672
Bingu hits back at IMF
25/6/2011
BLANTYRE–Pres Bingu wa Mutharika, whose cash-strapped government is grappling with a crippling fuel shortage, has hit back at the International Monetary Fund (IMF), saying the Fund advised Capital Hill that all foreign exchange receipts from tobacco sales – some $400 million annually – shouldn't be controlled by the central bank but be sold through commercial banks.
Speaking in Chichewa on state radio and television, Mutharika, whose handling of the fuel crisis and the economy as a whole has attracted criticism from many quarters, said: "Forex is no longer in the commercial banks. It's with people who run hardware shops.
"Now they [IMF] want government to devalue the Kwacha to K180 to a dollar. If we do that prices of essential products and services will go up including transport. Who will win?"
Mutharika said government would establish the National Oil Company.
"Government will take over the responsibility of fuel importation. We will establish our own company, a government company, which will be importing fuel and selling to the private companies and we will be keeping some of the fuel as well so that we have reserves adequate for six months or over just like what our national Food Reserve Agency does with maize stocks."
http://www.maravipost.com/malawi-politics/politics/5347-bingu-attacks-imf-tells-malawians-i-know-what-im-doing.html
Malawi, not IMF, decided to depend on failing tobacco for forex
27/6/2011
Look, Malawi has two main forex sources: tobacco – and, to a smaller extent, tea, coffee and now cotton – and donor receipts. Government policies have not succeeded into weaning us from over-dependence on the much-maligned so-called green-gold. Despite years of warnings from anti-smoking lobbies and anti-tobacco conventions we still have not found a replacement for tobacco.
http://www.faceofmalawi.com/2011/06/malawi-not-imf-decided-to-depend-on-failing-tobacco-for-forex/
Foreign travel for Malawi civil servants, ministers banned
1/7/2011
Malawi's top civil servants and ministers will not make "small" foreign trips in order to cut expenses as the country on July 1 started using the zero-deficit budget.
The ban didn't include the president himself, who regularly hits the global trail with large entourages. Hundreds of civil servants also travel abroad every month to attend to international conferences, seminars and other duties.
http://www.maravipost.com/business-and-development/development/5384-foreign-travel-for-malawi-civil-servants-ministers-banned.html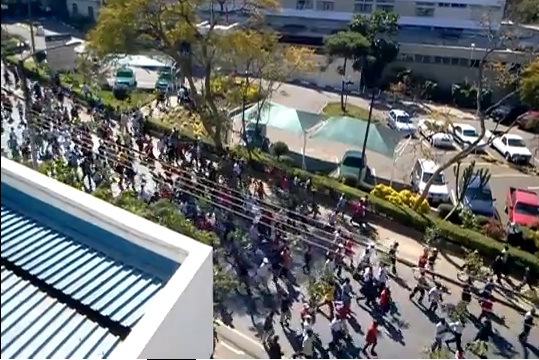 http://www.youtube.com/watch?v=_y3boTcK_Hk
Previous periods of shortages:
8/12/2010
The fuel shortage, particularly in diesel fuel, over the past several months is taking a hard toll on everyone in Malawi. Citizens line the streets for miles, waiting for the ration of gasoline. Farmers are unable to transport their crops to local markets, and firms that rely on diesel generators to power their plants are halting production. The fuel shortage is ruining an already poor Malawian economy.
http://malawibeat.wordpress.com/2010/12/08/malawi-fuel-shortage/