From the Energy Minister's media release:
Australia to boost fuel security and establish national oil reserve
22 April 2020
The Australian Government is boosting the nation's long-term fuel security by taking advantage of dramatic falls in global oil prices and building on our historic agreement with the United States to access their Strategic Petroleum Reserve (SPR).
Australia has been negotiating access to the SPR since 2018, with Minister Taylor and US Energy Secretary Dan Brouillette signing the first arrangement of its kind to facilitate this deal in March of this year.
Australia will spend $94 million to buy oil at the current low global prices. Australia has access to hold oil in the US SPR for an initial period of 10 years.
https://www.minister.industry.gov.au/ministers/taylor/media-releases/australia-boost-fuel-security-and-establish-national-oil-reserve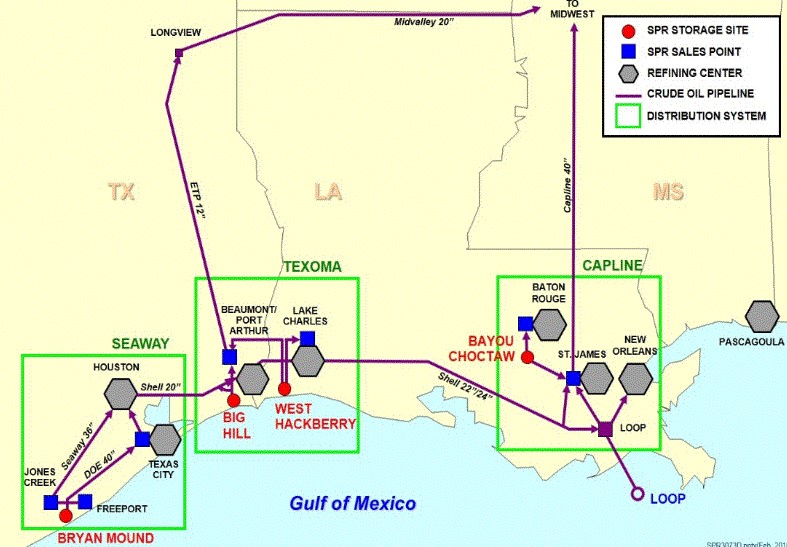 Fig 1: Location of SPR caverns
https://www.energy.gov/sites/prod/files/2019/02/f59/EXEC-2018-001277%20-%202017%20SPR%20Report.pdf
Bryan Mound: Freeport, 19 caverns, 247 MMbbl
Big Hill: 14 caverns, 170 MMbbl
West Hackberry:  21 caverns, 220 MMbbl
Bayou Choctaw: Mississippi,  9 caverns, 76 MMbbl
Drawdown rates and type of oil see Fig 12
Australia boosts oil reserves, but how many barrels does $94 million get?
24/4/2020
Federal Minister for Energy Angus Taylor told ABC News Breakfast on Thursday the country would go through about 1 million barrels — roughly 159 million litres — a day. This figure has been consistent for at least the past five years according to the Australian Petroleum Statistics.
On Thursday, crude oil was trading at roughly $22 per barrel in Australia, which resulted in roughly 4.2 million barrels for a $94 million purchase. So, Australia has purchased roughly four to five days' worth of crude oil from the United States.
https://www.abc.net.au/news/2020-04-24/explainer3a-australia27s-oil-purchase/12177060
In fact, consumption of petroleum products has been increasing (before Corona virus):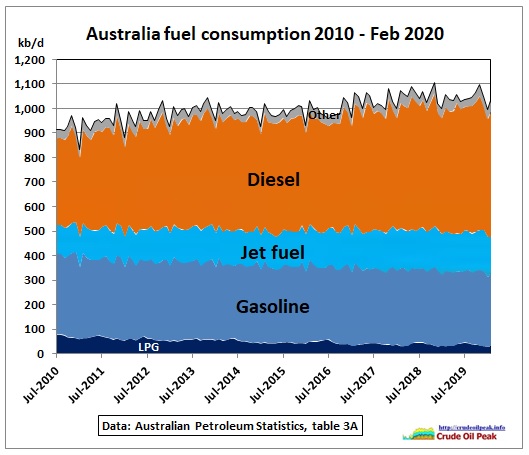 Fig 2: Fuel consumption
But the SPR is about replacing lost crude oil imports, not product imports.
Fig 3: Australia's crude imports by country
Crude imports from neighbouring Asian countries have been in decline for 10 years because production in these countries has peaked as shown in this graph: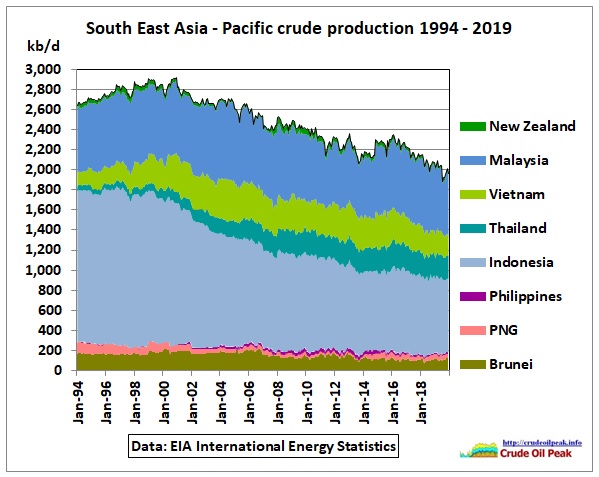 Fig 4: Peak oil in South East Asia and the Pacific
As a result, Australian imports were diversified into West Africa (Nigeria, Congo, Gabon) but when 3 refineries closed these were scaled down and recently replaced by imports from the US. The following graph shows monthly refinery inputs (crude and other feedstock), crude imports, indigenous feedstock and end-of-month crude oil stocks: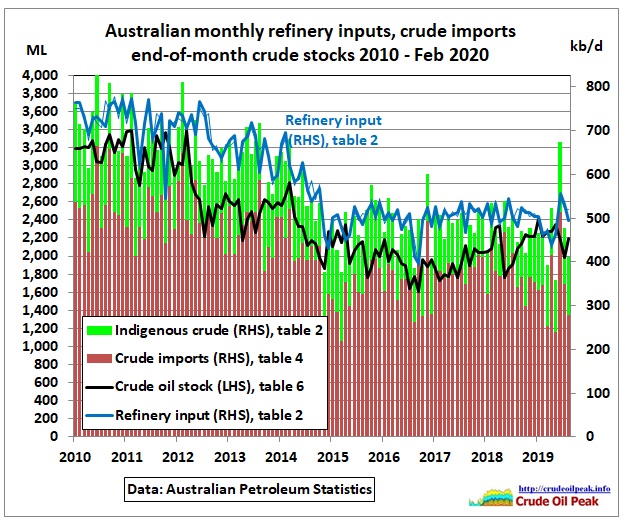 Fig 5: Australia's refinery inputs, crude imports, indigenous crude and stocks
After the closure of the Bulwer refinery in May 2015, refinery input averaged 500 kb/d of which 120 kb/d indigenous inputs and 380 kb/d imported crude and feedstock. End-of-month crude stocks averaged 2,000 ML (420 kb/d over 1 month), between 1,600 ML (332 kb/d) and 2,400 ML (500 kb/d).
This means there were stocks for 30.4×420/500= 26 days, but they could be as low as 19 days. We can now answer the public broadcaster's question: 4.2 million barrels of crude is the equivalent of 10 days supply of crude to Australian refineries.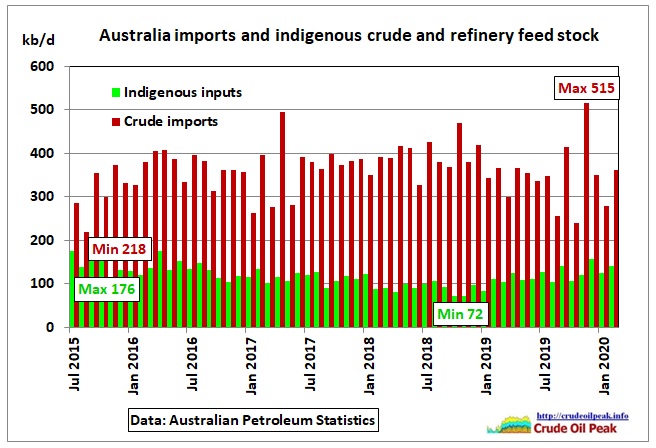 Fig 6: Monthly variability in refinery inputs
Imports varied between 218 kb/d and 515 kb/d with a standard deviation of around 60 kb/d. Indigenous crude and feedstock saw a minimum of 72 kb/d and maximum of 176 kb/d with a lower deviation of 24 kb/d.
From Fig 5 it is clear there are discrepancies in the statistics (crude imports + indigenous feedstock should add to refinery inputs +- stock changes), around 4.5% over this 10 year period.
In April 2019, a year ago, the federal government released a Liquid Fuels Security Review. It contains a chapter on storage capacity (p 28) but no details (in ML or million bbls) were given.
Indeed, the review complains that "there is no comprehensive, real-time picture of all fuel available within the national supply chain" and mentions that the department is developing a "model of our whole liquid fuel market and its various supply chains. This includes crude sources around the world, transport to refineries in Australia and overseas, and distribution in Australia. This model will seek to estimate the volume and spare capacity in the supply chain. This should lead to a more holistic understanding of storage capacity and turnover of stocks."
https://www.environment.gov.au/system/files/consultations/7cf6f8e2-fef0-479e-b2dd-3c1d87efb637/files/liquid-fuel-security-review-interim-report.pdf
History of National Energy Security Assessments
The 2019 Review refers to a report by ACIL Allen Consulting titled "Liquid Fuel Disruption Scenarios—Interim Report", prepared for DOEE, but it remains unpublished.
ACIL's previous reports were done in 2009 and 2011 under the Rudd government.
https://acilallen.com.au/uploads/files/projects/32/ACIL_LiquidFuels.pdf
The following Abbott government published its Energy White Paper after 2 years in power, without an update of the ACIL reports:
April 2015
Reliability of transport fuel supply
The Australian Government considers that supply reliability will be maintained because of the depth, liquidity and diversity of international crude and fuel markets, combined with the existing Australian stockholding and at-sea tanker arrangements of commercial companies. Security of supply will continue to be monitored through the periodic NESA review. Additionally, emergency response arrangements and capacity will continue to be tested regularly to ensure preparedness. The 2011 NESA concluded there was sufficient global oil production and refining capacity to supply the Australian market to 2035, even with declining domestic refining capacity. The Government will consider and release a new NESA by mid-2015 (p 26)
https://www.abc.net.au/reslib/201506/r1437292_20785622.pdf
The NESA 2015 report was never done. This is a list of commissioned reports (captured as of writing this article) to monitor and analyse energy supply chains:
https://www.energy.gov.au/government-priorities/energy-security/energy-security-assessments
From the above Maritime supply chain report by Hale and Twomey, 2013:

Fig 7: Crude supply routes and tanker travel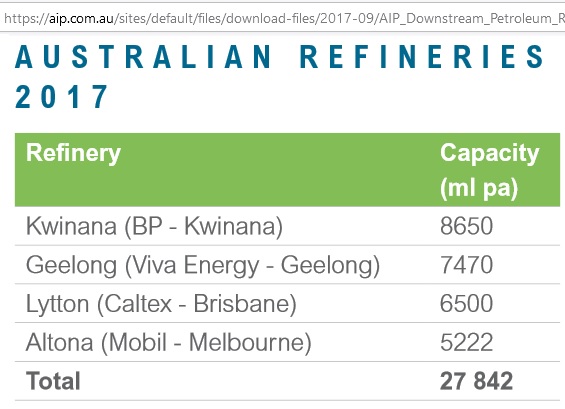 Fig 8: The 4 remaining refineries in Australia (from AIP)
https://aip.com.au/sites/default/files/download-files/2017-09/AIP_Downstream_Petroleum_Report_2017-7_Australian_refinery_competitiveness.pdf
Caltex to shut Brisbane refinery
6 Apr 2020    The company said the refinery will close in May as it brings forward a planned maintenance program originally due in July. The maintenance work is expected to be completed by August, but the refinery will not re-open until margin conditions have sufficiently recovered, it said.
https://www.ogj.com/refining-processing/refining/operations/article/14173456/caltex-to-shut-brisbane-refinery
AIP, the representative body of Australia's downstream petroleum industry is opposed to emergency oil reserves.
Liquid Fuels Stockholdings in Australia and the IEA Obligation
1 Sep 2017
Given these market facts and realities, any level of emergency stockholdings for Australia over and above normal commercial requirements cannot be justified on energy security grounds.
https://aip.com.au/resources/liquid-fuels-stockholdings-australia-and-iea-obligation
Now let's have a look at the US Strategic Petroleum Reserve (SPR)
Current stocks

Fig 9: Ending Stocks in Strategic Petroleum Reserve
https://www.eia.gov/dnav/pet/hist/LeafHandler.ashx?n=PET&s=WCSSTUS1&f=W
Some SPR facts in chronological order
BIPARTISAN BUDGET ACT OF 2015
Nov 2015
As the SPR, established in the oil crisis years of the 70s, is aging and its condition is deteriorating the US Congress enacted legislation to modernize the SPR.
Section 401 provides for a test drawdown
In section 402 the Secretary of the Treasury is to complete a long-range review of the SPR, develop and submit to Congress a proposed action plan (mission readiness optimization), including a proposed implementation schedule, to
specify near- and long-term roles of the SPR
describe whether existing legal authorities are adequate
identify the configuration and performance capabilities of the SPR
estimate the resources required to attain and maintain the long-term sustainability and operational effectiveness of the SPR
Section 403 provides for the sale of 58 MMbbl oil from the SPR to finance the implementation of the plan. Following quantities and periods were authorized:
4 x 5 MMbbl during the financial years 2018-21
8 MMbbl in 2022
3 x 10 MMbbl during the financial years 2023-25
An amount of US$ 2bn was expected to be realized until 2020 and to be spent on:
operational improvements to extend  the useful life of surface and subsurface infrastructure;
maintenance of cavern storage integrity; and
addition of infrastructure and facilities to optimize the drawdown  and  incremental   distribution  capacity of the Strategic Petroleum Reserve.
The document is here: https://www.congress.gov/114/plaws/publ74/PLAW-114publ74.pdf
How urgent the repairs were shows the following report from Platts, a leading provider of information in the oil & gas sector:
A rare tour of the Strategic Petroleum Reserve
Jun 15th 2016
The world's largest emergency stockpile of crude oil is quickly falling apart.
The stockpile's infrastructure, which currently stores 695.1 million barrels at four sites along the US Gulf Coast, is nearing the end of its design life and in need of a roughly $2 billion makeover, US Department of Energy officials claim.
Throughout the system, pipes are corroding, tank floors need to be replaced, wells are failing mechanical integrity tests and pump motors, after decades of dealing with harsh weather and salty air off the Gulf of Mexico, are breaking down beyond repair, DOE officials claim.
Corbin said these issues complicate the ability of DOE to both drawdown and distribute crude oil at times of severe supply distributions, which is the primary reason the SPR was created more than four decades ago. They also complicate US' ability to meet obligations under international agreements and could endanger energy security.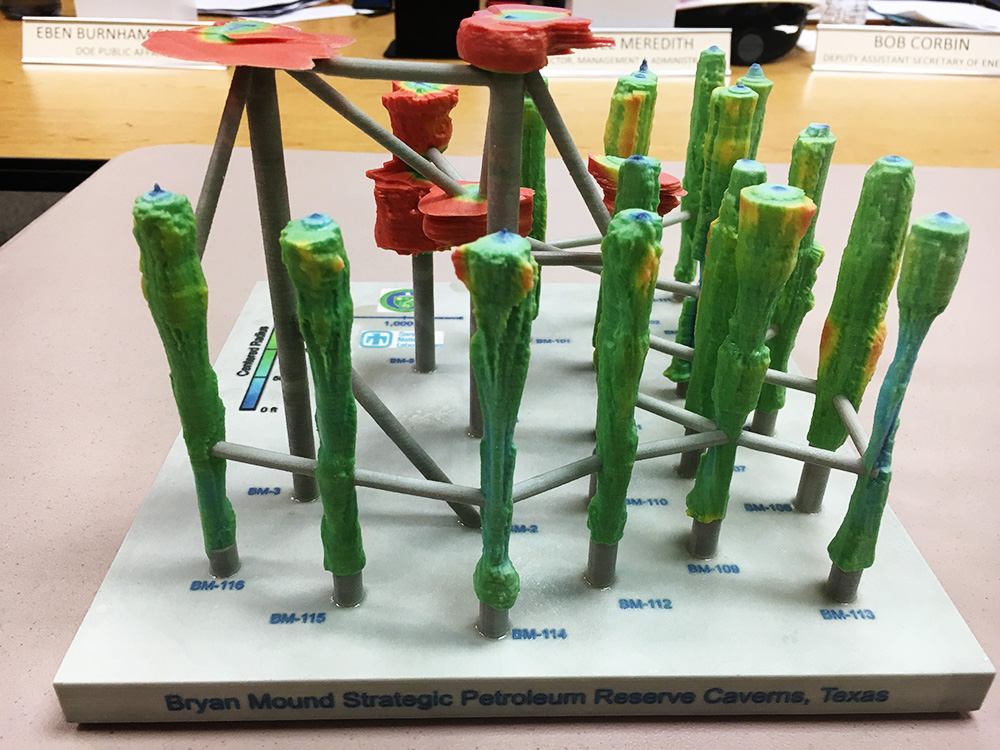 Fig 10: Model of SPR caverns (70m x 800m, 1.3-1.6 km deep)
Bryan Mound is a 500-acre site which currently holds 245 million barrels of crude (2.1 million barrels below its design storage capacity) in 19 operational storage caverns. The SPR has two types of caverns in salt domes: SPR-designed caverns (the long, green caverns in the model) and Early
Storage Reserve-caverns (the flatter, reddish-colored caverns in the model). The ESR caverns are typically repurposed salt domes and have operational restrictions the more current SPR-designed caverns do not have. The ESR caverns at the Bryan Mound site were originally used by Dow Chemical to store magnesium. The entire SPR has 49 SPR-designed caverns and 11 ESR caverns.
https://blogs.platts.com/2016/06/15/rare-tour-strategic-petroleum-reserve/
Long-Term Strategic Review of the U. S. Strategic Petroleum Reserve
Report to Congress, Sep 2016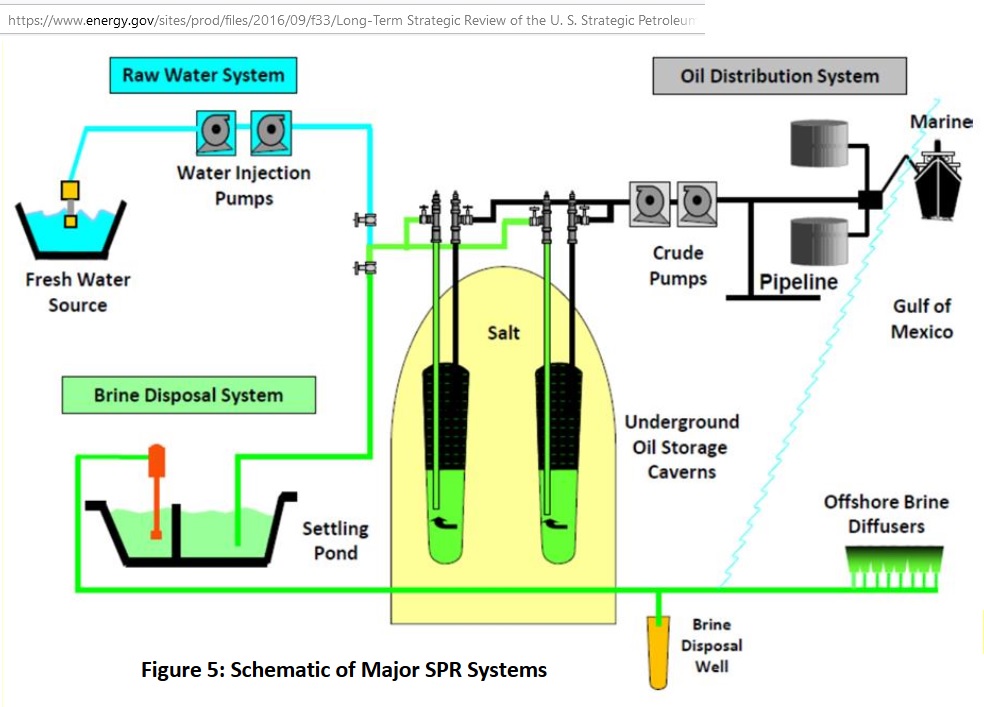 Fig 11: The schematic shows the filling of the reserve when oil replaces brine in the salt cavern
https://www.energy.gov/sites/prod/files/2016/09/f33/Long-Term Strategic Review of the U. S. Strategic Petroleum Reserve Report to Congress_0.pdf
During drawdowns raw water is pumped via the brine wells into the cavern below the oil, pushing the oil up to the surface. The number of remaining drawdowns is limited to 1-5 depending on the cavern because each raw water injection dissolves existing cavern salt, resulting in a structural deterioration of the caverns.  For details see table 8 in the above report.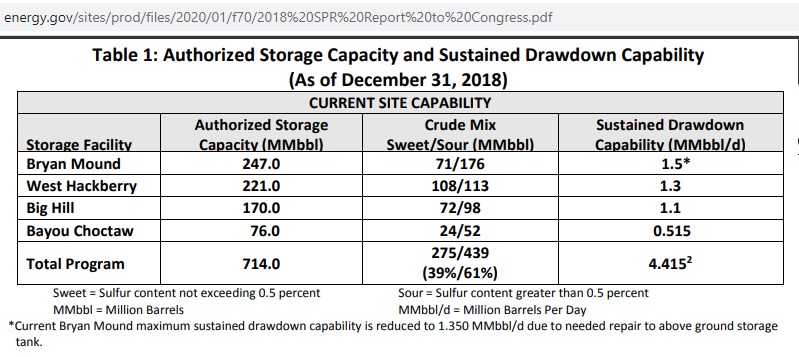 Fig 12: Storage capacity and sustained drawdown
Current SPR maximum drawdown capability is reduced to 4.25 MMbbl/d due to a damaged floating pan in Tank 2 at Bryan Mound
Congressionally mandated oil sales
United States Government Accountability Office
STRATEGIC PETROLEUM RESERVE Observations on the Emergency Stockpile
24 Jul 2018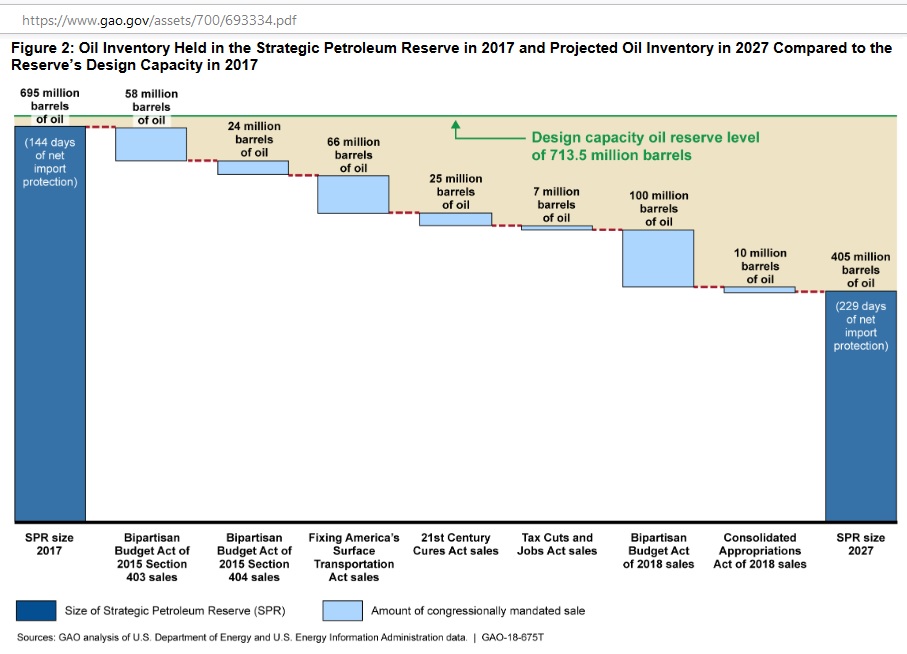 Fig 13: Cumulative drawdown for many different purposes
Budget Act 2015 sale of up to $2bn worth of oil 2018-2025 (see above)
Fixing America's Surface Transportation Act oil sale 2023-2025
21st Century Cures Act oil sale 2017-2019
Tax Cuts and Jobs Act oil sale 2026-2027 for the general fund of Treasury
Bipartisan Budget Act of 2018 oil sale 2022 – 2027 for the general fund of Treasury
Consolidated Appropriations Act of 2018 sale of oil 2020-2021 for the general fund of Treasury
https://www.gao.gov/assets/700/693334.pdf
The legislation for the above drawdowns is in:
H.R.6511 – Strategic Petroleum Reserve Reform Act
26 Sep 2018
BACKGROUND AND NEED FOR LEGISLATION
Congress has passed several laws mandating the sale of crude oil from the SPR. These sales, totaling an estimated $16 billion, are projected to reduce the SPR's inventory from the current level of 660 MMbbl to approximately 400 MMbbl over the next decade, provided the drawdowns do not limit the ability of the SPR to prevent or reduce the adverse impact of an energy supply shortage. $16,000 million / 260 MMbbl = $61/bbl assumed
"SEC. 168. USE OF UNDERUTILIZED FACILITIES
(a) AUTHORITY.—Notwithstanding any other provision of this title, the Secretary may establish and carry out a program to lease underutilized Strategic Petroleum Reserve storage facilities and related facilities to the private sector, or a foreign government or its representative. Petroleum products stored under this section are not part of the Strategic Petroleum Reserve
(b) PROTECTION OF FACILITIES.—Any lease entered into under the program established under subsection 17(a) shall contain provisions providing for fees to fully compensate the United States for all related costs of storage and removals of petroleum products (including the proportionate cost of replacement facilities necessitated as a result of any withdrawals) incurred by the United States as a result of such lease.
(c) ACCESS BY THE UNITED STATES.—The Secretary shall ensure that leasing of facilities under the program established under subsection (a) does not impair the ability of the United States to withdraw, distribute, or sell petroleum products from the Strategic Petroleum Reserve in response to an energy emergency or to the obligations of the United States under the Agreement on an International Energy Program.
(d) NATIONAL SECURITY.—The Secretary shall ensure that leasing of facilities under the program established under subsection (a) to a foreign government or its representative will not impair national security."
https://www.congress.gov/115/crpt/hrpt965/CRPT-115hrpt965.pdf
(underline by author)
Strategic Petroleum Reserve Annual Report for Calendar Year 2018
Report to Congress January 2020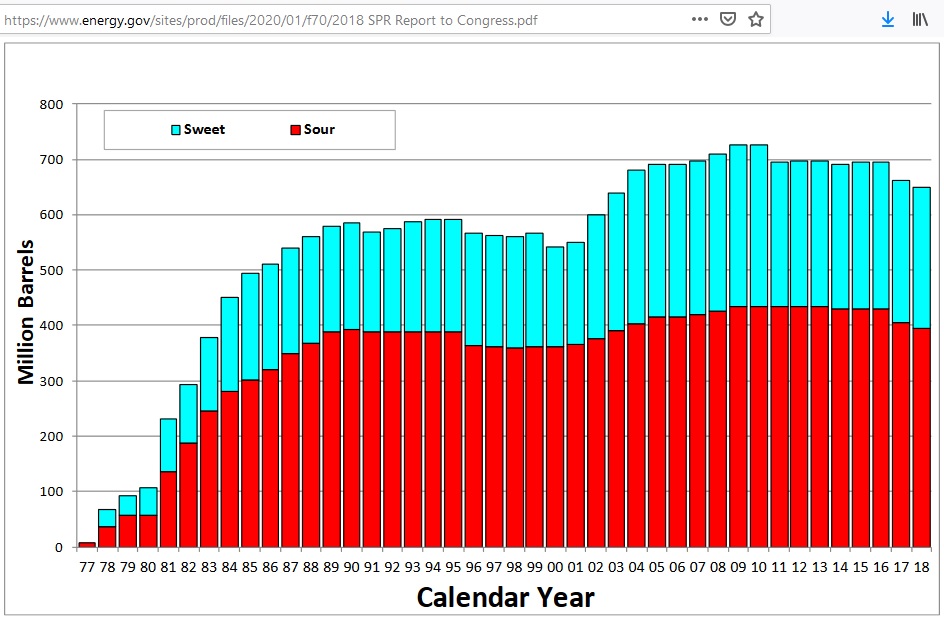 Fig 14: SPR sweet (254 Gb) and sour (395 Gb) oil. Australian refineries are not designed for sour oil
https://www.energy.gov/sites/prod/files/2020/01/f70/2018%20SPR%20Report%20to%20Congress.pdf
Where the SPR oil is from:  Mexico (30.7%),  UK (22.4%), US (13.7%), Saudi Arabia (3.3%), Libya (3.2%), Venezuela (2.9%), Angola (2.9%), Russia (2.9%), Iran (2.3%), UAE (2.2%), Rest (13.5%)
SPR operation (examples)
Drawdowns
1991 Desert Storm, IEA coordinated response  (17 MMbbls, mainly sweet)
2005 Hurricane Katrina, IEA collective action (sweet 11 MMbbls sold)
2011 Libyan Disruptions, IEA collective action (sweet 30 MMbbls)
Test Sales
2014 Test Sale to evaluate draw down and distribution mechanism  (5 MMbbls)
Exchanges
2005 Hurricane Katrina emergency loans (10 MMbbls)
2008 Hurricanes Gustav & Ike, loan to Marathon, Placid, ConocoPhillips, Citgo, Alon USA (5 MMbbls)
2012 Hurricane Isaac, emergency loan to Marathon  (1 MMbbl)
2017 Hurricane Harvey (5 MMbbls)
https://www.energy.gov/fe/services/petroleum-reserves/strategic-petroleum-reserve/releasing-oil-spr
Conclusion:
The operation of the SPR is technically very complex, vulnerable to hurricanes, highly regulated and controlled by many congressional mandates. It remains to be seen what the true cost of Australia's access to the SPR will be. And it is not clear how Australia's particular requirements (sweet oil, tanker loadings and scheduling etc.) as a foreign government would actually work in a genuine emergency especially when US shale oil production declines and the need for imports increases again. The Energy Minister's press release gives no details about these problems. A test drawdown should be done. But it could be the Australian government will use this deal only to satisfy stockholding requirements of the IEA.