What you vote is what you get. More road tunnels and neither rail nor public transport projects. And this despite Tony Abbott being a cyclist.
As the Australian election campaign enters its final stage polls suggest that Tony Abbot is to become the next Prime Minister. He has styled himself "Infrastructure Prime Minister". But which infrastructure? More highways and road tunnels. More than what we have seen in the last 6 years under an ALP government? The word "rail" does not even appear in the Liberal "plan". Neither does the word "oil". So we'll become even more oil dependent than we are already now. June 2013 statistics of  BREE show that Australian crude and condensate production dropped by 11.5% pa between 2011/12 and 2012/13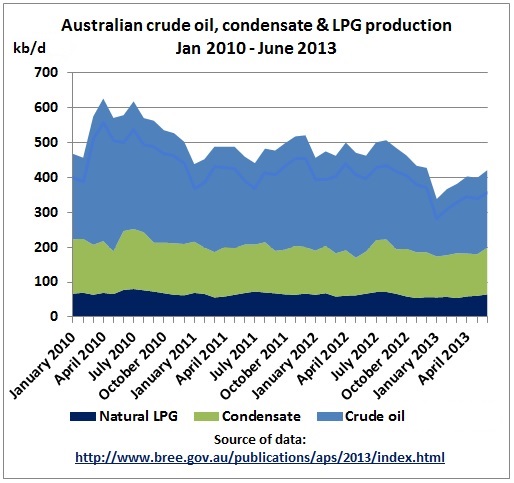 And as Australian refineries are closing, our dependency on the Middle East increases. The disconnection of this Liberal "plan" to what we see on our TV screens every day could not be starker.
Let's have a look at that plan which can be found here:
http://lpa.webcontent.s3.amazonaws.com/realsolutions/LPA%20Policy%20Booklet%20210x210_pages.pdf
We read in the chapter "Delivering modern infrastructure and building a 21st Century Australia":
(1)   "We have an economic plan for Australia – a plan to build more modern infrastructure to boost productivity."
Which productivity? Not the productivity in the use of expensive oil.
(2) "We will require all Commonwealth-funded projects worth more than $100 million to undergo a cost-benefit analysis by Infrastructure Australia to ensure the best use of available taxpayer monies"
Such a cost benefit analysis was done for e.g. Brisbane's airport link: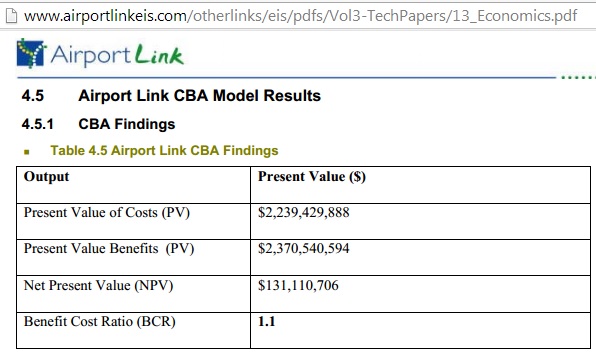 http://www.airportlinkeis.com/otherlinks/eis/pdfs/Vol3-TechPapers/13_Economics.pdf 
According to the grading system in table 3.1 of the same report a BCR of 1.1 means close to no benefit (BCR = 1, NPV =0)
Yet, the tunnel was built and subsequently went into receivership (see below)
(3) "Within 12 months of election we will announce infrastructure priorities and construction timetables in consultation with the States" (p 31)
Without having done such CBAs the decisions have already been made. The planning is put on its head:
We will contribute $1.5 billion to get the M4 East (WestConnex Project) underway in Sydney to complete the east-west corridor.
We will contribute $1.5 billion to get the East-West Link road tunnel underway in Melbourne to link the Eastern Freeway and Western Ring Road and we will further improve the Geelong Princes Highway.
We will contribute $1 billion towards the upgrade of the Gateway Motorway in Brisbane and we will develop the Toowoomba Range crossing.
We will contribute $400 million and get the duplication of the Midland Highway between Hobart and Launceston done in Tasmania.
We will contribute $5.6 billion to complete the duplication of the Pacific Highway from Newcastle to the Queensland border.

Main rail line Sydney – Brisbane, South of Coffs Harbour. Single tracked! Not electrified. Looks like a branch line in a 3rd world country. Electric rail is the only solution for peak oil and global warming.
We are committed to the Perth Gateway project and will make further road infrastructure commitments in South Australia before the next election" (p 32)
The contributions to urban motorways are only a fraction of construction costs so where will the money come from to pay for these projects?
(4) "We will investigate ways to get more private funding into high priority infrastructure projects to enable us to do more to modernise Australia. We will ask the Office of Financial Management to examine an Infrastructure Partnership Bonds Scheme to encourage billions of dollars of additional private investment in infrastructure projects, so that we can get more things done." (p 31)
To set up motorway trusts which pay no or little taxes?
Transurban defends solitary tax payment in 10 years
24/8/2013
http://www.smh.com.au/nsw/transurban-defends-solitary-tax-payment-in-10-years-20130823-2sh9f.html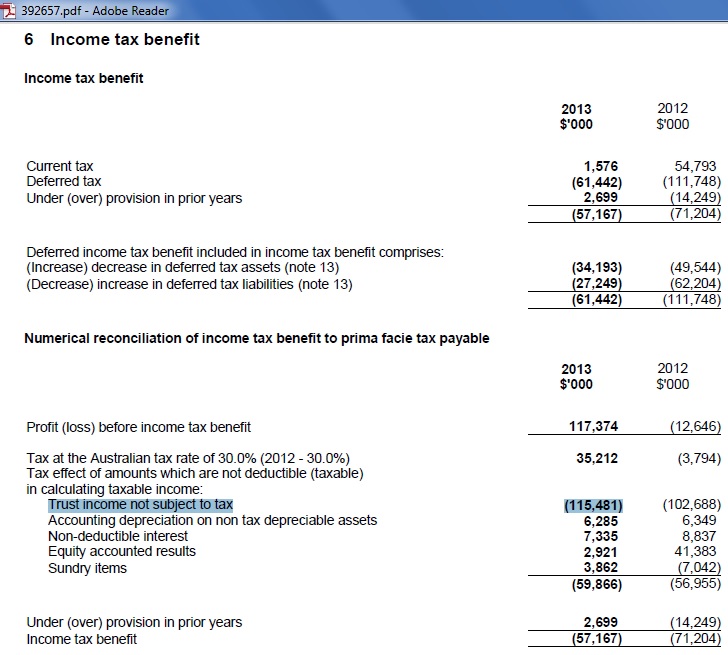 http://news.iguana2.com/transurban/ASX/TCL/392657
And while motorists might not get excited about this, they would if they ever spent time to check their super fund how much was lost directly or indirectly when 4 road tunnels financially collapsed:
1 Sydney's X-City Tunnel  http://crudeoilpeak.info/cross-city-tunnel
2 Sydney's Lane Cove Tunnel  http://crudeoilpeak.info/lane-cove-tunnel
3 Brisbane's Clem 7 Tunnel http://crudeoilpeak.info/i-told-you-so/north-south-bypass-tunnel-clem7-brisbane
4 Brisbane's Airportlink Tunnel
20/2/2013
Brisbane Airport Link: At the end of the road tunnel, investor money flies away (part 2)
http://crudeoilpeak.info/brisbane-airport-link-at-the-end-of-the-road-tunnel-investor-money-flies-away-part-2
Here is the recipe book how this was all done:
Twenty-one ways to inflate toll road traffic and revenue forecasts.
By  Robert Bain
Flatter the asset
Cherry-pick your planning variables
Judiciously identify the historical trend
Selectively apply or report growth factors
The future will look exactly like the past
The future will look nothing like the past
Using seasonality to your advantage
Remove inconvenient truths
Design surveys to return the desired results
The magic of expansion/annualisation factors
Assume that consumers will act rationally
Assume that consumers make the same choices
Hypothetical bias – a helping hand
Grow your value of travel time savings
Overstating the toll-road premium
Overstating the yield
Reliance on speculative development
The joy of induced demand
Introduce your own toll discount
Assume quick ramp up
Ignore physical capacity constraints
http://www.infrastructureaustralia.gov.au/publications/files/Toll_forecasts_Big_Numbers_Win_Prizes.pdf
It would be a little bit too early to say that some or all of the above method(s) were used to pre-select the toll-ways in the Liberal plan above, but at this stage we can be confident that following assessment is plausible:

http://www.infrastructure.gov.au/infrastructure/infrastructure_reforms/files/Disincentivising_Overbidding_Toll_Road_Concessions.pdf
The table 2.3 comes from a report of Infrastructure Australia, the very organisation which is expected to do those cost benefit analyses.
(5) Improving the environmental approval process
"We will streamline the environmental approval process for all users – resulting in less duplication across federal and State jurisdictions and delivering a real boost to the nation's productivity. We will establish a one-stop shop environmental approvals process covering both Commonwealth and State legislation, that maintains high environmental standards, delivers certainty for all users and importantly makes swift decisions." (p 46)
What streamlining will mean can already be seen in the proposed SEPP (mining) amendment by the Liberal government in NSW: "to promote the development of significant mineral resources". Similarly amended planning legislation for the preparation of environmental impact statements of infrastructure projects will then contain the objective to "promote toll-way business"
Back to square one on peak oil
Tony Abbott's Resource Minister candidate is a veteran from the Howard years, Ian McFarlane. In June 2005, at a seminar in BP Solar in Sydney's Homebush (closed in 2008), he told me that he knows when peak oil is, without giving any details. But Ian MacFarlane did not communicate his hidden knowledge to Tony Abbot when he became party leader after Howard's defeat.
In the Q&A session of "The future of the Liberal party" at the Sydney Writer's Festival 2008
http://www.themonthly.com.au/video/2013/03/24/1364105225/future-liberal-party-part-2
on 12 June – oil prices had reached $137 a barrel – Tony was asked:
"Does the Liberal Party have a policy on peak oil?"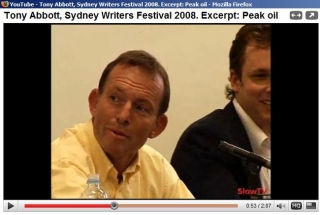 "….Perhaps Robert [Manne] has heard about peak oil. He is expert on arcane concepts…"
http://www.youtube.com/watch?v=tCiHFyLIfu8
He answered by saying he wished oil prices to go down. That of course was not the question. It turned out he was not familiar with the term peak oil but he sensed it was an "arcane concept". After this was explained to him Tony argued that higher oil prices would make "uneconomic deposits accessible and turning all sorts of things into oil become feasible". This response of course was in contradiction to his initial wish of lower oil prices.
Ironically, oil prices came down indeed because those high oil prices in mid 2008 converged with an underlying accumulated debt problem which triggered the GFC. At that moment peak oil had already done its damage. Not only did oil prices drop, but production too. In other words, oil was too expensive for the economies of the world.
In August 2010, at Brisbane Forum a couple of days before the last federal election, Tony was again asked:
Q:  I know you're not a believer human induced climate change, but could I test you on peak oil? Do you acknowledge that the world is facing a future of oil depletion and if so, how would you begin to prepare Australia for the major threat this poses to the way we live our lives?
TONY ABBOTT:  Ok, well, you know, the interesting thing about oil reserves is that they're always being expanded. I mean, at any one time, people think we have say 20 or 30 years of oil reserves. 20 or 30 years later, people still think we have 20, 30, 40 or 50 years of oil reserves, as the case may be and the reason for that is because as the technology changes, more reserves become accessible, and as the price changes, reserves that weren't really accessible become more accessible. So, look, I know about the concept of peak oil. I don't claim to be the world's greatest expert in it, but I'm sceptical as to its value as a tool for policy makers because at the right price, we've got a lot more reserves than we currently think. With better technology, we've got a lot more reserves than we currently think.
DAVID SPEERS:
So, are you saying, Tony Abbott, that oil is a limitless resource?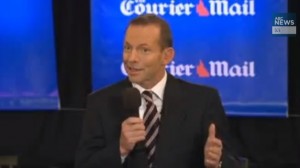 TONY ABBOTT:
I'm not saying that it's limitless. But it's not nearly as finite as we would think if we had looked at the kind of studies that were done a generation ago or even now
http://australianconservative.com/2010/08/tony-abbott-at-the-brisbane-peoples-forum/
Not much progress in 2 years. What if the right price is so high it kills the economy?
And what about the tool for policy makers? In an ABC TV oil crunch story in April 2011 the chief economist of the IEA, Fatih Birol, advised we should have started to prepare for the conventional peak already 10 years ago, that is from 2001 onwards
8/7/2011   "Yes, Prime Minister", peak oil 2006 under your watch
http://crudeoilpeak.info/yes-prime-minister-peak-oil-2006-under-your-watch
Having learnt from the oil crises in the 70s when high oil prices resulted in high inflation and a period of economic decline, Quantitative Easing came to the rescue of the financial system, for the time being. The problem is on-going.
Cheap money allowed consumers to afford using expensive oil and that brought the US oil & gas industry to produce shale oil which was hitherto unaffordable. But this shale boom will not last long as wells deplete very fast, by 80-90 % in just 2-3 years. Unfortunately for Tony Abbott, oil geology will win.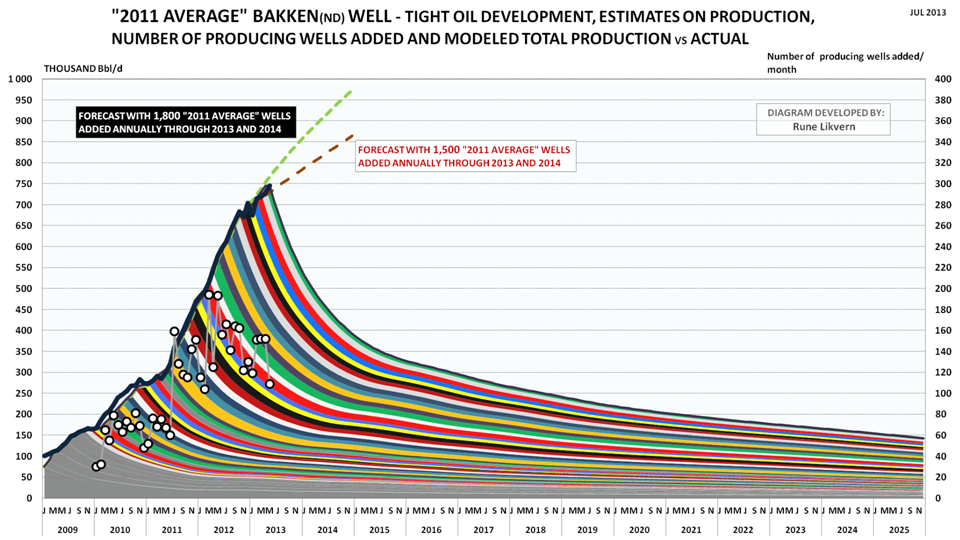 http://www.theoildrum.com/node/10102
Geoscientist David Hughes:
So if those 20,000 locations [for shale oil wells] exist, the peak of production in the Bakken could be around 2020, possibly sooner, followed by a decline. So the Bakken will continue to produce oil for decades, but at a much lower rate (< 500 kb/d)
http://www.postcarbon.org/article/1816957-whither-shale-oil-interview-with-david-hughes
Other areas like Eagle Ford in South Texas have similar production profiles.
So we've got just a couple of years to prepare for the period when conventional oil declines faster. If you think the Liberal "plan" would take advantage of this, you'd be wrong:
12/8/2013
Former Victorian premier Jeff Kennett's call for the state to borrow money to fund a major rail project runs counter to the position held by the Federal Coaltion Leader Tony Abbott, who has pledged taxpayer funding for a major road project instead of rail. The state treasurer has dismissed Mr Kennett's idea saying it would threaten Victoria's triple-A credit rating. Tony Abbott says it's federally irrelevant.
http://www.abc.net.au/news/2013-08-12/abbott-dismisses-kennetts-rail-idea-as-federally/4880894
 Global warming and CO2 debt
No qualms about our growing CO2 debt in the atmosphere:
18 Jul 2013
And so, when Tony Abbott suggests that an emissions trading scheme is "a so-called market in the non-delivery of an invisible substance to no-one", we can probably assume that he chooses his words with a degree of care.
http://www.abc.net.au/news/2013-07-18/green-an-invisible-nod-to-the-climate-change-sceptics/4826472
Nothing learnt in 2 years:
29 Jul 2011
CO2 is:  "…. an invisible, odourless, weightless, tasteless substance," Mr Abbott told Nine's Today  Show.
http://www.theaustralian.com.au/national-affairs/carbon-cop-handed-tough-new-powers/story-fn59niix-1226104093046 
…and no idea about climate forcings: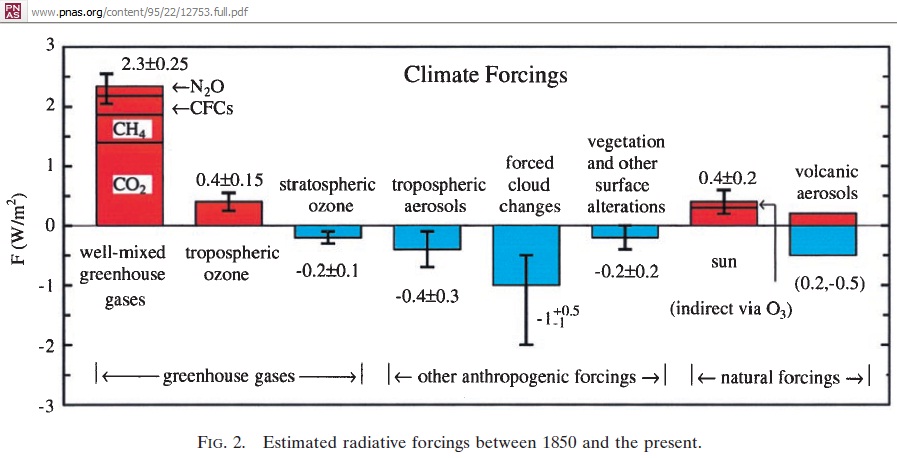 So we can expect that in those liberal cost benefit analyses CO2 emissions from vehicles will be counted as negligible externalities.
Outlook for an oil crunch scenario in the next term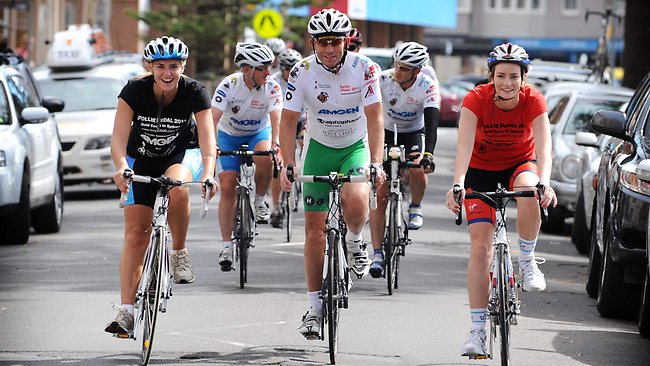 Tony Abbott & family on a bike ride in win-win-win position. Instead of 3-lane motorways, we'll get 3-lane bikeways in cities. And that's good for the budget of a former Health Minister, too.
Previous articles with relevance:
24/6/2013
Australian oil and fuel dependency on the Middle East is 37%
http://crudeoilpeak.info/australian-oil-and-fuel-dependency-on-the-middle-east-is-37
12/2/2013
No debt repayment plan for Sydney's toll-ways
http://crudeoilpeak.info/no-debt-repayment-plan-for-sydney%e2%80%99s-toll-ways
27/7/2012
After Sydney's refinery closure: Caltex to import fuel from Chevron's shrinking sales
http://crudeoilpeak.info/after-sydney-refinery-closure-caltex-to-import-fuel-from-chevrons-shrinking-sales
5/2/2012
Australian peak oil report ignored for urgent Sydney Canberra rail upgrade (Peaky Leaks Part 2)
http://crudeoilpeak.info/australian-peak-oil-report-ignored-for-urgent-sydney-canberra-rail-upgrade-peaky-leaks-part2