Summary
Virgin's operating revenues have grown more than 4-fold over 10 years but since 2009 – the year peak oil triggered the global financial crisis – operating expenses were as high as revenues, thereby leaving very little room for profits. The international expansion of the network did not help.  Fuel cost, airport charges and labour cost all have grown faster than available seat kms while at the same time revenue seat kms have not grown accordingly. Fuel efficiencies have not improved. In 2013 the carbon tax was just 4.3% of total fuel cost so peak oil is the decisive game changer.
Virgin Australia axes flights between Sydney and Hong Kong
5/2/2013
Richard Branson's Virgin Atlantic will ditch daily flights between Sydney and Hong Kong in May, blaming increasing costs and a challenging economic environment.
http://www.smh.com.au/business/aviation/virgin-atlantic-axes-flights-between-sydney-and-hong-kong-20140205-3202q.html
Let's have a look at passenger numbers: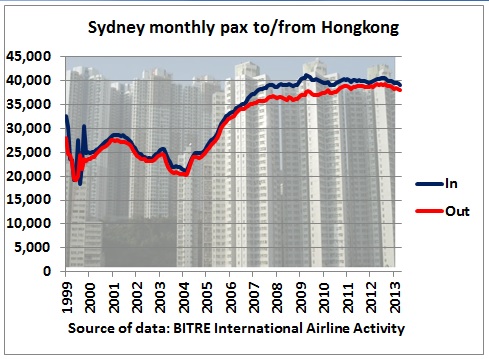 Since 2009 traffic is on a bumpy plateau. More details are here:
26/9/2013   2/3 of Asian flights to/from Sydney have not grown since 2008 (part3)
http://crudeoilpeak.info/two-thirds-of-asian-flight-to-from-sydney-have-not-grown-since-2008-part-3
Virgin Australia on track for $49 m loss
6/2/2014
Virgin Australia has told the market that it expects its first-half result will be ''materially in line'' with broker forecasts of a $49 million loss before tax.
http://www.smh.com.au/business/aviation/virgin-australia-on-track-for-49m-loss-20140206-322m4.html
Passengers carried

Operating Expenses and Revenues
How has it come to the losses? Let's have a look at operating expenses and revenues: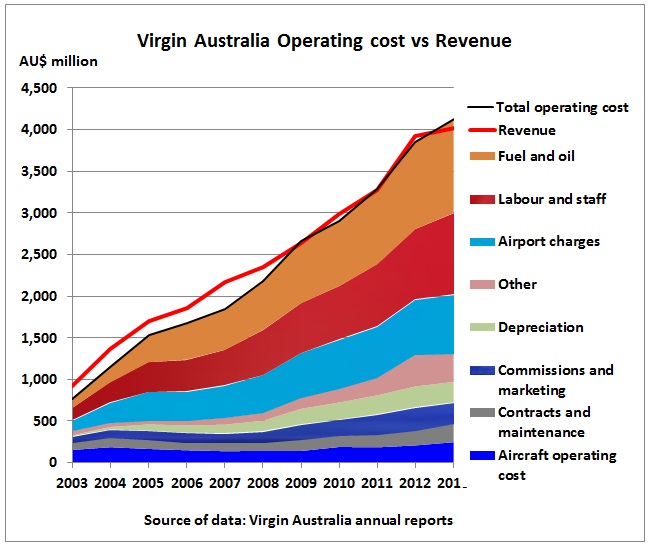 We can see that since 2009 revenue equals approximately operating cost, not leaving much room for profits.  Note: Annual reports for 2005 (2006) covered 18 (9) months. These have been adjusted proportionally to 12 months. All data in this post are from this website:
http://www.virginaustralia.com/au/en/about-us/company-overview/investor-information/annual-reports/
Comparison Operating Costs – Available Seat Kms
The main components of operating costs have all increased more than available seat kms: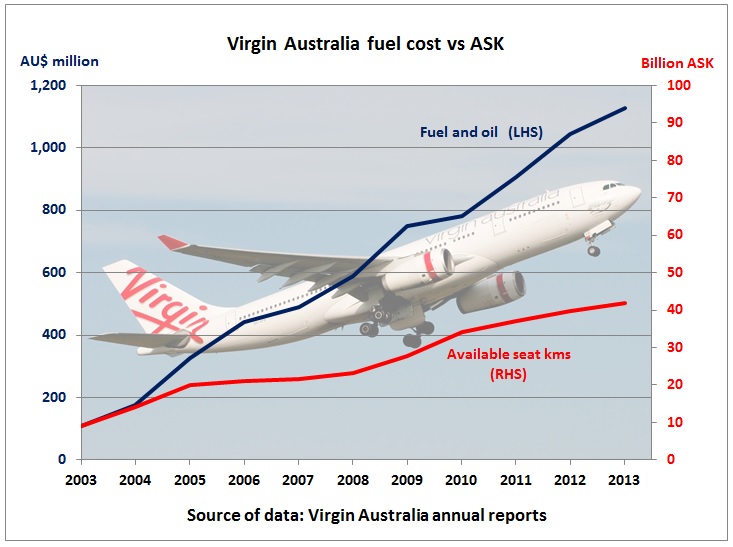 Cost of fuel and oil per available seat km (ASK) have increased 2.3 fold over the last decade.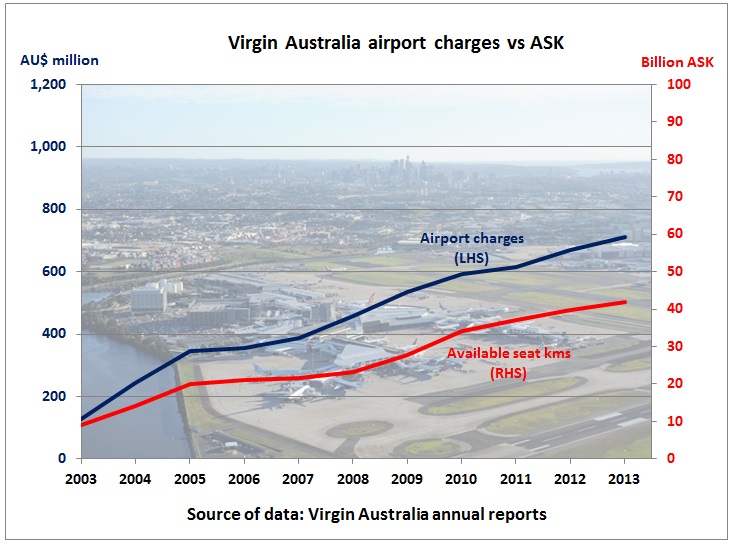 Airport charges per available seat km have increased by 20% between 2003 and 2013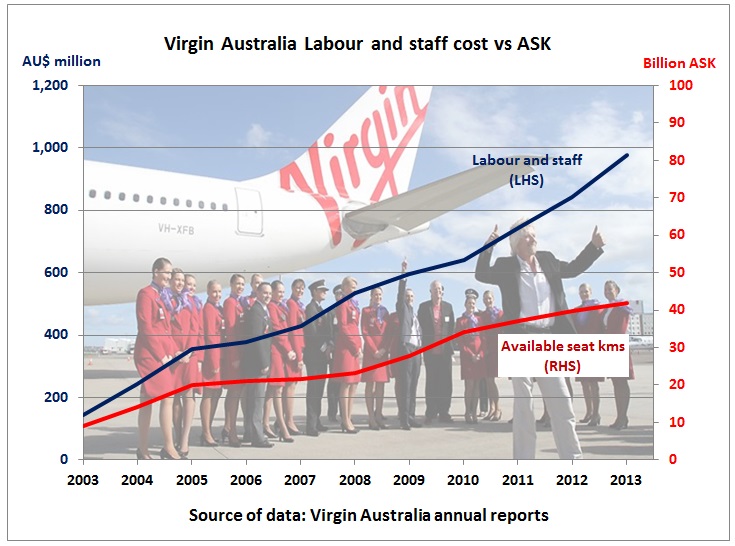 Labour and staff cost per ASK increased by 46% in the same period 
Available and Revenue seat kms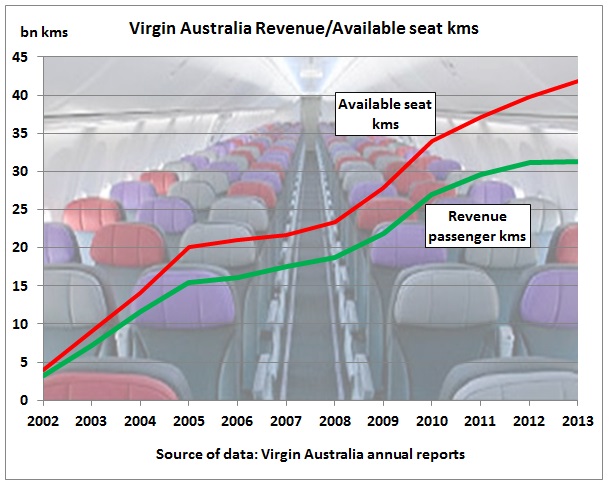 The gap between available and revenue kms has been widening in the last years reflecting over-capacity. There seems to be a peaking of revenue seat kms.
Aviation fuel consumption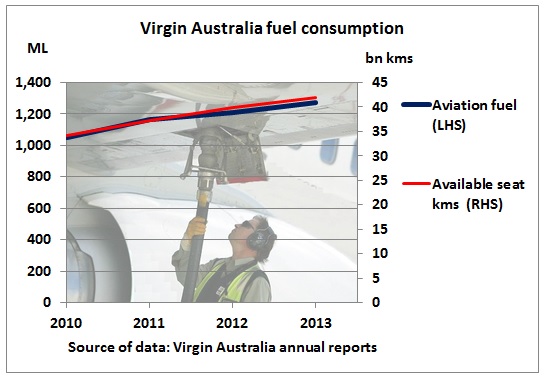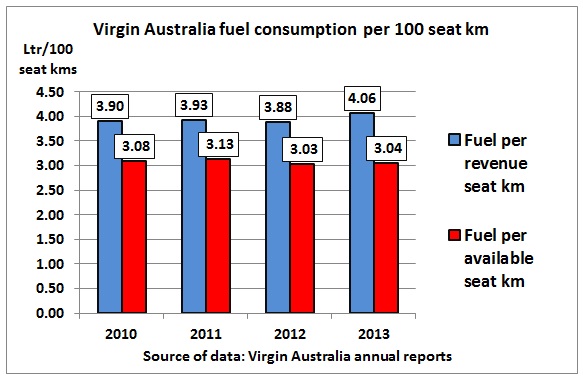 Fuel consumption per available seat km has hardy improved while on a revenue seat km basis fuel consumption has actually increased putting doubt on the general assumption that fuel efficiency will offset rising fuel prices.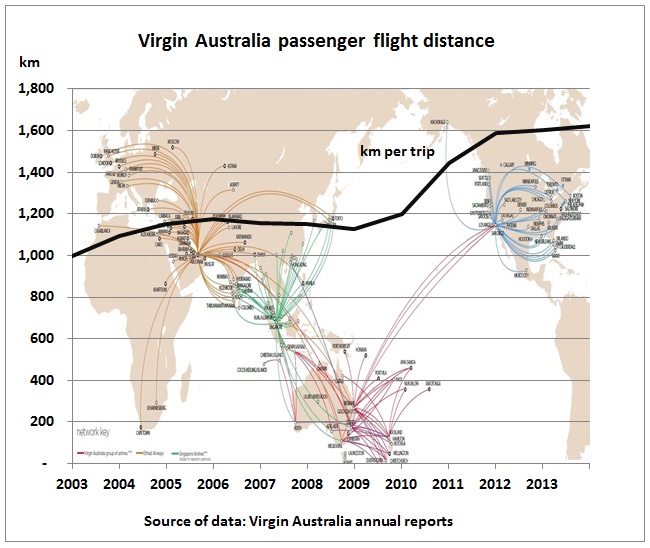 Virgin Australia started with a domestic network but has expanded to international markets….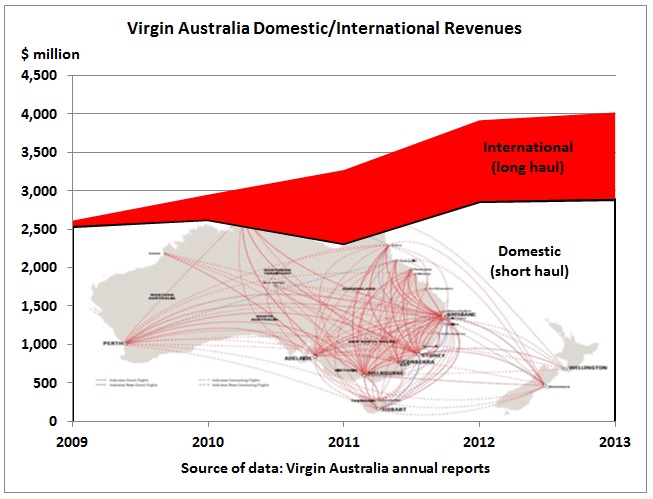 …. just as the financial crisis hit. The domestic market in the last 2 years was just 14% above 2009 levels.
Profit/Loss
How does the recent profit/loss warning relate to previous years?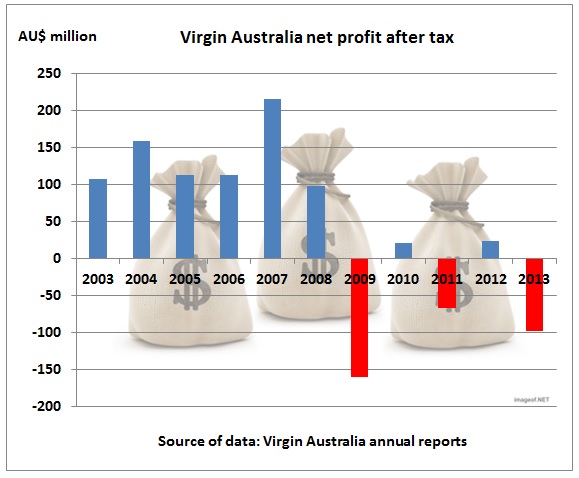 The 1st time Virgin went into the red was in 2009, the year the financial crisis hit hardest.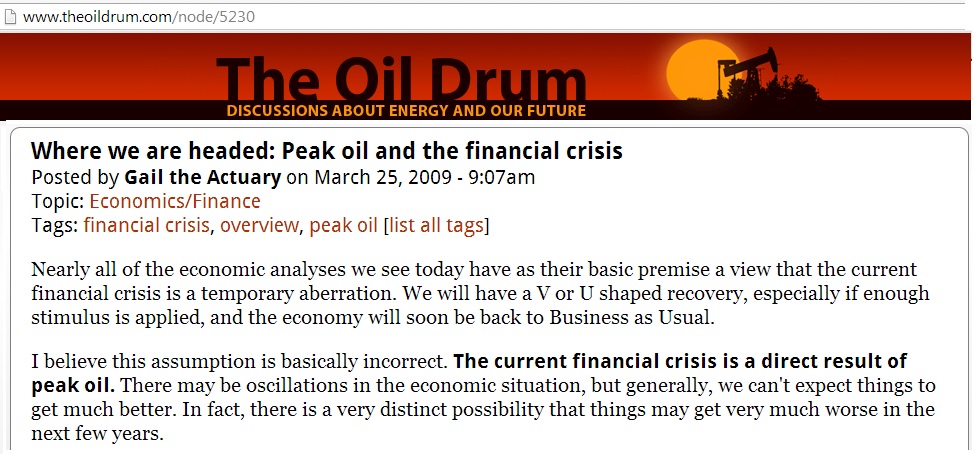 http://www.theoildrum.com/node/5230
Gail's website: http://ourfiniteworld.com/
Let's have a look how the media reported about Virgin's  losses:
Virgin Blue to post loss as high as $ 165 m
27/7/2009
ANDREW ROBERTSON, REPORTER: After leading a charmed life in its first few years, Virgin Blue is now being hit hard on three fronts: high oil prices, the global recession and what now looks like a badly-timed move onto the TransPacific route have taken a heavy toll on the airline's finances….
Virgin Blue will raise $231 million by issuing more than a billion shares at 20 cents each, a 31 per cent discount to last Friday's close. $21 million will come from an institutional placement of 105 million shares; the remainder from a one-for-one pro rata entitlement offer.
http://www.abc.net.au/lateline/business/items/200907/s2638104.htm
Then again in 2011
Virgin Australia sinks to loss, eyes rebound
25/8/2011
Virgin Australia has slumped to a $68 million annual loss due to the effects of natural disasters, higher fuel prices and a meltdown of its reservation system late last year.
http://www.smh.com.au/business/earnings-season/virgin-australia-sinks-to-loss-eyes-rebound-20110825-1jazb.html
and in 2013
Virgin Australia swings to full year loss
30/8/2013
Virgin said a number of factors impacted its performance in fiscal 2013, including "difficult economic and competitive environment", significant one-off pre-tax restructuring and transformation costs and the carbon tax.
http://www.businessspectator.com.au/news/2013/8/30/aviation/virgin-australia-swings-full-year-loss
CO2 emissions and carbon tax
Virgin's CO2 emissions were 3.3 mt in 2013, up by 5.8% from the previous year.

Virgin's carbon tax was $ 47.9m for 2013
http://www.virginaustralia.com/au/en/about-us/media/2013/VAH_FINANCIAL_RESULTS_FY2013/
equivalent to 4.3% of total fuel cost. This means that peak oil has a much more negative impact on the financial situation of airlines than the carbon tax.
Conclusion:
The footprint of the financial crisis which was triggered by the peaking of global crude oil production can be seen in the performance of Virgin. Growth in available seat kms could not bring the airline into the profit zone.
Related posts:
10/12/2013
Qantas fuel cost increased 3 times more than seat kms
http://crudeoilpeak.info/qantas-fuel-cost-increased-three-times-more-than-seat-kms
22/9/2013
Half of Sydney's direct international flights dropped by 5% since July 2008 (part2)
http://crudeoilpeak.info/half-of-sydneys-direct-international-flights-dropped-by-5-since-july-2008-part-2