In a sign of things to come, a Chinese truck driver loaded 2 trucks on top of his truck, making it a triple decker truck, in order to save on fuel and toll-charges. Watch out toll-way operators!
"Police officers in China were stunned to spot a truck driver carrying another two trucks on top of each other.

They pulled over the driver who told them he was trying to save fuel bills and motorway tolls, reports the Shijiazhuang Daily."

"I was worried that the top two trucks might topple over, so I didn't drive very fast," he said. [Ref…]
That makes it a triple decker truck with triple savings. They seem to be necessary because there is a diesel shortage:
Shortage of Diesel Fuel Hits Mainland (picture from Nanchang)
8/11/2010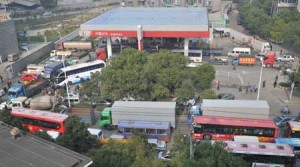 An unprecedented diesel fuel shortage in the industrial-centralized coastal regions of China has forced about 2,000 privately owned gas stations there to close, threatening the local economy, an industry chamber and experts said. Drivers were allowed only a limited amount of diesel fuel, forcing desperate drivers to travel around the city to get their tanks filled, a driver in Huzhou, Zhejiang Province, told the Xinhua News Agency. The line off the No. 104 national highway section in Wenzhou, Zhejiang Province, was at least three kilometers long, according to the Beijing News.
Wang Yong, a truck driver, told the Global Times that they are so desperate for diesel that they have to pay 10 percent more than usual.

"Nine out of 10 gas stations are out of oil, and the one that does have stock only allows us to buy 200 yuan (USD 29) worth of oil each time," he said, adding that deliveries are often postponed because of the shortage. [Ref…]
Shortages first appeared in 2005, incidentally the year in which global crude oil started to peak, with long petrol lines at filling stations in Guandong [Ref…]: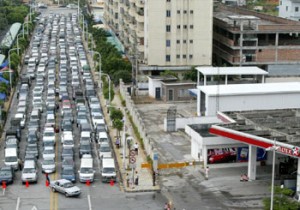 5 years later and after 5 mb/d of savings in OECD countries due to high oil prices:
China auto sales may reach 17.05 million in 2010
May 26, 2010
In view of China's auto sales in the first four months and the new energy incentives as well as other relevant policies, the institute predicted that China automobile production and sales would break four marks of 14 million, 15 million, 16 million and 17 million and increase 25% to 17.05 million this year. [Ref…]
And where will the oil come from to run these additional cars [Ref…]?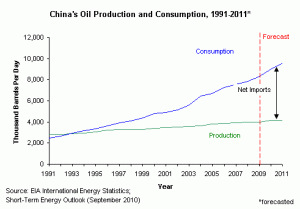 From increasing imports of course, not from increasing oil production. The last time there was a surge of oil demand from China, an extra 800 kb/d before the Olympic games, oil prices went through the roof to $147 a barrel. I call it the Oilympic peak: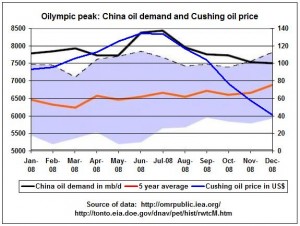 Increasing Chinese oil imports mean – as global crude oil production stays flat at best – that this oil will have to come from further OECD savings.
Australia is an OECD country. So if you want China to grow, leave your car at home. "Drill, baby, drill" will become "Save, baby, save".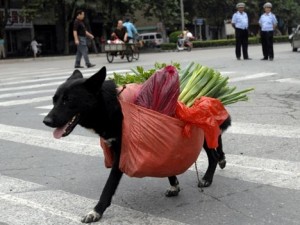 How about this Chinese shopping dog solution, doing away with unnecessary car trips to the shopping centre: