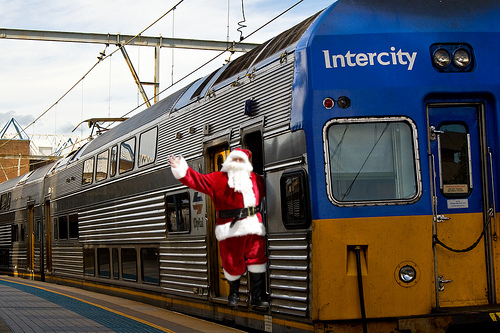 Ho, Ho, Ho. Doors closing, line closing ….. stand clear.
As a perfect X'mas present, NSW Planning Minister Brad Hazzard announced the closure of the rail line to the Newcastle CBD. For many years it was argued the removal of the rail line will stop the decline of the city centre and allow developers moving in for renewal projects.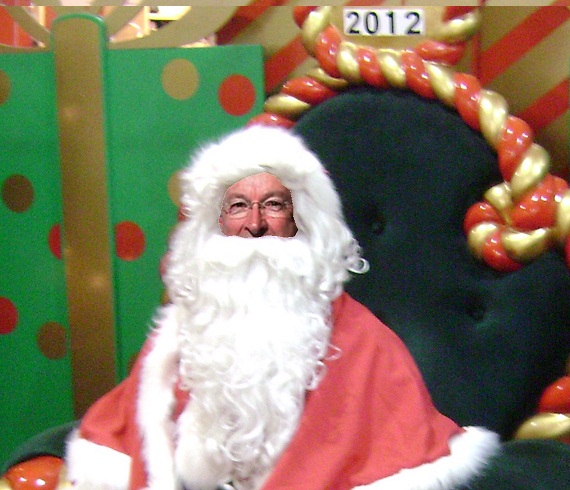 13/12/2012
Minister Hazzard: "You can stand down the Hunter St Mall , look North and currently see the Berlin Wall which is the rail line. It is quite off-putting……"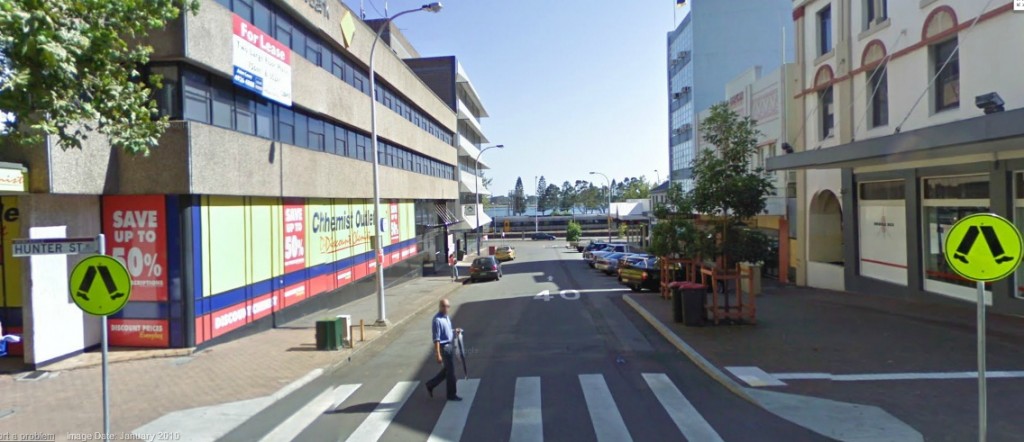 Hazzard's Berlin Wall: a train…..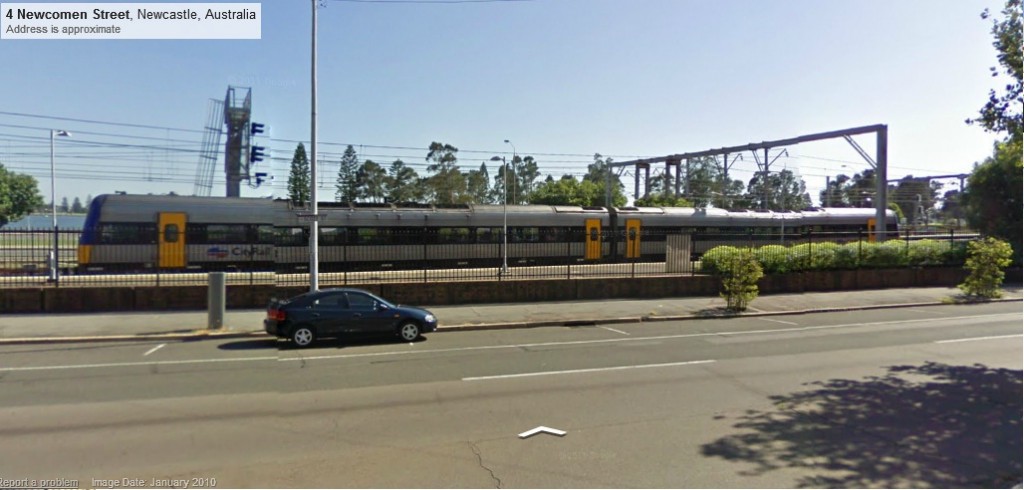 Close-up of the off-putting train to Maitland, the hinterland of Newcastle in the Hunter valley
A cross-road away, we have a pedestrian bridge connecting the Hunter shopping mall with the Queens Wharf. That goes over the rail line.
Hazzard: "….What we propose to do is to ensure that this Berlin Wall comes down and the heart of Syd… Newcastle  joins with the wonderful harbour frontage.  The public transport corridor that is currently occupied by the rail line will remain in public ownership, it will remain there for all time and what we envisage is that it will become a people place. Instead a place for train carriages and for pollution it will become a place where people can really enjoy the corridor that leads down into the heart of Newcastle."

http://www.theherald.com.au/story/1185362/poll-video-train-line-to-be-cut-at-wickham/?cs=310
Let's have a look at the wonderful harbour frontage: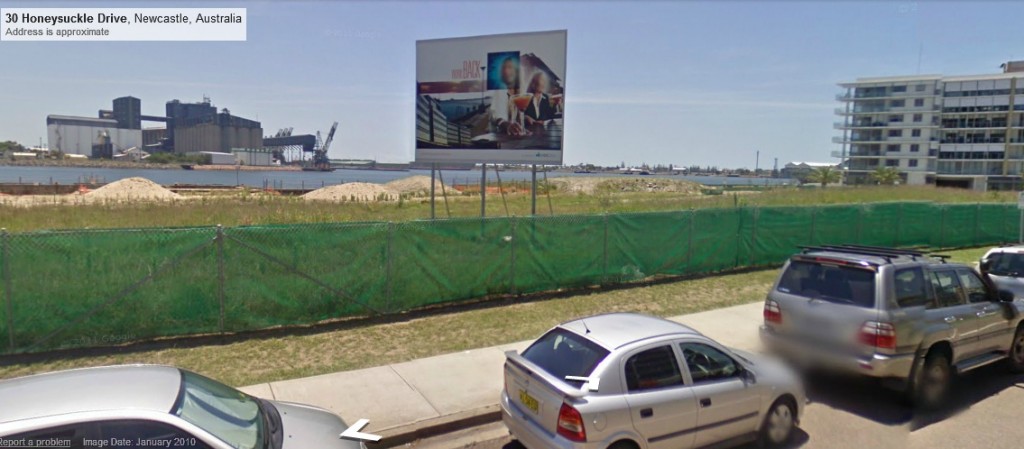 On the left, we have a grain terminal, but from other sites along the harbour frontage one can see coal terminals in the distance, not a pretty sight.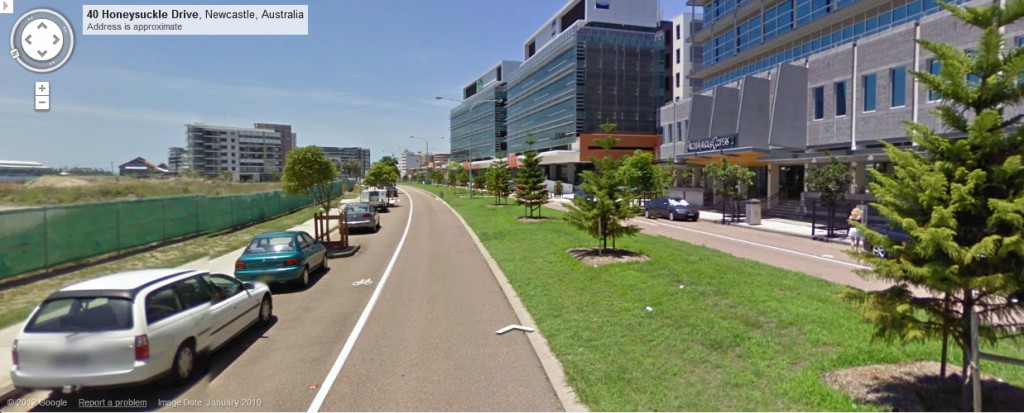 And the pollution from car based development is already taking place there. No need for trains here.
The shopping centres have long ago moved out to car-dependent suburbs, leading to the decline of the Newcastle CBD: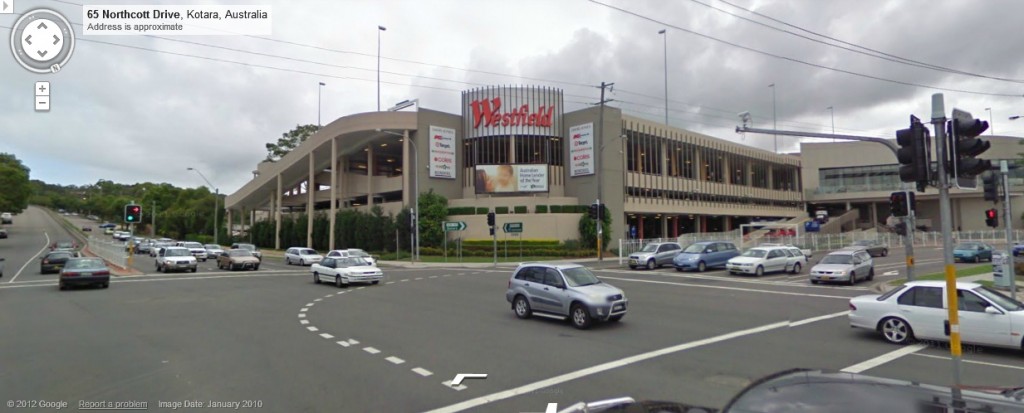 Shopping centre in one of Newcastle's suburbs, Kotara.
 And the Hunter Freeway under construction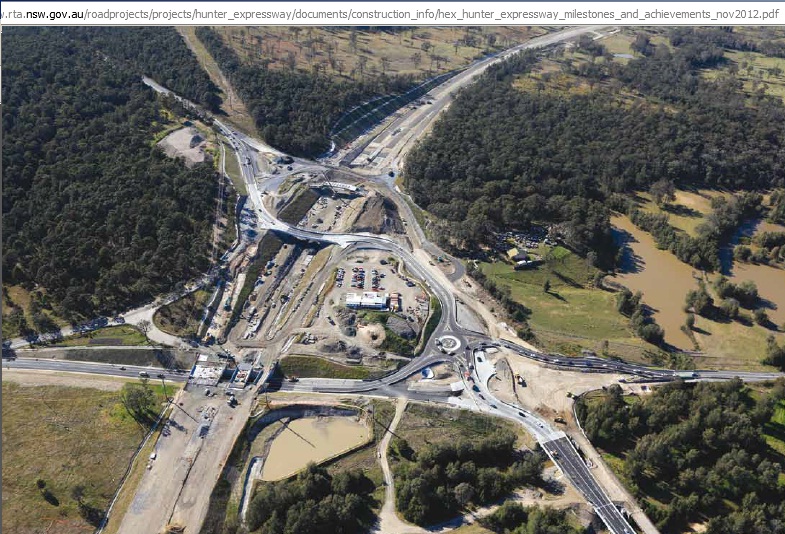 http://www.rta.nsw.gov.au/roadprojects/projects/hunter_expressway/documents/construction_info/hex_hunter_expressway_milestones_and_achievements_nov2012.pdf
is planned as the ultimate solution for car-based urban sprawl from Newcastle to Maitland so there is no need for a train there either.
The Minister's car friendly and PT-hostile announcement came just days after Reuters reported that sanctions on Iran, with oil prices at around $110, will result in Iran's oil revenues shrinking by 40% .
Sanctions push Iran into recession – IIF
11/12/2012
http://www.reuters.com/article/2012/12/11/iran-sanctions-economy-idUSL5E8NA6KO20121211
That of course is a recipe for more tensions in the Middle East which will ultimately impact on oil supplies. But the NSW government lives in a different world, although just 3 tanker weeks away and with Sydney's refineries closing.
Back to Newcastle's decline. This city was also hard hit by the earthquake in 1989, possibly as a victim of extensive coal mining.
Coalmining set off Newcastle earthquake: researchers
9/1/2007
TWO hundred years of underground coalmining triggered the Newcastle earthquake that killed 13 people in 1989 and caused damage that ran to billions of dollars, researchers in the US have found
http://www.smh.com.au/news/environment/coalmining-set-off-newcastle-earthquake-researchers/2007/01/08/1168104923457.html
And that brings is to the role of Newcastle in Australia's coal exports. Present and future residents in flats and offices along the harbour have the benefit of being able to count the coal ships to Newcastle's expanded coal terminals which were promoted by then Premier Bob Carr, now Australia's Foreign Minister http://www.ncig.com.au/Portals/2/files/CarrAnnouncement.pdf
and which are fed by an unending number of new coal mines, approved by successive NSW governments.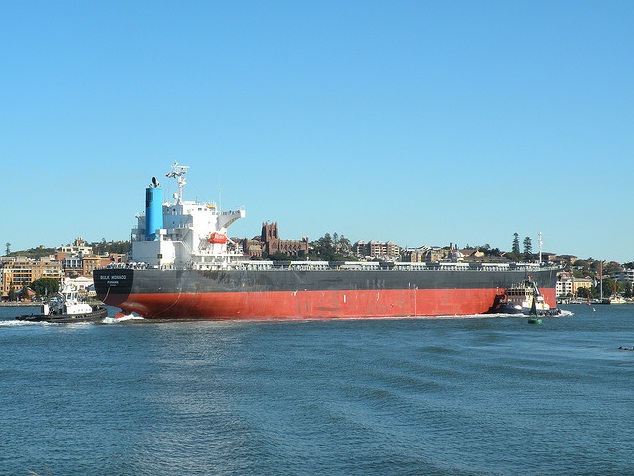 These harbour views are rather depressing, much more than Hazzard's Berlin Wall trains.
Over the coming years the sight of these climate killers will become more and more depressing. How long coal mining will continue in the Hunter valley will be determined by the severity of global warming events which will force political and societal change.
8/3/2010
NASA climatologist James Hansen at Sydney Uni: "Australia doesn't agree now that they got to stop their coal, but they are going to agree. I can guarantee you that within a decade or so because the climate change will become so strongly apparent that's going to become imperative"
20 seconds clip:  http://www.youtube.com/watch?v=qMD2sd0lPeg
Full lecture:   http://www.youtube.com/watch?v=5E5EdbiB4HU
From here:   http://www.usyd.edu.au/sydney_ideas/lectures/2010/professor_james_hansen.shtml 
http://www.stormsofmygrandchildren.com/
In the meantime, accountancy firms with offices along the harbour frontage can calculate future compensation claims for the global warming damage these ships are causing.
Bangladesh looks to courts for climate help
Countries at risk due to climate change believe they have a way to force industrialised nations to pay fines.
http://www.aljazeera.com/video/asia/2012/09/2012924121149546764.html
So when circumstances force us to get away from coal Newcastle will be threatened by another crisis far deeper than the urban decay in the old CBD.