14/3/2018
Part 1 Bayswater and Liddell power plants
Introduction
The Australian public has no idea how tight Australia's power generation is in hot summers. A recent 4 corners program on population growth driven by immigration asked:
Big Australia: Are we ready? http://www.abc.net.au/4corners/big-australia:-are-we-ready/9540586
and a Q&A program on the same evening debated:
Big Australia https://tv.press.abc.net.au/big-australia
No mention was made of energy as a limiting factor for growth. Only Tim Flannery reminded the audience of water shortages in a warming world which defines Australia's carrying capacity. Dr Jay Song said there is a lot of renewable energy. Well, Australia is coal addicted. 55% of electricity is from black coal, 19% from brown coal, 9% from gas, 7% from wind, and only 4% from solar (data from late summer 2018).
So let's have a look at NSW's coal fired power plants and their generation to understand the magnitude of the problem. We find that NSW's coal fired power plants are maxed out in hot summers while the Greater Sydney Commission spruiks perpetual growth for an 8 million Sydney, as if it were in a global competition  with London or Paris.
Fig 1: NSW black coal generation capacities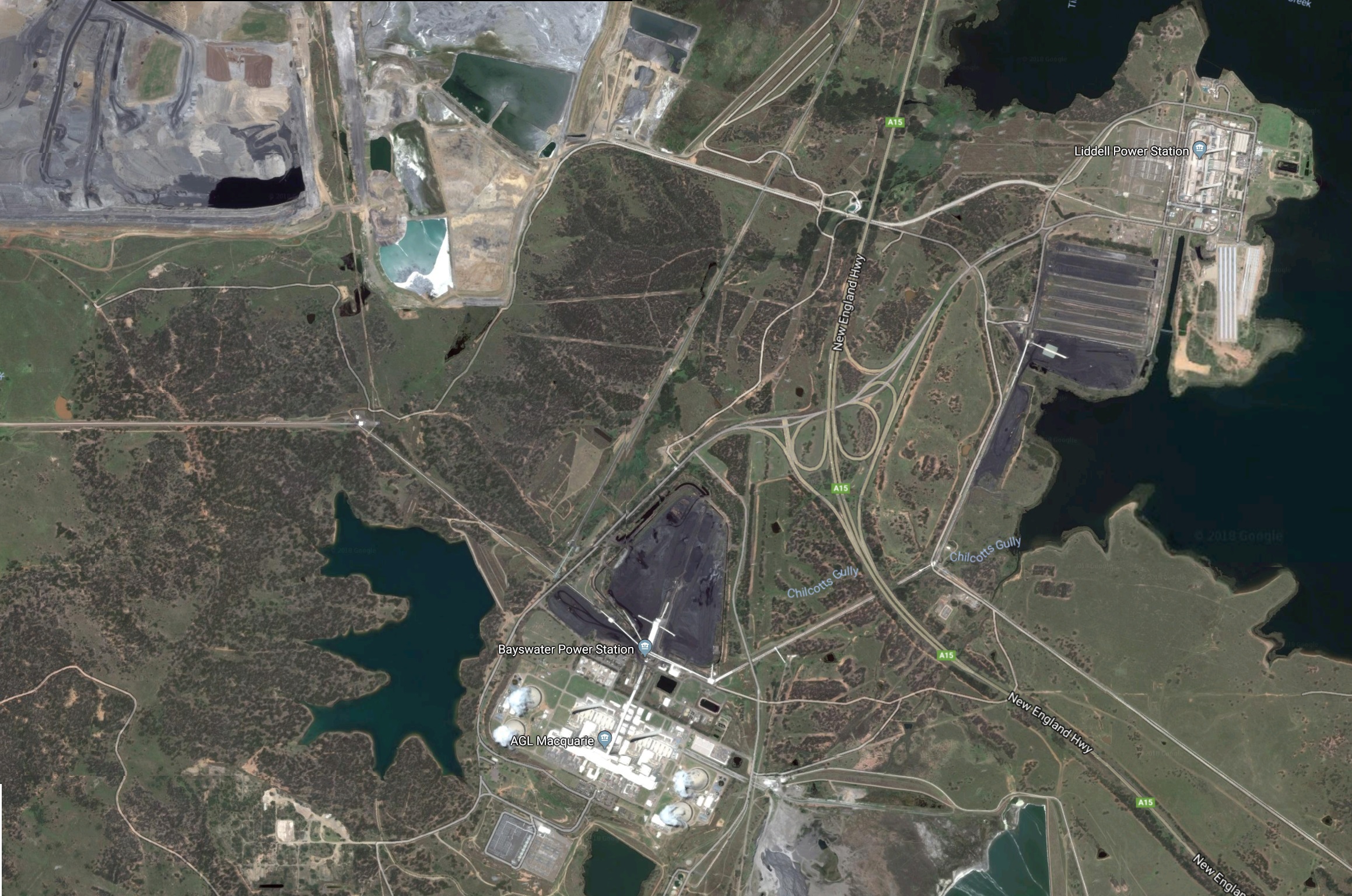 Fig 2: Bayswater and Liddell power stations and their coal supply
Bayswater:
Nameplate capacity: 4×660 MW = 2,640 MW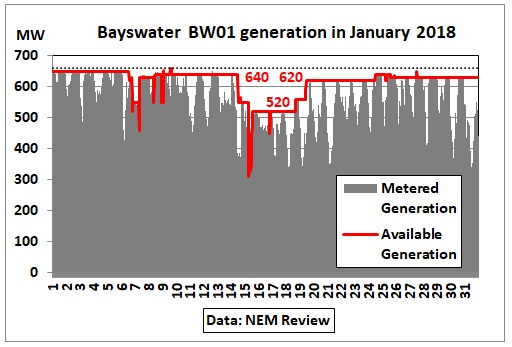 Fig 3: Bayswater unit 1, average available generation: 615 MW (93% of nameplate)
Note that the available generation drops when there are technical problems. Each of the 4 units had problems in January 2018
We see the different generation levels during day/night time. Zoom into above graph for 3 days: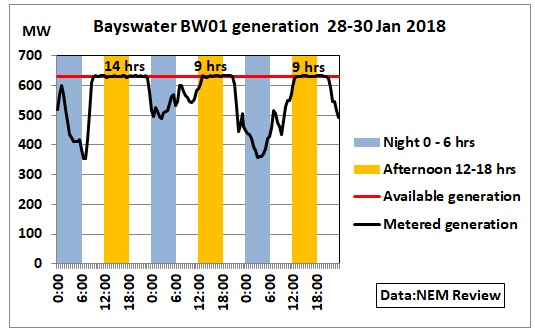 Fig 4: Bayswater BW01, zoom into maxed-out generation
This is the normal operation with lower generation during the night depending on temperatures and weekday. During afternoons metered generation (black line) hits limits of available generation (red line).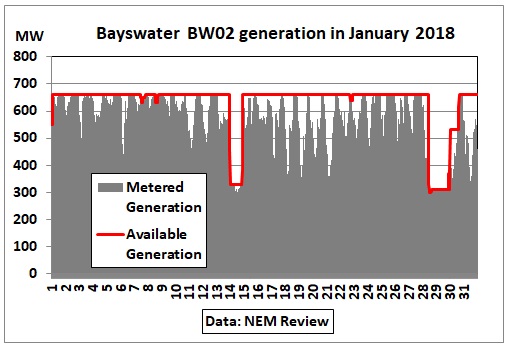 Fig 5: Bayswater unit 2, average available generation: 629 MW (95% of nameplate)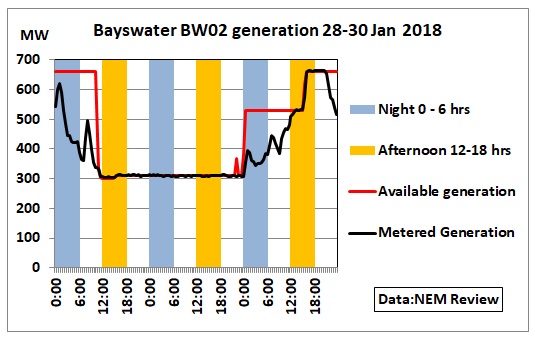 Fig 6: Bayswater BW02, zoom into outages
Unit BW02's available generation and with it the metered generation dropped down to 300 MW shortly before 12 noon on 28th January, just when it was needed most and recovered only slowly on the 30th.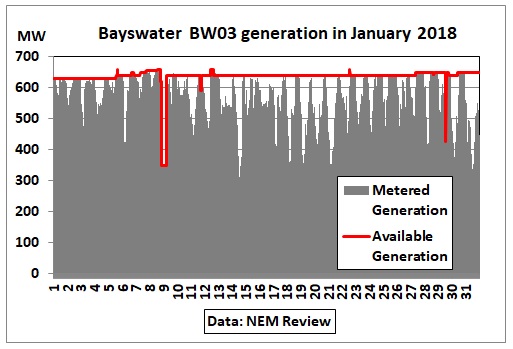 Fig 7: Bayswater unit 3, average available generation: 637 MW (97% of nameplate)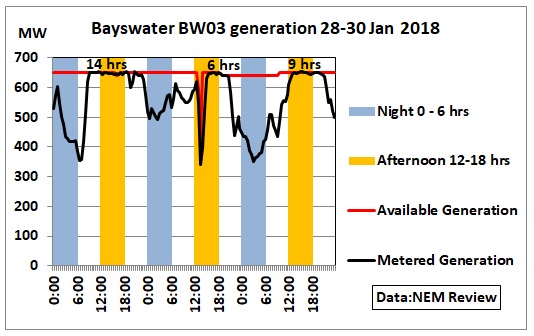 Fig 8: Bayswater BW03, zoom into outage
Unit BW03 dropped down to 340 MW on 29th January at 12 noon. This disruption lasted for only 2 hrs, but at a critical time, shortly before the demand peak.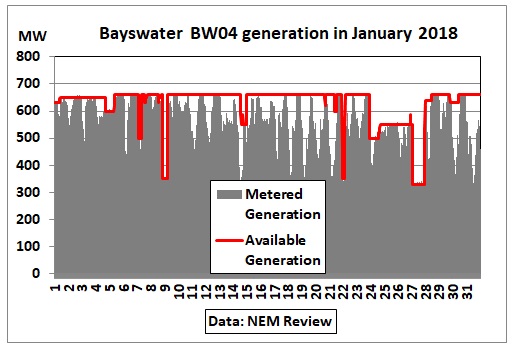 Fig 9: Bayswater unit 4, average available generation: 626 MW (95% of nameplate)
BW04's available generation dropped several times, most notably on 24 Jan to 550 MW and then to 330 MW on 27th.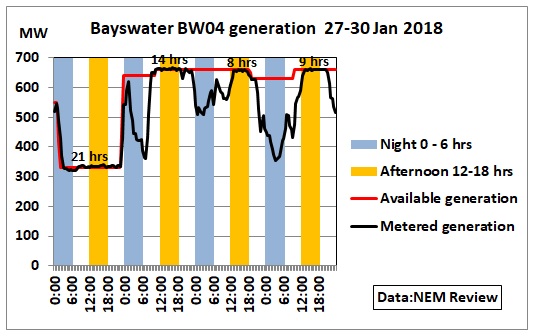 Fig 10: Bayswater BW04, zoom into outages
Note that the utilization rate during the drop still approached 100% as the available generation was also lowered.
All together now: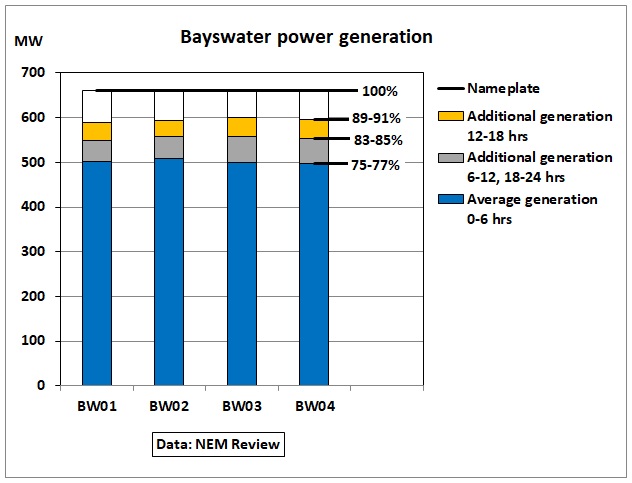 Fig 11: Average Bayswater generation during various times of the day
During night hours name plate capacity is utilized 75-77%. In the morning and evening hours this increases to 83-85% and in the afternoons to 89-91%.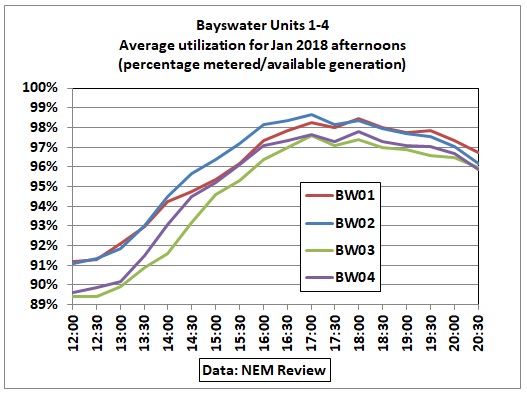 Fig 12: Bayswater afternoon and early evening utilization
On average Bayswater's units are running at between 95% and 98.5% of available generation during the critical hours from 3 pm to 8 pm. This is really maxed out. It's therefore not surprising to read this company announcement:
AGL plans $200 million upgrade at Bayswater Power Station as electricity shortage looms
28 Feb 2018
The company says the project at the coal-fired plant in Muswellbrook is part of an effort to hold off the expected 1,000 megawatt shortfall when it closes its Liddell Power Station.
Energy company AGL has announced plans for a $200 million upgrade of the Bayswater Power Station in the Hunter region of New South Wales.
Ms Coates said the original turbines would be replaced, giving Bayswater an additional 100MW capacity, which is enough energy to power 100,000 average homes.
The company expects to begin work by February 2019.
It will take four years to complete, and the plant's four turbine sets will be replaced and fully operational by 2022.
AGL confirmed in December it would close the coal-powered Liddell Power Station by 2022 as it begins a shift toward clean energy.
Australia's energy regulator released a report in September forecasting higher power bills and more blackouts in Australia because of deep-seated problems in the electricity market.
Federal Resources Minister Senator Matt Canavan welcomed news of the upgrade.
"The Australian Government doesn't have a position on what type of energy we'd like to see, we just want the cheapest and most reliable and also a lower emissions technology as we can get," he said.
http://www.abc.net.au/news/2018-02-28/agl-announces-$200-million-upgrade-at-bayswater-power-station/9491800
There you see the contradictions in Australia's energy policy.
And hurrah Australia can build another 100,000 homes without worries.
Liddell
Nameplate capacity: 4×500 MW = 2,000 MW
Commissioned in 1971/73. The nameplate capacity of each of the 4 units is 500 MW but available generation does not get higher than 450 MW. Unit LD02 was not in operation in January 2018.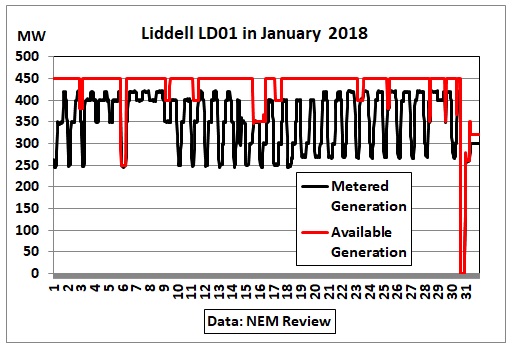 Fig 13: Liddell unit 1, average available generation: 431 MW (95% of nameplate)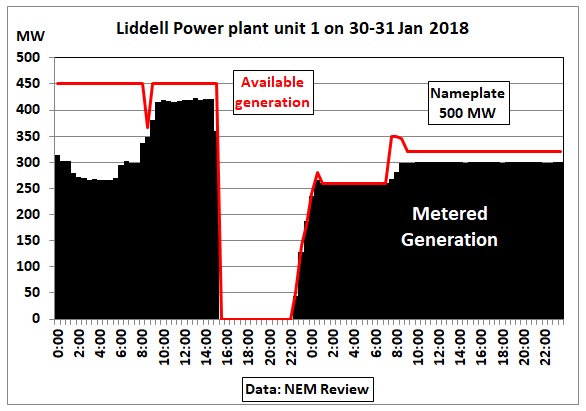 Fig 14: Liddell unit 1, zoom into 30-31 Jan 2018
Unit 2 was out of operation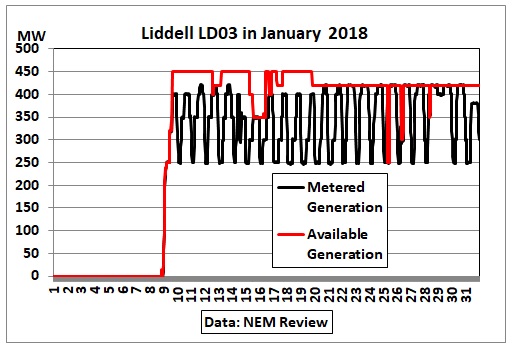 Fig 15: Liddell unit 3 came back on-line on 9th January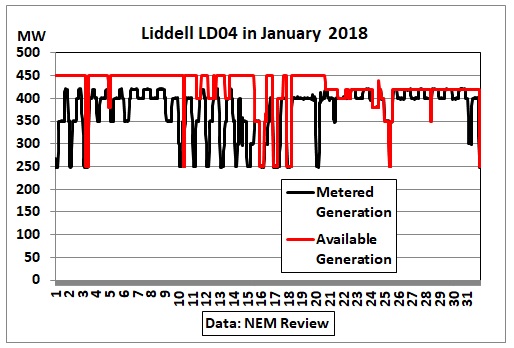 Fig 16: LD04 had many outages
All together now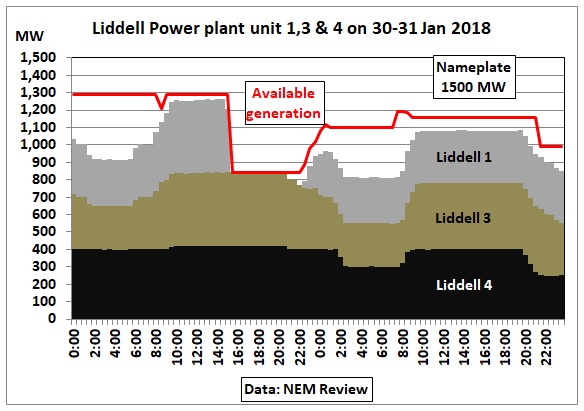 Fig 17: Liddell power plant in January
AGL announces plans for Liddell Power Station
9/12/2017
AGL has today outlined plans for Liddell Power Station beyond its announced retirement in 2022.
The NSW Generation Plan proposes a mix of high-efficiency gas peakers, renewables, battery storage and demand response, coupled with an efficiency upgrade at Bayswater Power Station and conversion of generators at Liddell into synchronous condensers. The feasibility of a pumped hydro project in the Hunter region is being explored with the NSW Government.
https://www.agl.com.au/about-agl/media-centre/asx-and-media-releases/2017/december/agl-announces-plans-for-liddell-power-station
Demand response? Sounds like load shedding.  As happened in February 2017. The Tomago aluminium smelter had to turn off their pot lines. 300 MW shortage.
14 Feb 2017
NSW's privatized giveaway coal plant causes load shedding in extreme weather
http://crudeoilpeak.info/nsws-privatized-giveaway-coal-plant-causes-load-shedding-in-extreme-weather
No wonder that the Tomago smelter now complains:
Tomago boss concerned about Australian heavy industry future and renewable energy
13/8/2018
TOMAGO Aluminium boss Matt Howell says he is concerned about the future of Australian heavy industry, saying renewable energy is yet to demonstrate it can provide continuous, affordable and reliable electricity.
Mr Howell said Tomago had a contract for electricity with AGL until 2028 but he was concerned what would happen after 2022, when Liddell power station was scheduled to close.
He said solar panels and batteries made a lot of sense for houses but they were not a commercial solution for an energy intensive business such as Tomago.
He said Tomago used about 11 per cent of the state's electricity. It would empty South Australia's Tesla battery in eight minutes.
http://www.theherald.com.au/story/5279381/tomago-boss-wary-of-agl-liddell-plan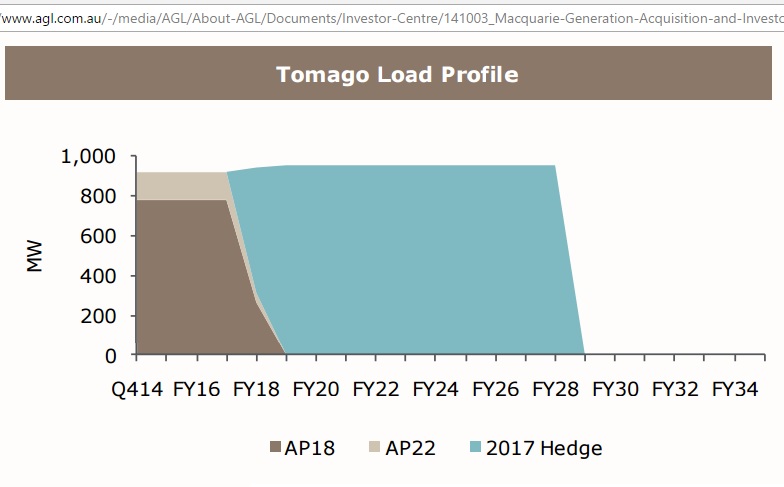 Fig 18: Tomago power demand is appr. 900 MW
Mr. Howell wants a new coal plant and this has been discussed here:
New coal power plants are great – if you don't have to pay for them
8/8/2017
http://reneweconomy.com.au/new-coal-power-plants-great-dont-pay-60618/
One solution could be to use hydro power like in Norway
Hydropower and aluminium
https://www.hydro.com/en/products/energy/Hydropower-and-aluminium/
The challenges of using coal, gas and hydropower while trying to keep CO2 emissions low are discussed in this 2016 presentation by HYDRO
https://www.hydro.com/globalassets/1-english/investor-relations/capital-markets-day/2016/hydro-cmd-2016—energy.pdf
Snowy2 (which should have been built already under Howard – or Rudd for that matter) may come too late for Tomago. Of course Australia does not receive the rainfall Norway has. And Snowy2 is still a peaking plant so a lot of work has to be done to supply the pumps with renewable energy 24/7. AGL will have to find solutions for Tomago something we have to watch.
Conclusion
Bayswater is maxed out in summer while Liddell is unreliable. It should be clear that Australia's aggressive immigration program with ever increasing power demand from new residential towers , office skyscrapers, shopping centres, airports and other urban projects will make keeping the aluminium industry – and the manufacturing industry in general – so much harder.
The next post will be on Eraring, Mt Piper and Vales Pt power plants
16/3/2018
NSW coal power maxed out in hot summer (part 2)
http://crudeoilpeak.info/nsw-coal-power-maxed-out-in-hot-summer-part-2
Further reading
Coal export priority left NSW power plants with 'weeks' of supplies
17/9/2017
A shortage of rail capacity in NSW prompted partly by rising coal exports has led three of the country's biggest power stations [Bayswater, Liddell, Eraring] to run down stockpiles to "historic lows".
http://www.smh.com.au/business/energy/coal-export-priority-left-nsw-power-plants-with-weeks-of-supplies-20170915-gyi17l.html