Impressions from a train trip Sydney – Armidale in year #8 of peak oil and 8 years away from Hansen's deadline on coal.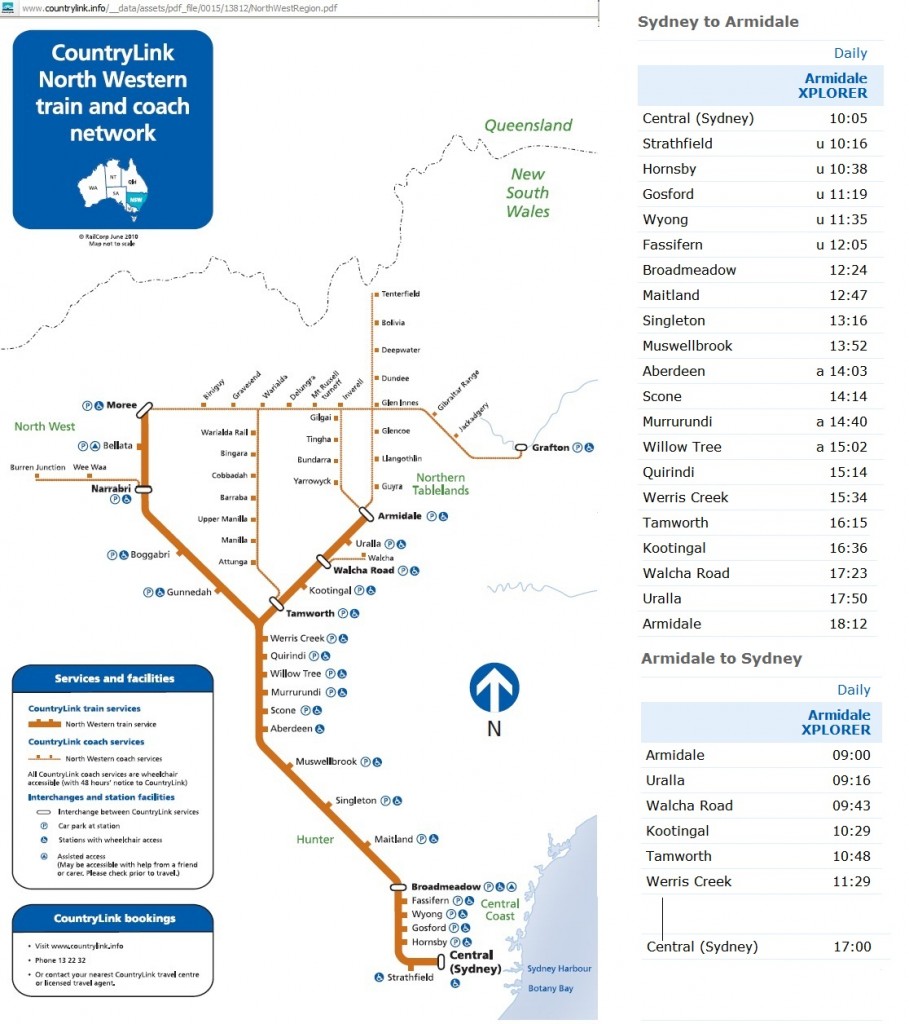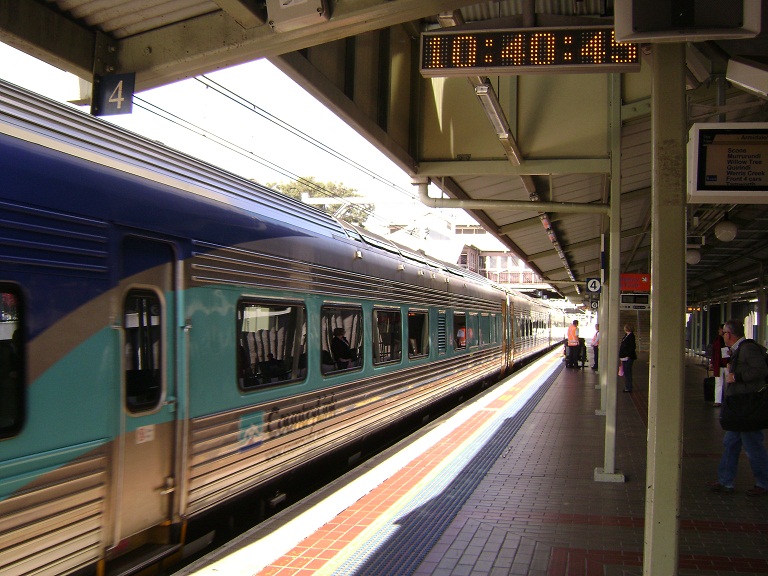 3 car Country Link train arriving at the Sydney suburb of Hornsby. A 2 car unit for Moree which is usually attached at the end of the train had been cancelled for the day and all passengers had to share the 3 cars.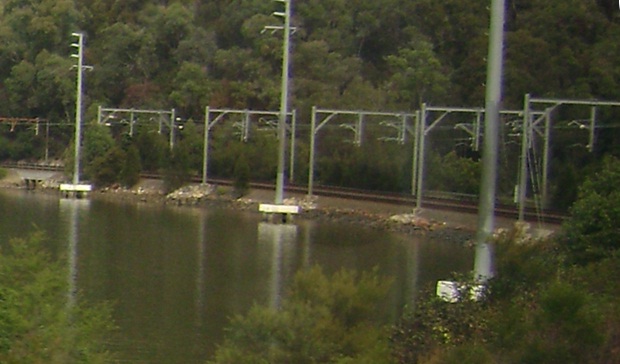 The main rail line from Sydney to Brisbane via Newcastle runs along some backwaters of the Hawkesbury River, safe from tidal waters but not safe from sea level rises.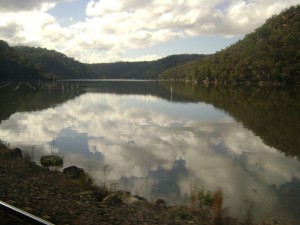 Another view of how close the tracks are to the water.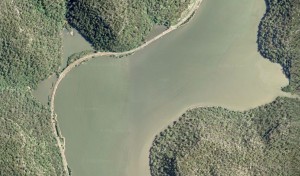 Google satellite view of this section of track.
Let's see what chances there are for this rail line to survive: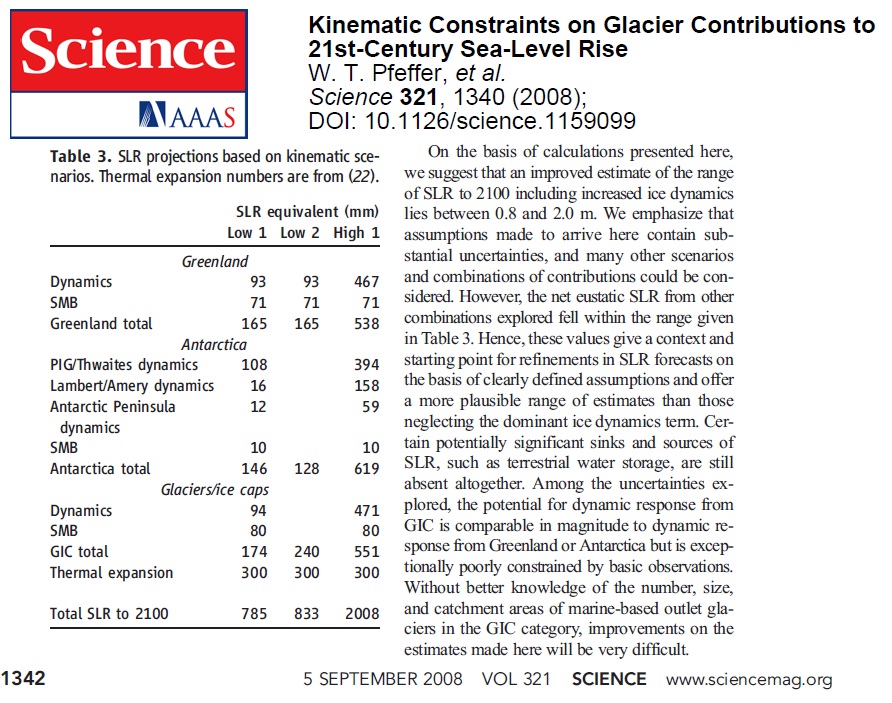 Sea level rise calculations by Prof. Tad Pfeffer http://instaar.colorado.edu/people/bios/pfeffer.html
50 km down the line between Maitland and Muswellbrook contractors are working very hard to contribute to the sea level rises calculated above by building a 3rd track for coal trains: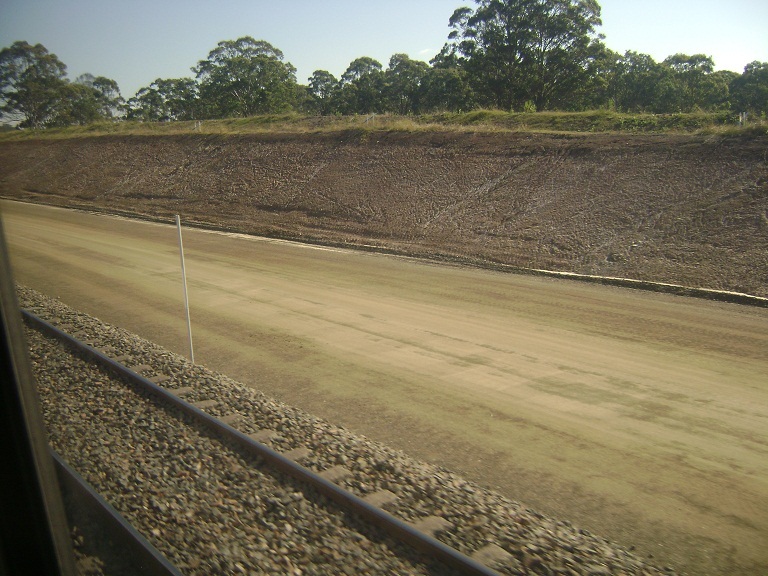 Well compacted subgrade for 3rd track, well done, NSW and Federal governments!!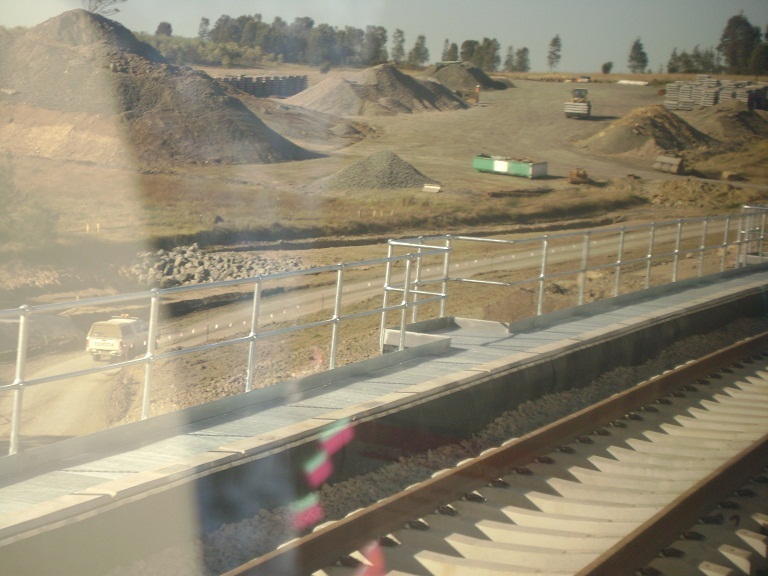 In the following ARTC document, from October 2009, we see Prime Minister Kevin Rudd, who came on a climate change ticket to power, together with Premier Rees turning the 1st sod for the previous stage of the project, the Minimbah Bank 3rd track.
"Equity funding of $580 million provided by the Australian Government is assisting in enabling a number of major projects to be undertaken. This funding will be supplemented with debt from ARTC and will take the planned investment in the Hunter Valley rail network to $1.4 billion."
http://www.artc.com.au/library/Links%2021.pdf
January 2011, press release from the NSW government:
"Hunter Valley rail infrastructure expansion gets the green light
The NSW Government has approved a $210 million expansion of the Hunter Valley's rail  infrastructure that will increase the capacity, reliability and performance of the region's coal transportation network.
Construction of a third rail track between Maitland and Minimbah adjacent to the Main Northern Railway will provide additional network capacity ahead of forecast increases in demand and throughput at the Port of Newcastle. "
http://www.planning.nsw.gov.au/DesktopModules/MediaCentre/getdocument.aspx?mid=594
These "investments" will turn out to be a write off:
8/3/2010

NASA climatologist James Hansen at Sydney Uni: "Australia doesn't agree now that they got to stop their coal, but they are going to agree. I can guarantee you that within a decade or so because the climate change will become so strongly apparent that's going to become imperative"

20 seconds clip:
http://www.youtube.com/watch?v=qMD2sd0lPeg

Full lecture:
http://www.youtube.com/watch?v=5E5EdbiB4HU

From here:
http://www.usyd.edu.au/sydney_ideas/lectures/2010/professor_james_hansen.shtml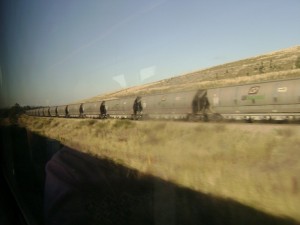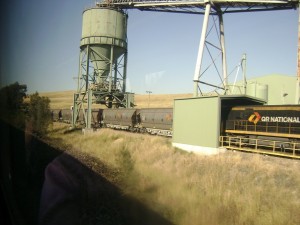 James Hansen in a testimony to the Iowa Utility Board, in 2007

"For most of 20 miles there were trains parked, engine to caboose, half of the cars being filled with coal. If we cannot stop the building of more coal-fired power plants, those coal trains will be death trains – no less gruesome than if they were boxcars headed to crematoria, loaded with uncountable irreplaceable species."
If the workers on these coal projects were properly informed about what Hansen says, they wouldn't do what they are doing. They could be employed in more useful renewable energy projects if only governments could make the right decisions.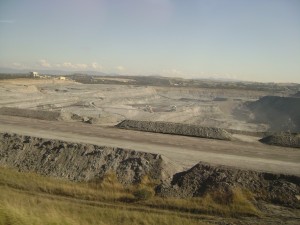 Moonscape of Hunter coal mine near Lidell
After this depressing part of the trip the train continues to Werris Creek Junction, where the Moree passengers have to take a bus for the last leg of their journey.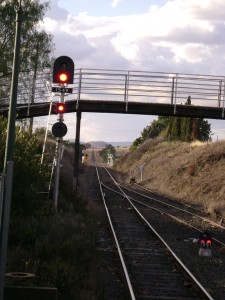 <<< It's getting dark early on a winter's day. Regional rail line to Armidale as seen from Werris Creek. No track work with concrete sleepers here. Arrival in Armidale on time 18:20.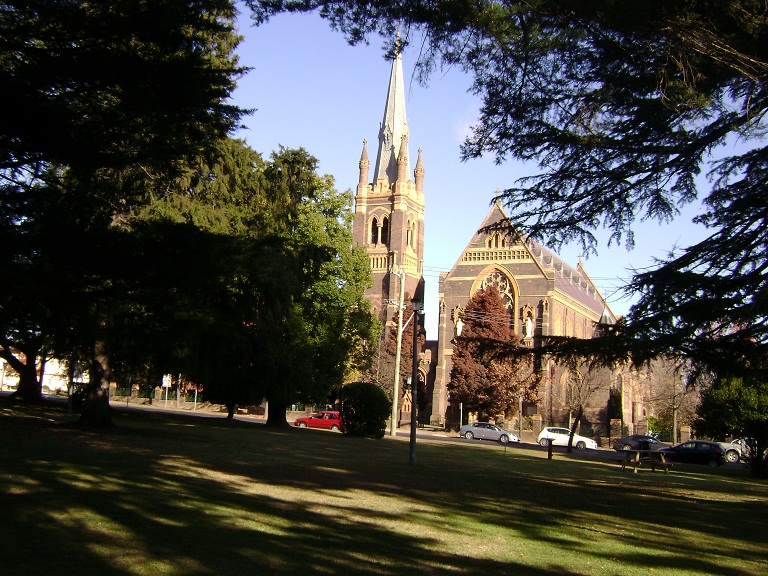 Next morning beautiful day in Armidale, a small city with many parks, impressive churches and various educational facilities. Picture: St Mary's Cathedral.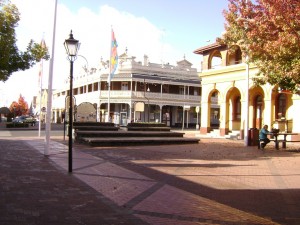 Shopping mall with post office and pub
Regional centres would benefit from a decentralisation strategy, away from a Sydney-centric State planning mind set.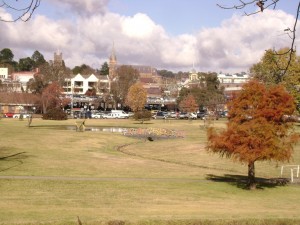 View of the city from the East. I take a very informative tour organised by the visitor's centre http://www.armidaletourism.com.au/ and end up at the Uni.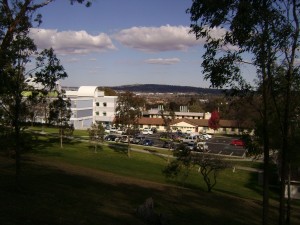 Armidale University (University of New England) sits on a hill, with nice views over the city. And guess what, there is even a lecturer who knows about peak oil:  http://www.une.edu.au/staff/mbranag3.php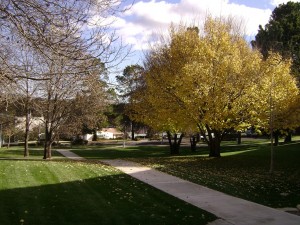 UNE campus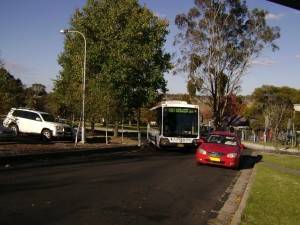 There is even a town bus, but huge parking lots show this half hr. service ($3) is not well frequented. There were 3 passengers on the bus when I returned to the city. It seems more need to attend course http://www.une.edu.au/courses/units/PAIS365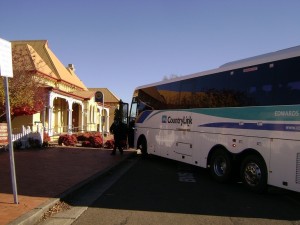 Next morning: Bus from Tenterfield arrives at Armidale rail station (heritage listed)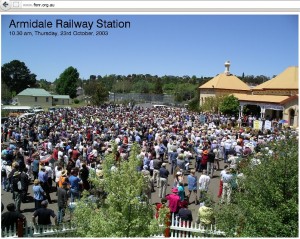 No, these are not passengers lining up for the train but protesters in October 2003 against the planned rail service closure by the infamous Transport Minister Costa (who also cancelled the Epping – Parramatta rail link). Picture from the friends of the Northern Railway http://www.fonr.org.au/ Reality 9 years later: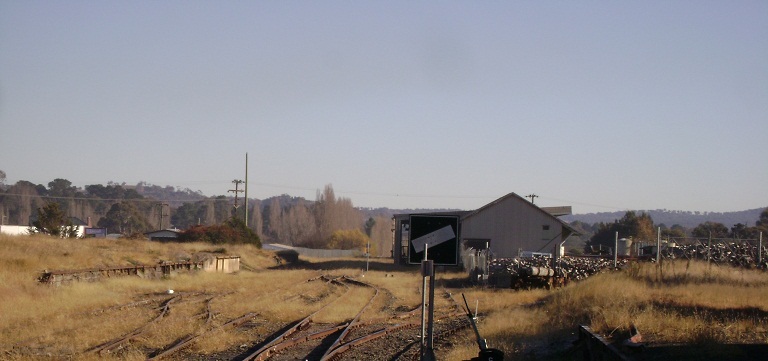 Rail junk yard north of Armidale station: the rail line to Tenterfield was closed many years ago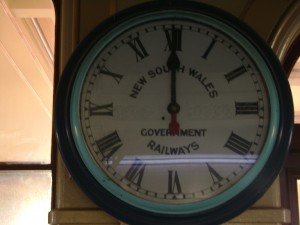 << NSW railway time at Armidale stopped dead at midnight and never ticked again since then.
What chances are there for the rail line to be revived?
In 2006 a North South Rail Corridor Study was done in which Armidale was on the "Central Inland" corridor. (Ernst Young, ACIL Tasman, Hyder Consulting)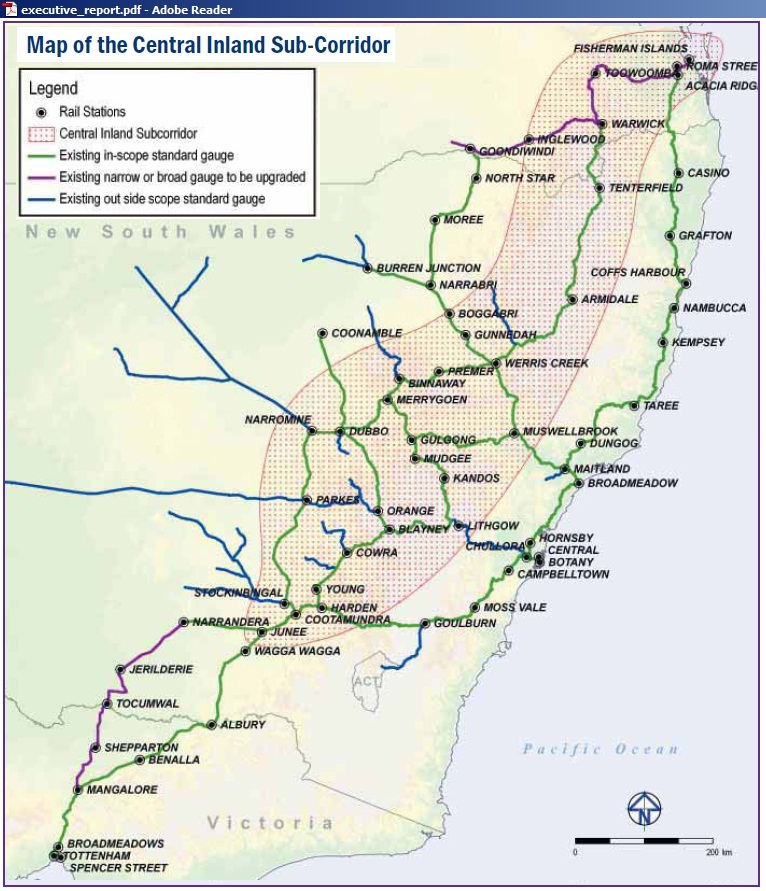 http://www.nationbuildingprogram.gov.au/publications/reports/pdf/north_south_rail/executive_report.pdf
More details can be found on this website from the Nation Building Program
http://www.nationbuildingprogram.gov.au/publications/reports/north_south_corridor.aspx
But 2 years later, in 2008, a new government commissioned a further, more detailed study and decided in 2009 on the Far West route via Moree (Albury, Parkes, Narromine, Narrabri, Moree and Toowoomba), not the central inland route.
http://www.artc.com.au/library/Stage%202%20map%20larger%20font.pdf
The final study was published in July 2010
http://www.artc.com.au/Content.aspx?p=175
The report clocks are ticking in years. And the implementation horizons are ticking in decades. We read:
"The economic cost benefit analysis suggests Inland Rail will achieve a positive economic net present value at a 7% real discount rate if operations commence between 2030 and 2035 – or when total tonnage demanding the railway is above around 25 – 26 million tonnes per annum. Earlier dates would be uneconomic because of the estimated cost of constructing the line relative to its expected use. If demand is stronger than expected or congestion emerged on the track north of Sydney, viability could be reached sooner."
http://www.artc.com.au/library/IRAS_Map_Financial.pdf 
"The outturn capital cost for this route and alignment is estimated to be $4.7 billion (P90 estimate), and it is estimated to require 3 years of pre-construction activities (including preliminary design, approvals, tender and award period, and land acquisition) followed by a 5 year construction period"
http://www.artc.com.au/library/IRAS_Final%20Report%20Executive%20Summary.pdf?201010
Very telling is a picture on the last page of this summary report:

In the year 2030: cars moved from Melbourne to Brisbane on the Far Western route! Long after our car culture has come to an end.
The following demand map shows the function of the Inland Rail.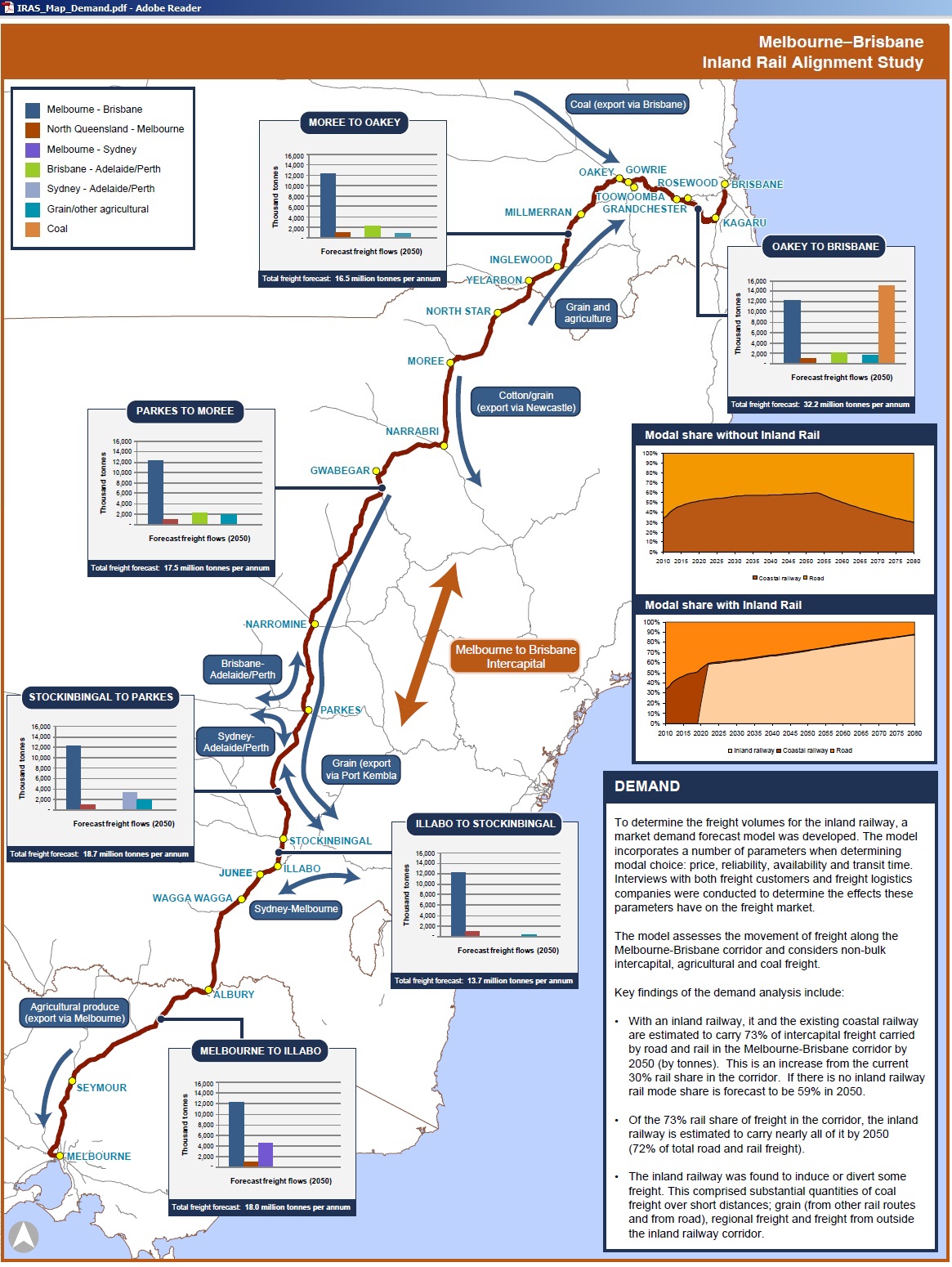 http://www.artc.com.au/library/IRAS_Map_Demand.pdf
As long as inland rail development is seen mainly as a Melbourne – Brisbane inter-capital rail freight exercise, assumedly only necessitated by growing North-South traffic bumping into capacity constraints on the coastal route, there is little chance that much will be done on rail in the North West of NSW. Given the peak oil denial mode and the capital-centric planning mindset of consultants, government bureaucrats and politicians we have to wait until there are some global oil markets events which will demonstrate that the actual rail job is to replace existing long distance truck traffic.
The friends of the Northern Railway have put their arguments for rail freight into this submission:  http://users.nsw.chariot.net.au/~tpa02/fonr/documents/FONR_Regional_Rail_Freight_Policy-2011.pdf
After this short excursion into rail planning, or lack thereof, here are some pictures from the return trip to Sydney on the section which was already dark on the earlier trip.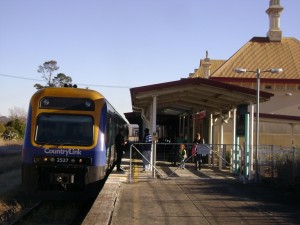 Train waiting for passengers at Armidale station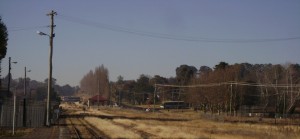 View from platform towards Tamworth. School buses are rushing in.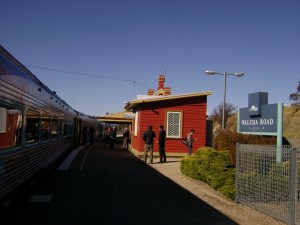 Time doesn't matter on this rail line. At Walcha Rd station, not even 1 hr into the trip, passengers are told the train is waiting for "control" to give the departure signal and as this can take time, some use the opportunity for a smokie. Good chance to take a picture of the tight curves in this hilly area.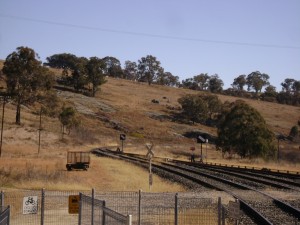 Easy. But real rail buffs like snucklepuff walk along the tracks and take pictures of heritage bridges:

Rail bridge at Woolbrook, speed limit @ 30 km/h. Some bridges allow only 10 km/h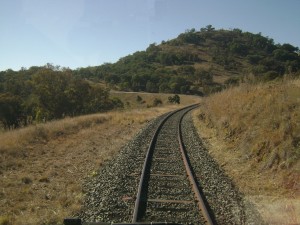 And on this very relaxing, almost cosy rail trip the train manager lets me take a picture from the rear of the train just as he gets a radio call that the train from Moree is stuck because of cracked tracks. He has to rush to the driver to discuss what to do.
In Tamworth, the train gets really full but 45 min later there is another opportunity to inspect regional platforms, this time at Werris Creek.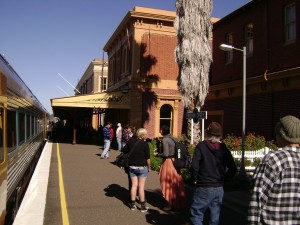 << We are waiting for the delayed train from Moree.
Here it comes, that 2 car mini train from Moree, which was missing on our first trip>>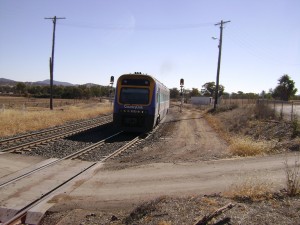 Only a little bit of shunting and off we go. Later on, more delays are added on those coal track sections under construction but otherwise the rest of the trip was uneventful.
Happy journey Country Link! And one day, when the coastal line is flooded the inland rail route will be the only one high and dry. But whether at that time there is demand for 25 million tons of freight is another question altogether.