Massive minesweeping exercise begins off Bahrain
21/9/2012
Reporting from the Persian Gulf and the Arabian Sea (CNN) — More than three dozen nations have converged on the seas around Bahrain for a massive military minesweeping exercise.
The at-sea manoeuvres will involve a series of techniques and involve surface ships, aircraft, and underwater "explosive ordnance disposal" diving teams during the nearly two weeks of International Mine Countermeasure Exercise.
http://edition.cnn.com/2012/09/20/world/meast/bahrain-minesweeping-exercise/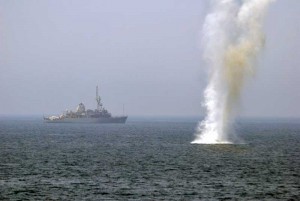 In March 2012:  http://www.navytimes.com/news/2012/03/dn-us-doubling-minesweepers-in-persian-gulf-031512/
More details of the September 2012 exercise can be found in this slide presentation of the Task Group North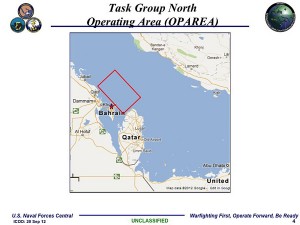 Area near Ras Tanura and Juaymah oil terminals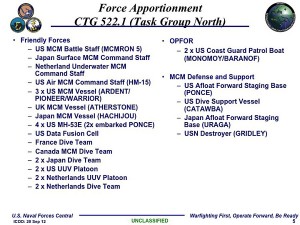 List of countries participating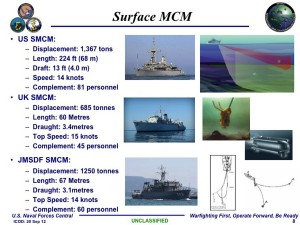 US Admiral Perry Unveiled His Plan For Mine Clearing In The Persian Gulf
http://www.businessinsider.com/admiral-perry-mine-clearing-presentation-2012-9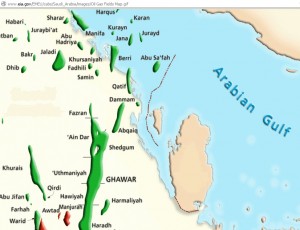 http://www.eia.gov/countries/cab.cfm?fips=SA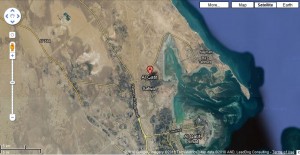 Qatif and Ras Tanura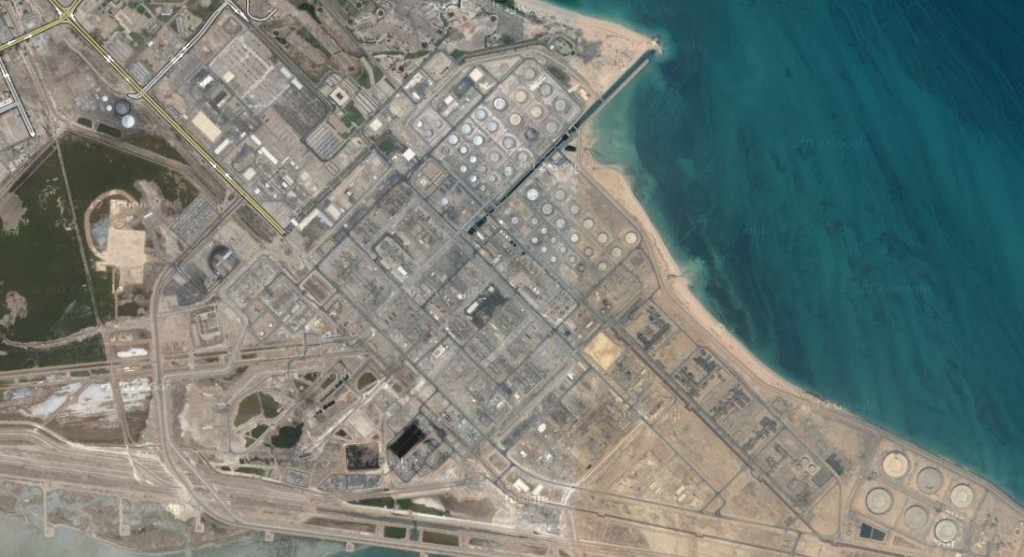 The Ras Tanura Refinery has a crude distillation capacity of 550,000 barrels per day (BPD), it also has a 305,000 BPD NGL processing facility, a 960,000 BPD crude stabilization facility, 145/158 MW (summer/winter) of combined steam and gas turbine electrical power generation plants, a combined 150 lb and 600 lb steam capacity of 6,217 Mlb/hr, and 75 crude oil and products storage tanks with a combined capacity of 5.8 million barrels.
Ras Tanura Refinery's major refining facilities include a 325,000 BPD Crude Distillation Unit, a 225,000 BPD Gas Condensate Distillation Unit, 50,000 BPD hydrocracker and a total of 107,000 BPD capacity of catalytic reforming. Ras Tanura Refinery is the only Saudi Aramco refinery that contains a Visbreaker (60,000 BPD). This refinery also produces 17,000 BPD of asphalt, more than any other refinery in the Kingdom.
http://www.epcengineer.com/projects/details/1813/ras-tanura-refinery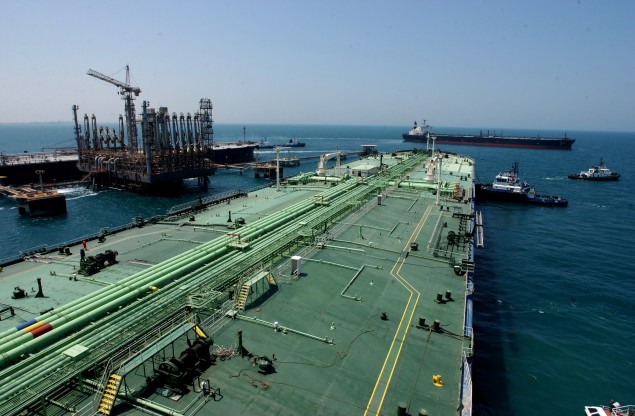 http://gcaptain.com/producing-its-style-saudi-aramco/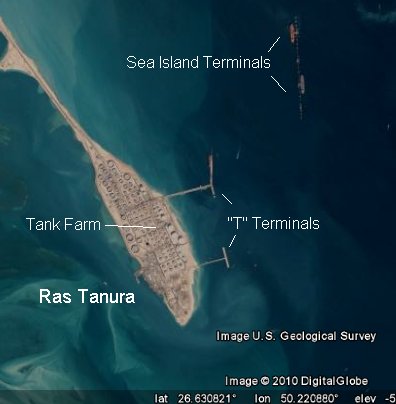 http://www.theoildrum.com/files/RasTanura.jpg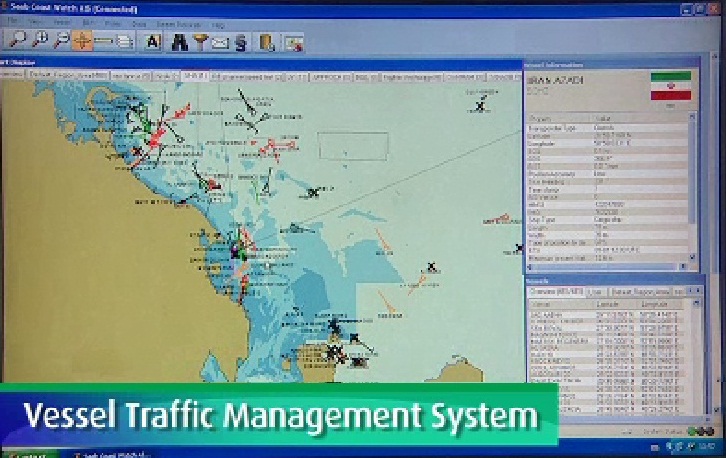 http://www.saudiaramco.com/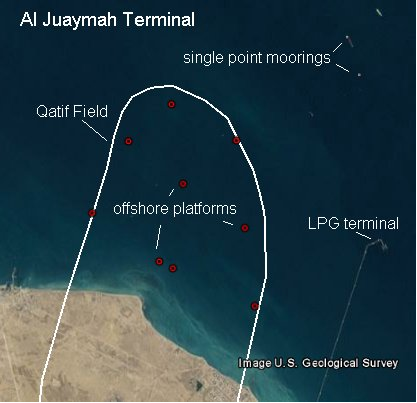 http://oilprice.com/uploads/Ab263.png
http://satelliteoerthedesert.blogspot.com.au/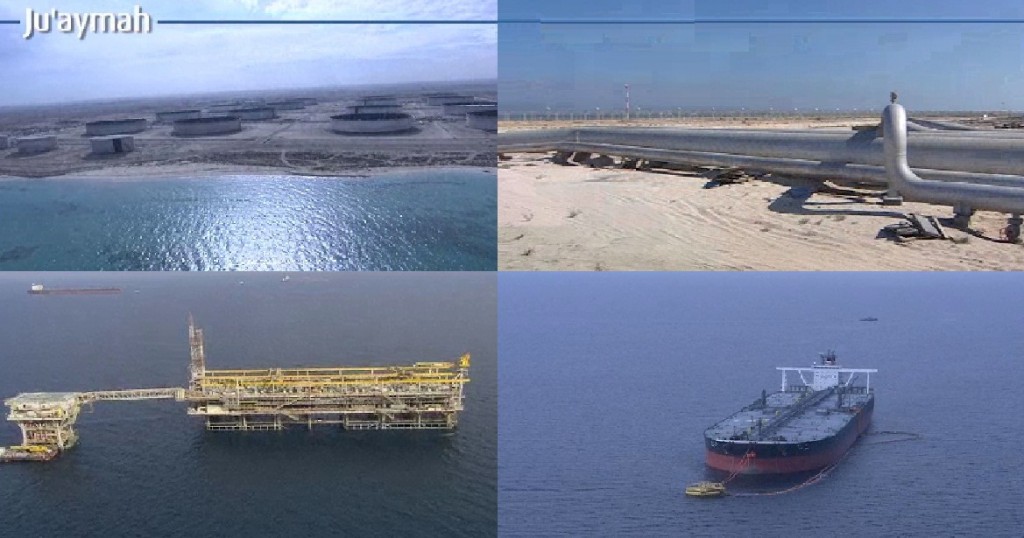 North of Ras Tanura: Juaymah's export infrastructure: tankfarm, pipeline, off-shore terminal, 1 of 6 moorings. Video from Saudi Aramco's terminal department: "Tanks to tankers" http://www.saudiaramco.com/
Update on Saudi crude production with EIA data: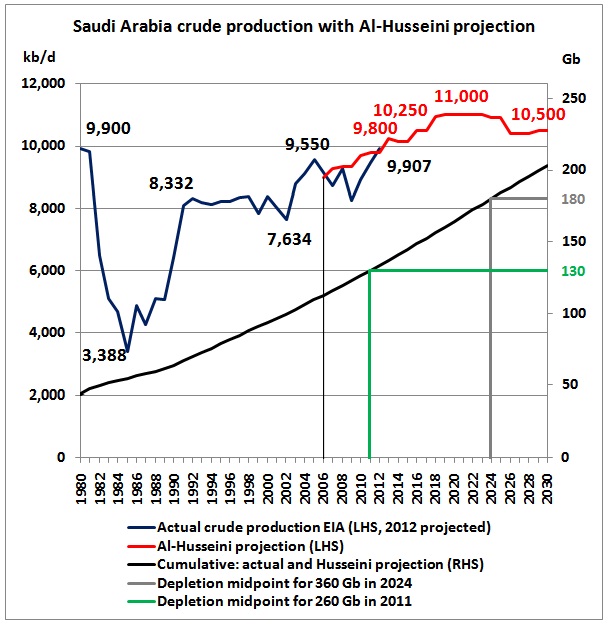 Saudi crude production is quite in line with Al-Husseini's projection of 2007.
Previous post:
2/3/2011
WikiLeaks cable from Riyadh implied Saudis could pump only 9.8 mb/d in 2011
http://crudeoilpeak.info/wikileaks-cable-from-riyadh-implied-saudis-could-pump-only-9-8-mbd-in-2011
Context with Iran:
Iran's oil exports dived to 800 Kb/d in July 2012
24/9/2012
Iran's crude oil sales dived to just 800,000 barrels per day (bpd) in July, due to Western sanctions, but are likely to have bounced back last month, a senior Iranian legislator was quoted as saying on Sunday.
http://www.brecorder.com/fuel-a-energy/193/1241584/
Previous post:
7/8/2012
Iran's 2nd and last oil peak
http://crudeoilpeak.info/irans-2nd-and-last-oil-peak
Iran threatens attacks on US bases in event of war
23/9/2012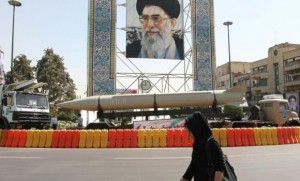 TEHRAN: A senior commander in Iran's powerful Revolutionary Guard warned that Iran will target US bases in the region in the event of war with Israel, raising the prospect of a broader conflict that would force other countries to get involved, Iranian state television reported Sunday.
http://www.arabnews.com/iran-threatens-attacks-us-bases-event-war
 Ex-Embassador to Israel: US will go to war with Iran 2013
16/9/2012
(CBS News) Former Ambassador to Israel, Martin Indyk, offered a dire prediction of a U.S. confrontation with Iran, saying it could escalate into war as early as next year.
"I'm afraid that 2013 is going to be a year in which we're going to have a military confrontation with Iran," he said Sunday on "Face the Nation."
Indyk joined a roundtable of foreign policy experts to discuss the latest protests in the Middle East and Israel's public statements pressuring the United States over Iran.
…..
The roundtable also discussed the anti-American protests across the Arab World the past few days, saying they are a defining moment for newly-minted, post-Arab Spring governments.
……
Indyk, who is now at the Brookings Institution, said the problems of some Middle Easter countries go beyond anti-American protests. The Middle East is experiencing a "descent into chaos and the potential for a sectarian war between Sunnis and Shias, to spread from Syria to Iraq to Lebanon and then to Bahrain and even Saudi Arabia. And so there's real potential here for much more instability that we're already witnessing."
http://www.cbsnews.com/8301-3460_162-57513809/ex-ambassador-to-israel-u.s-will-go-to-war-with-iran-in-2013/