As the US Air Force prepares to deploy B 52 Bombers in Darwin
https://www.abc.net.au/news/2022-10-31/china-tensions-taiwan-us-military-deploy-bombers-to-australia/101585380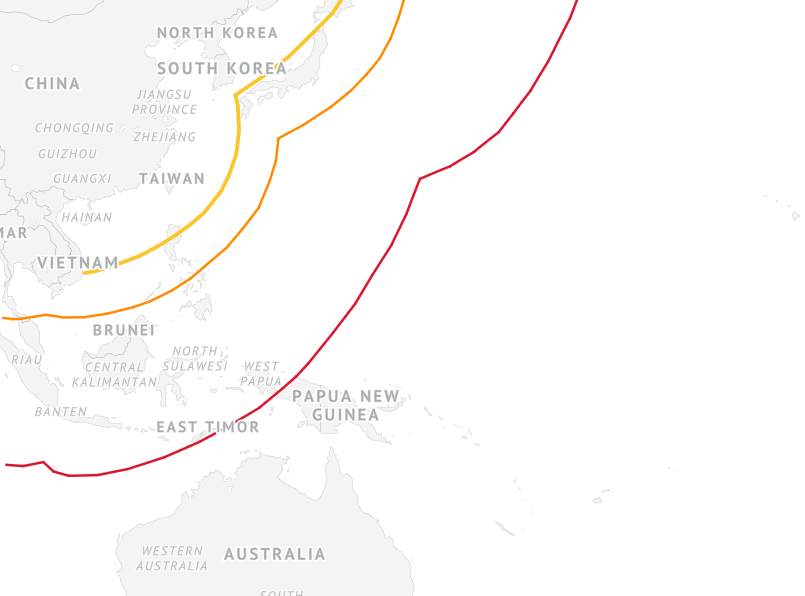 Fig 1: The ranges of missiles are likely to increase
The PLA has 2,500 short, intermediate and long-range ballistic missiles
the Australian public broadcaster reported on China's push to reunify with Taiwan:
31 Oct 2022
How could a war between China and Taiwan play out? | Four Corners
https://www.abc.net.au/news/2022-10-31/war-games:-what-would-conflict-with-china-mean-for/101598584
3-4 years time
ORIANA SKYLAR MASTRO, AMERICAN ENTERPRISE INSTITUTE, STANFORD UNIVERSITY:
I think it's somewhat inevitable that China uses limited force against Taiwan in the next three to four years, the big issue is whether we see a full out war.
https://www.youtube.com/watch?v=-q_GktDcqX4
During this 45 min war game video, an influential insider of the Chinese government, warns:
2:00 min
"Australian people should not even think about sending your sons and daughters to fight for separatism of Taiwan"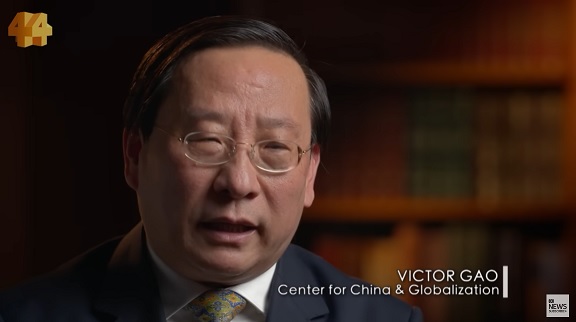 Fig 2: Victor Gao, Vice President of the Center for China & Globalization, Chairman of the China Energy Security Institute and Advisor to Saudi Aramco (see Appendix) http://en.ccg.org.cn/archives/57987
26:06 min
"If war breaks out, it will be total war. Don't think by providing airbases in the northern part of Australia it will be saving Australia.
You need to be fully aware what China is all about. China is a force not to be bullied. If anyone threatens China with force, they will be dealt with by force, in return"
26:26 min
"If Australia wants to forfeit all its economic interests with China and always embraces the US in the hostilities against China then I am afraid Australia will be dealt with in the same way as China will deal with the United States, if war breaks out between these 2 countries"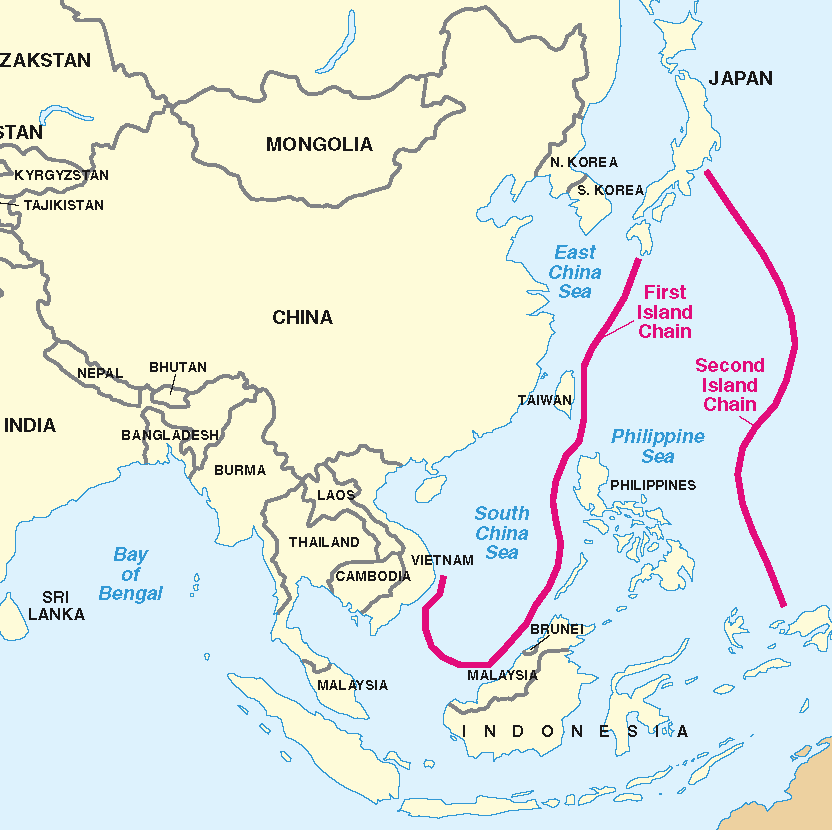 Fig 3: Area affected by a war around Taiwan: 1st and 2nd island chain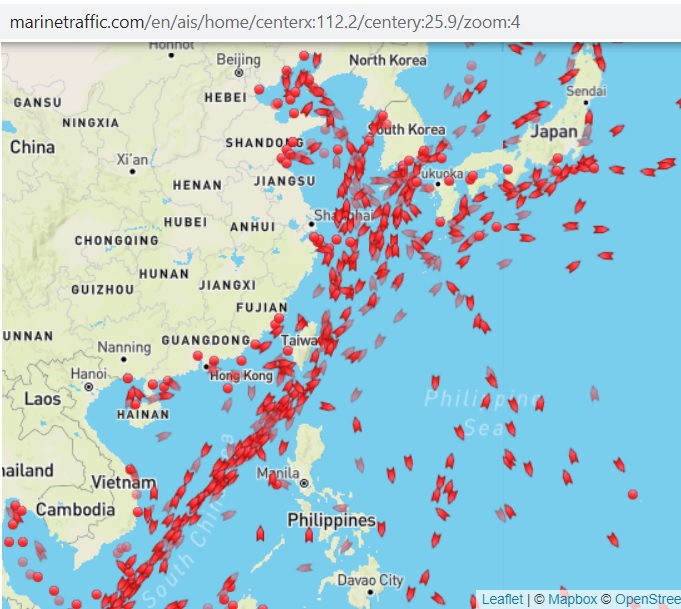 Fig 4: Tanker traffic in November 2022 https://www.marinetraffic.com/en/ais/home/centerx:112.2/centery:25.9/zoom:4
2 November 2022
North Korea has fired more than 20 missiles into the sea, including one that landed less than 60 kilometres from South Korea's coast.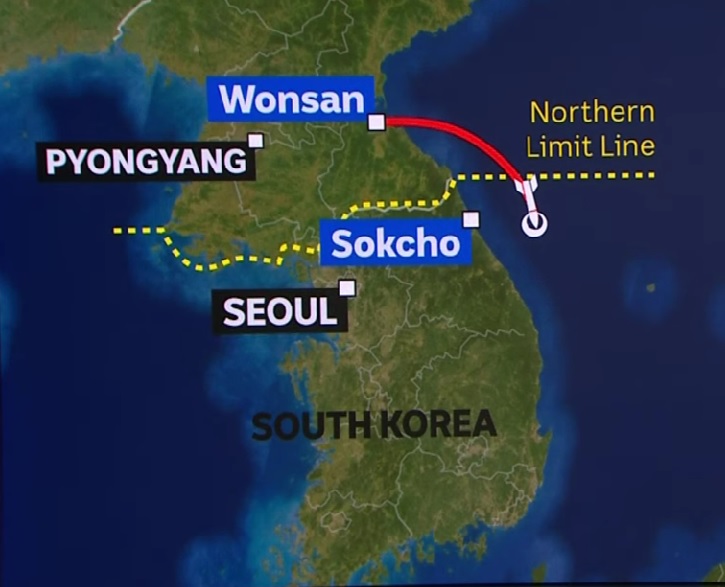 Fig 5: North/South Korea demarcation line and missile trajectory
https://www.abc.net.au/news/2022-11-02/north-korea-missile-lands-off-south-korean-coast/101607062
Let's have a look which Australian diesel imports would be impacted by hostilities.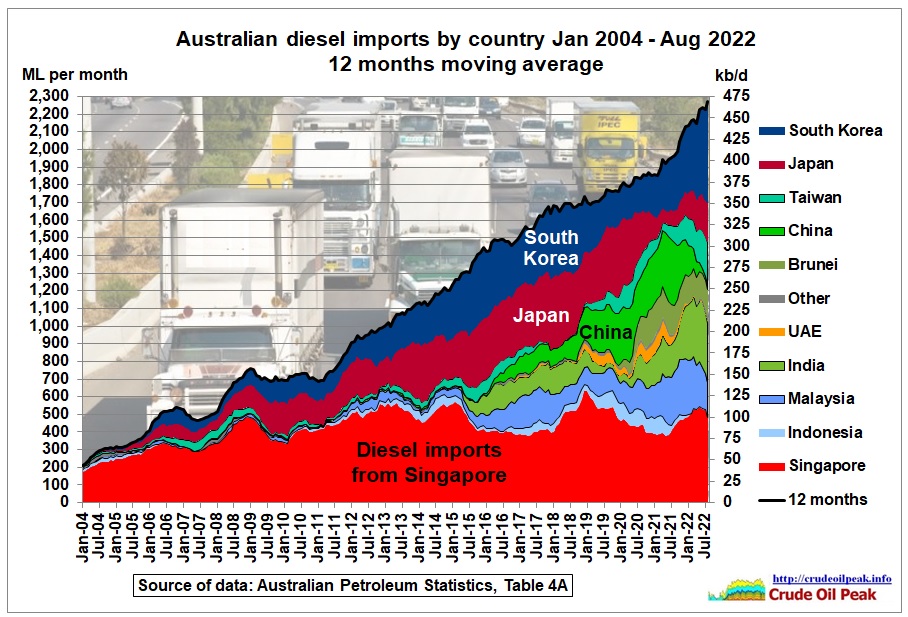 Fig 6: Australian Diesel imports by country (12 months moving average)
Australian diesel imports never seem to stop growing. This is because Australian refineries have been shut down over many years
13/4/2011
Australia's fuel import vulnerability increases as Sydney's Clyde refinery is closing
http://crudeoilpeak.info/australias-fuel-import-vulnerability-increases-as-sydneys-clyde-refinery-is-closing
9/4/2014
Why the closure of BP's Brisbane Bulwer refinery reduces Australia's energy security
http://crudeoilpeak.info/why-the-closure-of-bps-brisbane-bulwer-refinery-reduces-australias-energy-security
17/10/2014
Sydney's Caltex refinery closed as Chevron's crude production and sales continue to decline
http://crudeoilpeak.info/sydneys-caltex-refinery-closed-as-chevrons-crude-production-and-sales-continue-to-decline
14/11/2020
Australia's BP Kwinana refinery closure: peak oil context
https://crudeoilpeak.info/australias-bp-kwinana-refinery-closure-peak-oil-context
15/2/2021
Exxon-Mobil's refinery closure in Australia: peak oil context
https://crudeoilpeak.info/exxon-mobils-refinery-closure-in-australia-peak-oil-context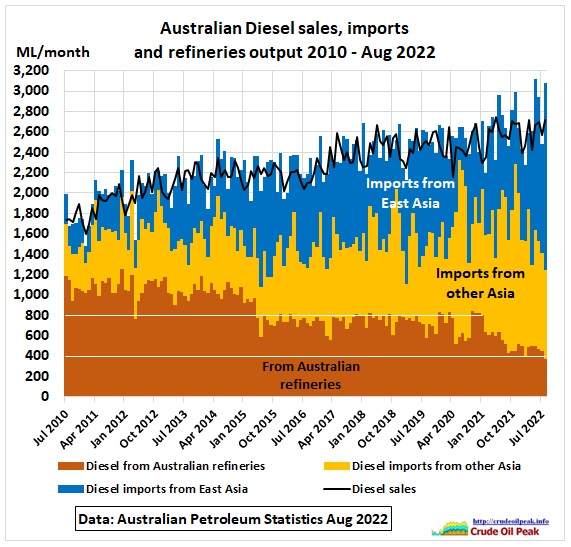 Fig 7: Increasing diesel consumption, declining refinery output, increasing imports
Note that in several months imports were higher than required by sales without an increase on the consumption cover (Fig 12)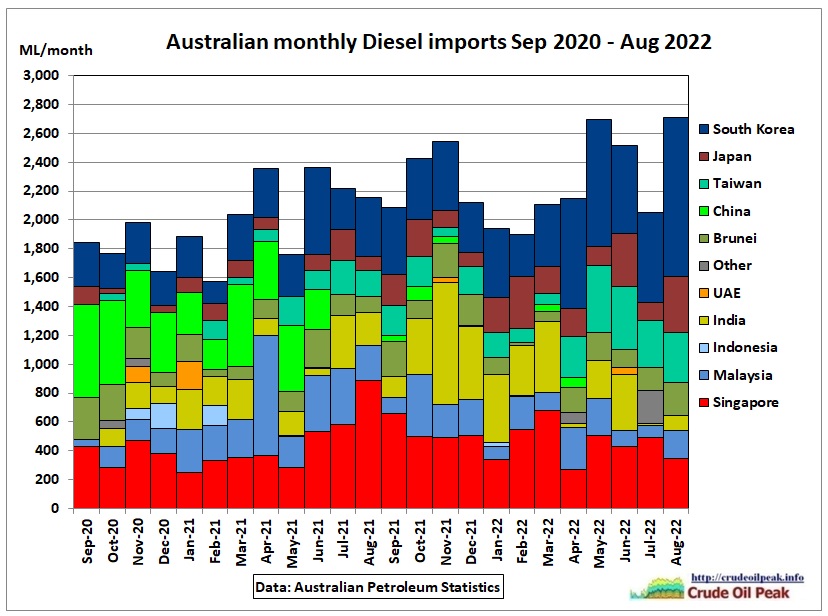 Fig 8: Monthly Diesel Imports in last 2 years
Fig 9: Diesel imports from 4 countries in East Asia
The percentage of East Asian Diesel imports of total imports changed from month to month between 28% and 68%. The average over the last 2 years was 45%. But in 4 out of the 5 last months the percentage has been much higher.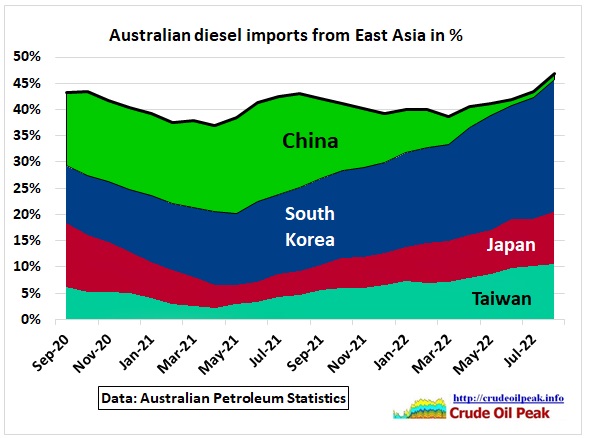 Fig 10: On a 12 month moving average basis: 40-45% of diesel imports have come from East Asia
China phased out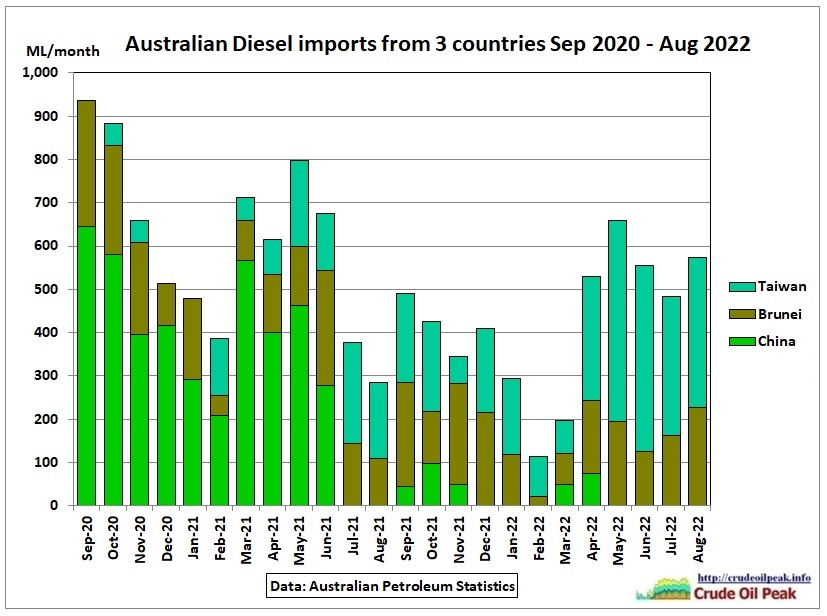 Fig 11: Diesel imports from China replaced by imports from Taiwan and a Chinese refinery in Brunei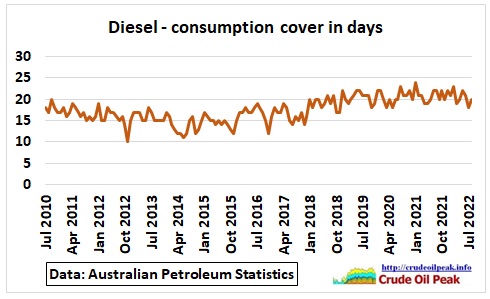 Fig 12: There are 20 days consumption in storage tanks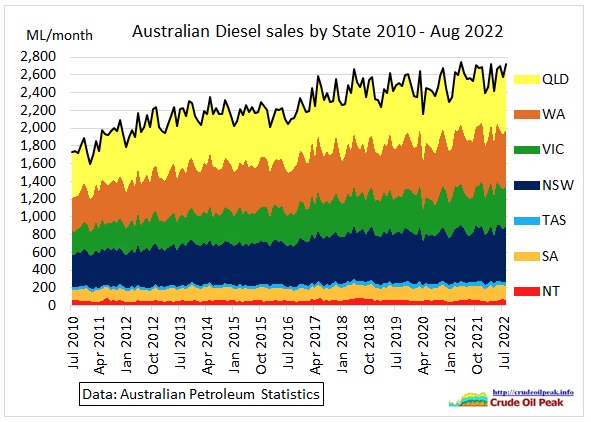 Fig 13: Diesel sales by State
Diesel sales in NSW, Victoria and WA have been growing steadily but in Queensland they remained on the same level, at an average of around 590 ML/month.
Comments:
(1) No reduction of GHG emissions is in sight
(2) The energy security of diesel supplies is very low. Australian refineries can produce a maximum of 500 ML/month (provided the 2 remaining refineries continue operation). Imports from India and South East Asia were 1,200 ML/month in the last 12 months. Compared to a consumption of 2,600 ML/month the theoretical gap in case of a war around Taiwan is 900 ML/month or 35%. The actual gap will be lower as the whole Asian economy would be negatively impacted and diesel consumption will likely go down.
(3) Australian fuel importers will make commercial decisions from which countries they will seek alternative fuel supplies. Given the distances involved, this will be more costly. Because of sanctions on Russia there is also a global diesel crunch evolving.
(4) Due to the longevity of diesel engines the time to have introduced gas as alternative transport fuel (CNG in urban areas, LNG for long distance transport) without any imports (highest energy security) was under Prime Minister John Howard who is to be blamed for Australia's east coast gas crisis. He started to approve LNG exports from the offshore west coast. Howard's energy white paper of June 2004 explicitly stated that alternative transport fuels were not needed at the time and I had an exchange of letters with him on peak oil. His successor Kevin Rudd carbon copied Howard's LNG export policies by using coal seam gas (dry, w/o liquids) in Queensland. His Resource Minister Martin Ferguson told me in 2010 that we can always buy oil. The end result of all this: the gas has been and is being burnt (overseas), the CO2 is in the atmosphere, but the Australian transport sector has not benefitted.
(5) As proposed in that meeting there is still an option to build a condensate splitter (condensate from west coast offshore gas) which would yield 20% middle distillates i.e. around 200 ML which could be used as a last resort for essential uses only.
(6) More freight needs to be moved by rail. Is there enough rolling stock, including (dual mode) locomotives? Rail electrification is urgent.
(7) Big diesel consuming projects like road and metro tunnels plus associated apartment towers with deep basement car parks should be stopped. They assume increasing traffic and continuing immigration both of which we cannot afford when there are diesel shortages.
(8) Renewable energy projects which consume larger volumes of diesel like pumped hydro should be given priority.
(9) The introduction of electric trucks or hydrogen driven fuel cell trucks is in statu nascendi and will come too late (in relation to China's reunification schedule) although every contribution will be welcome. The Grattan Institute's truck plan paper (August 22) has more details.
(10) The European energy crisis shows us how quickly things can happen
(11) State and Federal governments must now change policies, prepare emergency plans and prioritize diesel use for different purposes.
Related links
7/4/2015
Australia's alternative transport fuel: The East Coast gas-ship has sailed
http://crudeoilpeak.info/australias-alternative-transport-fuel-the-east-coast-gas-ship-has-sailed
Appendix
Saudi Arabia reaffirms energy ties with China amid US fears over oil cuts
25 Oct 2022
Victor Gao Zhikai, deputy director of the Centre for China and Globalisation, a Beijing-based think tank, and an adviser to Saudi Aramco, the world's largest oil production company, said China would expand investment in Saudi Arabia, particularly in infrastructure, where China had expertise.
"China sees Saudi Arabia as an important partner, so we are willing to invest in Saudi Arabia and build factories, and to do import substitution, etc," Gao said.
"[It] can even use Saudi Arabia as a bridgehead to the Islamic world … to West Asia and North Africa, among others, because Saudi Arabia does have significant influence in these countries."
He added China had long valued its relationship with Saudi Arabia, in contrast to Washington's "disrespectful" and "wary" relations with Riyadh.
https://www.scmp.com/news/china/diplomacy/article/3197218/saudi-arabia-reaffirms-energy-ties-china-amid-us-fears-over-oil-cuts