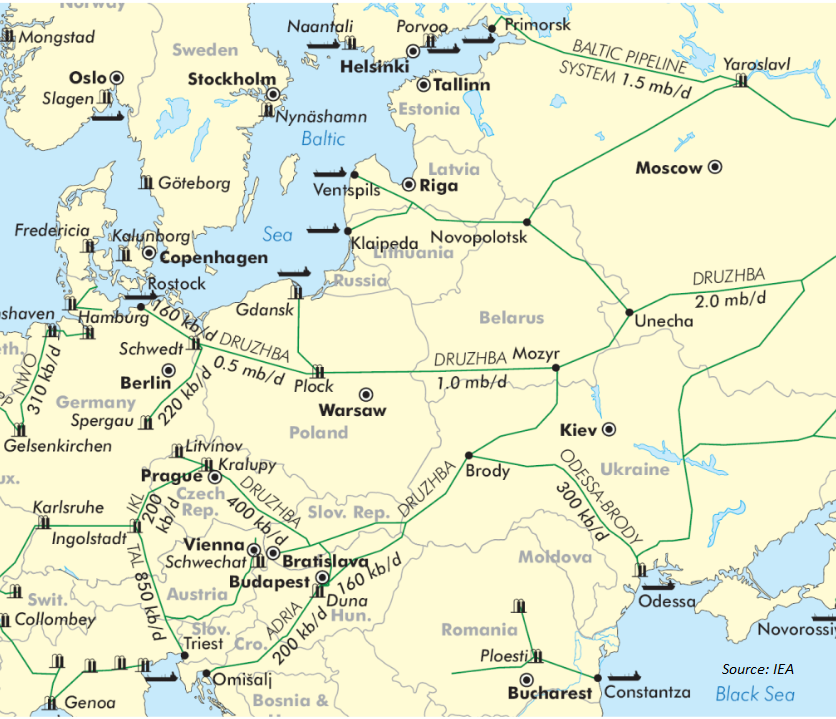 Pic 1: Druzhba oil pipeline, refineries supplied
https://fingfx.thomsonreuters.com/gfx/ce/7/4144/4136/Druzhba%20IEA.png
.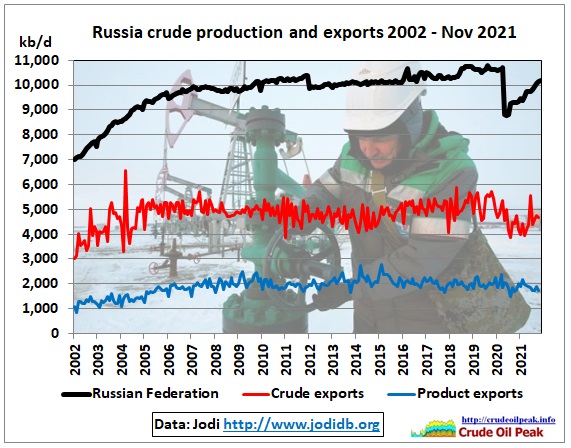 Fig 2: Crude production peaked before Covid at around 10.6 mb/d
That this production level would be some kind of limit was known for a long time
April 2008
The IEA's latest medium-term outlook, published in July, points to Russia as the third largest contributor to an expected 2.6m b/d increase in non-OPEC supply, just behind Brazil and biofuels. It said that Russia would increase its production to 10.5m b/d in 2012, about 600,000 b/d above last year's level.
https://www.ft.com/content/967448f4-0b1e-11dd-8ccf-0000779fd2ac
.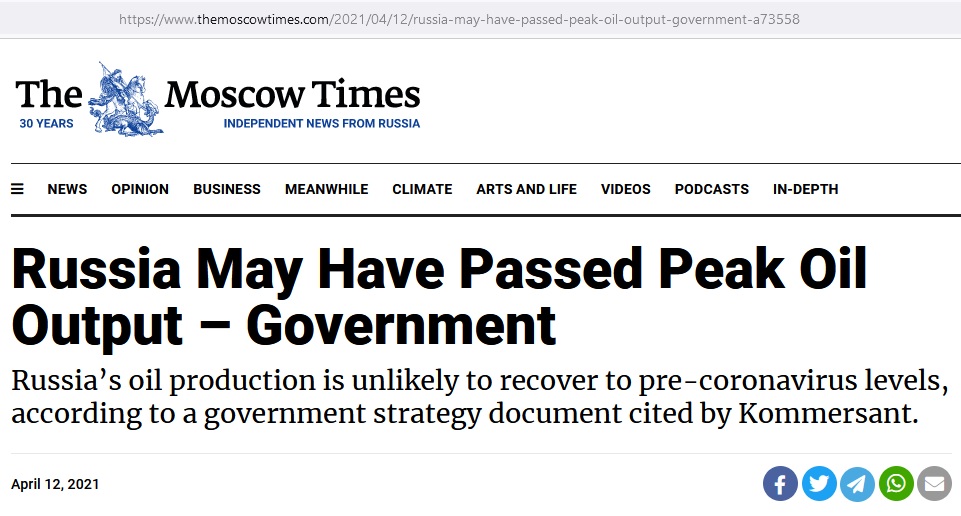 Russian oil production might never recover to pre-coronavirus levels, the country's Energy Ministry has forecast, according to the Kommersant business paper.
In a strategy document outlining prospects for Russia's critical oil and gas industry, the government said its "base case" — or most likely — scenario, is that Russia's oil production will never again hit the record levels recorded in 2019.
In the last full year before the pandemic, Russia produced 560 million tons of oil — equivalent to 11.3 million barrels a day. But output dropped for the first time in more than a decade in 2020 as Russia agreed significant production cuts with Saudi Arabia and other members of the OPEC cartel in a bid to support oil prices at the start of the pandemic — pushing production down 9% to 10.3 million barrels per day.
In the scenario labelled most probable, the Energy Ministry predicts Russia's oil output will grow over the rest of the decade — but fail to hit the record output of 2019, with production hitting a post-coronavirus peak of 11.1 million barrels a day in 2029 before decreasing to 9.4 million barrels a day by 2035.
https://www.themoscowtimes.com/2021/04/12/russia-may-have-passed-peak-oil-output-government-a73558
The Norwegian energy consultant Rystad did this analysis:
Lack of field sanctioning drives long-term oil production decline in Russia
August 2019
https://www.rystadenergy.com/newsevents/news/newsletters/EandP/lack-of-field-sanctioning-drives-long-term-oil-production-decline-in-russia/
.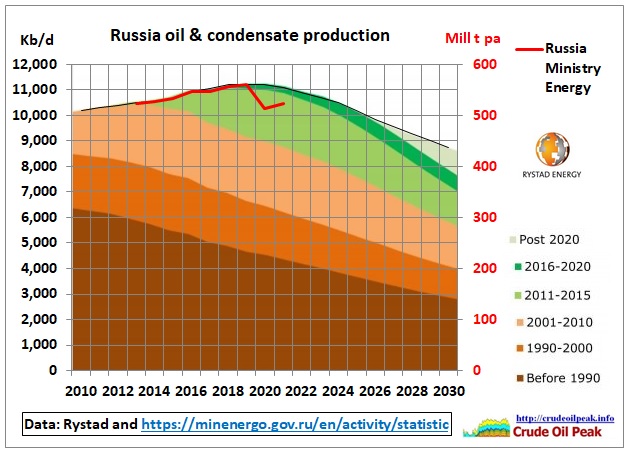 Fig 3: Rystad's projection of Russian oil production to 2030
The red curve shows the impact of Covid with data from https://minenergo.gov.ru/en/activity/statistics
The decline rate in oil fields started before 1990 is 4% pa. Half of these fields are depleted by more than 75%.
2 years later in Oct 2021, Rystad had a more optimistic outlook for 2022-2025 with a new peak in 2023
https://www.rystadenergy.com/newsevents/news/press-releases/russias-oil-supply-set-to-break-covid-19-chains-rise-to-a-new-record-in-july-2022-and-peak-in-2023/
but this was later revised downward  (direct communication) with production in 2023 reaching 2019 levels.
From the Centre for Strategic and International Studies:
Oil Market Cannot Afford to Lose Russian Supplies
31 Jan 2022
Under the OPEC+ agreement, Russia is slated to raise crude output by about 100,000 b/d each month until it reaches 10.5 million b/d in May, equivalent to its pre-Covid output. But its production increases seem to be running out of steam. In December the country produced below its OPEC+ target for the first time since last spring, and there are doubts that Russia can raise output much beyond 10.5 million b/d. Its February OPEC+ allocation is 10.23 million b/d.
https://www.csis.org/analysis/oil-market-cannot-afford-lose-russian-supplies
2 Feb 2022
25th OPEC and non-OPEC Ministerial Meeting 
Production table: Required production March 2022  in kb/d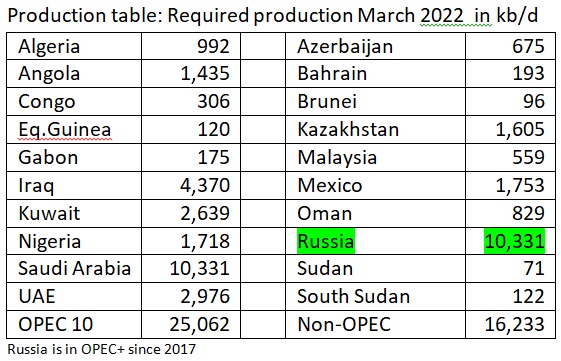 https://www.opec.org/opec_web/static_files_project/media/downloads/Production-table_25thONOMM.pdf
Future Russian oil production will undoubtedly be impacted by BP' decision to pull out of Russia:
27 Feb 2022
bp chair Helge Lund said: "Russia's attack on Ukraine is an act of aggression which is having tragic consequences across the region. bp has operated in Russia for over 30 years, working with brilliant Russian colleagues. However, this military action represents a fundamental change. It has led the bp board to conclude, after a thorough process, that our involvement with Rosneft, a state-owned enterprise, simply cannot continue.
• bp will exit its 19.75% shareholding in Rosneft.
• Both bp-nominated directors to resign from Rosneft board with immediate effect.
• bp will no longer report reserves, production or profit for Rosneft.
• Changes in accounting treatment of Rosneft shareholding expected to lead to a material non-cash charge.
• bp's financial frame and distribution guidance remains unchanged.
https://www.bp.com/en/global/corporate/news-and-insights/press-releases/bp-to-exit-rosneft-shareholding.html
.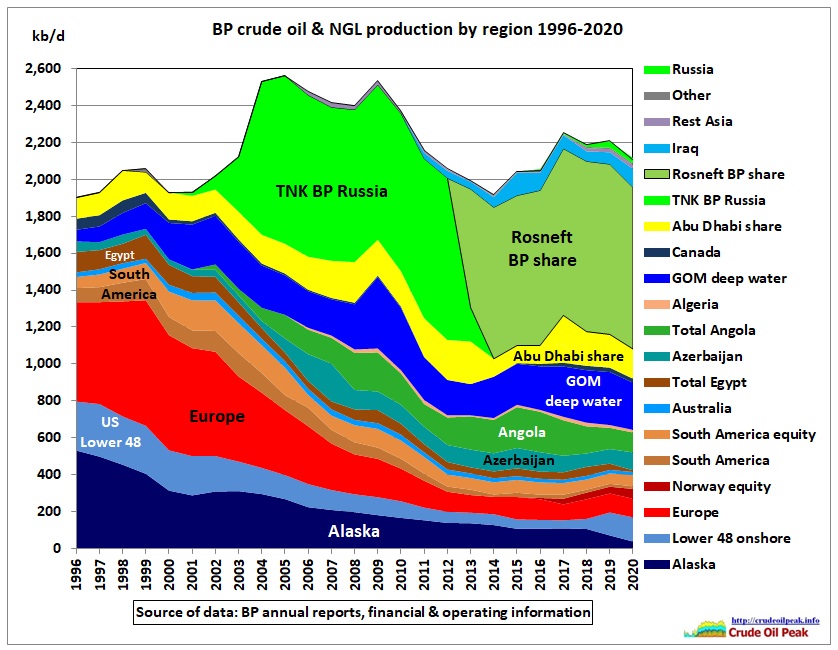 Fig 4: BP's share in Rosneft oil production (876 kb/d in 2020, 42% of 2,107 kb/d)
Oil reserves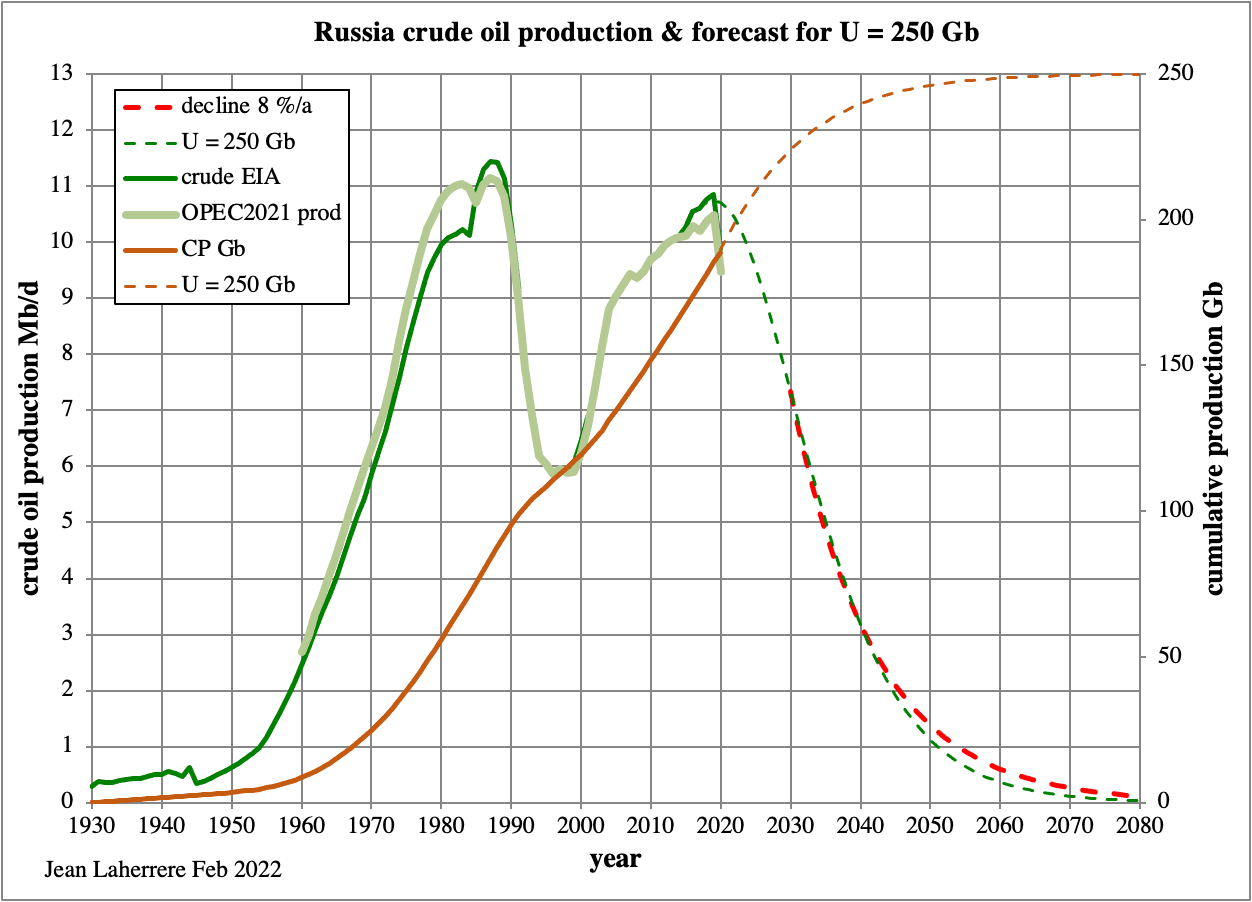 Fig 5: Russia crude production and ultimate reserves (Laherrere, ASPO France)
Cumulative production to 2020 was around 190 Gb with another 60 Gb to be produced (ultimate U=250 Gb). Rystad has 72 Gb of proven and probable (2P) reserves, close enough. This means that these reserves are depleted by 190/(190+72)=73%
13 July 2021


Fig 6: Russian oil reserves and resources
https://www.rystadenergy.com/newsevents/news/press-releases/worlds-recoverable-oil-now-seen-9pct-slimmer-commercial-volumes-can-keep-global-warming-below-1p8c/
Let's compare the 3 main oil producers: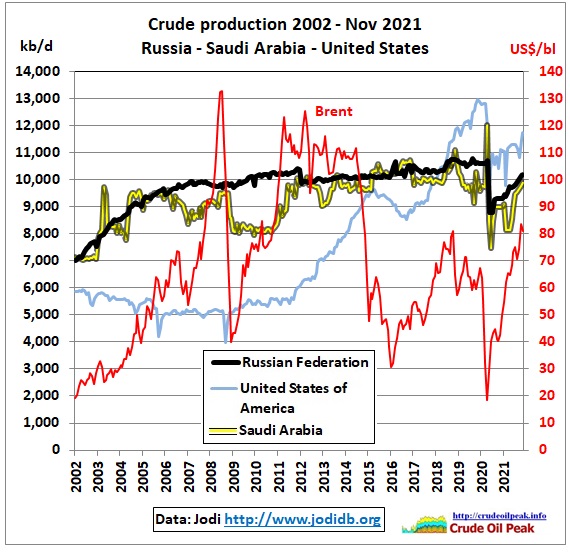 Fig 7: Russian, Saudi and US crude production
When oil prices increased after the North Sea peak, Russian oil production went up steadily to around 10 mb/d by 2007 but then stalled through the oil price shock year of 2008 (Russia-Georgia war!), followed by only very modest increases, basically independent on oil price changes.
Covid induced drop and rebound clearly visible.
An analysis up to 2017 can be found here:
Oil Price Shocks and Russia's Economic Growth: The Impacts and Policies for Overcoming Them
https://www.researchgate.net/publication/320842056_Oil_Price_Shocks_and_Russia's_Economic_Growth_The_Impacts_and_Policies_for_Overcoming_Them/link/5dda0c4f299bf10c5a2e2d88/download
Russia's heavy fuel oil exports:
Challenges and changing rules abroad and at home
April 2019
https://www.oxfordenergy.org/wpcms/wp-content/uploads/2019/04/Russia%E2%80%99s-heavy-fuel-oil-exports-challenges-and-changing-rules-at-home-and-abroad-WPM-80.pdf
Exports: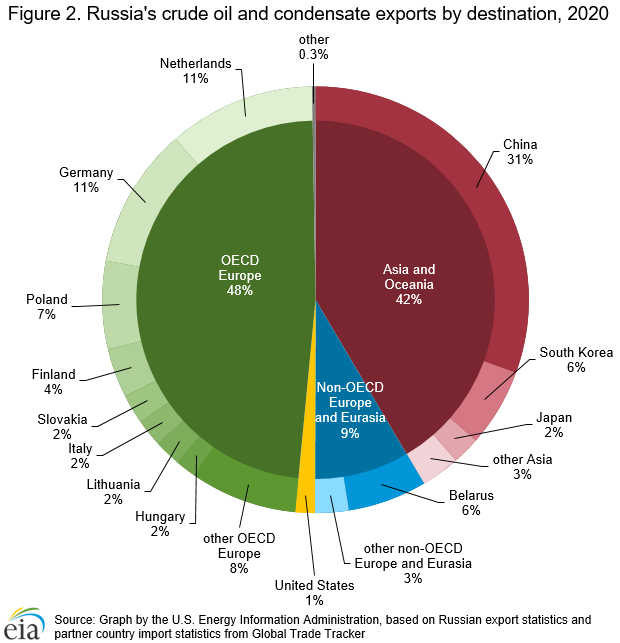 Fig 8: Destination of Russian crude exports
https://www.eia.gov/international/analysis/country/RUS
.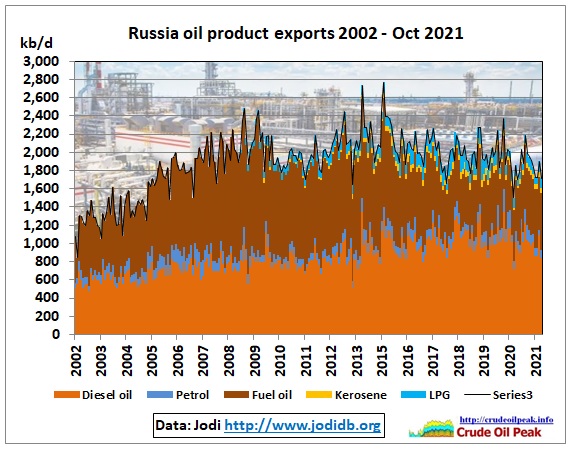 Fig 9: Product exports – mainly diesel and fuel oil
The increase in product exports came along with the production increase shown in Fig 2.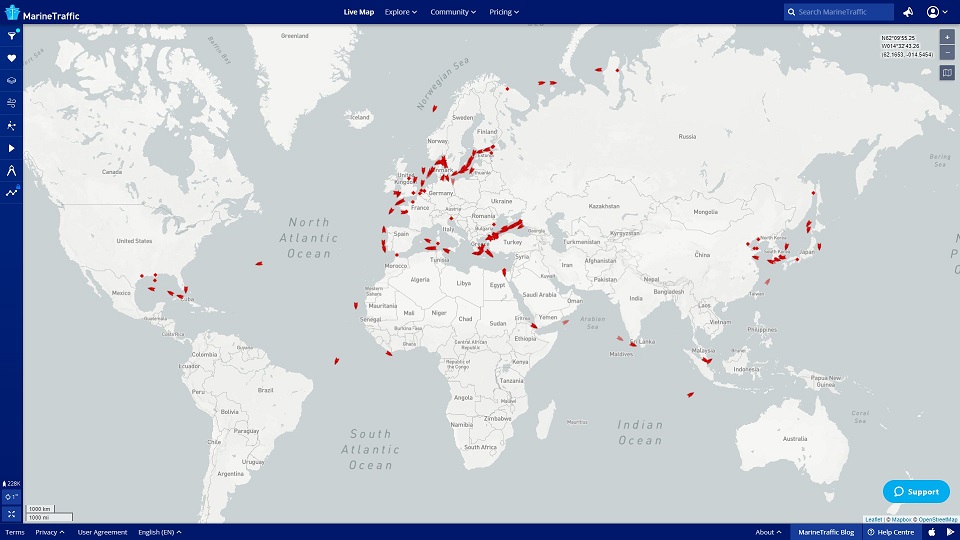 Fig 10: Tankers with Russian crude oil, product and LNG exports
https://twitter.com/TankerTrackers/status/1496789235327721479/photo/1
New chapters will have to be written due to the war in Ukraine.
Related post:
4/10/2010
Russia's oil peak and the German reunification
http://crudeoilpeak.info/russia%E2%80%99s-oil-peak-and-the-german-reunification
Update:
Shell intends to exit equity partnerships held with Gazprom entities
28/2/2022
The Board of Shell plc ("Shell") today announced its intention to exit its joint ventures with Gazprom and related entities, including its 27.5 percent stake in the Sakhalin-II liquefied natural gas facility, its 50 percent stake in the Salym Petroleum Development and the Gydan energy venture. Shell also intends to end its involvement in the Nord Stream 2 pipeline project.
https://www.shell.com/media/news-and-media-releases/2022/shell-intends-to-exit-equity-partnerships-held-with-gazprom-entities.html
Exxon to exit Russia, leaving $4 bln in assets, Sakhalin LNG project in doubt
2/3/2022
HOUSTON, March 1 (Reuters) – Exxon Mobil (XOM.N) on Tuesday said it would exit Russia oil and gas operations that it has valued at more than $4 billion and halt new investment as a result of Moscow's invasion of Ukraine.
The decision will see Exxon pull out of managing large oil and gas production facilities on Sakhalin Island in Russia's Far East, and puts the fate of a proposed multi-billion dollar liquefied natural gas (LNG) facility there in doubt.
"We deplore Russia's military action that violates the territorial integrity of Ukraine and endangers its people," the company said in a statement critical of the intensifying military attacks.
https://www.reuters.com/business/energy/exxon-mobil-begins-removing-us-employees-its-russian-oil-gas-operations-2022-03-01/
Oil Spikes To $112 As Russian Crude Becomes Toxic
2 Mar 2022
• Brent crude hits $112 as most of the Russian seaborne crude oil exports have become untouchable for buyers.
• Amrita Sen: Because of the banking sanctions we've estimated about 70% of Russian crude oil exports can't be touched
• The global oil market is starting to see disruption in Russian supply, which could send oil prices as high as $150 per barrel.
https://oilprice.com/Energy/Oil-Prices/Oil-Spikes-To-112-As-Russian-Crude-Becomes-Toxic.html