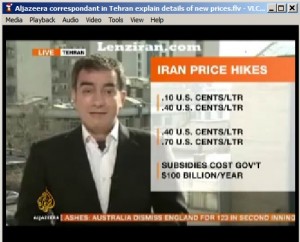 Iran increased its subsidized fuel prices 4-fold for a ration of up to 60 litres a month and by another 75% for quantities above that limit.  An Aljazeera correspondent reports:
httpv://www.youtube.com/watch?v=1QrvF5QwvcM
Petrol queues getting worse everyday – Tehran September, 2010
httpv://www.youtube.com/watch?v=Nzg7BXpWMjQ
Aljazeera Inside Story – Iran's economic surgery
Saeed Laylaz, former deputy interior Minister:
"As I mentioned this before, at the moment the most important thing from the economic point of view the government and the country has no other choice [than cutting subsidies]. We are wasting our energy resources in a very bad situation. To produce every 4 US $ GDP we are consuming 1 US$ energy which in my opinion is one of the worst in the world.

Our oil production is decreasing, our oil export in the country is decreasing dramatically. And if we continue this situation – which is impossible in my opinion – 5 or 10 years later we will have no oil to export and the main source of hard currency of the country is oil exports.

And the country has no other choice than to reduce the consumption of energy which is around 1.3 bn boe and my estimation shows that if we can save 300 mboe energy we can have around US $ 30 bn additional  money to invest in the country in the industry and other sections of the country which are under pressure because of the lack of money for investment."
httpv://www.youtube.com/watch?v=nOe3UbEAWg0
Note the time limit given here. This is yet another warning NOT to start new highway and toll-way projects, airport expansions and other oil-dependent infrastructure.