June 14, 2011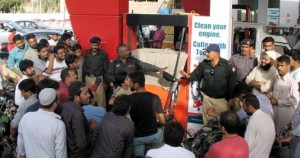 LAHORE: Fuel shortage continued on Monday in different cities of Punjab, including Muzzaffabad in Azad Kashmir.
People in different cities including Multan, Sargodha, Jhang and Faisalabad are facing severe difficulty in obtaining petrol for day-to-day commuting and are bound to buy fuel at high prices of Rs115-120 per litre. Some fuel stations in Multan are also reported to be selling petrol at Rs150 per litre, a private television news channel reported on Monday.
Several filling stations in various cities of the Punjab remained closed as oil companies could not arrange fuel supplies for them. Traffic on the roads of Lodhran, Khaewal, Vehari, Muzzaffargarh and other major cities of Southern Punjab remained thin whereas the election campaign in Azad Kashmir is also affected by the shortage and no fervor is seen in the area.
http://www.pakistantimes.net/pt/detail.php?newsId=22447
June 13 2011
The fuel crisis worsened in South Punjab on Monday, as 90% of all petrol pumps closed down in the city of Faisalabad and surrounding areas.
Locals were forced to queue up to buy petrol at up to Rs160 per litre by pump owners. Petrol pump owners complained that only 8,000 litres of petrol are being given to each pump on alternate days.
The total consumption of petrol in Faisalabad is 600,000 litres per day
whereas the provision is a mere 250,000 liters per day.
As a result of this fuel shortage, public transport fares have increased. In an industrial city like Faisalabad, labourers are facing problems due to the increased fares.
Sources say that the shortage has been caused by the closure of PARCO and the Attock Refinery.
Petrol station owners maintain that PARCO is at fault while PARCO officials allege that pump owners are not booking orders due to a decrease in prices.
http://tribune.com.pk/story/188005/petrol-shortage-90-petrol-stations-close-down-in-faisalabad/
June 8, 2011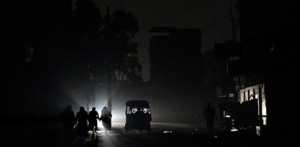 The Karachi Electric Supply Company has been constrained to temporarily increase the duration of load shedding in the residential and commercial areas of the City in view of the peak demand exceeding 2550 megawatts and minimal supply of gas, 180 MMCFD as against 230 MMCFD last June and 300 MMCFD in the same month of 2009.
According to the new load shedding schedule, in the zero or low loss areas, which are usually exempted of load shedding, three cycles of one hour each are being carried out; four cycles of 1.5 hour each in the medium loss areas; and, four cycles of 2 hours each in the high loss residential and commercial areas. Industrial areas continue to be exempted of load shedding as are the sensitive and strategic connections and installations.
The temporary increase in load shedding hours is strictly for the period when the KESC is receiving low gas supply from SSGC and normal load shedding plan will return as soon as gas supply increases, or if PSO agrees to extend KESC's credit limit to buy furnace oil. The KESC is currently burning furnace oil worth Rs. 30 crore every day to fill the fuel supply gap in spite of its limited financial resources. The KANUPP has still not resumed supply while IPP Gul Ahmed is also not generating electricity because of oil shortage. The low gas pressure is also limiting and affecting power generation by KESC's gas turbines.
http://asianetpakistan.com/official-news/6124