26/10/2011 China feels Diesel pinch
China is facing a new round of diesel shortfalls with many private gas stations running out of stocks.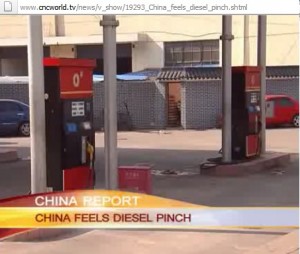 Although diesel shortages is usual in this traditional peak season for use in China, this year's diesel pinch comes more seriously than usual especially after a price cut by the government
In early October, the National Development and Reform Commission, China's top economic planner, cut the retail price for gasoline and diesel by some 47 U.S. dollars per ton.
The fluctuating global crude oil price and unstable wholesale price of diesel at home has made oil companies to cut stocks to avoid unexpected risks.
And the peak season for diesel use, which usually falls in September and October, also strained the supplies.
SOUNDBITE (CHINESE) ZHOU YANSHAN, SINOPEC YANGZHOU BRANCH:
"The average loss for refining a ton of crude oil would be around 30 dollars, which greatly harms the refiners' willingness to produce."
Refiners' reluctance to produce further tightened the diesel supplies.
The country's two largest oil refiners and suppliers are blamed for stockpiling diesel to pressure the government to raise prices.
But the two oil suppliers, which together hold more than 80 percent of the market, have both denied such allegations.
They said all their refineries are operating at full capacity and are not rationing to customers.
The two pledged to ramp up production to help meet strong fuel demand.
http://www.cncworld.tv/news/v_show/19293_China_feels_diesel_pinch.shtml
22/4/2011 Hongkong TV: Shanghai truck driver's strike
On April 20, to protest rising oil prices and fees, thousands of Shanghai truck drivers went on strike requesting the authorities to abolish fuel surcharge, and anufacturers to pay higher shipping fees.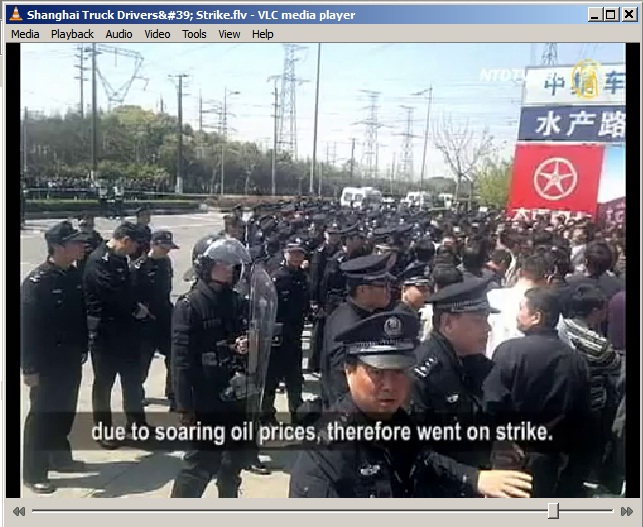 .
Truck driver A: "Gas used to cost a bit more than RMB3 per litter, now it's over RMB7 per liter, yet the freight [rate] has not been adjusted!"
Liu Kaiming: "The higher oil prices are due to the National Development and Reform Commission (NDRC) which sets the prices, because in China oil price is under the national monopoly control.
During this year's NPC session, Huang Xihua, a national representative, quoted data from the National Logistics Association, that highway toll in China is nine times higher than in Europe, being 20% of the transportation costs, plus fuel costs and various fees
A Beijing reporter traveling on a truck from Chengdu to Beijing found out that highway toll was almost RMB5,000, accounting for almost half of the shipping cost. Shipping cost from Guangzhou to Beijing is higher than it is from Guangzhou to the U.S.
Hong Kong's Oriental Daily reported Hu Xingdou, a China expert, saying that Shanghai truck drivers' strikes are an economic issue……If they do not solve the economic and livelihood issues, a single spark can start a prairie fire.
http://ap.ntdtv.com/b5/20110422/video/59407.html
21/4/2011    Chinese truck drivers protest against rising fuel prices
http://www.guardian.co.uk/world/2011/apr/21/china-police-trucker-protest
20/4/2011    China's Sinopc cuts off oil exports: state media
China's oil giant Sinopec has stopped exporting oil products to maintain domestic supplies amid disruption concerns caused by Middle East unrest and Japan's earthquake, a report said Wednesday
http://www.energy-daily.com/reports/Chinas_Sinopec_cuts_off_oil_exports_state_media_999.html
————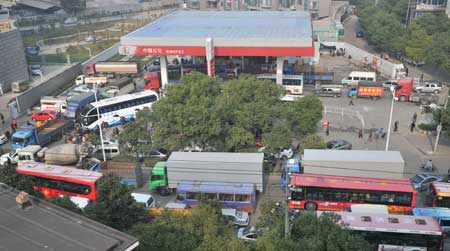 .
.