Update March 2015
Washington Post
Feb 15, 2015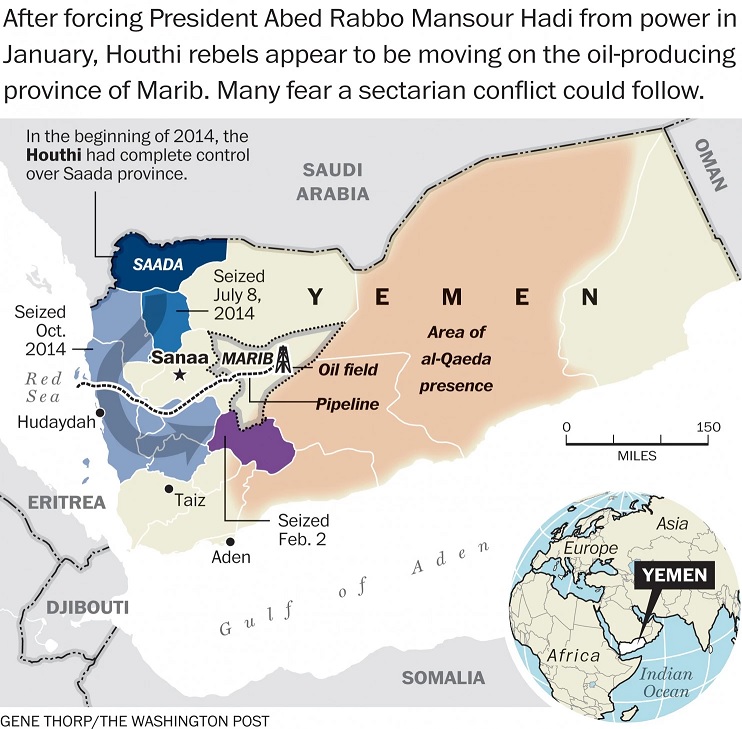 http://www.washingtonpost.com/world/middle_east/houthi-rebels-in-yemen-eye-oil-rich-province-sparking-fears-of-all-out-civil-war/2015/02/14/90da6aa2-b226-11e4-bf39-5560f3918d4b_story.html
The Iran-Saudi Arabia proxy war is heating up in Yemen
22/3/2015
Iraq, Syria, Lebanon and Bahrain are among the many Middle Eastern states that have been badly affected by the deepening hostility between rival Sunni and Shia factions. And at the heart of a conflict which threatens to transform the political landscape of the modern Arab world lies the deadly rivalry between Saudi Arabia's Sunni fundamentalist ruling family and Iran's equally uncompromising Shia-based Islamic revolution.
The Saudis have been on a collision course with their powerful Shia neighbours ever since it was revealed more than a decade ago that the ayatollahs were working on a clandestine programme to develop nuclear weapons. Acquiring an atom bomb would allow Iran to achieve its long-standing ambition to reclaim its position as the region's undisputed superpower, thereby enabling it to intensify its efforts to export the principles of the Iranian revolution further afield.
http://www.washingtonpost.com/world/middle_east/houthi-rebels-in-yemen-eye-oil-rich-province-sparking-fears-of-all-out-civil-war/2015/02/14/90da6aa2-b226-11e4-bf39-5560f3918d4b_story.html
Oil
Crude oil production, crude exports & imports, petroleum consumption and petroleum product imports: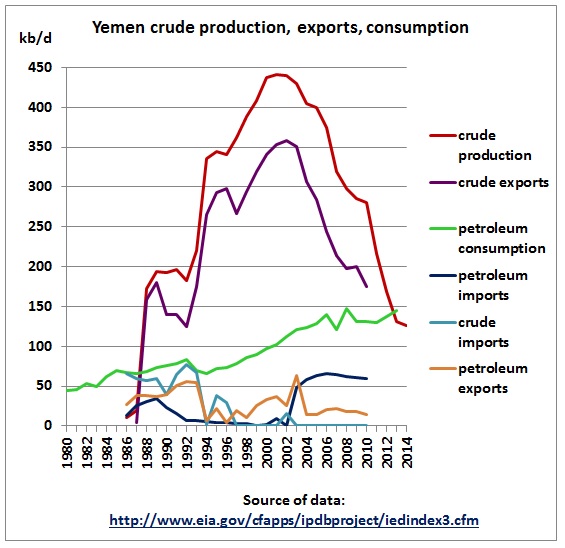 Data from: http://www.eia.gov/cfapps/ipdbproject/iedindex3.cfm
Petroleum net exports: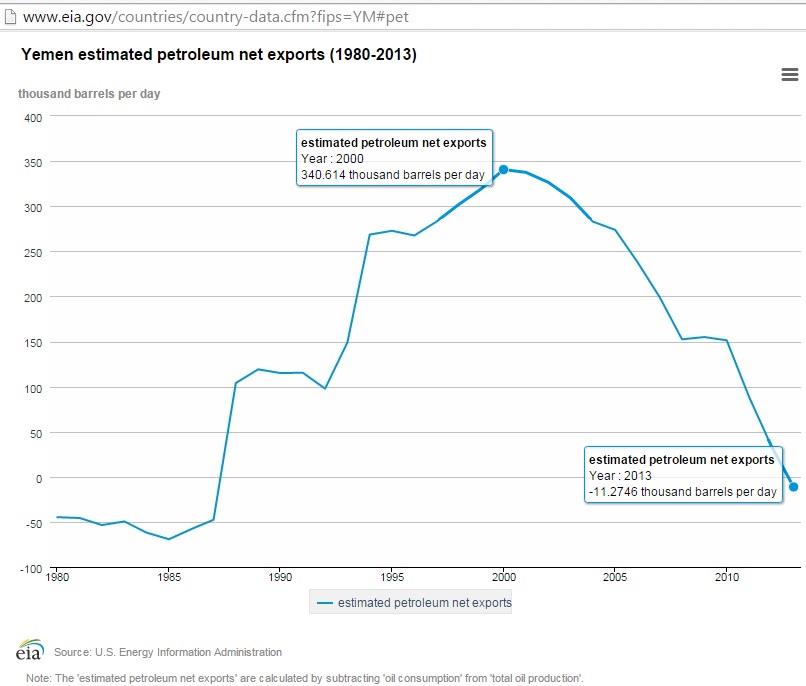 Screenshot from: http://www.eia.gov/countries/country-data.cfm?fips=YM#pet
Aden refinery 130 kb/d
Ma'arib refinery 10 kb/d
With the continued decline in oil production since the early 2000s, Yemen has struggled to keep its export sector at normal operating levels. The pipeline, which runs from the Marib region in the center of the country to the export terminal at Ras Isa, is critical to Yemen's export operations. As such, it is one of the most frequent targets of sabotage.
Yemen does not have any overland pipeline connections to its neighbors, so all of the country's petroleum exports depart via tanker vessels. In recent years, more than three-fourths of their petroleum exports went to destinations in Asia. In 2013, Yemen exported just 124,000 bbl/d of crude oil, according to data from Lloyd's List Intelligence tanker tracking service. Exports are down from more than 350,000 bbl/d 10 years earlier. In addition to crude oil exports, Yemen exports limited amounts of refined petroleum products, averaging just 16,000 bbl/d of refined product exports in 2013, according to data from Global Trade Information Services' Global Trade Atlas.
Yemen regularly imports petroleum products, particularly distillate fuel oil and residual fuel oil. Between 2000 and 2013, Yemen's imports of all petroleum products grew from just 2,000 bbl/d to 78,000 bbl/d, based on data from FACTS Global Energy. The possibility of continuing attacks on its energy infrastructure and further production declines means Yemen's reliance on imported petroleum products will likely increase in the short term.
Yemen's oil consumption has been trending steadily upward, reaching 144,000 bbl/d in 2013. The country has two operating refineries with a total capacity of 140,000 bbl/d. While these refineries produce some of the petroleum products Yemen needs, the refineries do not operate at full capacity, and the country imports additional petroleum products to help meet internal demand. The Aden Refinery is the largest in the country, accounting for almost all of Yemen's total refining capacity of 140,000 bbl/d.
http://www.eia.gov/countries/cab.cfm?fips=ym
IMF report
2014 Article IV Consultation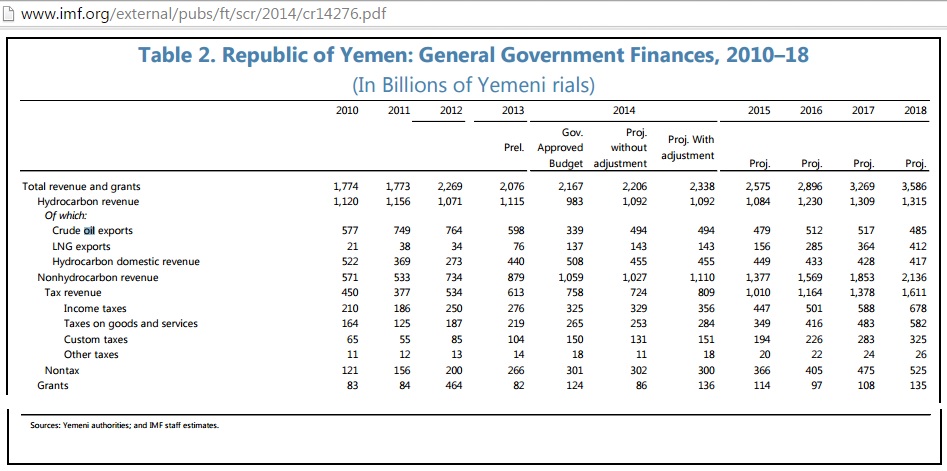 .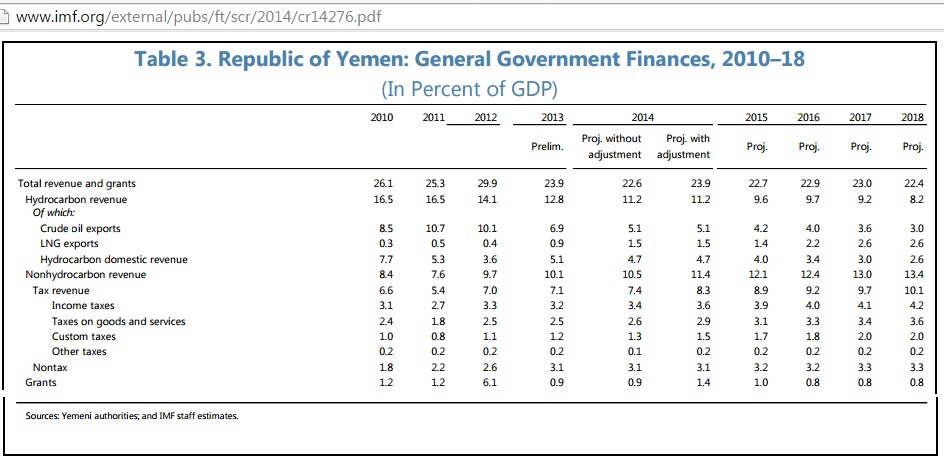 .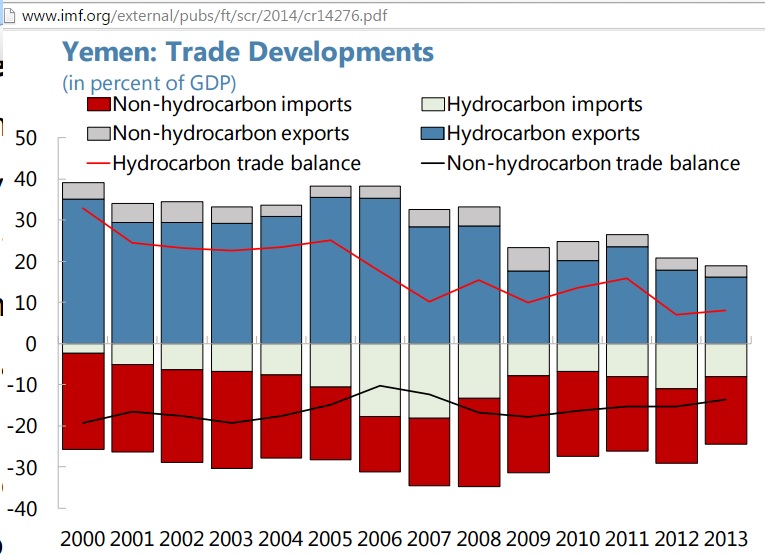 http://www.imf.org/external/pubs/cat/longres.aspx?sk=41901.0
All estimates in the above IMF report have been based on oil prices between USD 96.4 (2015) and USD 86.6 (2018)
World Bank report:
Dec 14, 2010
Yemen is an oil-dependent economy that faces a rapidly declining oil production. On average, 85 percent of exports and 65 percent of fiscal revenues were derived from oil exports and domestic oil trade since 2000. The production peaked in 2001 and has since declined at a rate of about 3 to 4 percent per annum. Yemen is forecast to become a net-importer of petroleum products in 4 to 5 years, if no new oil is found and current policies, including subsidizing domestic energy consumption, is maintained.
For the time being, Yemen's oil sector remains the main source for foreign reserves and key for the fiscal balance. Oil production accounts for 10 percent of the country's GDP.  Fiscal revenues from oil have dropped from 16 percent of GDP in 2008 to 7.4 percent of GDP in 2009, because of declining production and international prices. The non-hydrocarbon revenues run at about 8 to 9 percent of GDP.
Yemen's prospects depend on the hydrocarbon sector for the short–term and on the identification of new sources of economic growth over the medium–term. While oil production is expected to continue to decline, the production and export of liquefied natural gas (LNG) via the Yemen LNG project (YLNG) will offer some cushion, but cannot compensate for the loss of oil exports over time.
http://web.worldbank.org/WBSITE/EXTERNAL/NEWS/0,,contentMDK:22790229~menuPK:34463~pagePK:34370~piPK:34424~theSitePK:4607,00.html
.