July 2018
The Washington Institute reports:
"On July 25, Houthi rebels attacked a civilian oil tanker in the Red Sea west of Yemen's Hodeida port. The vessel—a Saudi-flagged, double-hulled very large crude carrier (VLCC) named Arsan—had left Ras Tanura terminal on July 16 carrying about two million barrels of oil for Egypt. Since the attack, Saudi Arabia has suspended its movement of oil tankers through the Bab al-Mandab Strait, and such disruptions of global energy flows will continue until Houthi forces leave the coastal province of Hodeida."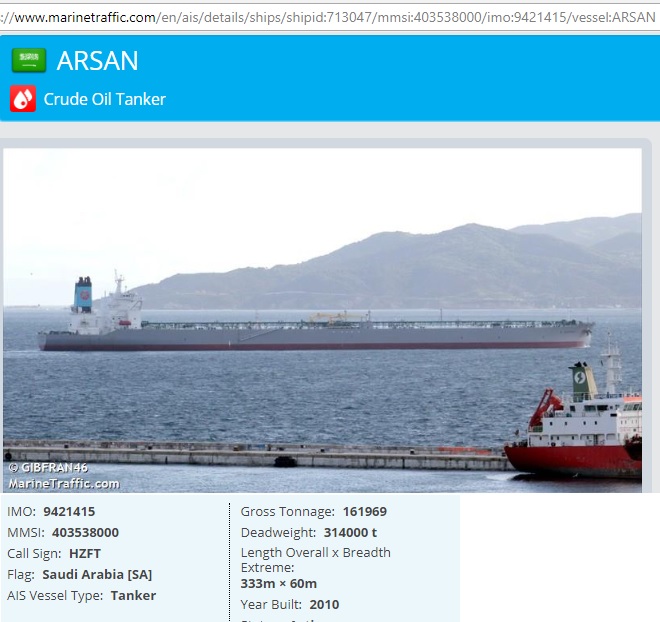 ATTACK DETAILS AND RESPONSE
The Arsan was struck at the stern above the waterline, with imagery analysis showing an impact hole two to three meters wide and minor scorching damage on the outer hull. The most likely cause was a large unguided rocket fired from a fast-attack craft following behind the tanker. Less likely, it could have been a sea-skimming antiship missile such as Yemen's C-801 or Iranian-origin C-802, or perhaps a large, explosive-laden aerial drone. The warhead may have detonated inside the vessel's large aft ballast tank, with some signs of smoke damage around a door on the deck above. Afterward, the ship was escorted under its own power at reduced speed to the Saudi port of Jizan, accompanied by the Saudi frigate HMS Al-Dammam, which (contrary to some reports) was not damaged in the attack
In response, Saudi energy minister Khalid al-Falih announced that "Saudi Arabia is temporarily halting all oil shipments through the Bab al-Mandab Strait…until the situation becomes clearer and maritime transit through Bab al-Mandab is safe." In theory, Riyadh could use the Petroline pipeline (which has a capacity of 5 million barrels per day) to bypass the strait and deliver the affected 500,000-700,000 bpd of crude further north to Red Sea export terminals at Yanbu. Yet the fact remains that attacks by Iranian-backed Houthi militants continue to disrupt traffic in the world's third-most important shipping strait after Hormuz and Malacca, at a time when Tehran has warned that any U.S. sanctions on its oil exports will push it to cut off all oil exports from the Persian Gulf.
https://www.washingtoninstitute.org/policy-analysis/view/curbing-houthi-attacks-on-civilian-ships-in-the-bab-al-mandab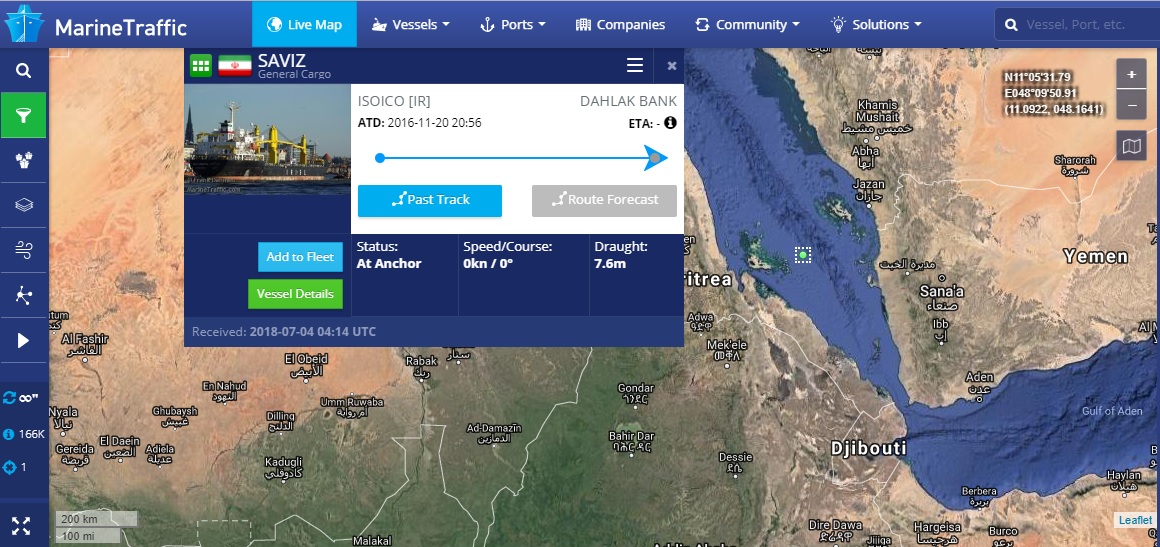 Location of SAVIZ
https://www.marinetraffic.com
Oil price shock on the way?
27/7/2018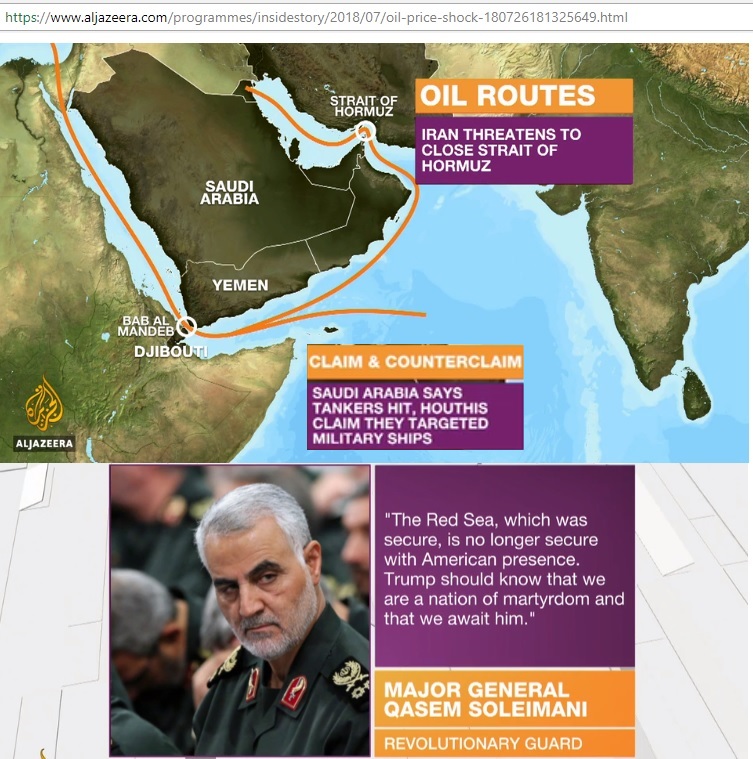 Salameh: 4 mb/d of Saudi oil can go west to Yanbu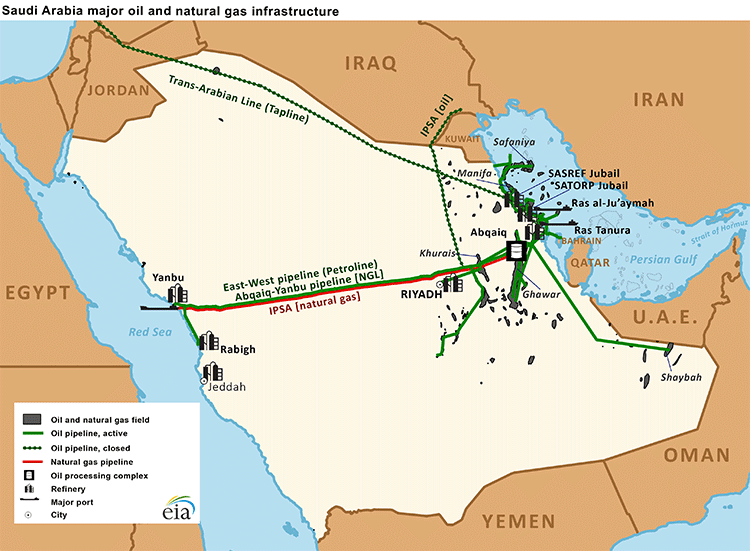 But if Bab Al Mandeb is blocked that oil must go to Europe via the Suez Canal and/or Sumed pipeline, not to Asia.
https://www.eia.gov/beta/international/regions-topics.php?RegionTopicID=WOTC
At min 25:00
Mostafa Khoshcheshm, Fars Newsagency:
"Europeans should rush to provide Iran with its needed guarantees for keeping the nuclear deal otherwise energy prices might skyrocket and we may experience an oil shock similar to 1973"
https://www.aljazeera.com/programmes/insidestory/2018/07/oil-price-shock-180726181325649.html
https://www.aljazeera.com/profile/seyed-mostafa-khoshcheshm.html
May 2018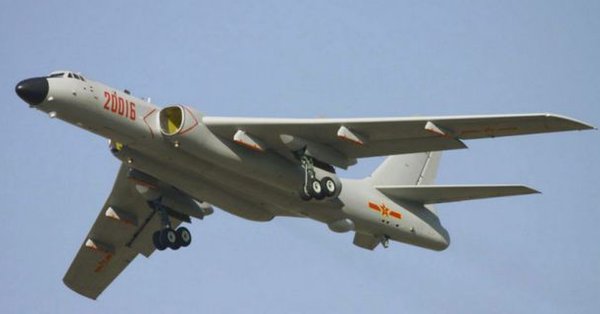 CHINA LANDS FIRST BOMBER ON SOUTH CHINA SEA ISLAND
The People's Liberation Army Air Force (PLAAF) announced on May 18 that it had landed bombers, including the top-of-the-line H-6K, on an outpost in the South China Sea for the first time. Social media posts on the PLAAF's Weibo account, as well as the state-owned People's Daily Twitter account, showed a long-range bomber landing and taking off from Woody Island—China's largest base in the Paracel Islands.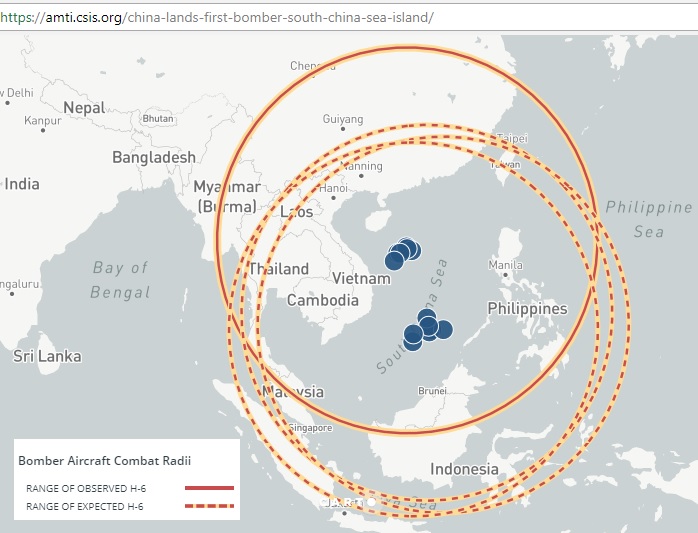 https://amti.csis.org/china-lands-first-bomber-south-china-sea-island/
April 2018
Tanker hit by Yemen's Houthis was Saudi vessel Abqaiq – EU naval force
4/4/2018
LONDON (Reuters) – A Saudi oil tanker hit by Yemen's Houthi group on Tuesday was the vessel Abqaiq, the EU naval force said on Wednesday.
Shipping data showed the vessel was a Saudi-flagged super tanker capable of carrying 2 million barrels of oil.
https://in.reuters.com/article/yemen-security-tanker/tanker-hit-by-yemens-houthis-was-saudi-vessel-abqaiq-eu-naval-force-idINKCN1HB0U4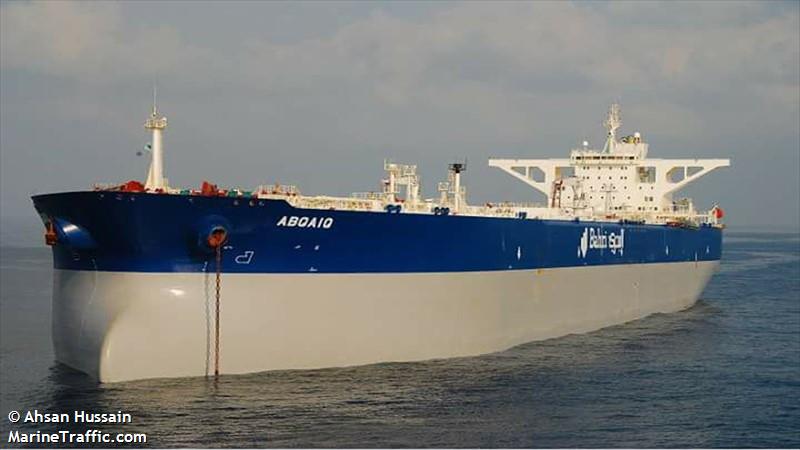 The tanker was in international waters west of Al Hudaydah, according to a statement by the Saudi coalition spokesman, Col. Turki al-Malki. He did not disclose the extent of the damage but called the assault "a serious threat to the maritime navigation and international trade" in the region.
The spokesman also said a Saudi-coalition warship had escorted the tanker from the area, but he hinted that the stricken vessel might be leaking fuel, saying the attack created the risk of "environmental and economical damage."
https://www.nytimes.com/2018/04/03/world/middleeast/houthi-missile-saudi-yemen.html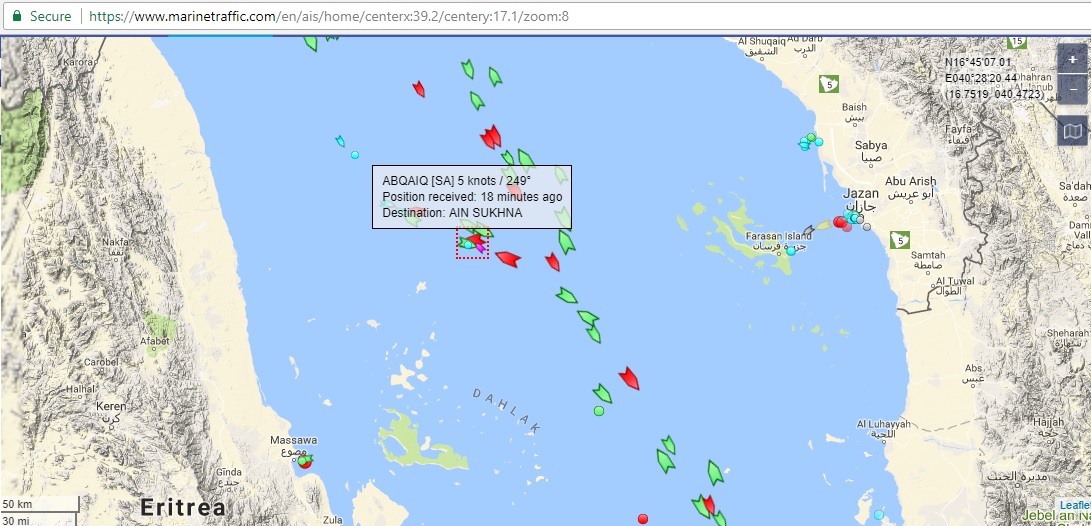 Ain Sukhna is the port where the Sumed pipeline starts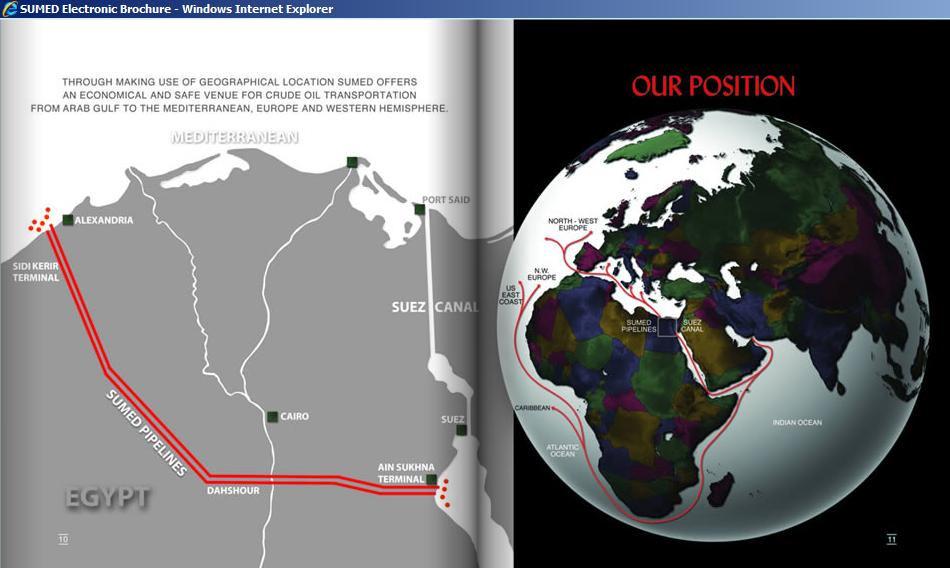 Abqaiq is the name of an oil field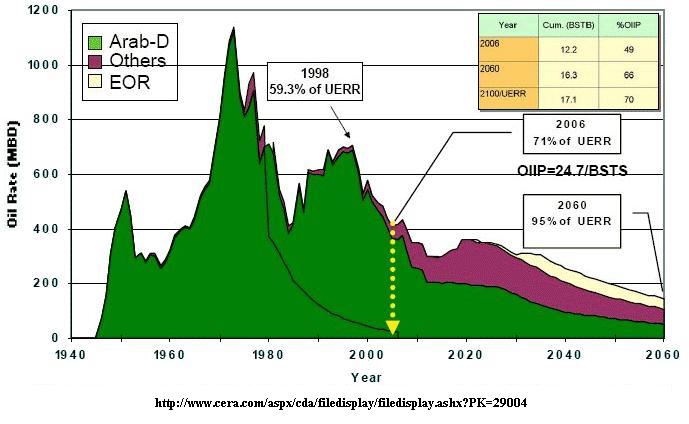 July 2016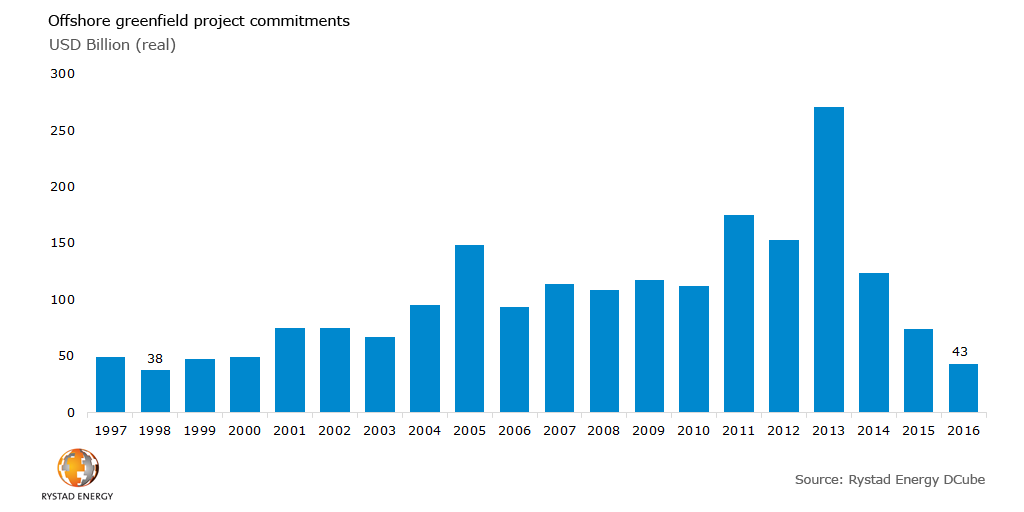 http://www.rystadenergy.com/NewsEvents/PressReleases/offshore-project-commitment
..
February 2016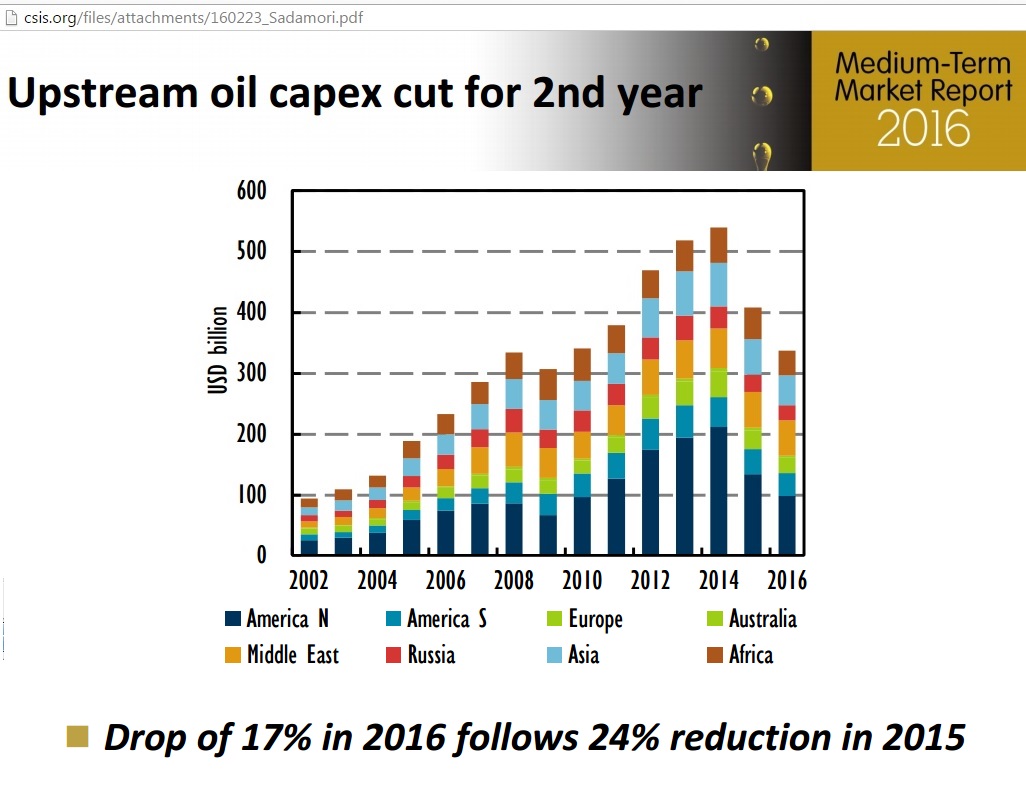 http://csis.org/files/attachments/160223_Sadamori.pdf
U.S.-Beijing Spat Escalates Over South China Sea
17/2/2016
The Obama administration sharply criticized Chinese President Xi Jinping on Wednesday after charging that China's military had deployed batteries of advanced missiles on a disputed South China Sea island.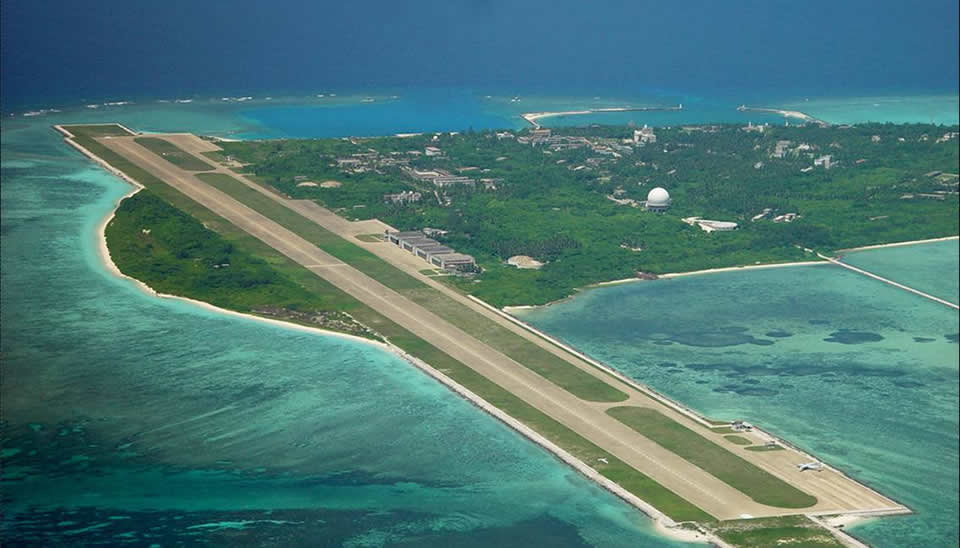 .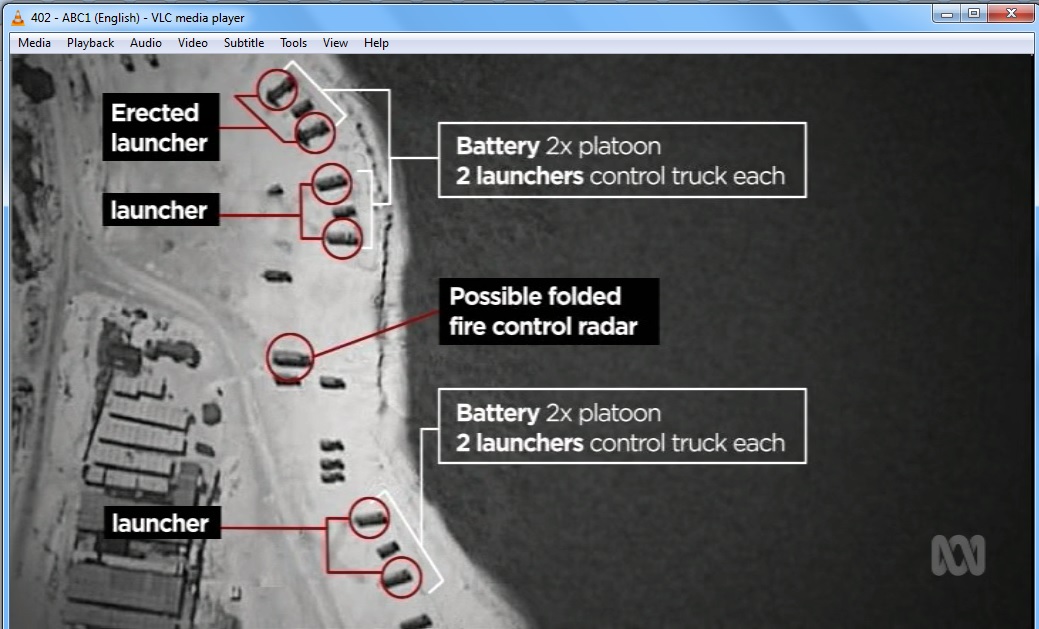 Secretary of State John Kerry said the missile deployment was at odds with a pledge made by Mr. Xi while visiting the White House last year to refrain from militarizing clusters of disputed islands throughout the South China Sea.
http://www.wsj.com/articles/south-china-sea-missile-deployment-entrenches-u-s-chinese-positions-1455729019

January 2016
World Economic Forum, Davos
The Transformation of Energy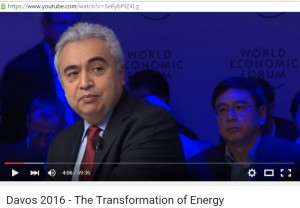 3:24
Fatih Birol: "For the oil markets what worries me the mos is that: last year we have seen oil investments in 2015 decline more than 20%, compared to 2014, for the new projects. And this was the largest drop we have ever seen in the history of oil. And, moreover, in 2016, this year, with the $30 price environment, we expect an additional 16% decline in the oil projects, investments. So, we have never seen 2 years in a row oil investments
declining. If there was a decline 1 year, which was very rare, the next year there was a rebound"
Daniel Yergin: "What does that lead you to?"
Fatih Birol: "this leads me to the very fact that in a few years of time, when the global demand gets a bit stronge, when we see that the high cost areas such as the United States start to decline, we may well see and upward pressure on the prices as a result of market tightness. So my message, my 1st message is: don't be misled that the low oil prices will have an impact on the oil prices in the market in a few years time"
Daniel Yergin: "Just to put a number on that. Our numbers at IHS, 2015-2020  we see a 1.8 trillion dollar decline in upstream oil and gas investment"
38:55
Fatih Birol: "…Middle East. If oil prices remain at $30 in 2016, an equivalent of 20% of the Middle East GDP will be erased. It's a big thing. For Russia, about 10% of Russian GDP will be erased if the prices remain at this level. At the same time for Europe, for China, for India it's an economic stimulus"
Yergin: "If you look at the global financial markets something is happening there"
"Birol: "It would have been worse if we were in this financial situation with higher oil prices"
Yergin: "So 2 different things going on at the same time"
Birol: "Exactly. But 2 things: one, as I mentioned, these low oil prices and the unprecedented low investments mean we are having a fertile ground in the future for strong rebound in the prices. Second, topic of our discussion, transformation of energy, low oil prices are complicating the transformation. So we have to put this also in the context and therefore a need for governments to be very awake in the presence of low oil prices if they are serious about Paris"
Yergin: "So what should they do?"
Birol: "if they have new policies,they have to stick to them. They shouldn't get relaxed because the energy prices are low they don't have the impetus of saving money"
https://www.youtube.com/watch?v=5eBybPfZ4Lg
http://www.weforum.org/events/world-economic-forum-annual-meeting-2016/sessions/the-transformation-of-energy
The New Energy Equation
https://www.youtube.com/watch?v=HeXB51BvGuU
January 2016
2 US patrol boats stray into Iranian territorial waters around Farsi island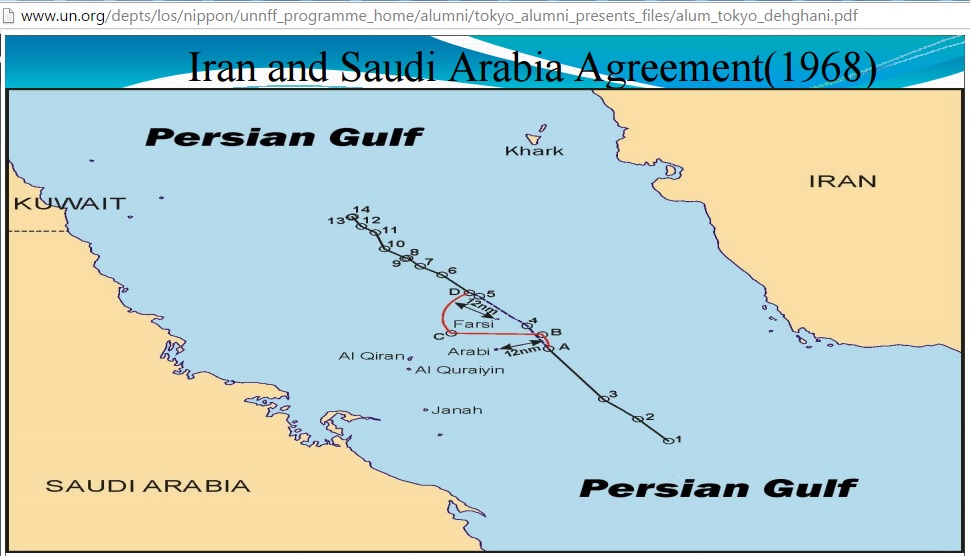 http://www.un.org/depts/los/nippon/unnff_programme_home/alumni/tokyo_alumni_presents_files/alum_tokyo_dehghani.pdf

U.S. Sailors Freed by Iran, But Their Humiliation Persists
13/1/2016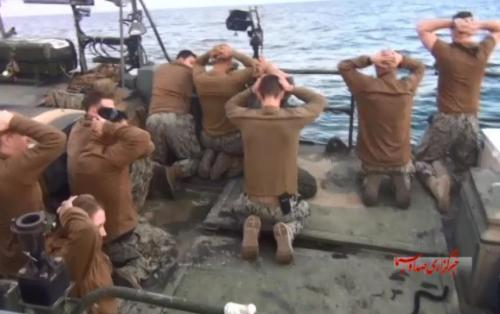 http://time.com/4180372/u-s-sailors-freed-by-iran-but-their-humiliation-persists/
First video of US sailors detained in Gulf
https://www.youtube.com/watch?v=I5ufJxo7LKQ
Commander of captured US sailors apologizes on Iran state TV
https://www.youtube.com/watch?v=0Hq2UwZaW2M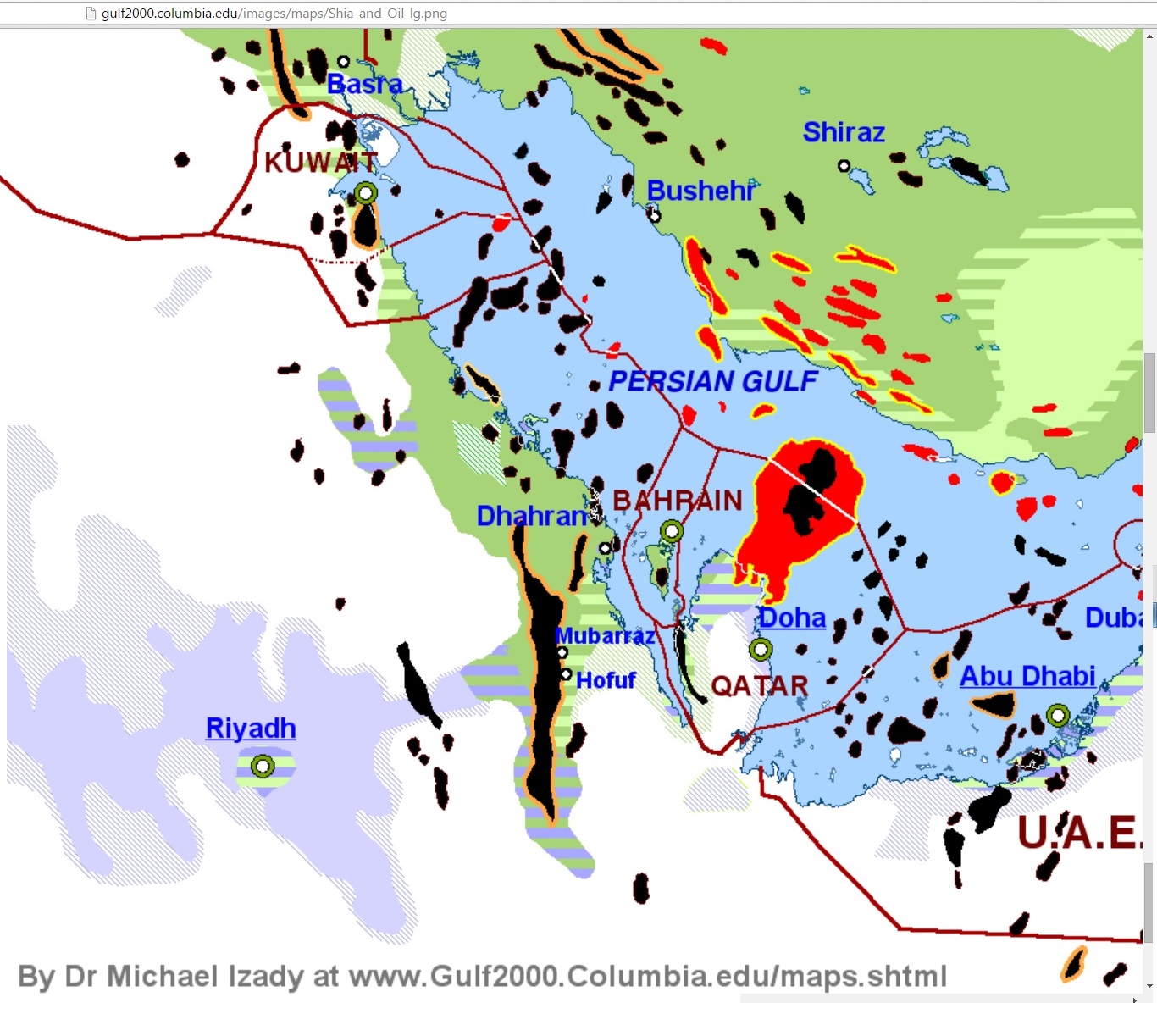 http://gulf2000.columbia.edu/images/maps/Shia_and_Oil_lg.png
http://gulf2000.columbia.edu/maps.shtml
December 2015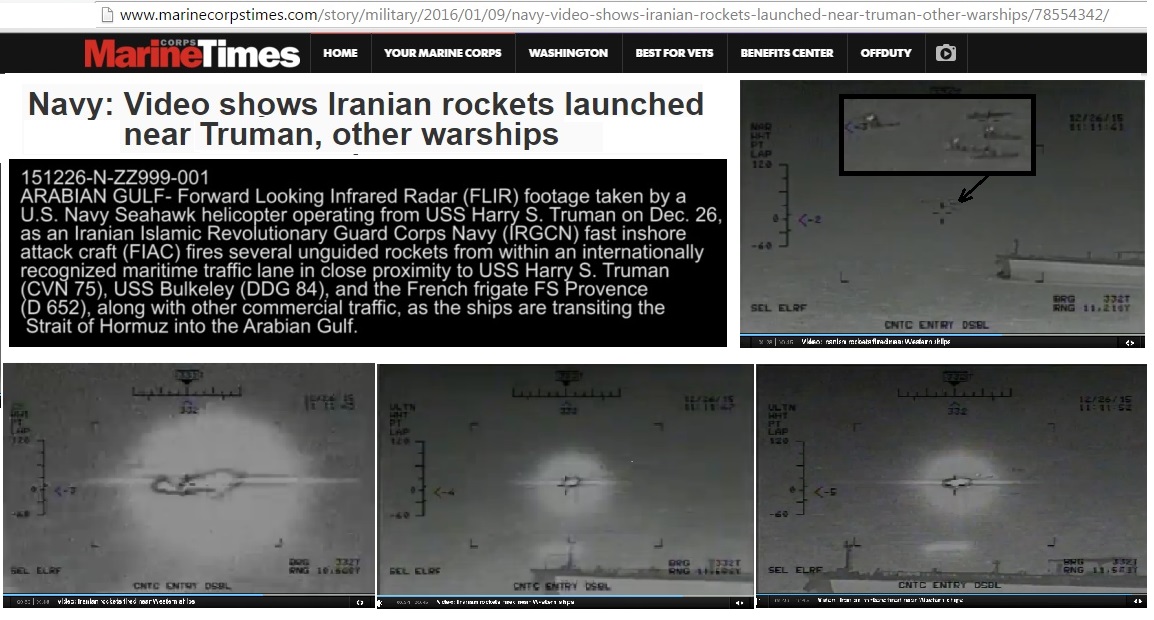 The U.S. military released a video Saturday showing what it says is an Iranian military vessel firing several unguided rockets near the aircraft carrier Harry S. Truman and other Western warships and commercial craft.
The incident occurred Dec. 26 in the Strait of Hormuz. Navy officials released the video to Military Times in response to a Freedom of Information Act request. The images show what appears to be an Iranian Revolutionary Guard vessel firing rockets from a distance of about 1,370 meters.
Officials with U.S. Central Command first disclosed details about the incident last month. Approximately 20 minutes before the incident occurred, the Iranians had announced over maritime radio that they would be carrying out a live-fire exercise, officials said.
Although the rockets traveled away from the Truman, firing weapons "so close to passing coalition ships and commercial traffic within an internationally recognized maritime traffic lane is unsafe, unprofessional and inconsistent with international maritime law," said Cmdr. Kevin Stephens, a spokesman for the U.S. Navy's Fifth Fleet.
Iran had dismissed the U.S. claim as "psychological warfare" against the Islamic Republic.
"The Guard's Navy had no drills in the vicinity of the Strait of Hormuz and didn't fire missiles or rockets during the past week and the time claimed by the Americans," Gen. Ramezan Sharif, a Revolutionary Guard spokesman, said on the Revolutionary Guard's website.
Stephens said on Saturday that while "most interactions between Iranian forces and the U.S. Navy are professional, safe, and routine, this event was not and runs contrary to efforts to ensure freedom of navigation and maritime safety in the global commons."
http://www.marinecorpstimes.com/story/military/2016/01/09/navy-video-shows-iranian-rockets-launched-near-truman-other-warships/78554342/
Raw: Iran Shoots 'Provocative' Rocket Fire
https://www.youtube.com/watch?v=5ZnP5gTfz4k
October 2015
U.S. confirms Iran tested nuclear-capable ballistic missile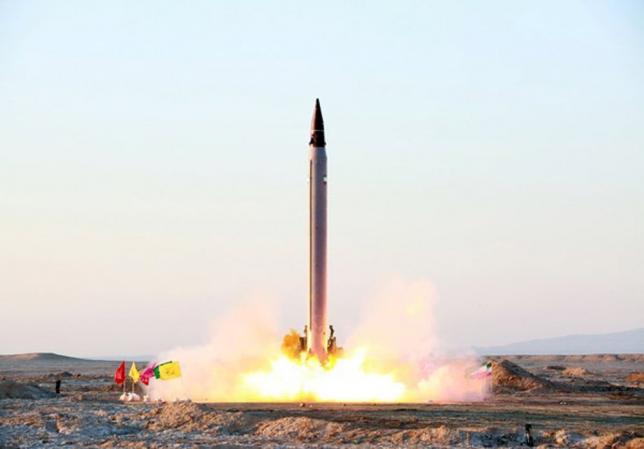 The United States has confirmed that Iran tested a medium-range missile capable of delivering a nuclear weapon, in "clear violation" of a United Nations Security Council ban on ballistic missile tests, a senior U.S. official said on Friday.
http://www.reuters.com/article/us-iran-missiles-usa-idUSKCN0SA20Z20151016
October 2015
Iraq Situation Report: October 2 – 5, 2015
Car bomb in Zubair, South of Basra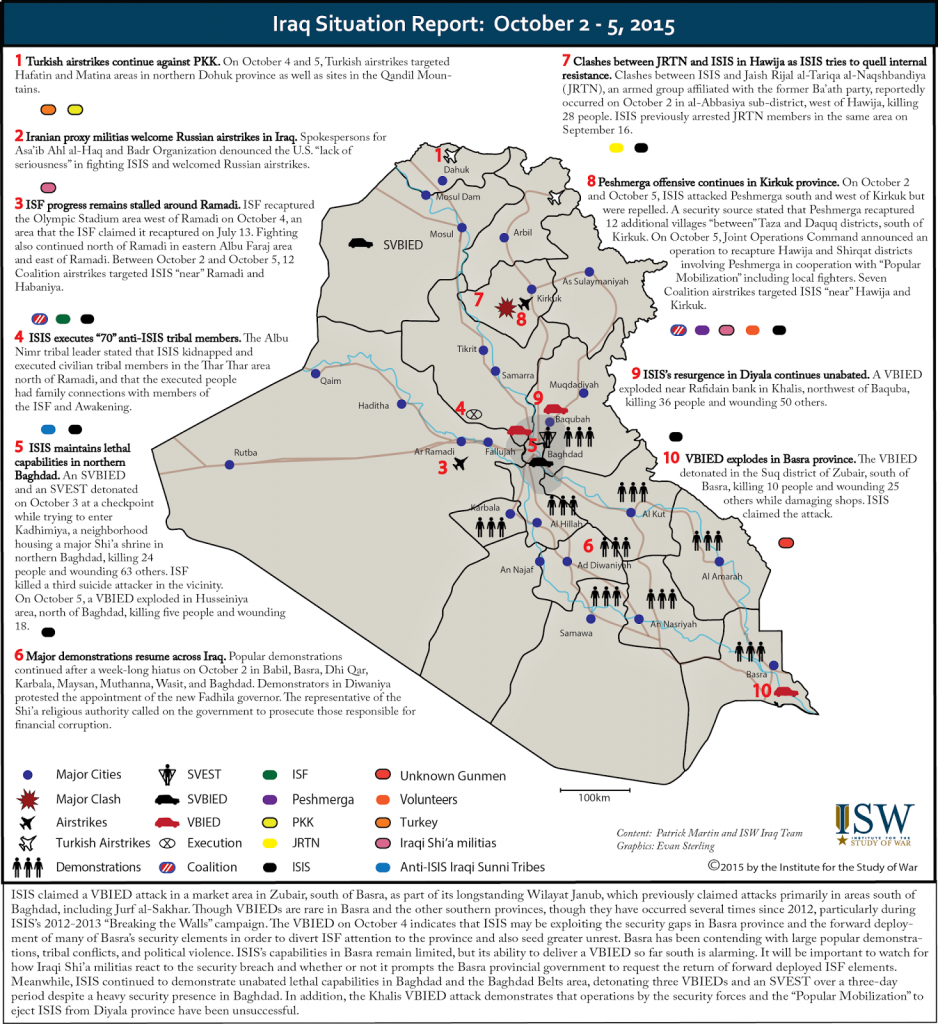 http://iswresearch.blogspot.com.au/2015/10/iraq-situation-report-october-2-5-2015.html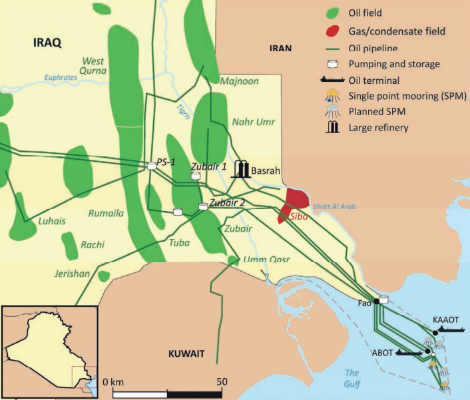 http://www.2b1stconsulting.com/iraq-soc-common-seawater-supply-project-at-bidding-stage/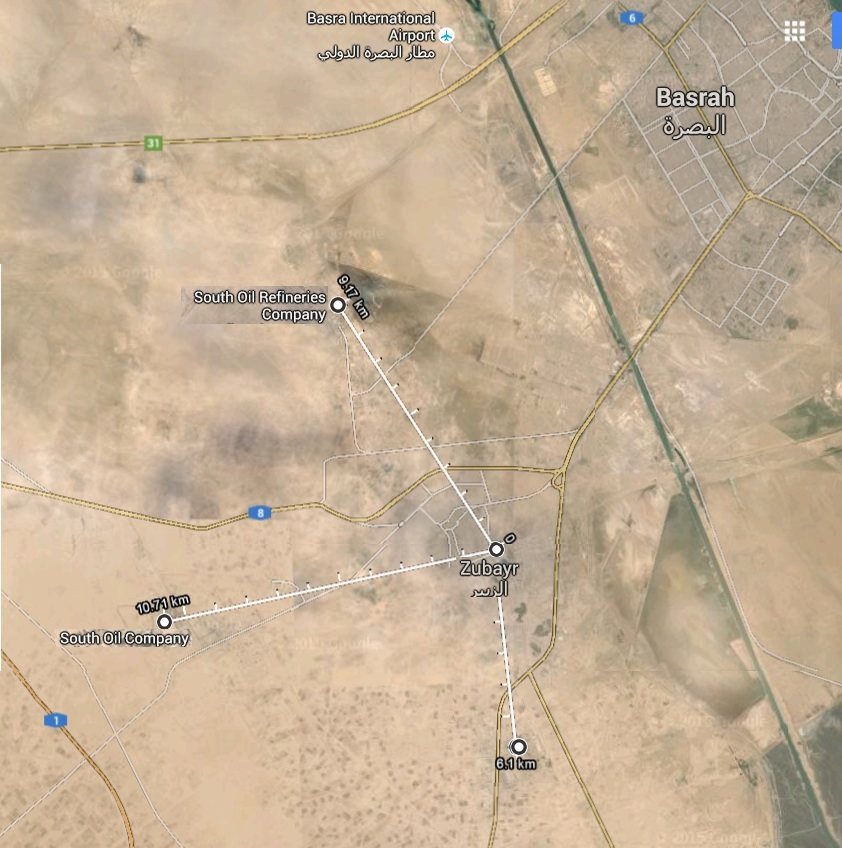 200 kb/d
https://en.wikipedia.org/wiki/Az_Zubair_Field
September 2015
Shell stops drilling in Arctic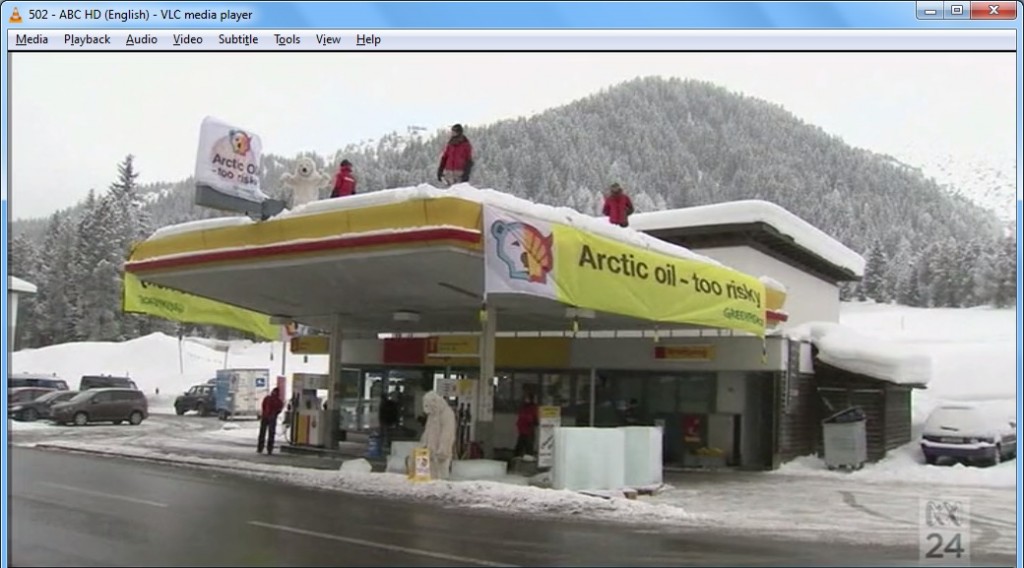 Shell abandons Alaska Arctic drilling
28/9/2015
Shell has abandoned its controversial drilling operations in the Alaskan Arctic in the face of mounting opposition
Its decision, which has been welcomed by environmental campaigners, follows disappointing results from an exploratory well drilled 80 miles off Alaska's north-west coast. Shell said it had found oil and gas but not in sufficient quantities.
http://www.theguardian.com/business/2015/sep/28/shell-ceases-alaska-arctic-drilling-exploratory-well-oil-gas-disappoints
US shale oil peaks
14 September 2015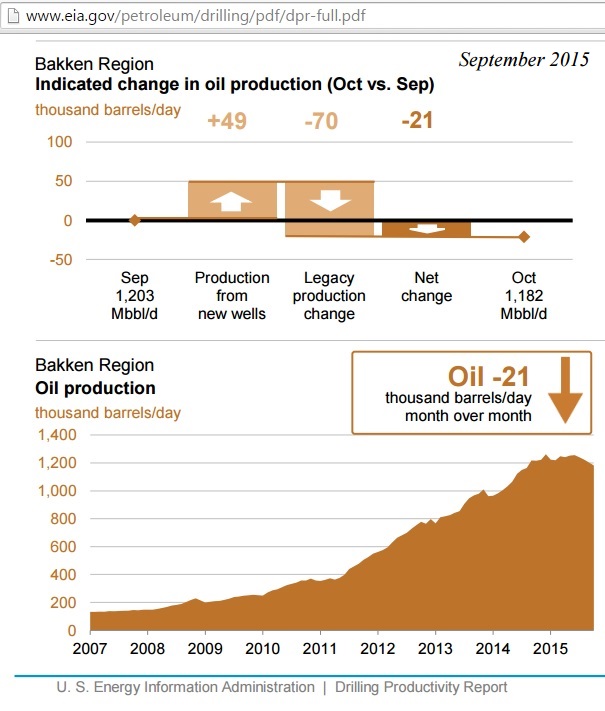 .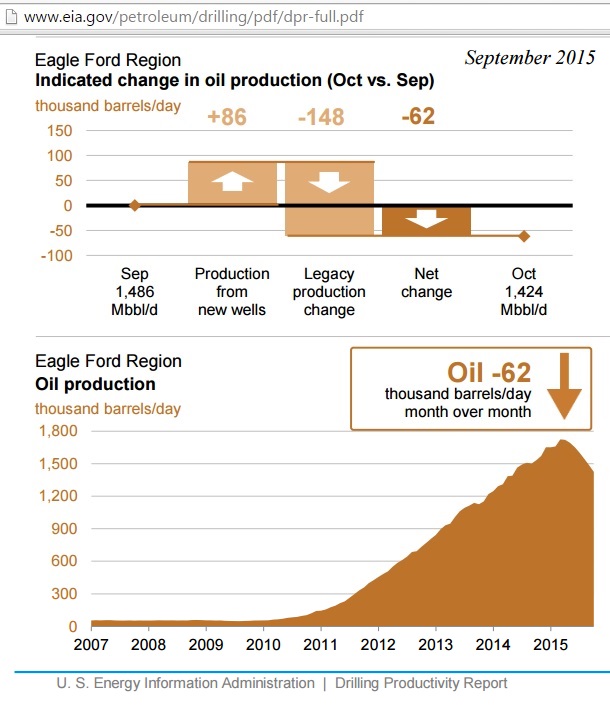 .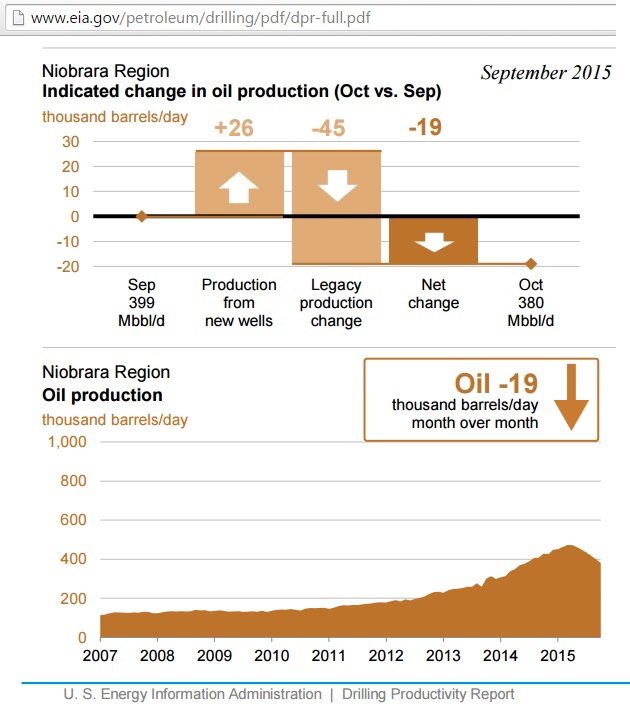 .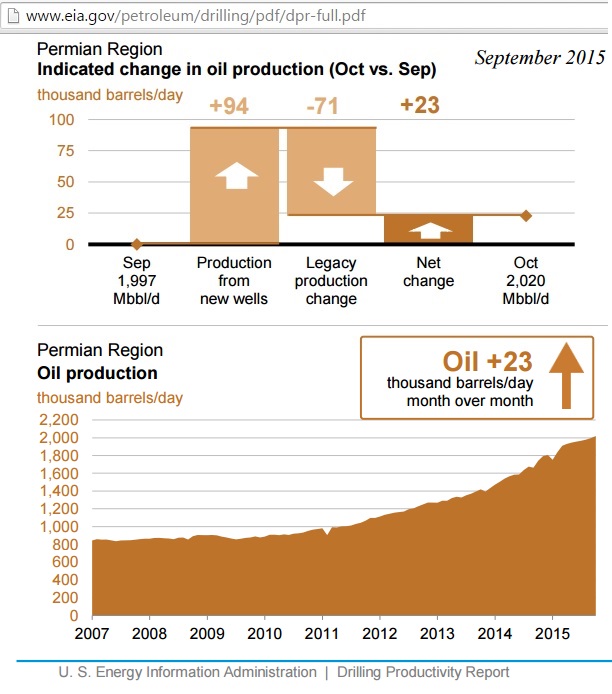 Note: the Permian contains a lot of conventional oil
Data from: http://www.eia.gov/petroleum/drilling/pdf/dpr-full.pdf
Saudi Arabia Article IV consultation
9 September 2015
http://www.imf.org/external/pubs/cat/longres.aspx?sk=43261.0
July 2015
China stock market
28/7/2015
China National Offshore Oil Company
lost share value from around 18 HKD in 2011 to 10 HKD now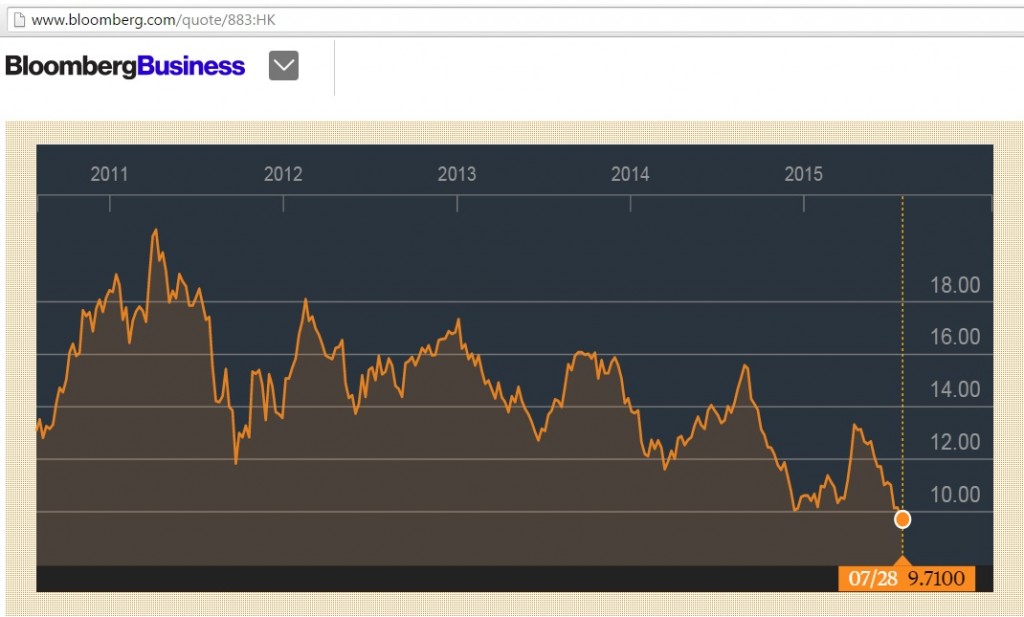 http://www.bloomberg.com/quote/883:HK
For production details see:
10/6/2015    China's offshore CNOOC started to peak in 2010
http://crudeoilpeak.info/chinas-offshore-cnooc-started-to-peak-in-2010
Iran nuclear deal
Velayati: No Inspection of Military Sites
25/7/2015
Iranian supreme leader's top foreign policy advisor Ali Akbar Velayati said on Friday that Iran will not allow IAEA inspectors into any military sites, Iranian news agencies Mehr and Fars reported. Velayati's declaration contradicts JCPOA, the nuclear agreement Iran signed two weeks ago with world powers.
"The access of inspecters from the International Atomic Energy Agency (IAEA) or from any other body to Iran's military sites is forbidden," Velayati said. (Fars News Agency, 25 July)
Velayati is also quoted by Iranian news agencies as saying that inspection of military sites under "any conditions and circumstances" will not be allowed "irrespective of the different interpretations that the P5+1 could have of Vienna agreement."
Annex I of JCPOA, the nuclear agreement between Iran and P5+1, allows inspection of military sites. Iran could refuse IAEA's request to inspect any specific site, but an eight-member Joint Commission comprising the U.S., Iran, EU, UK, Russia, China, France and Germany can with a majority (5) vote overrule Iran's objection. The process could take up to 24 days, but the inspection will have to be allowed if the Joint Commission votes in its favor, not particularly too high a bar for the U.S., EU, UK, France and Germany representatives to meet.
If Iran indeed refuses to verify the inspection provisions of the agreement, it could throw the implementation of the entire agreement in limbo. The implementation begins with IAEA certification that Iran has implemented all its obligations under the agreement.
http://www.uskowioniran.com/2015/07/velayati-no-inspection-of-military-sites.html
Iran, world powers reach nuclear deal
14/7/2015
SANCTIONS
26. The EU will refrain from re-introducing or re-imposing the sanctions that it has terminated implementing under this JCPOA, without prejudice to the dispute resolution process provided for under this JCPOA. There will be no new nuclear related UN Security Council sanctions and no new EU nuclear-related sanctions or restrictive measures. The United States will make best efforts in good faith to sustain this JCPOA and to prevent interference with the realisation of the full benefit by Iran of the sanctions lifting specified in Annex II. The U.S. Administration, acting consistent with the respective roles of the President and the Congress, will refrain from re-introducing or re-imposing the sanctions specified in Annex II that it has ceased applying under this JCPOA, without prejudice to the dispute resolution process provided for under this JCPOA. The U.S. Administration, acting consistent with the respective roles of the President and the Congress, will refrain from imposing new nuclear-related sanctions. Iran has stated that it will treat such a re-introduction or re-imposition of the sanctions specified in Annex II, or such an imposition of new nuclear-related sanctions, as grounds to cease performing its commitments under this JCPOA in whole or in part.
H. FORDOW FUEL ENRICHMENT PLANT
51. The IAEA will establish a baseline for the amount of uranium legacy from past enrichment operations that will remain in Fordow. Iran will permit the IAEA regular access, including daily as requested by the IAEA, access to the FFEP in order to monitor Iran's production of stable isotopes and the absence of undeclared nuclear material and activities at the FFEP for 15 years.
P. TRANSPARENCY RELATED TO ENRICHMENT
71. Iran will permit the IAEA regular access, including daily access as requested by the IAEA, to relevant buildings at Natanz, including all parts of the FEP and PFEP, for 15 years.
Q. ACCESS
74. Requests for access pursuant to provisions of this JCPOA will be made in good faith, with due observance of the sovereign rights of Iran, and kept to the minimum necessary to effectively implement the verification responsibilities under this JCPOA. In line with normal international safeguards practice, such requests will not be aimed at interfering with Iranian military or other national security activities, but will be exclusively for resolving concerns regarding fulfilment of the JCPOA commitments and Iran's other non-proliferation and safeguards obligations. The following procedures are for the purpose of JCPOA implementation between the E3/EU+3 and Iran and are without prejudice to the safeguards agreement and the Additional Protocol thereto. In implementing this procedure as well as other transparency measures, the IAEA will be requested to take every precaution to protect commercial, technological and industrial secrets as well as other confidential information coming to its knowledge.
75. In furtherance of implementation of the JCPOA, if the IAEA has concerns regarding undeclared nuclear materials or activities, or activities inconsistent with the JCPOA, at locations that have not been declared under the comprehensive safeguards agreement or Additional Protocol, the IAEA will provide Iran the basis for such concerns and request clarification.
76. If Iran's explanations do not resolve the IAEA's concerns, the Agency may request access to such locations for the sole reason to verify the absence of undeclared nuclear materials and activities or activities inconsistent with the JCPOA at such locations. The IAEA will provide Iran the reasons for access in writing and will make available relevant information.
77. Iran may propose to the IAEA alternative means of resolving the IAEA's concerns that enable the IAEA to verify the absence of undeclared nuclear materials and activities or activities inconsistent with the JCPOA at the location in question, which should be given due and prompt consideration.
78. If the absence of undeclared nuclear materials and activities or activities inconsistent with the JCPOA cannot be verified after the implementation of the alternative arrangements agreed by Iran and the IAEA, or if the two sides are unable to reach satisfactory arrangements to verify the absence of undeclared nuclear materials and activities or activities inconsistent with the JCPOA at the specified locations within 14 days of the IAEA's original request for access, Iran, in consultation with the members of the Joint Commission, would resolve the IAEA's concerns through necessary means agreed between Iran and the IAEA. In the absence of an agreement, the members of the Joint Commission, by consensus or by a vote of 5 or more of its 8 members, would advise on the necessary means to resolve the IAEA's concerns. The process of consultation with, and any action by, the members of the Joint Commission would not exceed 7 days, and Iran would implement the necessary means within 3 additional days
Annex IV – Joint Commission
6. Iran will provide to the IAEA access to the locations of intended use of all items, materials, equipment, goods and technology set out in INFCIRC/254/Rev.12/Part 1 (or the most recent version of these documents as updated by the Security Council) imported following the procedure under Section 6 of this Annex.
http://eeas.europa.eu/statements-eeas/docs/iran_agreement/iran_joint-comprehensive-plan-of-action_en.pdf
http://eeas.europa.eu/statements-eeas/docs/iran_agreement/annex_1_nuclear_related_commitments_en.pdf
http://eeas.europa.eu/statements-eeas/docs/iran_agreement/annex_2_sanctions_related_commitments_en.pdf
http://eeas.europa.eu/statements-eeas/docs/iran_agreement/annex_3_civil_nuclear_cooperation_en.pdf
http://eeas.europa.eu/statements-eeas/docs/iran_agreement/annex_4_joint_commission_en.pdf
http://eeas.europa.eu/statements-eeas/docs/iran_agreement/annex_5_implementation_plan_en.pdf 
Saudi Arabia borrows $4bn as oil price reality hits home
12/7/2015
"We expect to see an increase in borrowing," he said, according to a report in the economic daily Al-Eqtisadiah newspaper over the weekend. Analysts have estimated a deficit of about $130bn this year. The government, which had not tapped bond markets since 2007, has been dipping into its large foreign reserves, which peaked at $737bn last August, to sustain spending on wages, special projects and the Saudi-led air war on Yemen. It has drawn down $65bn since oil prices fell.
Bonus payouts for state employees and the military made by the new king, Salman bin Abdulaziz Al Saud, have placed further pressure on state coffers. "Reality is hitting home, and necessity is also hitting home," said John Sfakianakis, director for the Gulf region at Ashmore, a fund manager. Saudi Arabia needs an oil price of $105 a barrel to meet planned spending requirements, but the average price for the year is estimated at $58 a barrel, he said. "If the government continues business as usual and draws down like this it will deplete reserves faster than expected, by the end of 2018 or early 2019," added Mr Sfakianakis.
http://www.ft.com/intl/cms/s/0/2fd630a8-2899-11e5-8db8-c033edba8a6e.html#axzz3go4ON9LD
Center for Democracy and Human Rights in Saudi Arabia, CDHR, Washington DC
2/7/2015
Saudi-Wahhabi Schisms, King's Promises and Freedom of Expression, Elites and Public Well-being
Given the unparalleled domestic and regional threats and amassed enemies facing the Saudi regime and its kingdom, it might only be a matter of time before the targeted Saudi Shi'a or one of the other Saudi regime's enemies, such as ISIS, Al-Qaeda, Al-Houthis or the Muslim Brotherhood, decide to blow up one of the massive and vulnerable oil facilities in Eastern Saudi Arabia where oppressed Shi'a and Western expatriates work and live.  Thousands of miles of oil pipelines, as well as scores of storage tank farms, refineries, oil fields, harbors and the expansive oil administrative headquarters in Dhahran are easy targets despite the vigilance of Saudi and foreign security forces.
If this scenario were to occur, it's more likely than not that the US will use its Persian Gulf naval and ground military might to ensure the defense, production and shipment of oil to the world's markets in order to prevent global economic meltdown. The question is at what price to the Saudi people, to the US and other oil consuming powers?  Can a costly military intervention by the US to protect oil be minimized or avoided? Potentially, yes, if the Saudi oligarchy is willing or can be induced to embark upon doable political reforms so that all citizens (regardless of religion, race, region or gender) are legislatively empowered to participate in all aspects of their country's affairs, including all decision-making processes, disposition of the country's wealth and the formulation and execution of domestic and foreign policies.
http://www.cdhr.info/index.php?view=article&catid=42:catnewsreleases&id=348:saudi-affairs&format=pdf
June 2015
Yemen's Houthis attack Aden refinery, fire starts – witnesses
27/6/2015
Yemen's Houthi fighters fired missiles at storage tanks at an Aden refinery on Saturday, starting a large fire, and 14 people were killed in clashes between the Houthis and Saudi-led forces near the southern port city, witnesses and residents said.
The attack on the refinery in the Buraiqah area sent black smoke billowing into the sky. After months of conflict, Yemen is suffering from severe fuel shortages and its oil and gas industry has all but ground to a halt.
Industry sources said in April that the 150,000 barrels per day refinery had shut its operations and declared force majeure on its imports and exports due to the war.
http://uk.reuters.com/article/2015/06/27/uk-yemen-security-aden-idUKKBN0P70MV20150627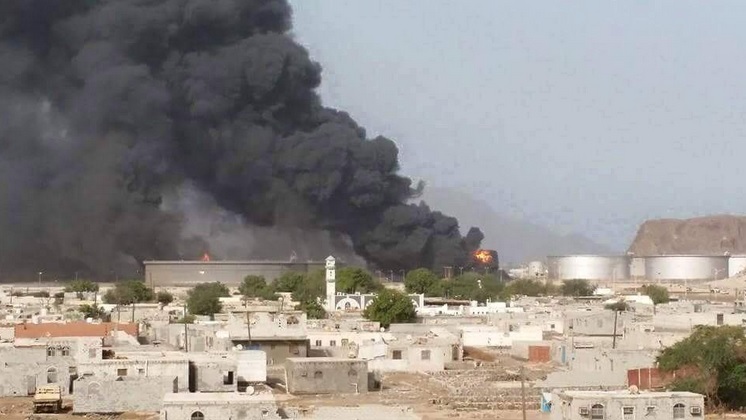 http://www.aljazeera.com/news/2015/06/yemen-houthis-attack-oil-refinery-aden-150627152313777.html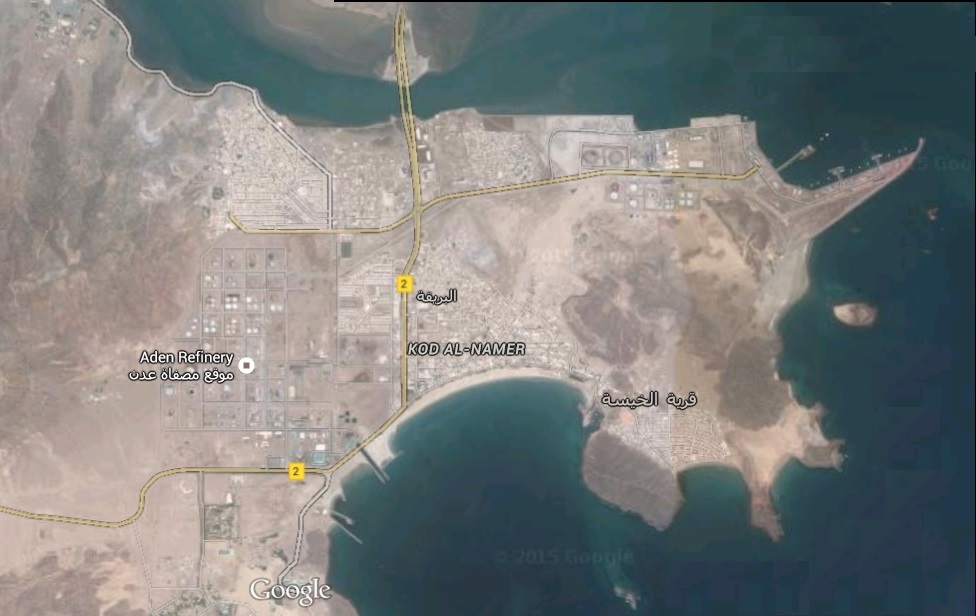 Aden refinery (google)
May 2015
Fight for Beiji Refinery
25/5/2015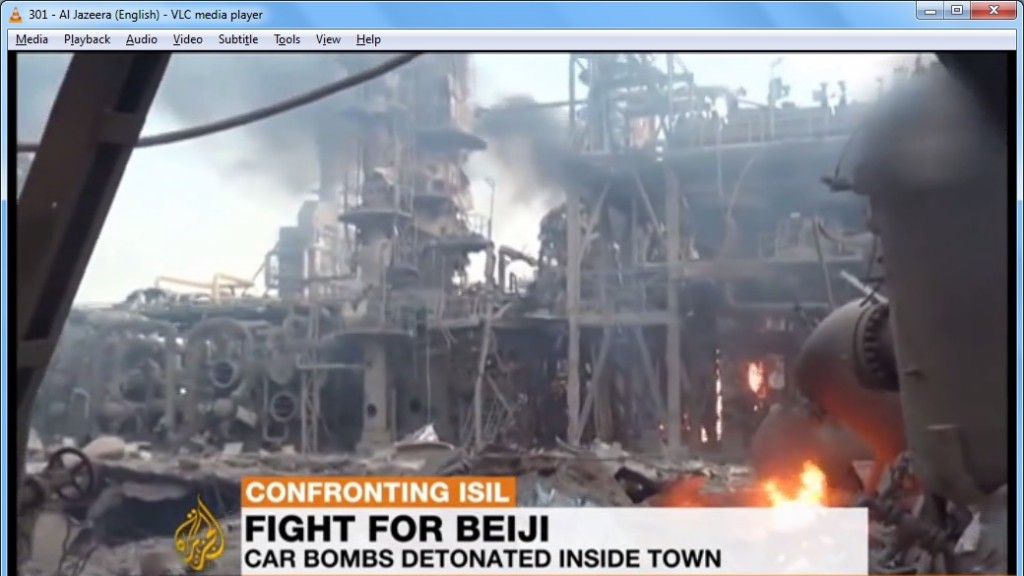 http://www.aljazeera.com/news/2015/05/fierce-fighting-rages-iraq-baiji-refinery-150507144913518.html
.