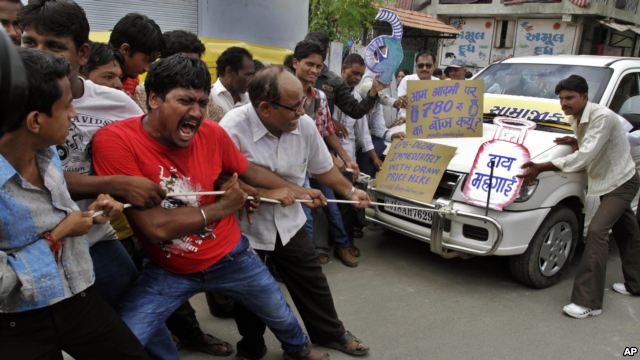 http://www.voanews.com/content/indias-diesel-price-hike-met-with-backlash/1507787.html
India on strike over government moves to open retail market and cut fuel subsidies
21/9/2012
The government also announced a reduction in massive subsidies for diesel fuel and cooking gas. Diesel prices went up by five rupees, or 12 per cent.
"When you increase the price of fuel, the price of everything goes up," said Sri Lal Chand, 58, a wholesale distributor of grains in Chandni Chowk, one of Delhi's biggest and oldest wholesale markets.
"The lorry driver will pay thousands more in fuel costs for transporting my grains to Delhi. I will then have to charge my buyers to recover the costs," said Mr Chand, who joined a rally of traders in Delhi.
http://www.thenational.ae/news/world/south-asia/india-on-strike-over-government-moves-to-open-retail-market-and-cut-fuel-subsidies
India increases diesel prices after a year to cut subsidy bill
13/9/2012
India will increase diesel prices for the first time in more than a year to meet rising oil import costs and reduce its subsidy bill, which climbed to $15 billion rupees last year.
The price of diesel will be raised 14 percent to about 47 rupees (85 cents) a liter in New Delhi, starting midnight, from 41.32 rupees a liter, the oil ministry said in an e-mailed statement today. That's the first increase since June 25, 2011, according to data on refiner Indian Oil (IOCL) Corp.'s website. Prices of gasoline and kerosene were left unchanged, while the number of subsidized cooking gas bottles for each buyer was limited to six a year.
Higher fuel prices will reduce losses at state refiners and ease the government's subsidy burden as it seeks to curb spending after failing last year to cut the budget deficit to a four-year low. India aims to trim its subsidy payments for food, fuel and fertilizer to 1.9 trillion rupees, or 2 percent of gross domestic product, in the year that started April 1, from 2.16 trillion rupees a year earlier, according to budget documents.
Government-owned refiners, including Indian Oil, the nation's largest, sell diesel, cooking gas and kerosene at controlled prices to curb inflation. They are partly compensated by cash payments from the government and discounts on crude oil by state explorers.
Refiner Compensation
The refiners were paid 835 billion rupees in the year ended March 31 as compensation, the oil ministry said May 22 in a statement in parliament. That's 60 percent of the loss of 1.38 trillion rupees incurred in the period.
The three state refiners lost 5.5 billion rupees daily on diesel, kerosene and cooking gas sales as of today, according to oil ministry data. Gasoline was freed from government control in June 2010.
India buys about 80 percent of the oil it uses from overseas and crude shipments accounted for 32 percent of the country's $489 billion import bill in the year through March. Brent crude, the benchmark for India, averaged $112.68 a barrel in August, the highest in four months, according to data compiled by Bloomberg.
http://www.businessweek.com/news/2012-09-13/india-increases-diesel-prices-after-a-year-to-cut-subsidy-bill
Mass strikes across India over fuel prices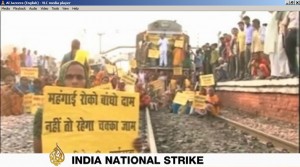 31/5/2012
A nationwide strike against rising petrol prices in India has closed shops and disrupted public transport, with the under-fire government facing new dissent over its economic management.
Opposition political parties and trade unions enforced a shutdown in many cities on Thursday, with anti-government marches held in New Delhi and commercial hub Mumbai.
In New Delhi, most shops were closed and traffic was extremely light, with many workers deciding to stay home because of the lack of public transport.
In Mumbai, the Shiv Sena party, a BJP ally, instructed residents that they "should not venture out of their houses" and there were reports of buses being stoned and offices attacked.
Protesters in Patna city meanwhile burned effigies of Manmohan Singh, Indian prime minister, while protesters in Kolkata blocked roads and shouted anti-government slogans.
The strike came on the same day as shock economic growth figures for the January-March quarter showed the slowest quarterly expansion in nine years, of 5.3 per cent.
Al Jazeera's Prerna Suri, reporting from New Delhi, said government's decision to raise fuel prices by over 11 per cent , the highest in the country's history, triggered the protests.
"And now the opposition is using this anger to rally around support," she said.
'Feeling the heat'
The listless economy, high inflation and a series of corruption scandals have weakened the coalition government headed by the 79-year-old Singh and his Congress party.
"Most of these people are political workers from different political parties across India and they are all saying that they are feeling the heat when it comes to rising inflation and the government's decision to raise fuel prices," our correspondent said of the protesters in New Delhi.
Al Jazeera's Prerna Suri reports from New Delhi
"Most of them say the government needs to manage the economy in a much better way and that financial policies haven't really come through."
Last week, Indian state-run oil firms announced the sharpest jump in petrol prices in nearly a decade to offset growing losses caused by subsidised rates.
Once taxes are included, the price increase of Rs6.28 (11 US cents) per litre will result in a Rs7.5-rupee rise for consumers in cities such as Delhi.
The government faces pressure from the street to help the poor with the rising cost of living in India – annual inflation is running at 7.0 per cent – but analysts say subsidies must be contained due to a gaping public deficit.
"Despite the anger the Indian government says it has no choice but to raise the fuel prices," Al Jazeera's Suri said.
"India's import bill has been ballooning since the rupee has depreciated to the dollar, and since it subsidises most of its fuel, that's where its fiscal deficit is also widening.
"[India is] now telling its people that this is good for the economy, but clearly a lot of people here aren't convinced by this," she said.
In 2010 the government deregulated petrol prices in a reform aimed at reducing the massive subsidies it pays to state-run fuel refiners which rely on imported energy.
A series of smaller petrol price increases last year caused a major headache for the government with the second-largest party in the ruling coalition threatening to pull out.
http://www.aljazeera.com/news/asia/2012/05/20125319563551660.html
Protests In India Over Fuel Prices
http://www.youtube.com/watch?v=Z4NMuhdfrTQ
Protests follow India petrol price hike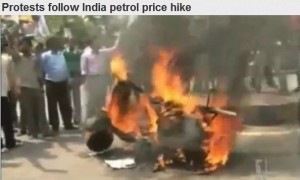 http://www.youtube.com/watch?v=VMSB9vQNJGc