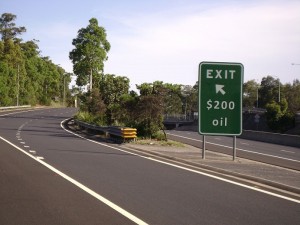 This is a M2 construction work update for calendar week 5/2011. Contractors have started to build exit lanes for $200 oil just as 3 parties are now fighting for oil in Libya: Gaddafi, rebels from Benghazi and Europeans under NATO. The daily volume at stake is 1.6 mb/d, more than 3 times Australian production. The situation reflects the future of oil in the 2nd half of the oil age.
But $200 oil would not last forever – the economy usually tanks when expenditure for oil exceeds 5% of GDP and that will lead to a drop in economic activities and therefore traffic. So the exit lanes will make sense in any event.
Bus lanes along the Beecroft section of the M2 have been converted to a hurdles track. So buses previously going to the rail hub at Epping can no longer go there directly.
That happens just as the government has introduced a high frequency Metrobus 61 from Castle Hill to the CBD. They run on diesel which one day will be in short supply, requiring their service to end half way at Epping station where electric rail runs independent from oil wars.
Remember that the Director General's requirement was to "demonstrate that the project will enhance the use of public transport", see page C2 in (www.hillsm2upgrade.com.au/…pdf)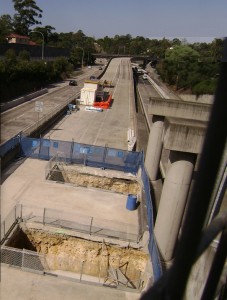 This picture shows how the bus lanes are blocked by foundation work for new piers under the Beecroft Rd bridge.
The bus ramp leading to the rail hub Epping is scheduled to be pulled down later which will be bitterly regretted when it becomes apparent that current events in MENA countries mean the end of our car culture in the not too distant future.
The foundation work effectively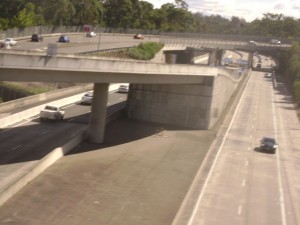 blocks all future public transport solutions on the median strip, connecting to Epping.
Those responsible for this prank will one day have to explain to an inquiry why they could not have been bothered to look at oil statistics.
The week kicked off with a glossy investor presentation by Transurban.  After all, this company still needs $275 million to complete the M2 widening. Remember 2015 is the year in which Iran would no longer export oil, according to the late Dr. Bakhtiari.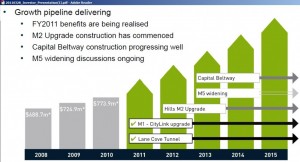 No word on Transurban's potential problems to roll over debt in the next credit crunch, not to mention its oil vulnerability. (www.transurban.com/…pdf)
On page 38 there is a graph showing an almost 30% increase of traffic over 2009 levels by 2016.  Let us superimpose on this graph the current declining trend of global crude oil exports since its peak in 2005.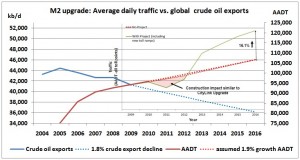 Wrap-up of week 5/2011
East Libya wants to sell oil to Qatar in barter deals to get at weapons
Chicago based economist David Hale, adviser to the Commonwealth Bank, tells ABC TV Lateline on what is really happening in Saudi Arabia and the prospects of $ 200 oil
Saudi Arabia needs to increase number of drilling rigs to keep up with replacing Libya's oil
The Urban Taskforce calculated that Sydney's eternal growth strategy increases house prices by 18% over 10 years
Japan's nuclear disaster will take decades to fix, with incalculable consequences for the Japanese and global economy and the financial system
NSW Waratah trains stuck in a "spaghetti junction", SMH jargon  reflecting Sydney's inability to manage even the simplest rail upgrade projects
Can anyone connect the dots, stop the M2 widening and convert the 3rd lane to whatever public transport solution can be implemented ASAP? Which banks have understood that they must invest in new business models?
Dot #1:  Libya rebels pen oil deal with Qatar
BENGHAZI, Libya (AFP) – Libyan rebels have penned a deal with Qatar to market their crude oil abroad in exchange for food, medicine and — it hopes — weapons, a top official in the transitional government said on Friday.
http://news.yahoo.com/s/afp/20110401/wl_mideast_afp/libyaconflictrebeloilqatar
We may remember this June 2008 Wikileaks cable from the US embassy in Tripoli, published in January this year:
Die hard in Derna
There was a strong perception, he said, that the U.S. had decided in the wake of Qadhafi's decision to abandon WMD aspirations and renounce terrorism to support the regime to secure counter-terrorism cooperation and ensure continued oil and natural gas production.

The consensus view in Derna is that the U.S. blindly supports Israel and has invaded Iraq to secure oil reserves and position itself to attack Iran, he said. He dismissed P/E Chief's attempts to clarify U.S. policy, stressing that most people base their judgments on information they receive from satellite television and at the mosque.

The GOL's limited ability to extend its writ in eastern Libya – along with limited social outlets, dim economic prospects and the town's historical role as a center of resistance – have fostered a landscape in which Derna's angry young men view the conflict in Iraq through the lens of dissatisfaction with their government and with the USG's perceived support of it
http://www.telegraph.co.uk/news/wikileaks-files/libya-wikileaks/8294818/DIE-HARD-IN-DERNA.html
That tells you everything about the future of Libyan oil.
Dot #2:
DAVID HALE: For the time being the market is right, but everything in Saudi Arabia is uncertain simply because the regime is so decrepit. The king is 86 years old, he is in bad health. His successor the Crown Prince is in worse health. Behind them is the defence minister, Mr Naif, he's ultra conservative, he's incapable of any reforms.


So if we lose the king, lose the Crown Prince we get somebody who might be even more difficult to make changes. So Saudi Arabia is a very, very difficult situation to call, I think it will be very complex and very difficult for quite some time. Some day in the next 10 years there will be a new generation, a new leadership which may be able to transform things but still right now is at least five, six years in the future.

ALI MOORE: So if something was to happen, what would happen to oil prices?


DAVID HALE: The price of oil could double. If you're going to lose Saudi Arabia, the price of oil could easily double to $200 a barrel, easily.
http://www.abc.net.au/lateline/content/2011/s3177190.htm
"….the market is right?" Not for Qantas:

"In further attempts to offset the high fuel prices, Qantas plans to lay off an undisclosed number of managers and reduce its 35,000-strong workforce's annual and long-service leave balances. The airline laid off about 500 managers two years ago, leaving its total number of managers and their support staff at 1100."
http://www.smh.com.au/business/qantas-on-track-despite-disasters-20110330-1cgd6.html?skin=text-only
Dot #3: Saudi Arabia calls for 28 % increase in oil rigs in Kingdom
Top oil exporter Saudi Arabia has unexpectedly called on oilfield service firms to expand the kingdom's oil rig count by nearly 30 percent, according to Simmons & Co, to ensure spare production capacity remains ample as supply uncertainty grows.
"At the start of the year they were producing around 8.5 mln bpd of oil and were sitting on around 3.5 mln bpd of spare capacity. They've had to increase production by between 500,000 and 750,000 bpd after Libya went out of the market so their spare capacity is already way down," said Roger Read, managing director at Morgan Keegan in Houston.
A New York-based oil analyst, who tracks Saudi production and requested anonymity, said: "You could see this in one of two ways. Either they realize that 3 million barrels of spare capacity isn't enough, or they realize their capacity isn't actually that high."
http://www.arabianbusiness.com/saudi-arabia-calls-for-28-increase-in-oil-rigs-in-kingdom-390659.html?message=3
As mentioned in an earlier post Saudi Arabia's assumed spare capacity of 3.5 mb/d is just not there.http://www.crudeoilpeak.com/?p=2669
Watch out for what will happen to Saudi oil exports in the coming Middle East summer when Saudi Arabia needs more oil for direct burn in their own power plants.
Dot #4: Urban Taskforce wants high house prices
We have also learned that Sydney's Metropolitan Strategy increases house prices by 18.3% over 10 years, ironically also in the catchment area of the M2.
A new report released by Urban Taskforce Australia claims prices in the major capital cities can drop by up to 18% if the Government immediately freezes populations levels, with Melbourne, Sydney and south-east Queensland mentioned as over populated areas.
http://www.smartcompany.com.au/property/20110329-population-freeze-would-put-pressure-on-house-prices-urban-taskforce-warns.html
Of course this means that motorists may not be able to pay for those planned toll increases on the M2:
5/1/2011   Sydney's M2 toll increase high above RBA inflation target (part 3)
Dot #5: Fears nuclear shutdown could take 30 years
Mr Katsumata held a press conference after it was reported the radioactive core in a reactor at Fukushima appeared to have melted through the bottom of its containment vessel and on to a concrete floor, raising fears of a big release of radiation at the site.

The process would take longer than the 12 years needed to decommission the Three Mile Island reactor in Pennsylvania following its partial meltdown, said Hironobu Unesaki, a nuclear engineering professor at Kyoto University.

At least part of the molten core, which includes melted fuel rods and zirconium alloy cladding, seemed to have sunk through the steel "lower head" of the pressure vessel around reactor two, Mr Lahey said.
http://www.smh.com.au/environment/fears-nuclear-shutdown-could-take-30-years-20110330-1cg9u.html
High resolution pictures of the Fukushima plant have been released:
http://cryptome.org/eyeball/daiichi-npp/daiichi-photos.htm
Time is running out as the typhoon season starts in July.
Dot #6: Taxpayers facing $1.6 bn train wreck
Check here: Evaluating the cost of Public Private Partnerships in transport
http://sydney.edu.au/business/__data/assets/pdf_file/0014/91121/jeans-presentation.pdf
After a special investigation, Weekend Business can reveal the project financier is going to go broke and needs a bailout, raising the prospect of $1.6 billion in payouts by the NSW Government.

The chief executive of Reliance Rail, Ian Hunt, the former chief of the Lane Cove Tunnel that went into insolvency, expects some form of restructure for Reliance Rail.
http://www.smh.com.au/business/taxpayers-facing-16b-train-wreck-20110401-1crjf.html
Former Chief of Lane Cove tunnel? Have we already forgotten?
Conclusion:
Sydney is trapped between oil dependent motorways and the inability of the system (politicians, bureaucrats, consultants, banks) to manage alternative rail projects. The whole long distance commuting in Sydney is in doubtand therefore the Metropolitan Strategy itself. The way things are going we face:
motorists being forced to car pool – which is the end of growing toll revenue
crowded trains
worsening conditions because the Federal government continues with an unsustainable immigration program to serve special urban business interests of the development industry
Only a physical crisis will change this entrenched self service set-up. Then of course everything will be too late.