Only weeks after the Australian Prime Minister Tony Abbott introduced "Team Australia to help China build the Asian Century" to the Boao Forum on the island of Hainan in the South China Sea we get a foretaste how this much hyped Asian Century will look like: many fights over oil and gas. In a well prepared action China moved a 30,000 ton, 1$ billion semi-submersible drilling rig (HD 981) into position in contested waters 220 kms off the Vietnamese coast near the Paracel islands, and just 330 km South East of Hainan where Abbott spoke. Vietnamese coast guard boats tried to interrupt the positioning of the rig but were attacked by water cannons and rammed by Chinese boats.
For Vietnam control over offshore oil and gas is absolutely vital because oil production has peaked 10 years ago and gas is expected to peak by 2018. Abbott would neither know nor worry about it because he thinks that "at the right oil price, more oil will be found". Yes, right there in the South China Sea, perhaps. And it will cost more than money.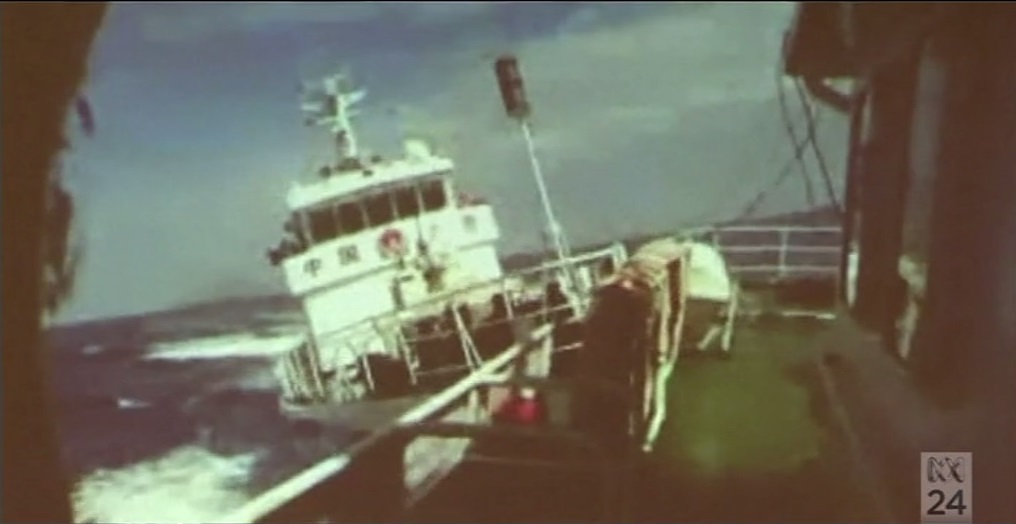 Fig 1: Chinese coast guard boat ramming a Vietnamese fishery patrol vessel
https://www.youtube.com/watch?v=FMJkR6XhnuY
.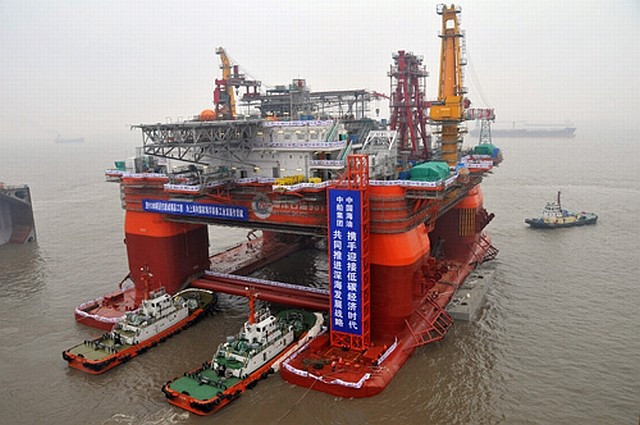 Fig 2: In 2012: "CNOOC Deploys Oil Rig as Weapon to Assert China Sea Claims"
http://www.bloomberg.com/news/2012-05-09/cnooc-deploys-oil-rig-as-weapon-to-assert-south-china-sea-claims.html
The location

Fig 3: Google location map with inserts of Triton island and Dung Quat refinery
The clash happened near the Triton Island, 220 km off the coast from Da Nang (known for a major US air-base during the Vietnam war). The Dung Quat refinery lies onshore at the same latitude. The coordinates were given by Petro Vietnam in the following article, together with a map of petroleum blocks: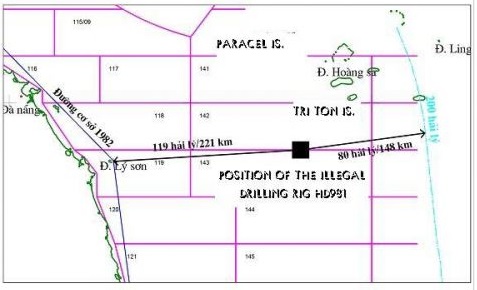 Fig 4: PVN's location map
 "On 2nd May 2014, the China National Offshore Oil Corporation (CNOOC) positioned the drilling rig HD-981 in a location of 15°29' North latitude, 111° 12' East longitude, approximately 120 nautical miles from Vietnam's waters, within the exclusive economic zone and continental shelf of Vietnam. CNOOC's action violated Vietnam's sovereign and jurisdiction rights under the 1982 United Nations Convention on the Law of the Sea.
On 4th May 2014, PetroVietnam has sent a letter to the President and CEO of CNOOC strongly opposing the action and resolutely demanding that the Corporation cease the illegal actions immediately and move the HD-981 drilling rig out of Vietnam's waters.
The above action of CNOOC was against the cooperative spirit between the two national oil and gas groups, practice of international oil activities as well as the motto of friendship and cooperation between Vietnam and China.
PetroVietnam requested CNOOC not to recur similar actions."
http://english.pvn.vn/?portal=news&page=detail&category_id=95&id=3775
Legal situation
The best description of the legal situation can be found in this article of the Centre for International and Strategic Studies in Washington:
China-Vietnam Tensions High over Drilling Rig in Disputed Waters
7/5/2014
"It is about 120 nautical miles east of Vietnam's Ly Son Island and 180 nautical miles south of China's Hainan Island—the two nearest features that indisputably generate a continental shelf. As such, it not only sits on Vietnam's claimed extended continental shelf, but also well on the Vietnamese side of any median line that might be negotiated between the two shelves from the Chinese and Vietnamese coasts, as indicated by the white lines in the map below."
.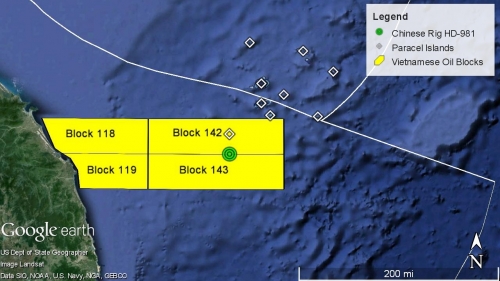 Fig 5: CSIS' equidistant line between Vietnam and Hainan
China, however, claims that Blocks 142 and 143 are partially lying in the Paracels islands occupied by it (red colored area)
.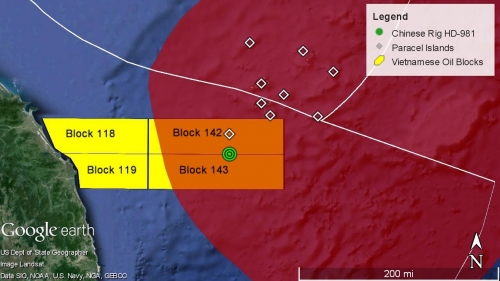 Fig 6: CSIS showing Chinese claim (red area)
CSIS argues that China's action violates UNCLOS (parties should not jeopardize or hamper the reaching of a final agreement) and the 2002 Declaration on the Conduct of parties in the South China Sea, signed by ASEAN countries (exercise self-restraint).  http://csis.org/publication/critical-questions-china-vietnam-tensions-high-over-drilling-rig-disputed-waters
Vietnamese oil and gas supply context
The focus of this post is not the legal situation but the underlying cause for this conflict: Vietnamese oil production has peaked and Chinese oil production is not growing commensurate with demand.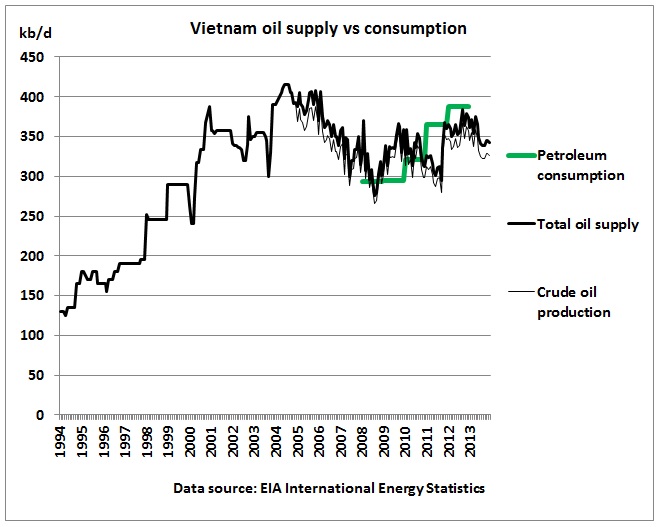 Fig 7: Vietnamese oil supply and consumption
Using data from the EIA http://www.eia.gov/cfapps/ipdbproject/iedindex3.cfm? Vietnamese crude oil production peaked 10 years ago but remained on a bumpy production plateau at about 80% of peak levels. Petroleum consumption is now higher than oil production. How did it come to this peak? The following graph is from Petro Vietnam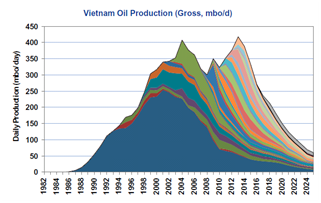 Fig 8: No, this is not from a peak oil analyst but from Petro Vietnam
http://222.255.252.36/invest/Project/Default.aspx?Mod=Overview&ProjectTypeID=2
The PVN website does not say when this graph was generated but it seems a couple of years ago because the 2nd peak actually did not happen.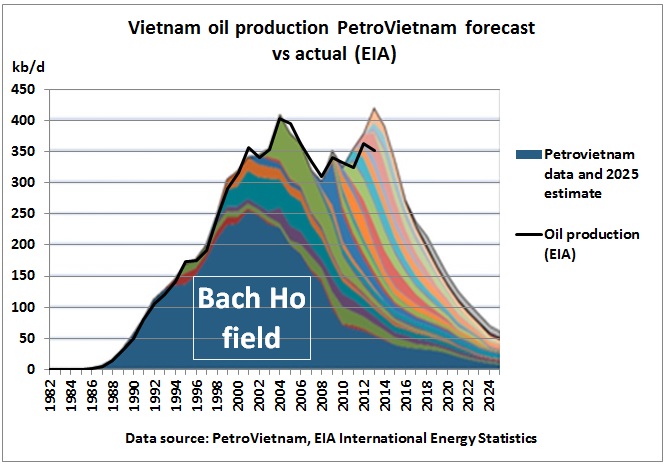 Fig 9: Superimposition of oil supply data from EIA on Fig 8
We see the classical oil peak in the Bach Ho field in 2001. New fields were stacked on top, driving the total production level even higher which was then difficult to maintain. The decline of the system is such that within 10 years practically the whole production of 350 kbd has to be replaced with new fields. Team Australia to the rescue!
Ironically, most of the oil was exported. The Dung Quat refinery, http://en.wikipedia.org/wiki/Dung_Qu%E1%BA%A5t_Refinery
originally planned for the early 90s near the Bach Ho field, was finally built in 2009, far away at a central location, for political reasons. By that time Bach Ho was in steep decline.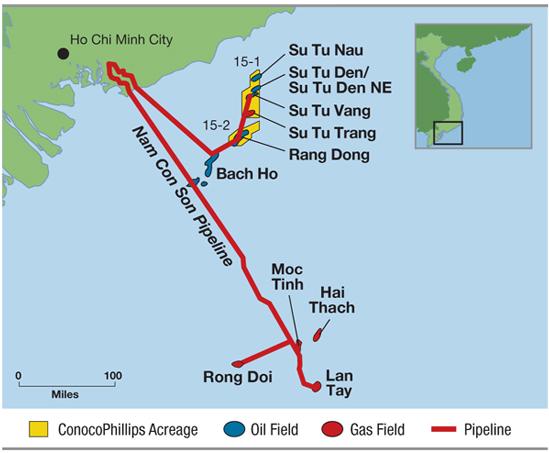 Fig 10: Location of the Bach Ho field and smaller satellite fields in the same area
http://www.energy-pedia.com/news/vietnam/su-tu-den-dong-bac-oil-field-begins-production-offshore-vietnam
Extracts from VP Bank's "Vietnam Oil and Gas Industry" (Jan 2014)
The Vietnam Prosperity Bank (VP Bank) compared in this report  declining oil production with rising demand: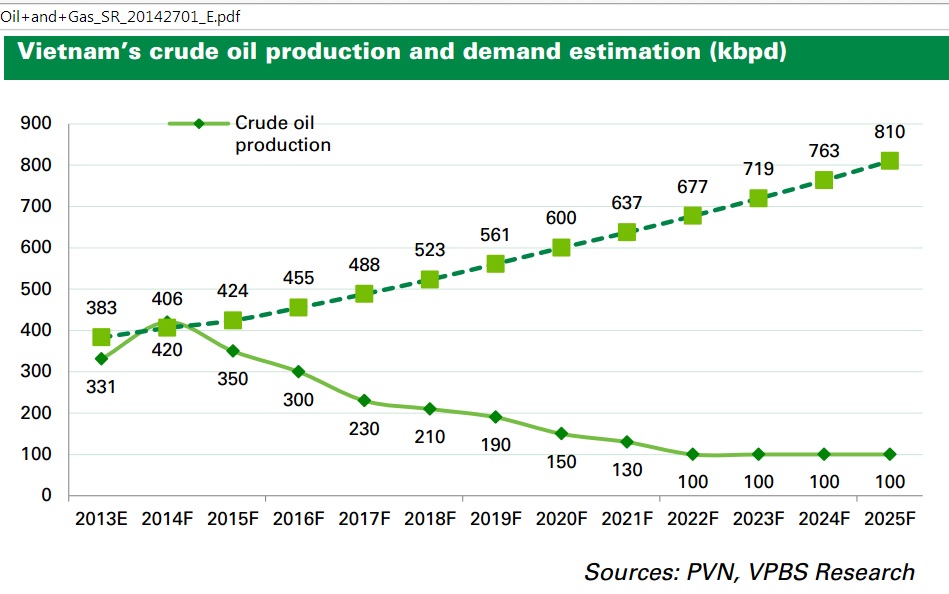 Fig 11: Graph from VP Bank showing widening gap between production and demand
"By 2020, Vietnam expects a number of refinery and petrochemical plants will commence operations, leading to demand for crude oil for refineries of 810 kbpd, more than double Vietnam's current production and higher than projected demand. Vietnam will shift from a net exporter to net importer of oil. Looking ahead to 2018, with the big gap between production and demand, Vietnam is eager to increase its oil production by seeking new offshore developments domestically as well as internationally now." (p 19)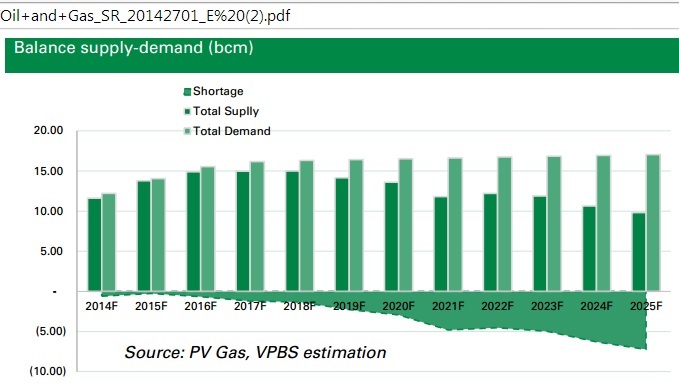 Fig 12: Graph from VP Bank showing gas shortage
"In summary, gas supply shortfalls will increase as the gap widens between gas supply and demand. The shortage will sharply rise from the time when the Cuu Long basin goes out of production. By 2015, Vietnam will lack 1.23 bcm of natural gas, five years later the shortage will be 5.9 bcm. New gas fields will have to come online in time to make up for depleting gas fields. Despite the new field developments domestic gas production capacity is expected to fall rapidly from 2017 further widening the gap between domestic supply and demand. LNG imports will be necessary to close this gap.
Vietnam now declares that it has found more natural gas, which is located in the centre of the country. This natural gas resource is to be larger than that of Nam Con Son basin. However, this gas contains a high amount of CO2 and there is no confirmed size of this resource. In consequence, Vietnam will have to import natural gas; PV Gas is planning to import the first LNG cargo by 2015 for Thi Vai fast track and Son My in Binh Thuan from 2018. The import of LNG is expected to diversify primary energy sources used for power production, ensure the national energy security. However, there will be an impact on the domestic natural gas market from the LNG import. A new level of gas prices will be established." (p 23)
https://www.vpbs.com.vn/Handlers/DownloadReport.ashx?ReportID=1968
Here is an example
Vietnam to source crude oil from Azerbaijan
"HANOI — Petrovietnam (PVN) will purchase crude oil from Azerbaijan over the next two years to ensure stable supply….
The contract, which lasts through 2016, will allow Vietnam to source up to 3.5 million barrels of crude oil from Azerbaijan this year…
PVN opened the Dung Quat oil refinery in Vietnam's central province of Quang Ngai in February 2009 through Binh Son Refining and Petrochemical. The facility, which has an annual output capacity of 6.5 million barrels, mainly refines crude oil from the Bach Ho oil field in southern Vietnam.
Oil production at the Bach Ho field has recently declined, making operations there more expensive. PVN hopes to secure stable supplies of oil from Azerbaijan to better produce fuels, including gasoline and diesel, at low costs.
PVN plans to source crude oil from Kuwait for another refinery, which is under construction in the Nghi Son economic zone."
http://asia.nikkei.com/Politics-Economy/Economy/Vietnam-to-source-crude-oil-from-Azerbaijan
Azerbaijan? Crude oil peaked there, too, 4 years ago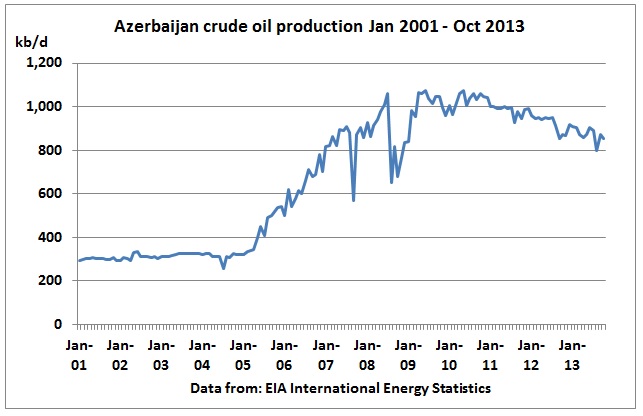 Fig 13: Azerbaijan crude oil production
Lucky that 3.5 mb pa is just 10 Kb/d. It will be a constant fight to fill the refinery with crude. Maybe the closure of Australian refineries will help.
Vietnam's Jan crude exports fall 24% on year; oil product imports surge
Hanoi (Platts)–13Feb2014
"Vietnam exported 559,723 mt of crude oil in January, down 23.7% from a year ago and also down 17.8% from December, according to data released Thursday by Vietnam Customs.
GOVERNMENT PUSHES FOR MORE OUTPUT
Increasing oil and gas production is a special focus for Vietnam's government this year. The government has asked state-owned PetroVietnam to focus only on its core activities from 2014, with oil and gas exploration and production being the top priority, Vietnamese President Truong Tan Sang said in a meeting with senior PetroVietnam officials on Monday.
He has asked PetroVietnam to pay special attention to oil and gas cooperation with Russia and other former Soviet Union nations, PetroVietnam said in a statement earlier this week.

Fig 14: Dung Quat refinery
Part of Vietnam's crude oil output is consumed by its sole 130,000 b/d Dung Quat refinery in the central province of Quang Ngai, while the rest is exported.
Meanwhile, Vietnamese Prime Minister Nguyen Tan Dung told PetroVietnam last month to start production from the Ca Voi Xanh gas field as soon as possible and speed up construction of a 5,000 MW of gas-fired power plant project in the central region which will use gas from the field.
The construction of the gas-fired power plant is to compensate for a possible shortfall of around 4,000 MW of power generation capacity if construction of the Ninh Thuan nuclear power projects is delayed to 2020 due to safety concerns, according to the prime minister's statement.
PetroVietnam, through its gas arm PV Gas, supplies natural gas to meet over 40% of Vietnam's electricity consumption and 70% of demand from the fertilizer industry.
OIL PRODUCT IMPORTS RISE FOR 2ND STRAIGHT MONTH
The country imported 791,098 mt of oil products in January, up 61% from a year ago and up 15.2% from December 2013, according to the customs data.
The rise in the country's oil products imports last month and in December last year came as Vietnam's domestic output of oil products is expected to fall this year.
PetroVietnam said last month that it aims to produce 4.6 million mt of oil products in 2014, down 30% from 2013, largely due to a planned maintenance at the Dung Quat refinery over May 19-July 9."
http://www.platts.com/latest-news/oil/hanoi/vietnams-jan-crude-exports-fall-24-on-year-oil-27929656
Crude oil production graphs
.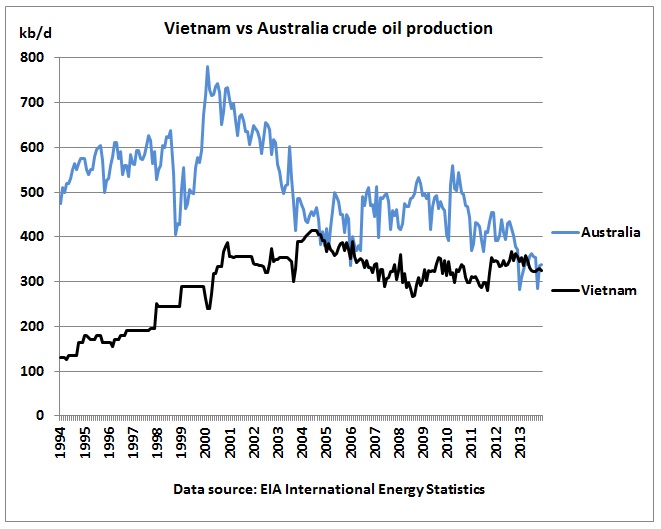 Fig 15: Both Australian and Vietnamese crude production have peaked
Australia (population 23 m) and Vietnam (population 89 m) have now arrived at the same crude production level.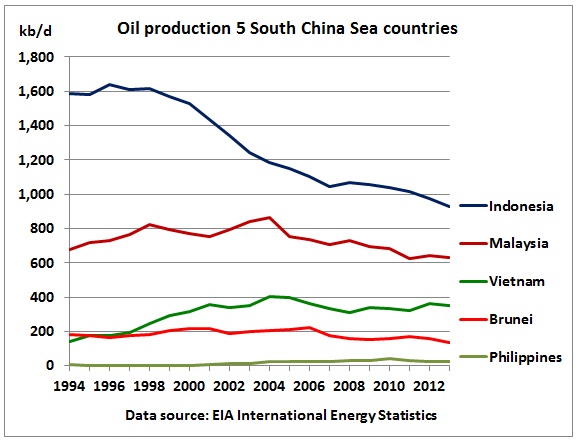 Fig 16: Oil production of 5 countries bordering the South China Sea all in decline
Fig 17: China's crude production did not grow in the last 3 years
Conclusion: The Asian Century will get stuck in peak oil. None of the media reported about peak oil in Vietnam nor the other South East Asian countries. And while the Australian public is completely kept in the dark about this precarious oil supply situation, the government gets away with wasting tax-payer and superannuation money for a mindboggling toll-way program – 10 minutes past 12 – which will never be able to pay back its debt.
Related posts:
8/9/2013
New Australian Prime Minister is skeptical that peak oil has value for policy making
http://crudeoilpeak.info/new-australian-prime-minister-is-sceptical-that-peak-oil-has-value-for-policy-making