While armed conflicts about OPEC's remaining oil are spreading like cancer in MENA countries and an accumulated debt crisis triggers money printing which drives up oil prices sky high, the media and our politicians are indulging in an endless debating club competition about a fantasy transport world which is neither sustainable nor implementable in the timeframe now dictated by the physics of declining global oil exports.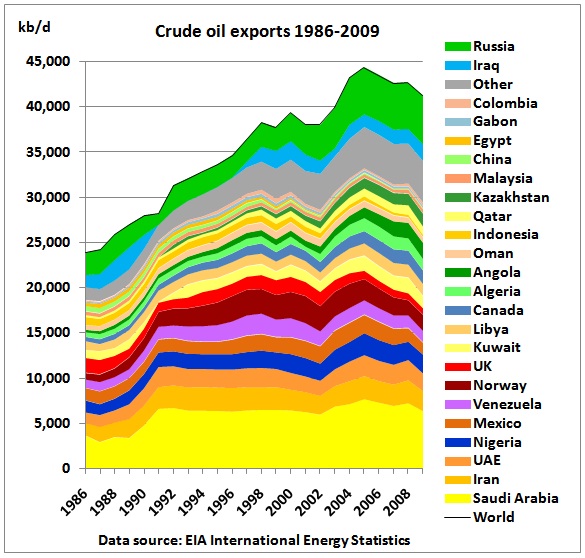 Global crude oil exports have peaked at 44.4mb/d in 2005,
declining by 3.1 mb/d in 2009, or 7%. Data for 2010 not yet available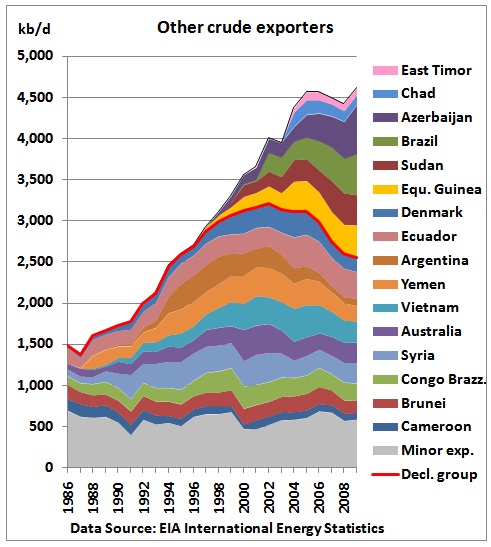 Details on the "other" group. A sub-group peaked in 2002 at 3.2 mb/d and declined by 20%
A handful of countries lifted exports to 4,5 mb/d where they have remained since 2004
Data from: http://www.eia.doe.gov/cfapps/ipdbproject/iedindex3.cfm?
New airports, very fast trains,  rail tunnels, more highway upgrades and toll-way widening are all unreal projects which totally ignore the immediacy of the oil crisis ahead of us.
Debating club competition – status April 2011
Round #1 – 2nd Sydney airport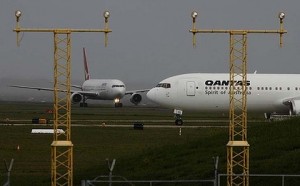 Second airport rises again
5/4/2011
Analysis prepared for a government inquiry into a second airport site for Sydney shows that within a decade, relatively minor disruptions to morning flights will delay flights for up to five hours over the rest of the day.
The federal government, which has committed to nominating a site for another airport this year, is expected to seize on the figures to help justify the cost of a second airport.
http://www.smh.com.au/travel/travel-news/second-airport-rises-again-20110404-1cyoc.html
While peak oil has hit airlines, yet again:
Qantas to cut up to 200 managers
7/4/2011
THE bulk of almost 200 managers and support staff to be laid off by Qantas will be given notice from today as the airline cuts costs in an effort to combat surging jet fuel prices and weak travel demand.
The latest staff cuts are also seen as an attempt to allay concerns among investors about Qantas's ability to navigate the severest downturn since the global financial crisis. Jet fuel prices have reached fresh highs of more than $US137 ($132) a barrel in Singapore trading this week, up 38 per cent since the start of the year.
http://www.smh.com.au/business/qantas-to-cut-up-to-200-managers-20110406-1d4fr.html
Previous post:
25/11/2009   Sydney doesn't need a 2nd airport
http://www.crudeoilpeak.com/?p=670
The ACT wants Canberra's airport to serve as a back-up for overflow and by-pass air traffic from Sydney. But look at the rail line to Australia's Capital: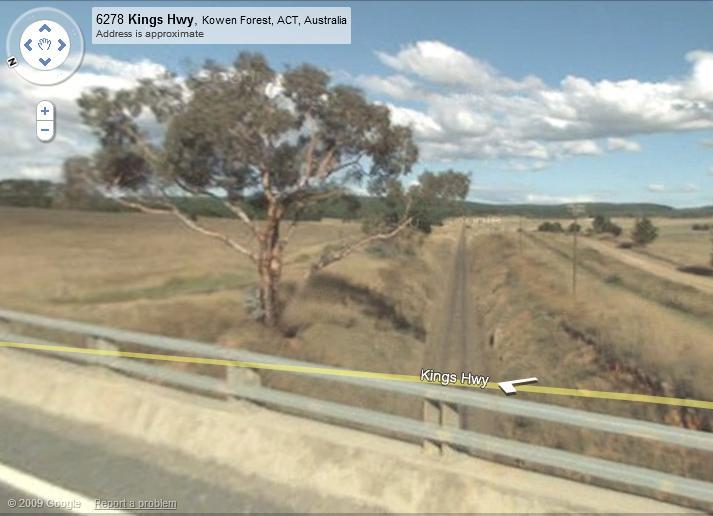 Single tracked, not electrified. Looks like a branch line to a rural village. And that leads us to the next fantasy:
Round #2 – Very fast trains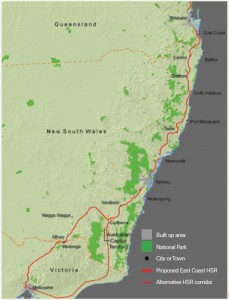 O'Farrell calls for high-speed trains instead of second Sydney airport
6/4/2011
The federal Transport Minister, Anthony Albanese, and the Premier, Barry O'Farrell, are already at odds on the issue. Mr O'Farrell said yesterday that his preference was for a fast rail link down the eastern seaboard.
After the Herald reported analysis suggesting a lack of space at Sydney Airport would lead to longer delays for passengers, Mr O'Farrell said he could not see where you would put a second airport in the Sydney basin.
http://www.smh.com.au/nsw/ofarrell-calls-for-highspeed-trains-instead-of-second-sydney-airport-20110405-1d2zj.html
.
.
The latest VFT study from Infrastructure Partnership:
http://www.infrastructure.org.au/content/VFTSeptember2010.aspx
VFTs? Where is the rail culture for this demanding job? The actual, current rail transport reality was shown on 6/7 April 2011 in ABC TV's 7.30 report on 80 km/h speed limits for trains between Sydney and Melbourne due to faulty track, resulting from a combination of decades of rail neglect, incompetent bureaucracies and sloppy track repairs/upgrades.
The rail line between Sydney and Melbourne is a vital piece of infrastructure needed in case airlines reduce services in response to higher oil prices. But look how bad the track is: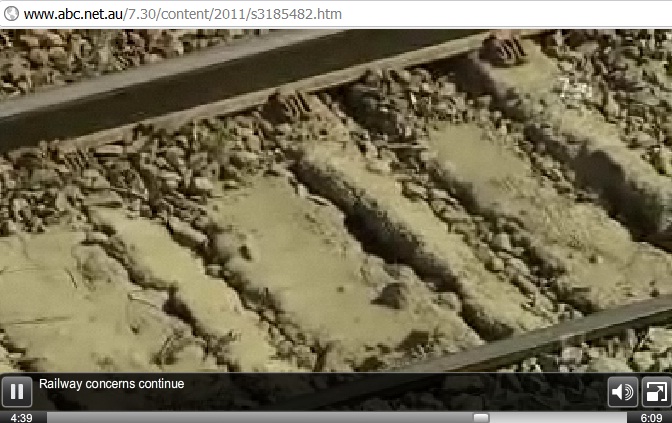 XPT driver experiences vertical, not horizontal acceleration while driving over bumpy track caused by clay pumping up from substandard subgrade between Sydney and Melbourne: "Attention passengers, buckle up, we apologize for the turbulences"
http://www.youtube.com/watch?v=NNiGttkoZgg
Railway Risk:
6/4/2011
MATT PEACOCK, REPORTER: The XPT, or express passenger train, runs from Sydney to Melbourne and back twice a day. Lately, for its passengers, locals and tourists alike, this train is anything but an express…… Two weeks ago, repair crews found out across the line in response to alarming safety test results. CountryLink warned urgent attention was required around certain track defects over nearly a third of the inter-capital line. "Given the vast length between both locations … an 80 kilometre and hour blanket speed has been posted along the entire," north-bound track, "between Junee and Goulburn," it said.
http://www.abc.net.au/7.30/content/2011/s3184257.htm
Railway concerns continue
7/4/2011
LEIGH SALES, PRESENTER:
…..But now, the corporation's [Australian Rail Track Corporation ] under attack for letting the main line between Perth and the East Coast deteriorate to such a degree that at least one freight carrier is increasingly turning to road transport.

Re-sleepering on Sydney-Melbourne track on the cheap
MATT PEACOCK: When the re-sleepering project got underway four years ago a consultant hired by the Southern Improvement Alliance was told the ARTC wanted to get the sleepers in at the cheapest price without consideration of the ramifications.
In his report leaked to 7.30, he [SAI's consultant] concluded, "The idea of using insertion machines on main line at the expense of quality is not recommended. Within a short period, major work will be required on the new concrete sleepers and the introduction of new ballast will be needed."
http://www.abc.net.au/7.30/content/2011/s3185482.htm
The proper way of doing this job is to remove the old, dusty ballast(left), clean it and improve the subgrade by placing a compacted layer of sand (right):

Watch it here: http://www.youtube.com/watch?v=JdaERKKqw-o
(1) Remove old ballast – contains a lot of dust and sand after so many years   (2) Remove dust and sand from ballast
(3) Eurail pool – clean ballast   (4) Lay new sand for subgrade   (5) Level sand   (6) Compact sand
(7) Place back cleaned ballast   (8) Compact ballast under new sleepers   (9) Chopper brings news sand
(10) Old sand moved off by conveyor belt
The machines needed are all available in Australia.  Why are they not being used?
http://www.plasser.com.au/en/start/index.htm
Round #3 Rail tunnels in Sydney
No federal promises on funding for Liberal's North-West rail link
4/4/2011
FEDERAL Labor is sticking to its guns about which NSW rail links will go ahead, despite pressure from the new Premier.
The Prime Minister, Julia Gillard, promised to make the $2.1 billion Epping-to-Parramatta rail link a priority at last year's federal election. The project was a key campaign promise by the former Labor NSW premier, Kristina Keneally.
The Premier, Barry O'Farrell, wants the project deferred and transferred to the Coalition's north-west rail link plan, which he took to the election.
'We mean what we say at the federal level," Mr Albanese said yesterday. Furthermore the project has the support of Liberals at all levels of government, the minister said. The Parramatta-Epping link was the only project that was "absolutely ready to go", with funding in place
http://www.smh.com.au/nsw/no-federal-promises-on-funding-for-liberals-northwest-rail-link-20110403-1ct7l.html
Former CBD Metro chief to drive north-west rail link
7/4/2011
THE O'Farrell government has appointed the man in charge of the CBD Metro, a project it described as reckless and mismanaged in opposition, to run its centrepiece transport policy, the north-west rail link.
The executive director of Infrastructure Partnerships Australia, Brendan Lyon, said Mr Staples's appointment was particularly welcome. Mr Lyon said the government should consider a public-private partnership to deliver the north-west line.
http://www.smh.com.au/nsw/former-cbd-metro-chief-to-drive-northwest-rail-link-20110406-1d4kt.html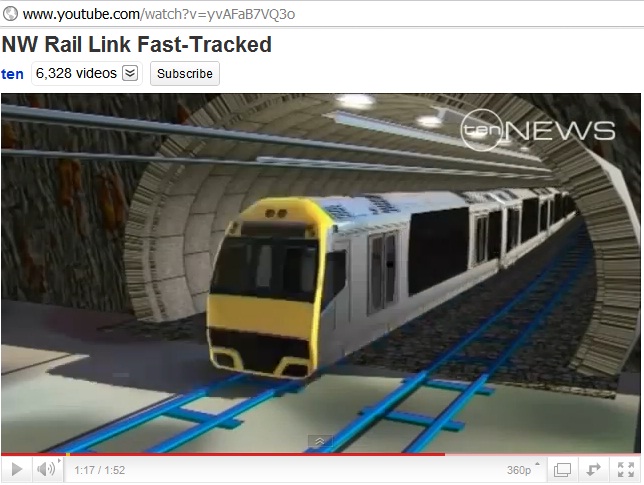 Let's combine this with what the newly elected NSW Premier said: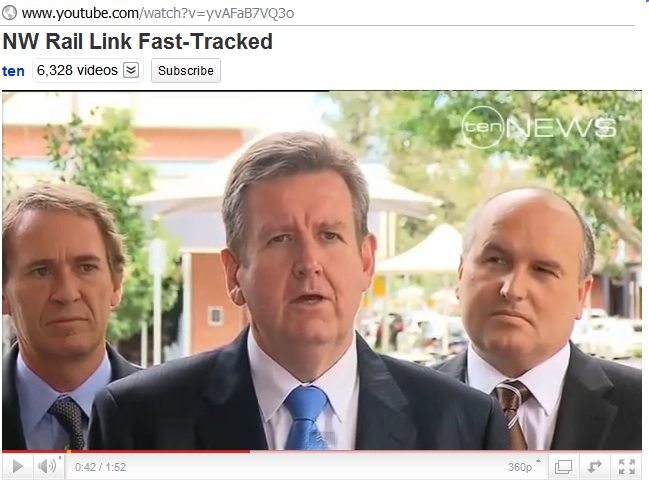 "..and we are determined to give people that live in Sydny's North West an opportunity to get off the M7, the M2…."
http://www.youtube.com/watch?v=yvAFaB7VQ3o
That's a good idea.  The PPP already exists. It's managed by RTA/Transurban. And if we want motorists off the M2 and M7 then the solution is to build the rail link on the M2 and M7 corridor itself. It's a win-win for all:
(1)   The rail link could go on the 3rd lane under construction on the M2
(2)   No wait for Federal funding which may never materialize
(3)   Banks have already committed to $275 m for the M2 widening
(4)   Much cheaper and faster to build than an expensive rail tunnel
(5)   Rescues Transurban and all its investors from receivership which is certain in the evolving oil shock
The way things are going we'll have another failed rail tunnel project:
7/10/2009    Too late for Sydney Metro Tunnels
http://www.crudeoilpeak.com/?p=290
Round #4 – Princes Highway upgrade
'High-risk' Princes Highway needs funds, says NRMA
6/4/2011
The NRMA claims that despite needing expenditure of more than a $1 billion to bring it to an acceptable standard, the Princes Highway has received only a 10th of the money spent on the Pacific Highway in the past three years.
http://smh.drive.com.au/roads-and-traffic/highrisk-princes-highway-needs-funds-says-nrma-20110405-1d308.html
The NRMA should know better. A year ago the NRMA organised a fuel summit in which the so-called Jamison Group report was presented with following summary:
3/3/2010
The widening gap between oil demand and local oil production
That there is no single solution to the challenge of providing alternative fuels for passenger vehicles
That there is a need to reduce oil dependence and carbon emissions
That passenger transport options must be affordable
There is a need for urgent action to address the economic, energy and environmental security issues
http://www.mynrma.com.au/about/summit.htm
A year later everyone still continues business as usual. ABC TV also attended that summit. Since March 2010, was the public continuously and properly informed about peak oil? Were questions on peak oil allowed in Q&A? Were motorists educated to prepare for car-pooling?
Round #4 – M5 widening
Premier unveils 100-day action plan
4/4/2011
Beginning negotiations on the M5 widening to reduce congestion
http://www.nsw.liberal.org.au/news/premier-of-nsw/premier-unveils-100-day-action-plan.html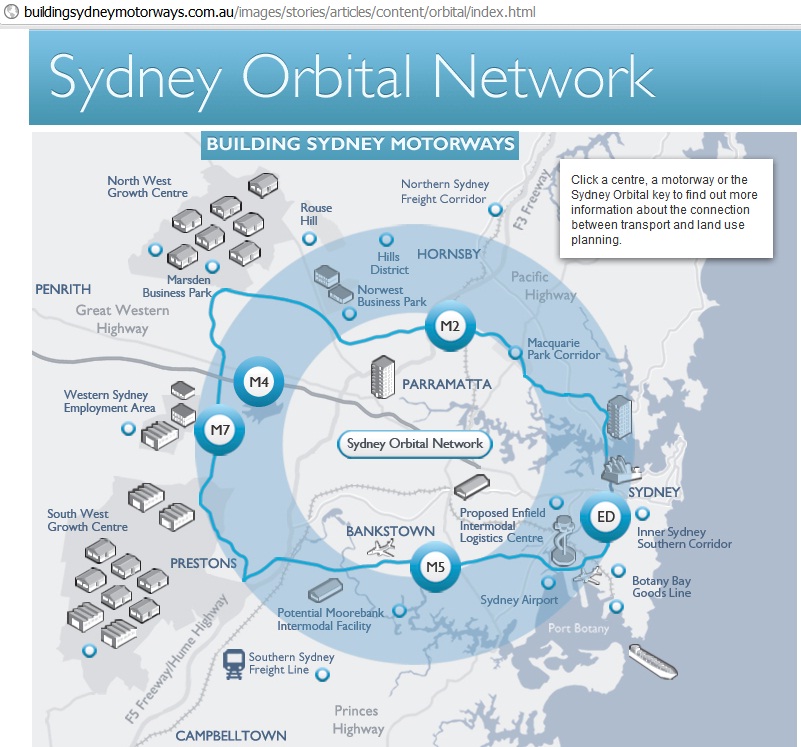 << grand plans to build more car dependent subdivisions to feed traffic into motorways and boost toll revenue.
11/11/2010
Tollopoly on Sydney's orbital
http://www.crudeoilpeak.com/?p=2131
The Metrostrategy assumes a population growth of 1.2 m by 2031, but this will not happen. Petrol & diesel shortages will force the Feds to reduce immigration to a minimum:
9/4/2010
Australian Population Scenarios in the context of oil decline and global
warming
http://www.crudeoilpeak.com/?p=1300
More fantasy motorway plans:
F3 – M2 road tunnel link
http://buildingsydneymotorways.com.au/m2-f3-corridor
M4 East
http://buildingsydneymotorways.com.au/m4-corridor/planned-improvements
http://www.rta.nsw.gov.au/constructionmaintenance/downloads/m4e_optionsstudy.pdf
Conclusion: Most transport proposals currently debated are totally detached from reality. Unless prompt action is taken on emergency solutions like night trains, more rolling stock for freight trains, electric trolley buses or rail on existing toll-way and freeway lanes, plus a massive conversion of our truck fleet to CNG/LNG our existing transport world will shrink to levels outside the experience of most of the general public and only known to the generation which grew up in a frugal world immediately after WW2, using just a fraction of the oil everyone takes for granted now.