The pervasive climate change denial of various Australian governments and its consequences in the energy sector now take terrible revenge. This article is about an incident on Sat 4th 2020. A Saturday after New Year is normally not a critical day because of the weekend and lower demand during the summer holidays. The Sydney Morning Herald reported the following day:
'Every megawatt counted': How NSW dodged major outages amid record demand
At about 5.15pm on Saturday [4 Jan 2020] bushfire smoke caused electricity to arc on main transmission lines, triggering automatic shutdowns to protect key equipment. The 2000-megawatt capacity loss was about 15 per cent of supply and came as demand was about to peak at 6pm after temperatures in western Sydney soared to a record 48.9 degrees.

NSW was also "separated" from Victoria with the interconnector between the two states shutting off, sending spot market prices for electricity to their maximum of $14,700 per megawatt-hour, compared to sub-$100 in normal times.

[Energy Minister] Kean and AEMO appealed for consumers on Saturday afternoon to turn off appliances across the state to conserve supplies.
Two potlines were turned off at the Tomago aluminium smelter – the plant near Newcastle typically accounts for about 10 per cent of NSW demand – to help balance supply and demand.
https://www.smh.com.au/politics/nsw/every-megawatt-counted-how-nsw-dodged-major-outages-amid-record-demand-20200105-p53owm.html
The Wattclarity website gave more details:
Bushfires under interconnectors through Snowy Mountains cause separation of NSW from VIC region
4 Jan 2020
At 15:10 (NEM time) the Victoria and New South Wales regions separated at Murray and Lower Tumut Substation as a result of the bushfires raging through the south-east of Australia and, in particular, under some key transmission lines connecting NSW to Victoria.
AEMO (and TransGrid, the network operator) had experienced 4 separate unplanned  transmission line outages over the prior 2-hour period (# market notice):
13:24 # 072281, Upper Tumut to Lower Tumut 64 330 kV Line
13:51 #072282, Murray to Upper Tumut 65 330 kV Line
14:35 #072284, Capital to Kangaroo Valley 330 kV 3W Line
14:38 #072285, Upper Tumut to Yass 330 kV Line
http://www.wattclarity.com.au/articles/2020/01/bushfires-trip-victonsw/
.
Not only could NSW no longer import power from Victoria but it also lost supply capability from the Snowy Mountains hydro power plants.
As a result, AEMO market notice 72297 declared a low reserve condition LOR2 at 16:05, seeking immediate market response. In market notice 72310 AEMO commenced negotiations with RERT (Reliability and Emergency Reserve Trader) Panel members for the provision of additional reserve by issuing requests for tender for the following period of time: 16:30 to 22:00 hrs.
https://aemo.com.au/Market-Notices?marketNoticeQuery=72297
Here are the 3 levels of reserve warnings: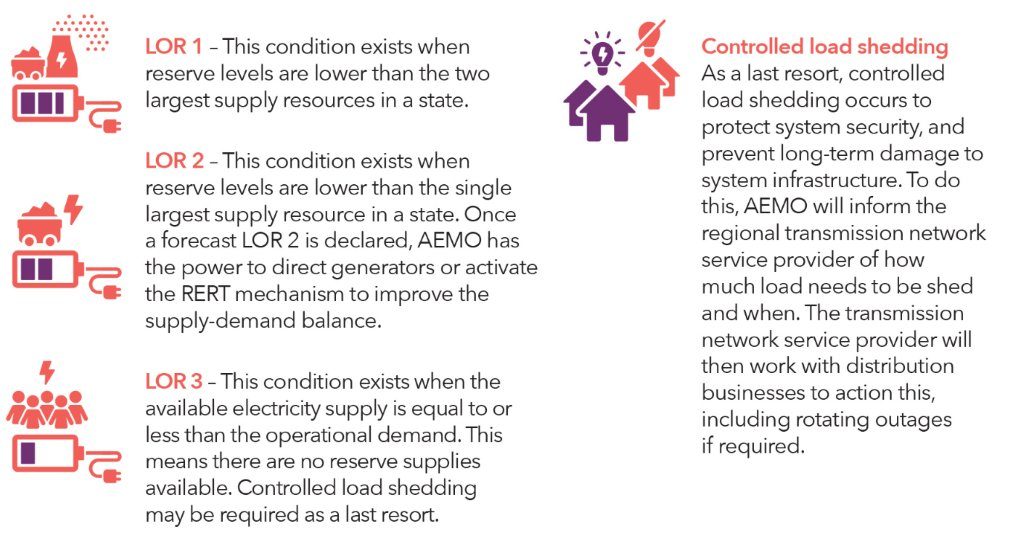 Fig 1: Low reserve warning levels
https://twitter.com/AEMO_Media/status/1223152774403112960/photo/1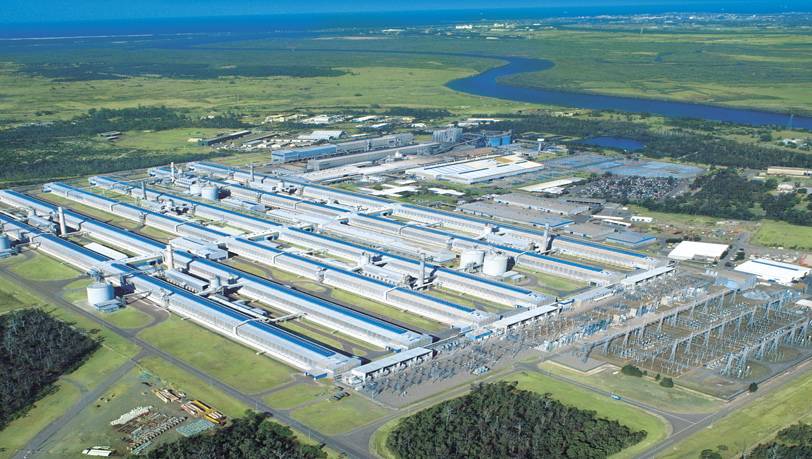 Fig 2: Tomago alu smelter near Newcastle
In December 2019 the Australian Energy Market Operator AEMO published the 2019-2020 readiness plan, warning of, i.a.
increased risk of bush fires, with drier conditions, directly impacting generators and transmission networks, and also limiting the transmission network power transfer capability
extreme peak demands on the network limiting generator capacity or leading to equipment failures
dust storms posing issues with PV output and transmission lines
concurrent peak demand across States creating an operational risk
unreserved energy during outages of Loy Yang 2 and Mortlake 2
need to activate AEMO's Reliability and Emergency Reserve Trader (RERT) panel function in order to manage the projected shortfall and meet reliability standards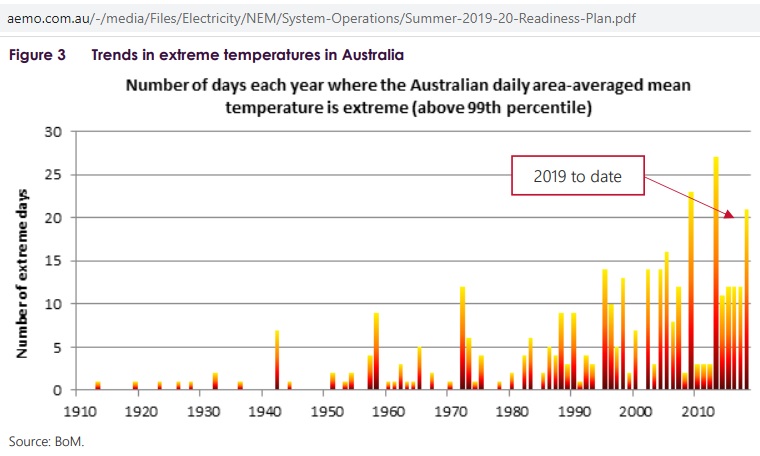 Fig 3: Upward trend in extreme temperatures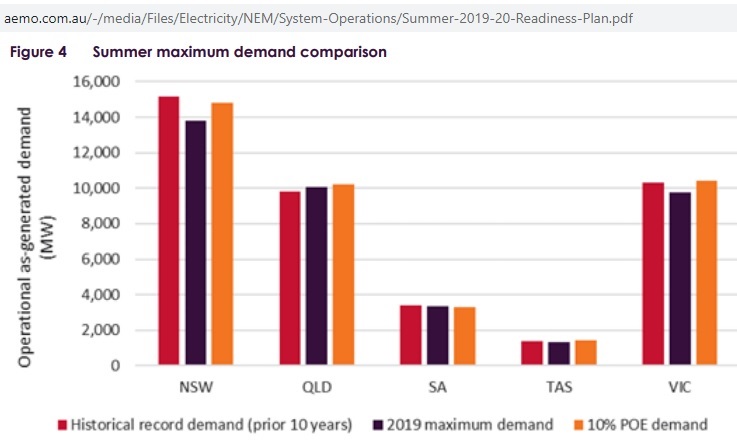 Fig 4: Summer maximum demand
10% POE: probability of demand exceeding forecast on average 1 year in 10 based on the expectation of very high temperatures in capital cities, on a weekday in January or February when industrial and commercial businesses have returned from the Xmas holidays, and where prior days have also had high temperatures.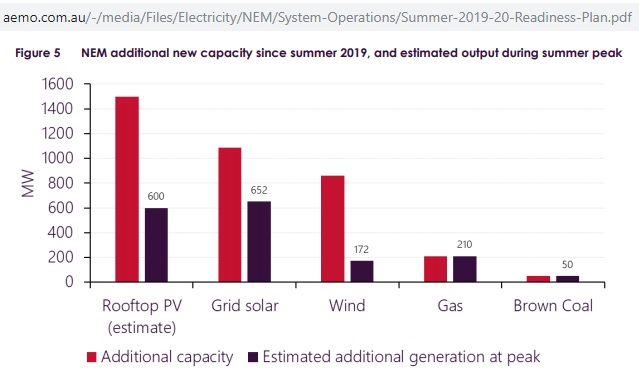 Fig 5: Additional capacity is mainly renewable.
The average capacity factor for new wind farms seems to be around 20%, reflecting long ramp-up periods.
https://www.aemo.com.au/-/media/Files/Electricity/NEM/System-Operations/Summer-2019-20-Readiness-Plan.pdf
First warnings of the load shedding event were given a day earlier:
Energy grid under threat as bushfires bear down on power lines
3 Jan 2020
Australia's power grid operator warns bush fires could bring down vital transmission lines and raise the likelihood of further blackouts this weekend when fire conditions are forecast to intensify.
https://www.smh.com.au/business/the-economy/energy-grid-under-threat-as-bushfires-bear-down-on-power-lines-20200103-p53om1.html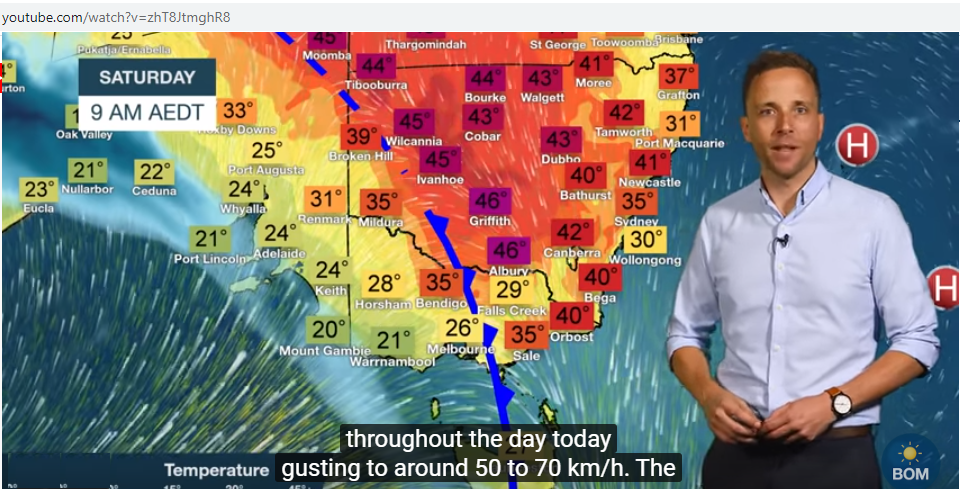 Fig 6: Bureau of Meteorology report 4 Jan 2020
https://www.youtube.com/watch?v=zhT8JtmghR8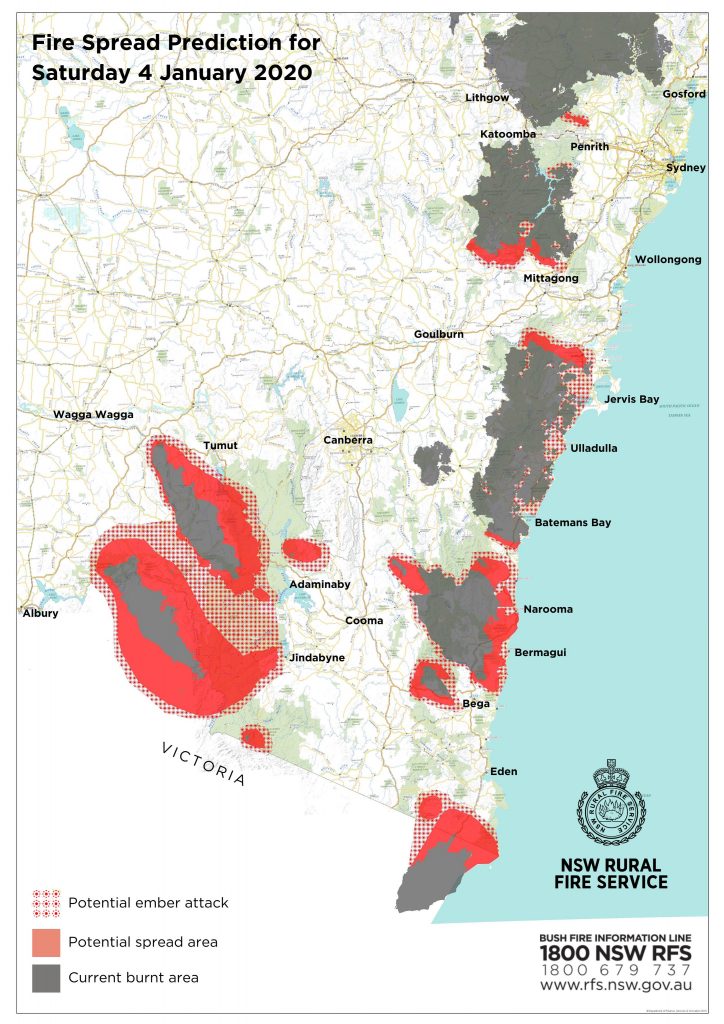 Fig 7: Map showing bush fire threat to Tumut area, critical to NSW power supplies
https://twitter.com/NSWRFS/status/1212904628196716545/photo/1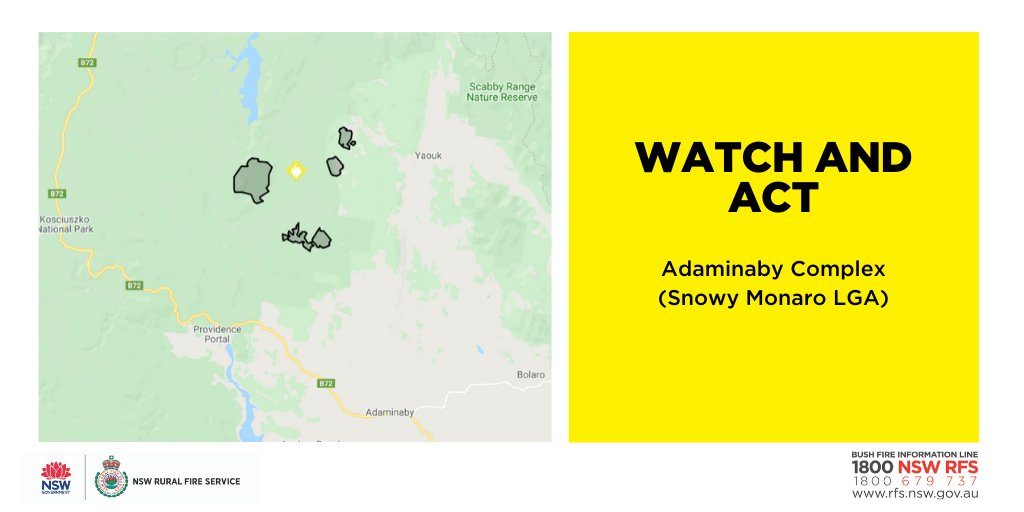 Fig 8a: Map showing fire areas north west of Adaminaby, right around Cabramurra
https://twitter.com/NSWRFS/status/1213231808059445248/photo/1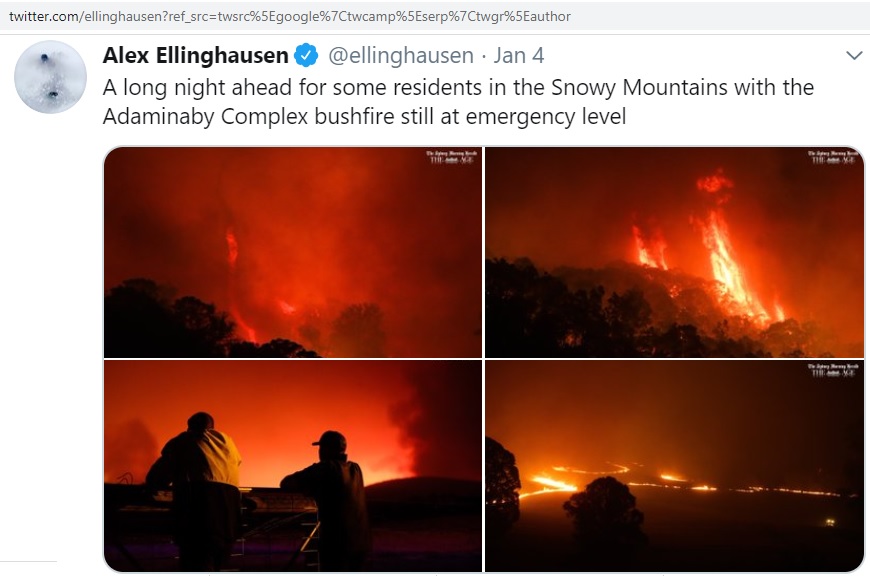 Fig 8b: Fires threatening power supply infrastructure for the Snowy Mountains hydro power plants
https://twitter.com/ellinghausen/status/1213416209544183809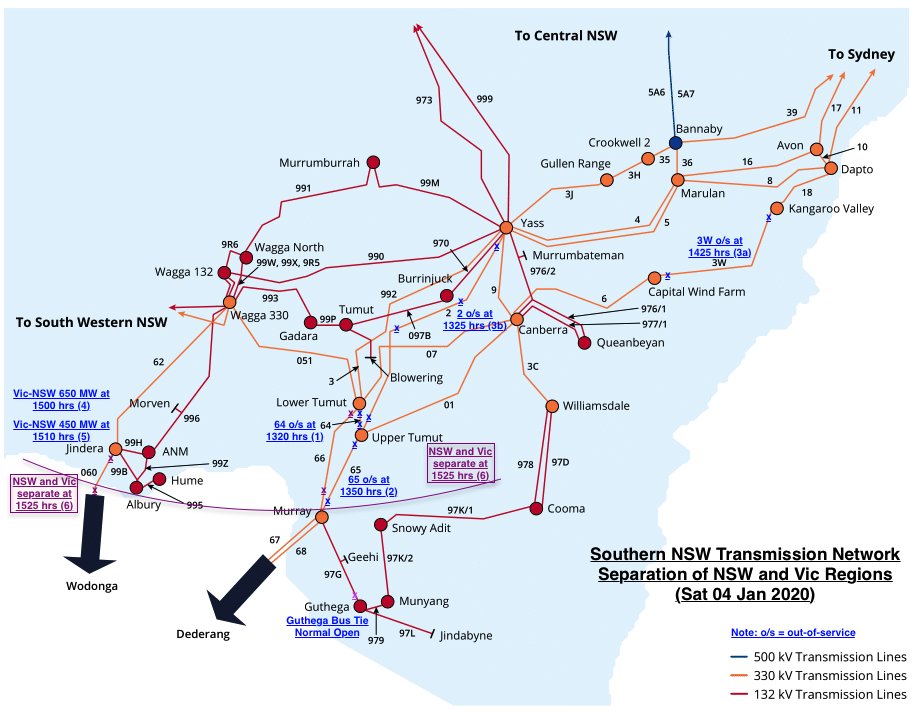 Fig 9: Grid connecting NSW and Victoria
https://twitter.com/eljmkt_nemlog/status/1213344105058553856/photo/1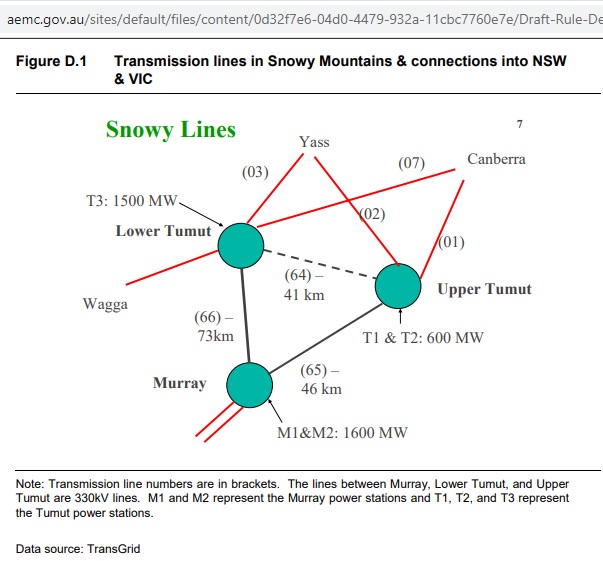 Fig 10: Transmission lines and generation capacities Lower and Upper Tumut and Murray
https://www.aemc.gov.au/sites/default/files/content/0d32f7e6-04d0-4479-932a-11cbc7760e7e/Draft-Rule-Determination-Appendix-D-%28Background-on-the-Snowy-region%29.pdf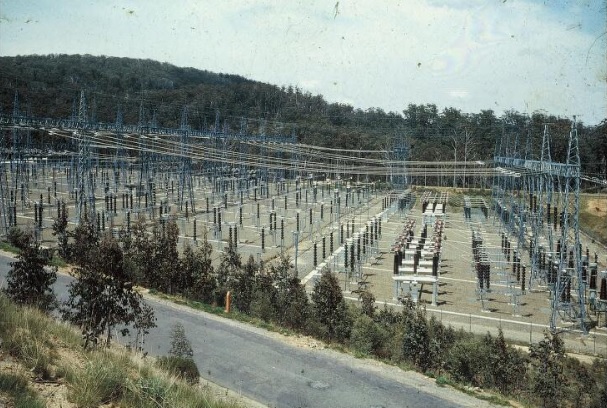 Fig 11: Upper Tumut switching station (archive 1976)
https://nla.gov.au/nla.obj-144087766/view
Dave Farmer describing the function https://www.youtube.com/watch?v=nVK70ciwFkk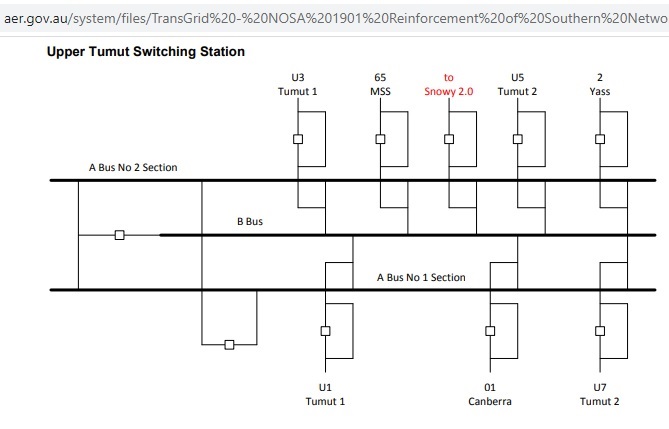 Fig 12: Layout of Upper Tumut switching station, 2.5 kms north of Cabramurra
The station is fed by UG power plants Tumut 1 and Tumut 2 (now together 616 MW) and serves Canberra, Yass and Murray transmission lines
https://www.transgrid.com.au/what-we-do/projects/regulatory-investment-tests/Documents/TransGrid%20PSCR%20-%20Maintaining%20a%20reliable%20Upper%20Tumut%20substation.pdf
And this is how that switching station looked like during the fires: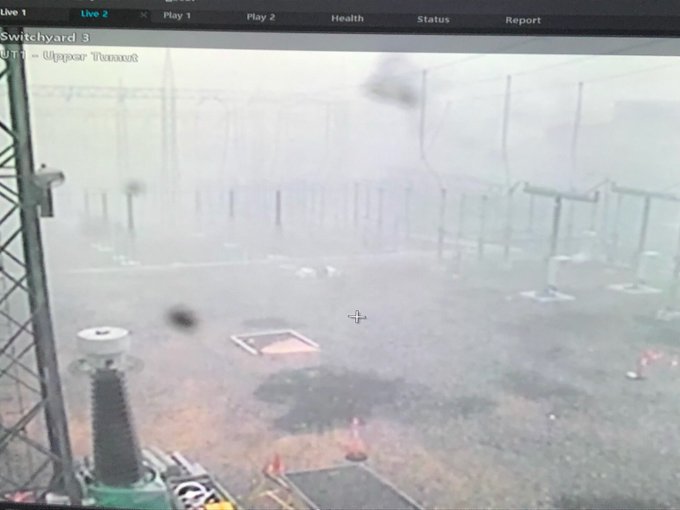 Fig 13: Upper Tumut switching station, dense with smoke from surrounding bushfires
– tweet by NSW Energy Minister Matt Kean, 3:33 pm, 4th Jan 2020
https://pbs.twimg.com/media/ENaRwdYUUAIsaIJ?format=jpg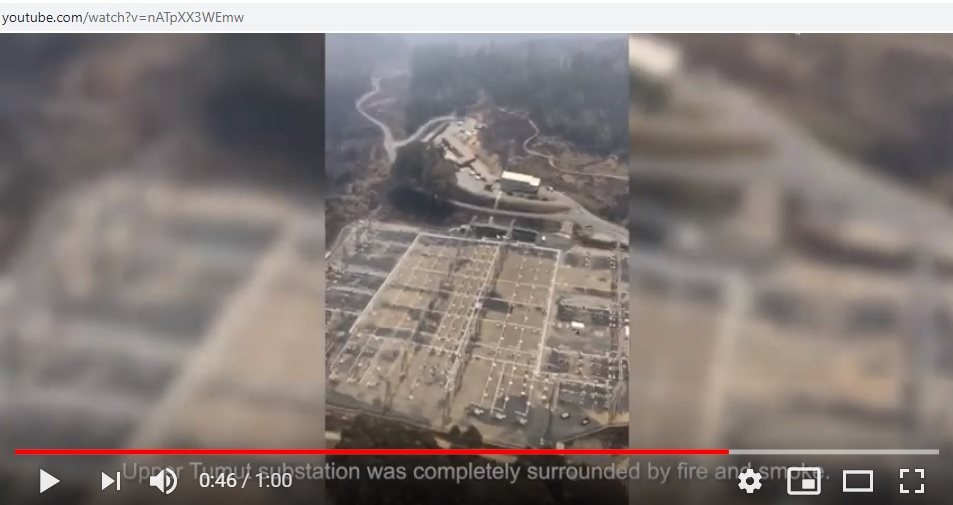 Fig 14: Helicopter flight over transmission lines and Upper Tumut switching station.
Bush fire impacts at Tumut, NSW
https://www.youtube.com/watch?v=nATpXX3WEmw
This video of May 2013 shows how rugged the terrain is.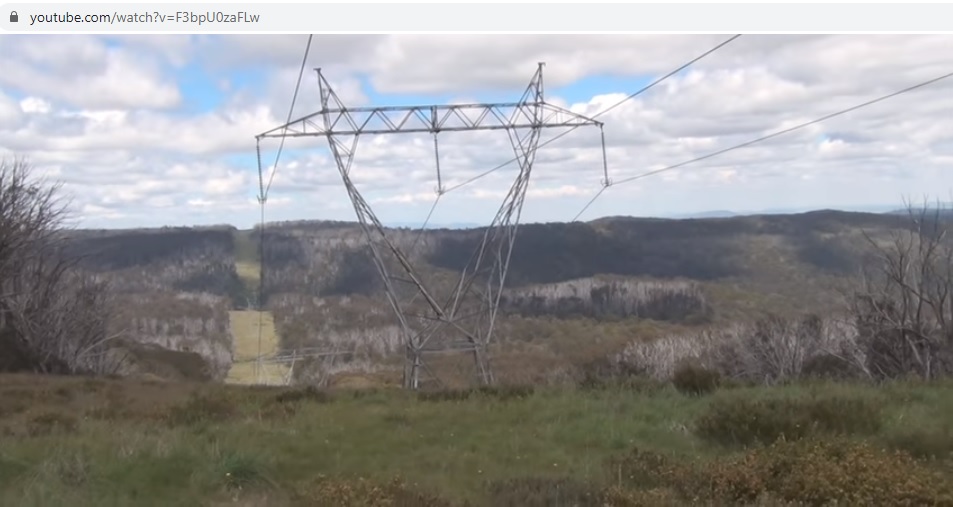 Fig 15: Tumut 2 Power Station & Snowy Hydro infrastructure
https://www.youtube.com/watch?v=F3bpU0zaFLw
More details on the bush fire-driven extremes in the NSW Region of the NEM on 4th January:
http://www.wattclarity.com.au/articles/2020/01/more-about-4jan2020/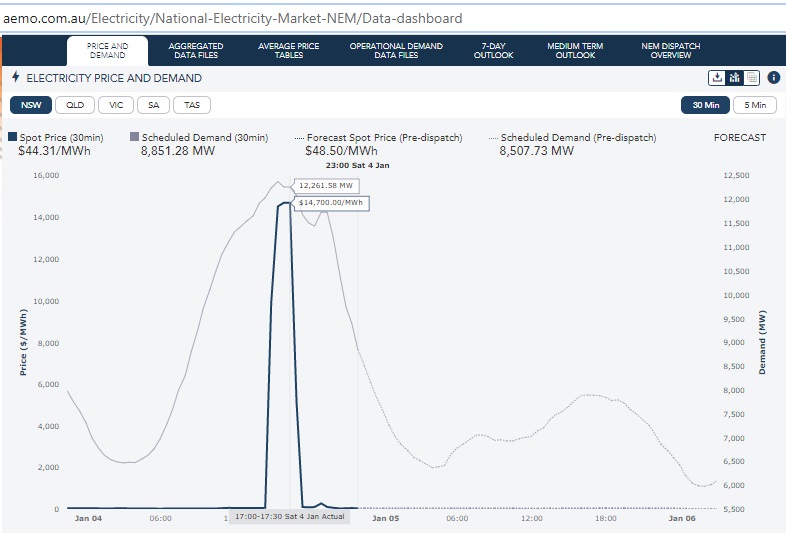 Fig 16: NSW price spike between 4 pm and 5 pm of $14,700/MWh at 12,261 MW
https://www.aemo.com.au/energy-systems/electricity/national-electricity-market-nem/data-nem/data-dashboard-nem
Price spikes are proof that the power supply system is unstable.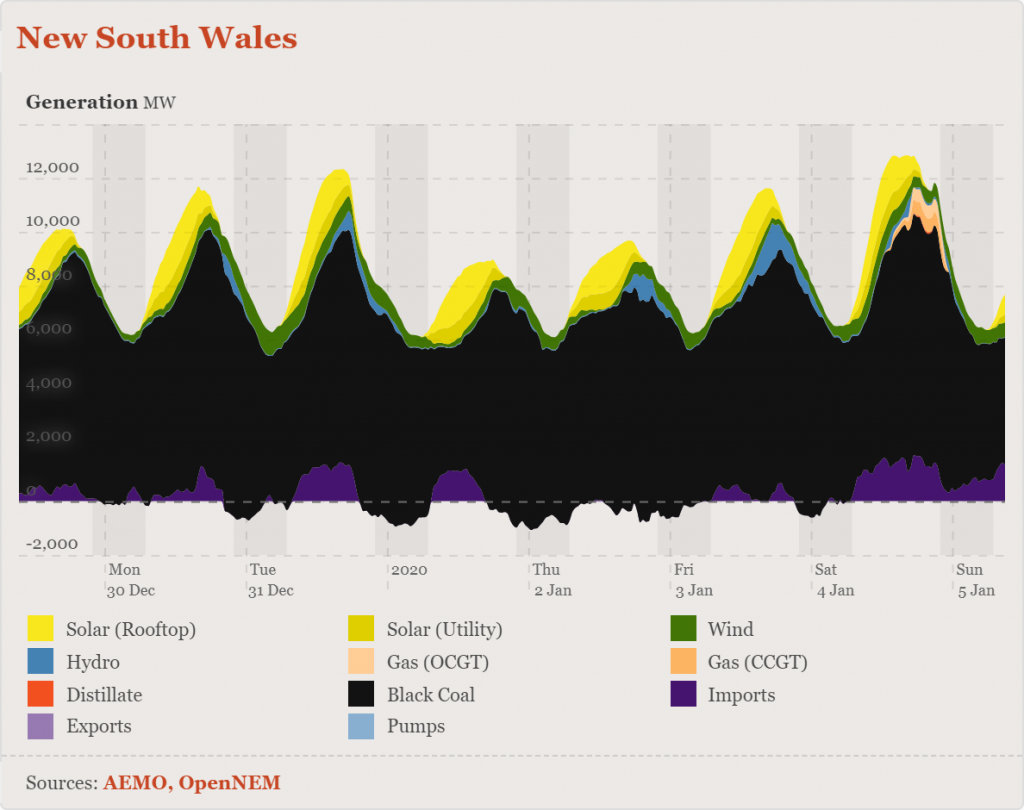 Fig 17: NSW power demand has been increasing since January 1st
NSW residents urged to cut power use as fire threatens Snowy Hydro
4 Jan 2020
The NSW energy minister Matt Kean has urged residents across the state to reduce electricity usage as the Berejiklian government scrambles to determine the extent of fire damage to the Snowy Hydro's transmission lines.

Just before 7pm, 14,000 people had lost power in Sydney's north and south-west, and Port Stephens. Greenacre, Campsie, Punchbowl, Hornsby, Chatswood and St Ives were affected, as well as Port Stephens on the Central Coast.

Mr Kean asked consumers to make sure power-hungry pool pumps were turned off, raise air conditioner thermostats to 24 or 25 degrees, refrain from using washing machines, dishwashers or dryers, and turn off appliances and lights not in use.
https://www.smh.com.au/national/nsw/nsw-residents-urged-to-cut-power-use-as-fire-threatens-snowy-hydro-20200104-p53ova.html?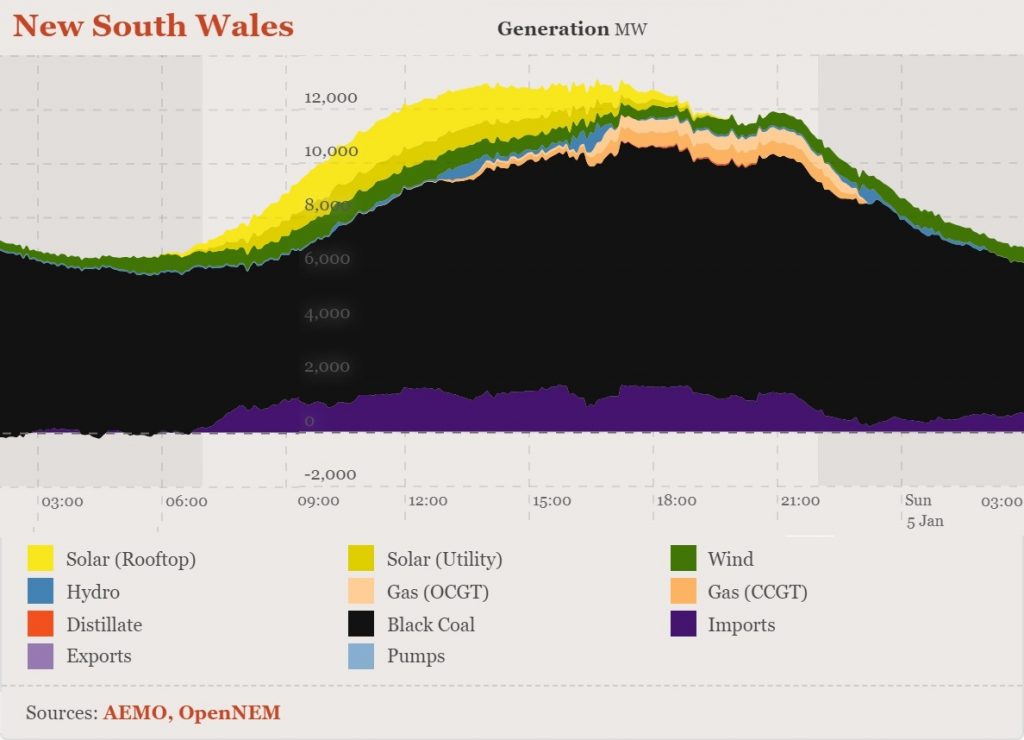 Fig 18: NSW generation by fuel and imports 4th January 2020
We see the dip in imports in the afternoon.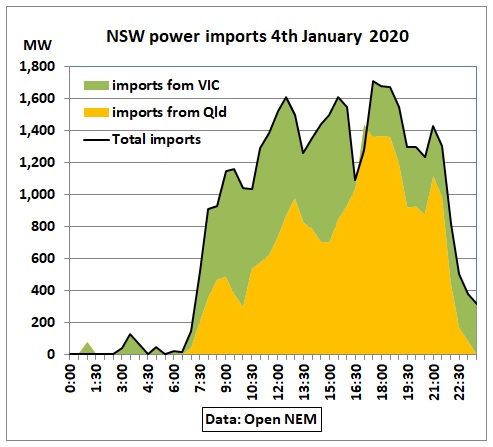 Fig 19: NSW's power imports from Queensland and Victoria
Tumut 3 Power Station Saved
5 Jan 2020
One of the major concerns with fires within the Snowy Mountains is for the Snowy Hydro stable of power stations.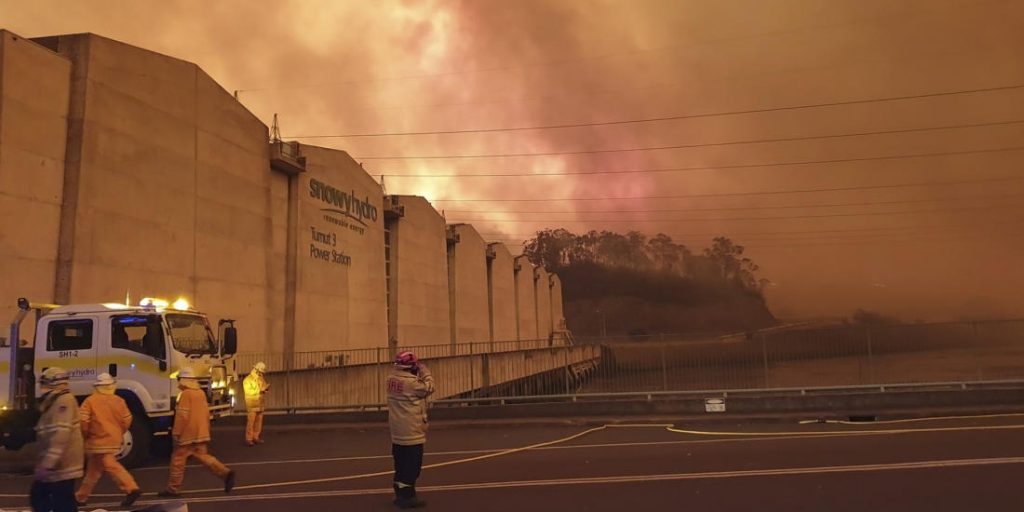 Fig 20: Tumut 3 hydro power plant with 6 turbines (3 pumps) Photo Fire and Rescue NSW Station 268 Corowa
This critical infrastructure has come under severe threat and the full extent of any damage may not be known for some time.
One story emerging yesterday came via the Fire and Rescue NSW Station 268 Corowa team who were seconded to assist around the Talbingo area and Tumut 3 Power Station.
"We saved the Snowy Hydro Tumut 3 then rushed into town (Talbingo) but got caught on a fire storm. We activated our crew protection and carried out our safety drills until it passed. We then continued into Talbingo and first saved the local servo and now we are putting out houses."
https://snowymagazine.com.au/2020/01/05/tumut-3-power-station-saved/
Snowy Hydro has lost more than half of the homes at its operational town of Cabramurra, high in the Snowy Mountains.
7 Jan 2020
After Cabramurra's destruction, the fires then raced through a remote part of the Kosciuszko National Park that is the site of Snowy Hydro's landmark 2.0 project.
Snowy Hydro CEO Paul Broad said he was anticipating significant loss of heavy machinery and communications equipment.
The weather station in Cabramurra recorded temperatures of 66.3 degrees Celsius when the blaze came through, with wind gusts up to 128 kilometres per hour.
https://www.abc.net.au/news/2020-01-07/fires-bushfires-snowy-hydro-cabramurra-damage-rebuild/11845590
Tomago Aluminium smelter back to full capacity after potline switch off
8 Jan 2020
TOMAGO Aluminium chief executive Matt Howell said the smelter is back to full capacity, after taking action on Saturday to maintain the stability of the electricity grid.
Mr Howell said the smelter is the country's largest electricity consumer and takes a constant 950MW, or 10 per cent of NSW supply. It is also the largest "interruptible" load and can take around 600MW off the state grid within minutes.
"Tomago Aluminium in cooperation with AGL Energy reduced load by cycling two potlines through a carefully controlled curtailment, thereby avoiding rolling blackouts elsewhere in the state," he said.
"This curtailment process is part of the energy supply contract that has been in place since November 2017 and runs through to 2028."He said it was the first time this year the smelter had to switch off potlines and didn't expect it to be the last.
https://www.newcastleherald.com.au/story/6572010/tomago-aluminium-smelter-back-to-full-capacity-after-potline-switch-off/
The tight supply problem continued:
NSW Energy Minister Matt Kean MP
23 Jan 2020
ALERT: weather conditions, fire damage to transmission & mechanical issues at some power stations led to tight conditions in the electricity system. Asking community to help reduce demand between 4-8pm by turning off pool pumps, unnecessary appliances & turning up aircon to 24*C
https://twitter.com/Matt_KeanMP/status/1220203912998748160
Conclusion:
Aluminium is strategic for an energy and transport transition. Load shedding in this vital industry should actually be a no-no. Power should have been turned off in those offices where wrong energy-related decisions were made for at least 20 years, going back to the era of Prime Minister Howard, a declared climate and energy agnostic, whose scholars still dominate current politics.
There are more serious planning implications on State and National level than turning off pool pumps and dishwashers. Any such savings are dwarfed by additional demand from 100s of new apartment and office towers on drawing boards for an 8 million Sydney, driven by an unsustainable immigration program designed to maintain GDP growth at all cost and promoted by the Greater Sydney Commission, which fails its duty of care to match population numbers with vulnerable and potentially dwindling power supplies. Some dramatic changes have to take place to stabilize the situation in Australia.
Related post:
14 Feb 2017
NSW's privatized giveaway coal plant causes load shedding in extreme weather
http://crudeoilpeak.info/nsws-privatized-giveaway-coal-plant-causes-load-shedding-in-extreme-weather