Those who expect a doubling of Iraqi oil production to 6 mb/d by 2020 should pray for enduring peace and social justice in this war-torn country. Iraq's overdue integration into OPEC's quota system will also present challenges in the context of geo-political rivalries between Saudi Arabia, Iraq and Iran.
25/7/2013
(Reuters) – Iraq's Sunni insurgents are targeting its main northern oil pipeline, undoing plans for a massive increase in exports as violence reaches levels unseen since the darkest days of civil war.
"It is government crude for Sunni blood," said Abu Ammar, a Sunni tribal leader in southern Nineveh province, where a stretch of the main Kirkuk oil pipeline has repeatedly come under insurgent attack.
"The Baghdad government should understand this message: stop spilling our blood and we'll stop attacking the oil pipeline," he told Reuters.
"The Shi'ite government is killing and persecuting Sunnis in all parts of Iraq. As revenge we have to make the government suffer, and the best way is to keep blowing up the oil pipeline."
According to oil shipping figures tracked by Reuters, Iraq's oil exports have fallen this month to just 2.27 million barrels a day, a fifth below the government's target of 2.9 million bpd this year.  
http://www.reuters.com/article/2013/07/25/us-iraq-oil-exports-insight-idUSBRE96O0XB20130725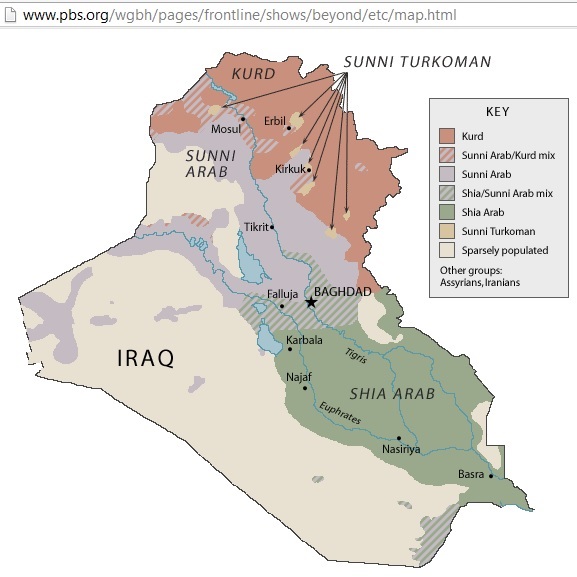 Apart from attacks on pipelines by PKK and Sunni insurgents, there are also problems in the South:
5/8/2013      Road trip Iraq. Workers looking for jobs at the gates of Basrah's South Oil Company
http://www.aljazeera.com/programmes/aljazeeraworld/2013/07/201372284959518284.html
Video: http://www.youtube.com/watch?v=ZhLyh2Ihde0
Jobs protesters break into Iraq's West Qurna-2 oil field
4/3/2013
"At least 400 angry protesters breached the main gate and broke into West Qurna oilfield," an official at West Qurna Phase 2 told Reuters. "Most of the foreign and local staff left the field as a safety measure and work was significantly affected."
http://www.reuters.com/article/2013/03/04/us-iraq-oil-protest-idUSBRE9230G520130304
Iraq's crude oil exports
So let's have a look at monthly data from Iraq's State Oil Marketing Company Somo: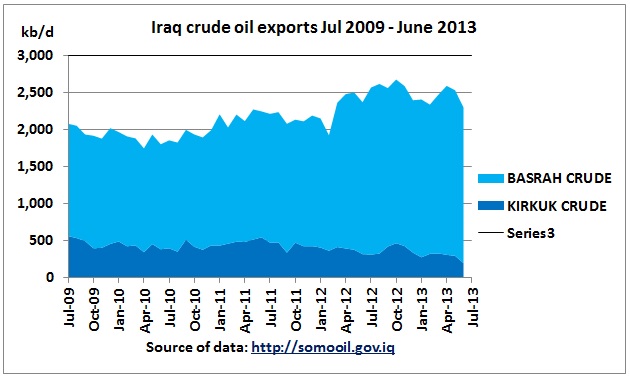 Kirkuk crude oil (exported to Turkey) is on a 3 year decline while exports from Basrah have been increasing. The total has been on a bumpy plateau of around 2.5 mb/d since April 2012.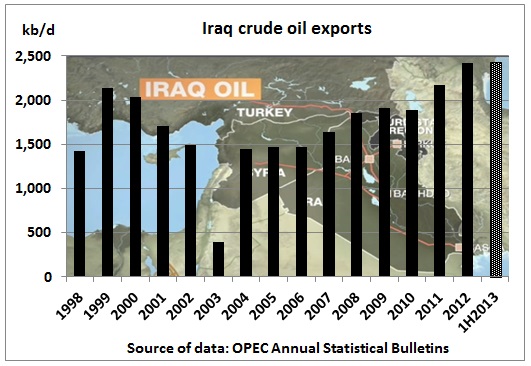 This graph with data from OPEC's Annual Statistical Bulletins shows the longer trend since the late 90s with a low in the year of the Iraq war in 2003.
IEA's scenarios for Iraq
In its WEO 2012 the IEA predicted Iraq to produce 4.2 mb/d in 2015 and 6.1 mb/d by 2020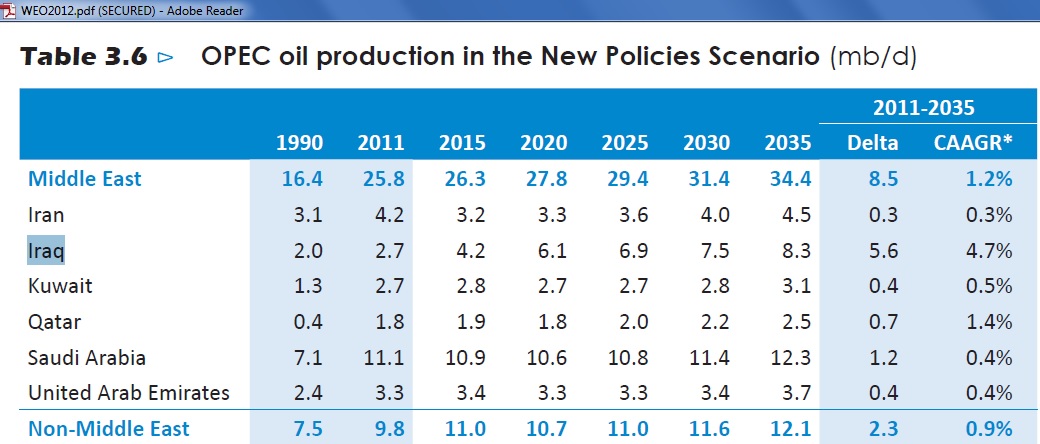 http://www.worldenergyoutlook.org/publications/weo-2012/
Let's put that table into a graph: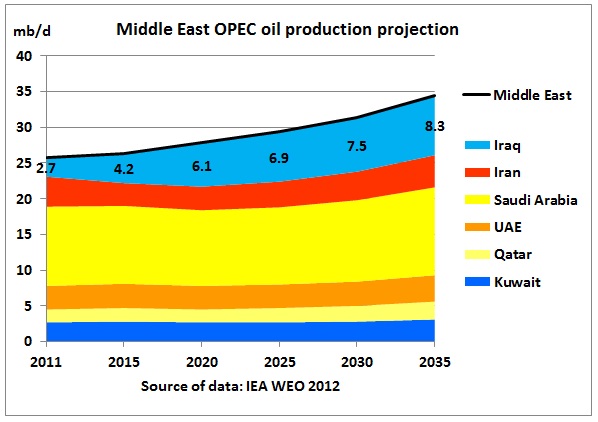 We see that 5 Middle East OPEC countries (without Iraq) are projected to decline up to around 2030. Therefore, the whole growth is supposed to come from Iraq.
IEA's WEO 2012 contains a special report on Iraq with more details and 3 widely varying scenarios for oil production and exports: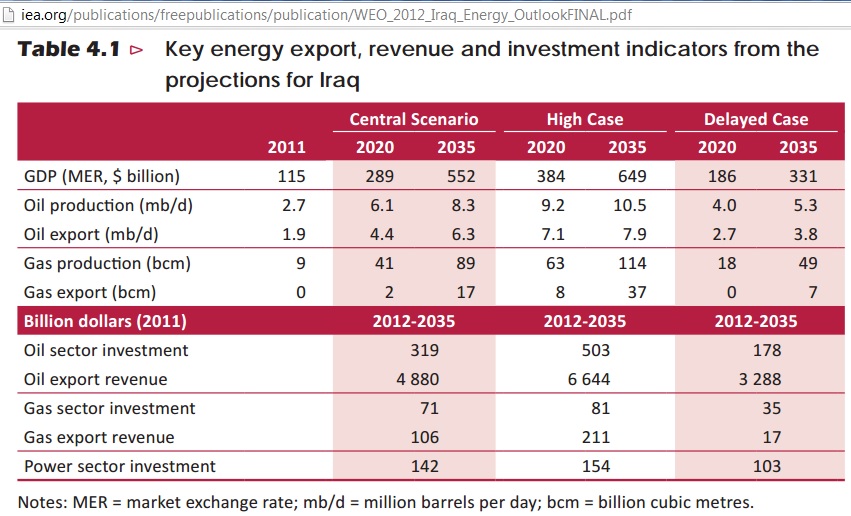 http://iea.org/publications/freepublications/publication/WEO_2012_Iraq_Energy_OutlookFINAL.pdf
The period of immediate interest is up to 2020: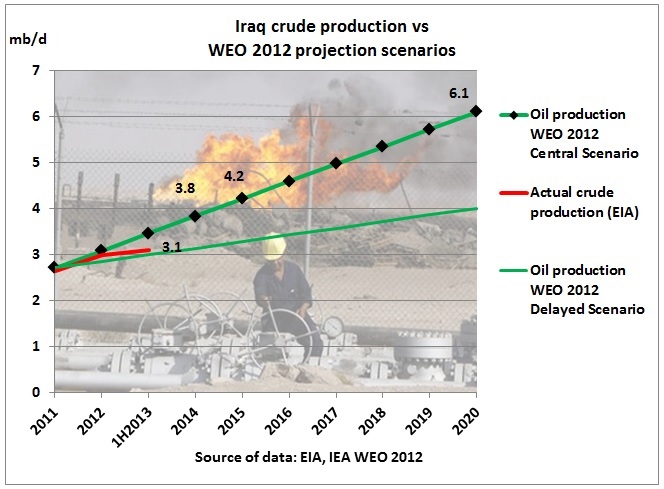 We see that at present actual crude production seems to head towards IEA's delayed scenario.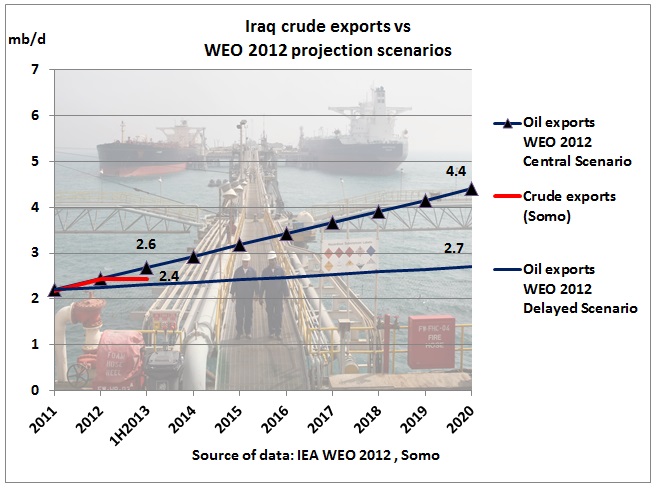 In the above graph, the WEO 2012 oil export figure for 2011 (Table 4.1 above) has been increased from 1.9 mb/d to the actual 2.2 mb/d as reported in IEA's monthly oil market report Jan 2012. Note that Iraq's export ratio is high because the population is "only" 33 million (compared to 75 million in Iran) although growing at 2.2% pa (+700,000 every year)
Iraq underproduced oil
An increase in Iraqi oil production can be expected on the basis of oil-geology alone. This is because Iraq under produced oil for 3 decades: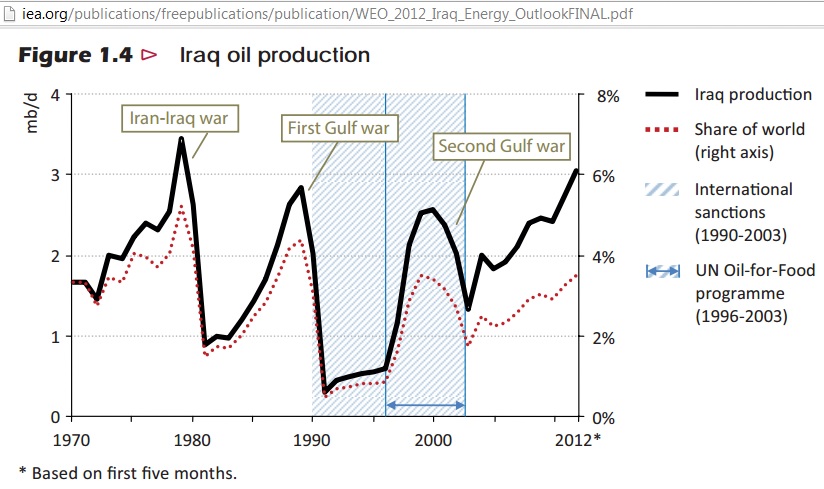 As a result of this chequered history, Iraq's depletion rate shortly after the 2003 Iraq war was a low 22%: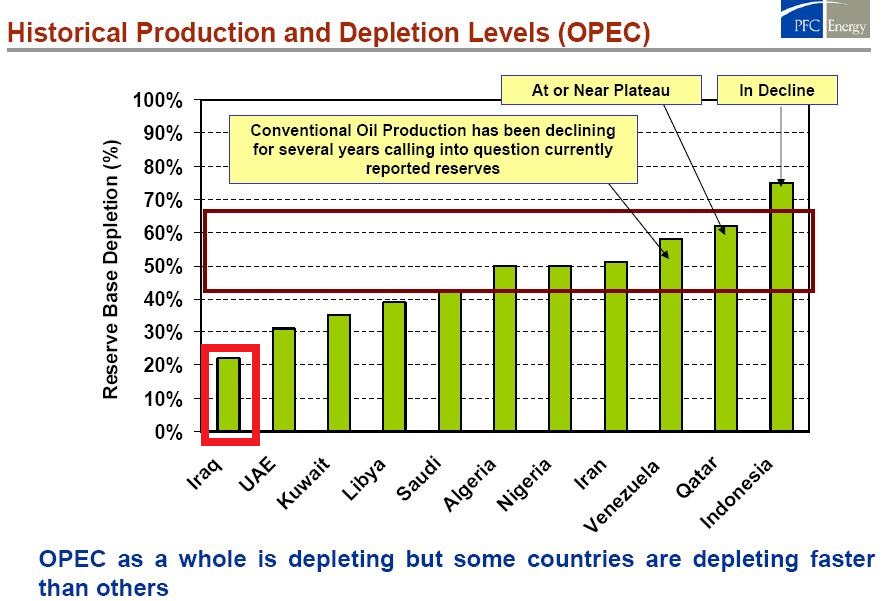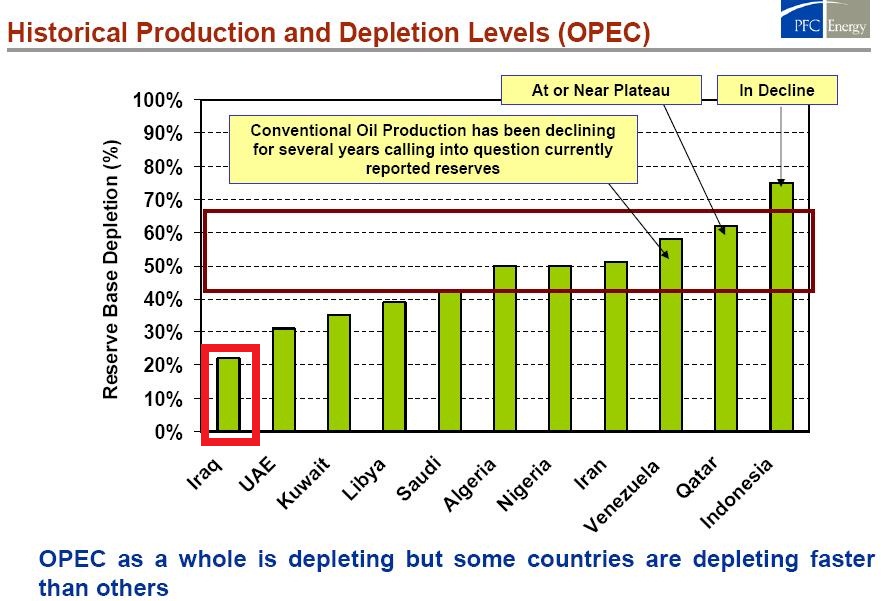 http://www.ecolo.org/documents/documents_in_english/oil-forecasts-04.pdf
This graph from PFC Energy presented to the Centre for Strategic and International Studies in 2004 (and updated with EIA crude oil data)  shows that Iraq has the lowest depletion level of all OPEC countries. According to item 430 of ASPO's newsletter #46 http://www.resilience.org/stories/2004-10-05/aspo-october-newsletter Iraq' cumulative production up to end 2003 was 28 Gb. Another 6 Gb have been produced until end 2010 so the total at the start of the IEA scenarios was 34 Gb.
Iraq's oil reserves
Jean Laherrere estimates Iraq's 2P technical remaining reserves to be around 100 Gb, much lower than OPEC's proved (1P) reserves of more than 140 Gb: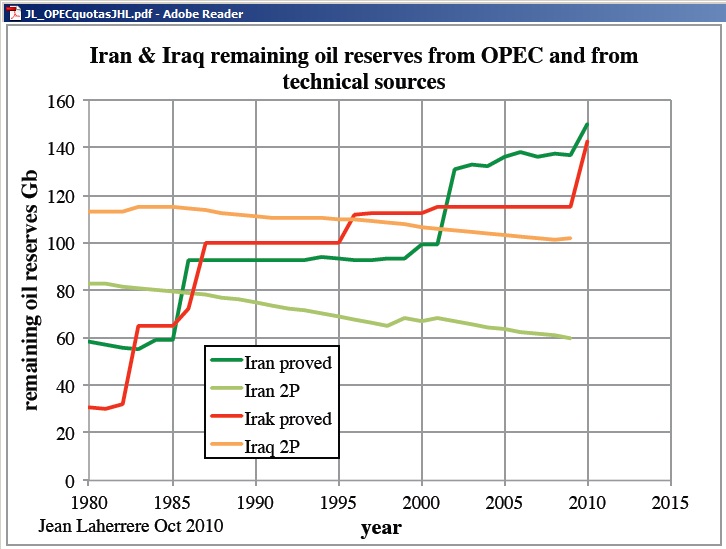 http://www.theoildrum.com/node/9389
Note that Iran's 2P technical reserves are 40% lower than Iraq's. That will create geo-political problems in future. The IEA's production scenarios for Iraq have been based on what Jean calls political reserves of 143 Gb: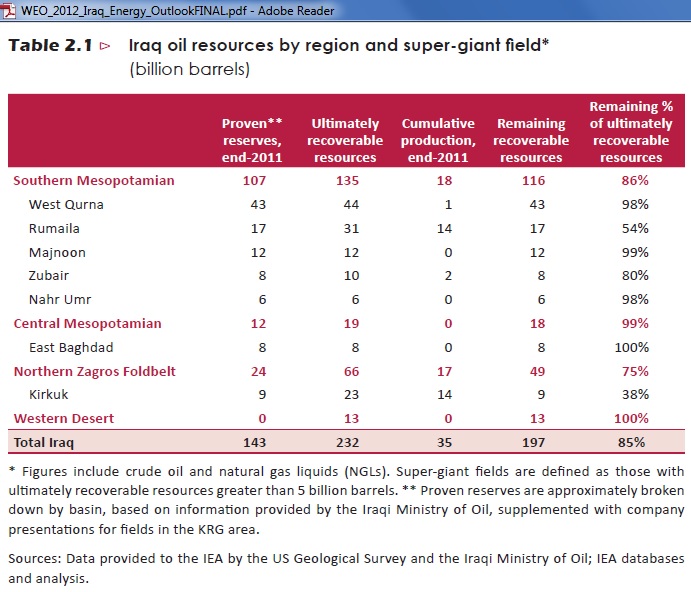 What stands out in this table:
Rumaila in the South is nearing the 50% depletion mark
Kirkuk in the North is beyond the half way mark at 62%
Both these fields have produced around 80% of the cumulative total so far
Production growth therefore solely depends on new fields like West Qurna and Majnoon
.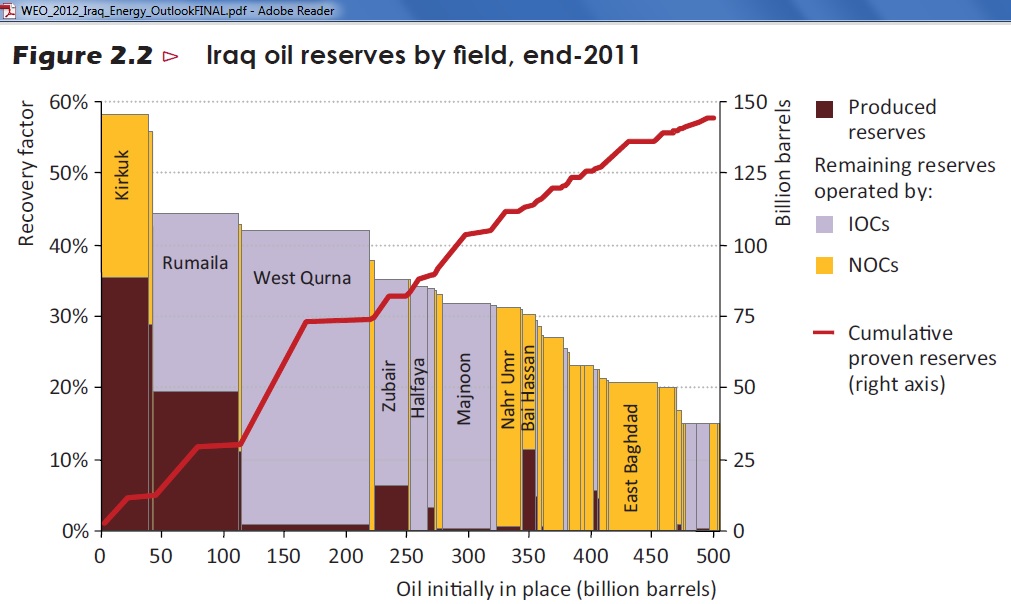 We see the challenge in Kirkuk to produce the rest of the oil up to a high recovery factor of almost 60% of the oil in place which will require advanced secondary and later tertiary recovery strategies.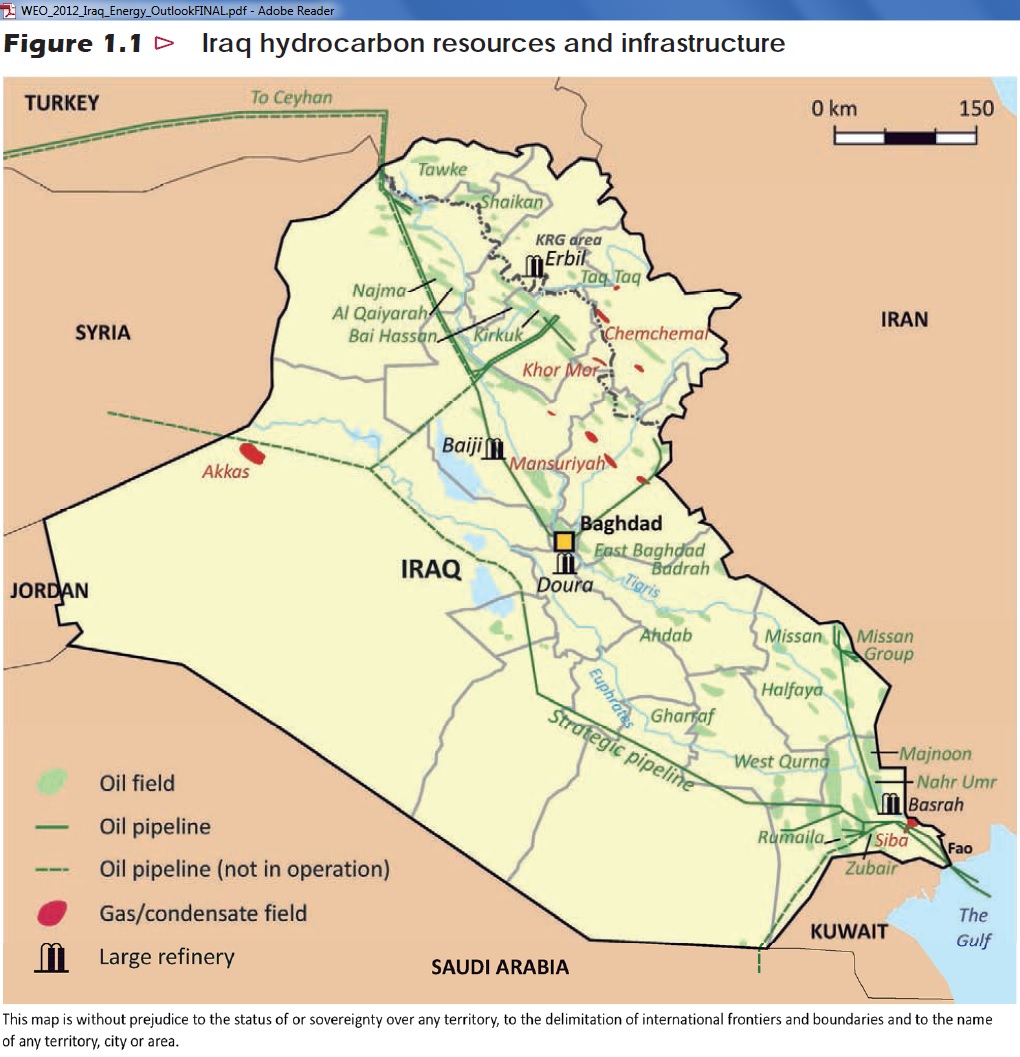 Oil production targets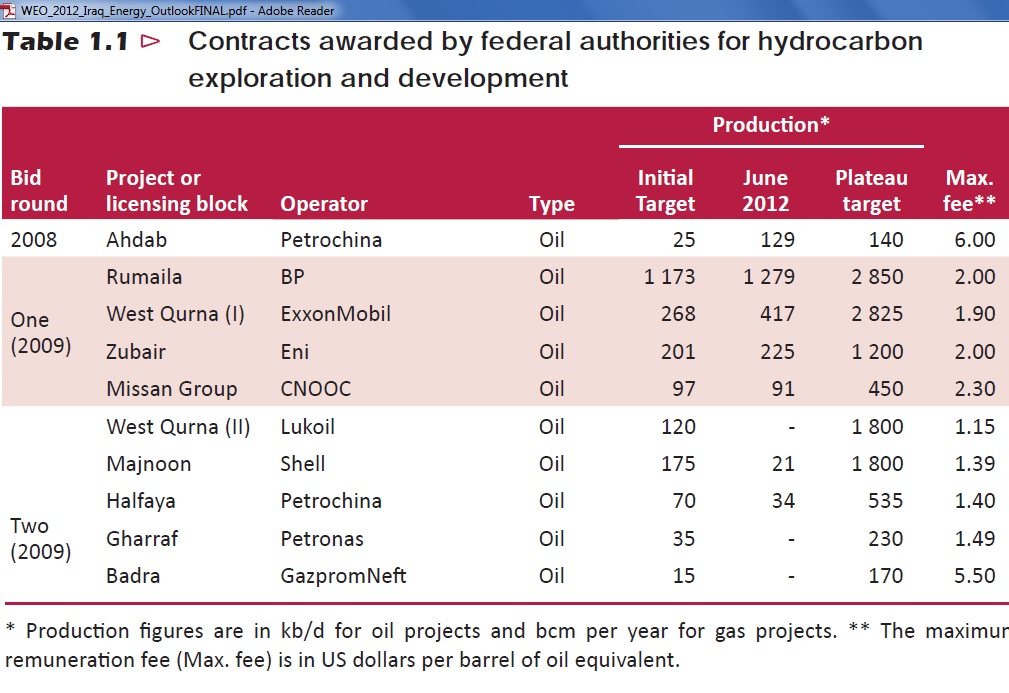 Total production given in this table from these new projects in June 2012: 2.2 mb/d (actual production of Basrah crude in Somo statisticss: 2.06 mb/d). Adding the plateau targets gives a whopping 12 mb/d. Note the unattractively low fees per barrel paid by the Iraqi government to the IOCs. The Kurdistan Regional Government (KRG) offered more attractive production sharing contracts and that created tensions with Baghdad.
No wonder that Exxon signalled its intention to sell its 60% share in West Qurna-1 but still continues to invest:
25/3/2013
(Reuters) – Exxon Mobil has allocated $1.65 billion to develop Iraq's West Qurna 1 oilfield in 2013, up from $1.6 billion last year, the head of the joint management committee for the field said.
An Iraqi oil ministry official said the budget indicated Exxon's commitment to developing the southern field in 2013, which it offered to sell out of last year after riling Baghdad by signing six deals with the autonomous Kurdistan region.
http://www.reuters.com/article/2013/03/25/iraq-exxon-idUSL5N0CH2AJ20130325
What this is all about can be seen in this graph in an article of the Oil & Gas Journal showing how oil revenue is split up between an oil company (here CNPC) and the government for the Ahdab oil field.
http://www.ogj.com/articles/print/volume-109/issue-31/drilling-production/iraq-s-ahdab-oil-field-development-limits.html
It has to be remembered that the government will of course have to invest much of the oil revenue to build-up all the necessary infrastructure (pipelines, power stations, storage tanks, refineries etc) to bring the additional oil to domestic refineries or to the crude oil export terminal.
Given the modest cash flows for companies there must be strategic, not commercial interests.
Who is winning the battle for Iraq's oil?
6/6/2013
"The Chinese are the biggest beneficiary of this post-Saddam oil boom in Iraq … They need energy, and they want to get into the market."
http://www.iraq-businessnews.com/tag/exxon/
Iraqi oil export destinations
And we can clearly see where the Iraqi oil goes: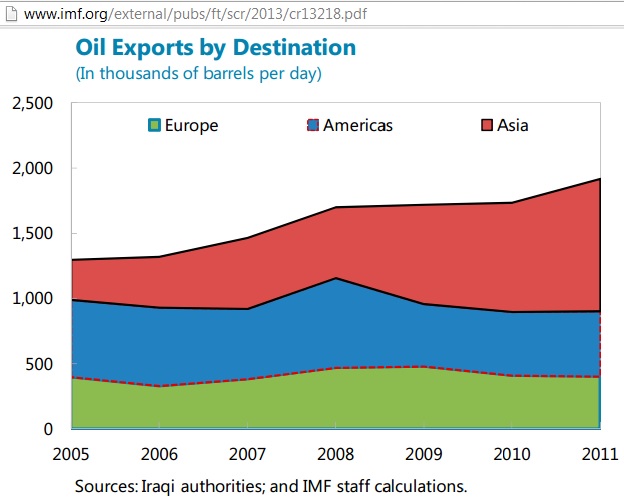 OPEC quotas
Extract from the 163rd OPEC meeting in May 2013:
In light of the foregoing, the Conference again decided that Member Countries should adhere to the existing production ceiling of 30.0 mb/d.  Once more, the Conference agreed that Member Countries would, if required, take steps to ensure market balance and reasonable price levels for producers and consumers, and Member Countries reiterated their readiness to rapidly respond to developments that might place oil market stability in jeopardy.
http://www.opec.org/opec_web/en/press_room/2553.htm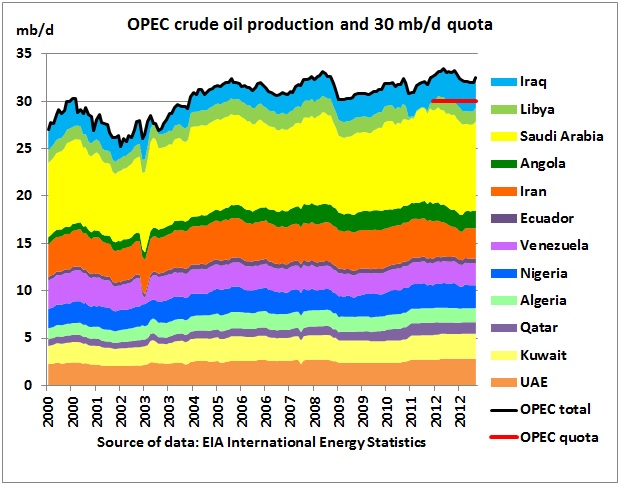 The graph shows that OPEC without Iraq never produced much more than 30 mb/d since 2005. Since Aug 2012, OPEC without Iraq produced slightly less than the latest 30 mb/d quota which is in place since the 160th (Dec 2011) meeting. If Iraq produced much more than now, it will have to be integrated into the quota system. But by how much?
Iraq at centre of internal OPEC  debates
30/5/2013
Iraq has been officially excluded from the Opec quota system since the first Gulf war in 1990-91. But as production rises to a 20-year high , Iraq has grown too big to be ignored. At over 3m b/d, Baghdad is already the second-largest producer in Opec, and it is also competing directly for market share with Saudi Arabia in the fast-growing Asian market – where Baghdad has been offering its Basra Light crude at a discount of around $1 to Saudi's Arab Medium in recent months.
http://www.ft.com/intl/cms/s/0/addaa2d8-c8f4-11e2-9d2a-00144feab7de.html#axzz2bHVe9eiV
But it seems the discount is a bit more than $1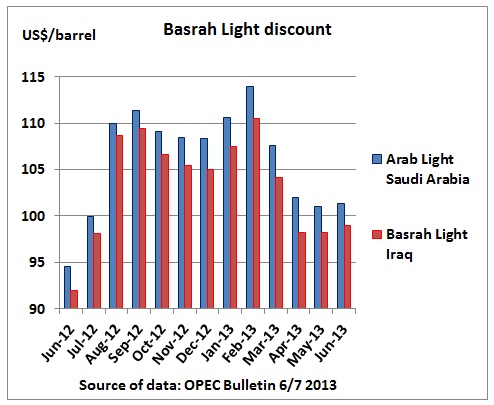 Data from: http://www.opec.org/opec_web/static_files_project/media/downloads/publications/OB06_072013.pdf
Iraq headed for 1st annual oil output drop
For Opec, however, "This is good news. It delays the challenge from higher Iraqi production for another year," said a Gulf delegate to the group, who requested anonymity. "And it's good for the oil market. Prices will stay above $100 and that's acceptable for everyone."
But slower growth from Iraq and ongoing outages from Iran and Libya will mean that big cuts from other members – mostly Saudi Arabia – are not needed.
http://www.tradearabia.com/news/OGN_240296.html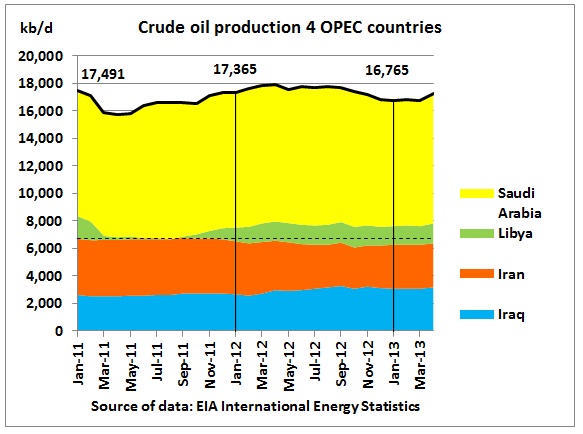 We see that so far Iraq's growth failed to compensate even for Iran's decline (by 300 Kb/d). Note also that Saudi Arabia could not offset Libya's production drop during the war.
And this story is very interesting:
OPEC Again Excludes Iraq from Oil Quotas
31/7/2013
The Iraqi Ministry of Oil affirmed that Baghdad's share in oil production will not be part of the OPEC specified quotas for 2014
Assem Jihad, the spokesman for the Iraqi Ministry of Oil added, "the Iraqi current crude production does not match the official reserve estimated at 115 billion barrels, since Iraq was banned for years after the Gulf War and the UN blockade on Iraq from exporting oil".  Jihad pointed out that the production rates have not improved post-2003; therefore, Iraq remained far from achieving its real production capacity, even if the development in the oil sector continued at a normal pace.
Talking about the production ceiling under normal circumstances, Jihad noted, "OPEC experts decide on it according to the reserve of each country, and even if Iraq was able to produce 4 million barrels a day by next year, as expected, its share will remain less than what OPEC would have specified if Iraq's oil industry developed normally"
http://www.al-monitor.com/pulse/originals/2013/07/iraq-oil-production-increase-opec-quotas.html
The reference to oil reserves being a factor in determining quotas reminds us of the so-called OPEC quota wars in the 1980s when OPEC member countries increased their reserve numbers without backing up their claims with new oil discoveries. Details are here:
http://crudeoilpeak.info/opec-paper-barrels
Fiscal break even oil price
Will more Iraqi oil mean lower oil prices? Not likely. The IMF has calculated a fiscal break even oil price for Iraq of $100 a barrel. Lower oil prices would mean "potential challenges" (IMF country report 13/218 dated July 2013, p 18) for the Iraqi government even if future oil production grows as projected by the IEA in its central scenario.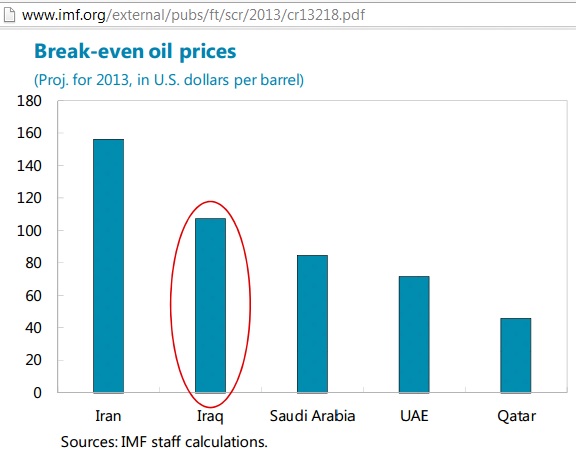 http://www.imf.org/external/pubs/ft/scr/2013/cr13218.pdf
And there are higher estimates of $100 – $150 of the Arab Petroleum Investments Corporation. More about that in the next post.
Conclusion:
Maintaining growth of Iraqi oil production and exports will be a tough job.  In addition to the problems mentioned in this article much will depend on the timely and coordinated provision of oil related infrastructure which has not been covered in this post. If oil revenue is not used to improve living standards of  people this project is likely to experience further delays.  Those who speculate on 6.1 mb/d by 2020 should pray not only for an enduring peace but also for social justice in Iraq.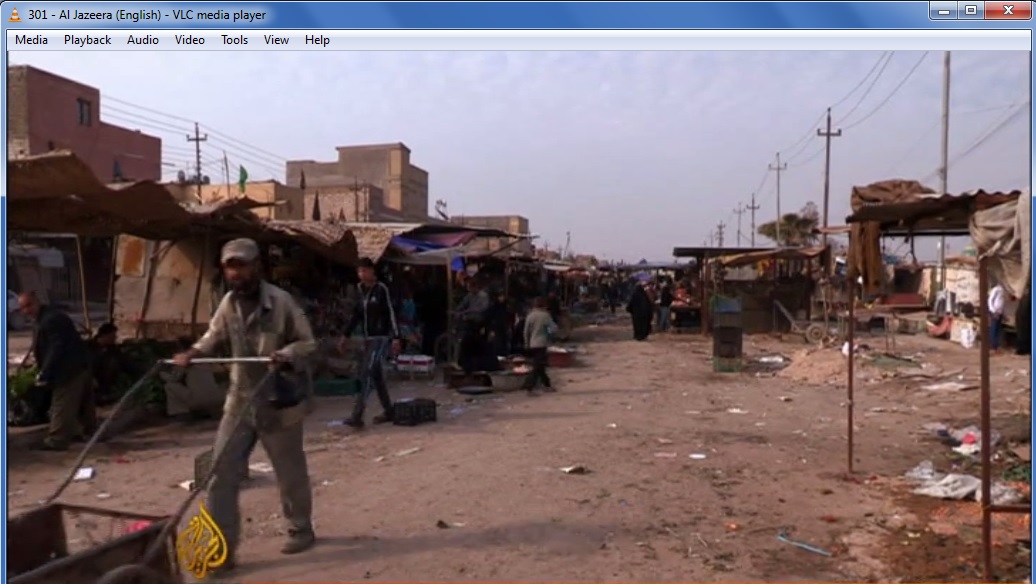 Street scene in undeveloped part of Basrah