According to media reports Libya's share of global oil production of 85 mb/d  is "only" 2%.  But that is not the important metric. What matters is the percentage of global crude oil exports. And that percentage is 1.22 / 41.2 mb/d = 3%.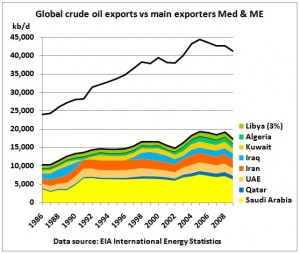 Even more importantly, Libya's share of main crude oil exporters in North Africa and the Middle East is 7% as shown in this graph: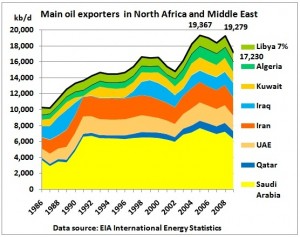 23/2/2011
Libyan oil output down by as much as a quarter
The figures given by oil companies and industry sources so far indicate that 300,000-400,000 bpd of Libyan output — up to a quarter of the total — has been stopped, according to Reuters calculations.
http://www.reuters.com/article/2011/02/23/libya-oil-idUSLDE71M16J20110223
And if this story from Robert Baer is true:
22/2/2011
Gaddafi's next move: sabotage oil and sow chaos?
"There's been virtually no reliable information coming out of Tripoli, but a source close to the Gaddafi regime I did manage to get hold of told me the already terrible situation in Libya will get much worse. Among other things, Gaddafi has ordered security services to start sabotaging oil facilities. They will start by blowing up several oil pipelines, cutting off flow to Mediterranean ports. The sabotage, according to the insider, is meant to serve as a message to Libya's rebellious tribes: It's either me or chaos."
http://www.time.com/time/world/article/0,8599,2052961,00.html
Saudi Arabia's spare capacity will soon be tested.