What started as an uprising against Gaddafi has turned into a quagmire including NATO intervention in which oil plays a dominant role. The outcome is uncertain and it is not clear whether there will be even a 'winner' in this conflict. What is certain is that Libyan oil production and exports won't come back to previous levels any time soon, thereby testing Saudi Arabia's capacity to replace Libyan oil for more than just a short period. We are also getting a foretaste of hwat is to come in the fight for the 2nd half of oil.
One of the root causes for this tragedy and loss of life is the West's addiction to oil which necessitated to court Gaddafi for Libya's oil in what is called the "Gaddafi rehabilitation". This lead to an unnecessary prolongation of his repressive system which caused the uprising. Symbols of oil addiction are of course autostradas, autoroutes, autobahns, motorways, interstates, tollways and road tunnels. And business as usual continues despite all the signs that oil supplies from the Middle East are threatened. In Sydney, for example, Infrastructure Partnerships Australia – as if living on a different planet – has just given the toll-way mafia a completely unjustified Excellence Award for the M2 widening, years ahead of its completion, not to mention any commercial success which is now more than in doubt.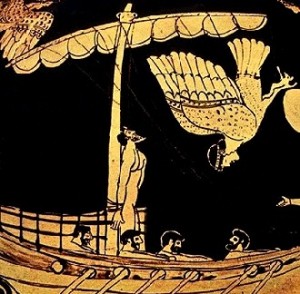 Will "Odyssey Dawn", as the US is naming their campaign after a Greek epos, be the start of a 10 year adventure in the fight for oil? Controlled by intriguing Gods and going astray on an uncertain voyage?
"It takes Odysseus 10 years to reach Ithaca after the 10 year Trojan War…..

The citizens of Ithaca have followed Odysseus on the road, planning to avenge the killing of the suitors, their sons. Their leader points out that Odysseus has now caused the deaths of two generations of the men of Ithaca: his sailors, not one of whom survived; and the suitors, whom he has now executed. The goddess Athena intervenes and persuades both sides to give up the vendetta"
This must have been the straw which broke the camel's neck:
Eni, Repsol risk expulsion from Libyan oil fields after Gaddafi's advance
18/3/2011

Muammar Qaddafi may expel western energy companies from Libya should he snuff out the month-old armed rebellion against his regime, draining money from the economy and hurting exporters such as Eni SpA (ENI) andRepsol YPF SA. (REP)

Qaddafi, 68, took control of Ras Lanuf and Brega oil facilities and moved near Benghazi, the center of the rebellion, as the United Nations Security Council voted to establish a no- fly zone over Libya.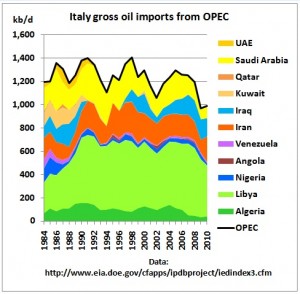 His threat to bring China into the energy business that Italy has enjoyed for five decades may reshape the economic map of the country holding Africa's biggest oil reserves.

Even without outright expropriation, a Qaddafi victory may lead to Western sanctions that would roll back almost 10 years of European and U.S. investment in Libya. The 2004 reprieve from two decades of trade restrictions allowed companies such as BP Plc (BP) and Royal Dutch Shell Plc (RDSA) to invest in Libyan fields, boosting output to about 1.6 million barrels a day, most of which was sold to Europe.
And these are excerpts from the UN resolution 1973 (2011) on protection of civilians, flight bans and freeze of assets (17/3/2011):
4.   Authorizes Member States that have notified the Secretary-General, acting nationally or through regional organizations or arrangements, and acting in cooperation with the Secretary-General, to take all necessary measures, notwithstanding paragraph 9 of resolution 1970 (2011), to protect civilians and civilian populated areas under threat of attack in the Libyan Arab Jamahiriya, including Benghazi, while excluding a foreign occupation force of any form on any part of Libyan territory, and requests the Member States concerned to inform the Secretary-General immediately of the measures they take pursuant to the authorization conferred by this paragraph which shall be immediately reported to the Security Council;

6. Decides to establish a ban on all flights in the airspace of the Libyan Arab Jamahiriya in order to help protect civilians;

19. Decides that the asset freeze imposed by paragraph 17, 19, 20 and 21 of resolution 1970 (2011) shall apply to all funds, other financial assets and economic resources which are on their territories, which are owned or controlled, directly or indirectly, by the Libyan authorities,….."