Only days after the ABC TV broadcasted an interview with IEA chief economist Fatih Birol who warned that peak oil happened in 2006 and that the world should have prepared for peak oil already 10 years ago, the freshly elected NSW government has appointed the former NSW Premier Nick Greiner (1988-1992) as chairman of Infrastructure NSW. He proudly wants to be known as "Father of Sydney's tollways".
This decision of Premier O'Farrell will guarantee that
(1)   Sydney's vulnerability to oil shocks is increased
(2)   The government will never ever prepare for declining oil production until physical fuel shortages arrive at filling stations
(3)   Millions of tax-payer funded planning dollars will be lost on preparing expensive documentation for oil dependent transport infrastructure
(4)   Super Annuation funds will waste billions of dollars for unnecessary toll-ways until more of the toll-way operators go into receivership and it is realized that the root cause was peak oil
(5)   The public is not being told that our car culture cannot continue forever, supported by a continuing stream of media reports about green cars, electric cars and yellow cars
(6)   All this will go on until the system crashes and those responsible for the resulting financial losses will be held to account
Sydney has now definitely passed the point of no return, the last moment in planning and implementation to put in place emergency projects to save the functionality of the city (long distance commuting) by replacing car traffic with public transport. A symbol of this critical juncture is this work on the M2: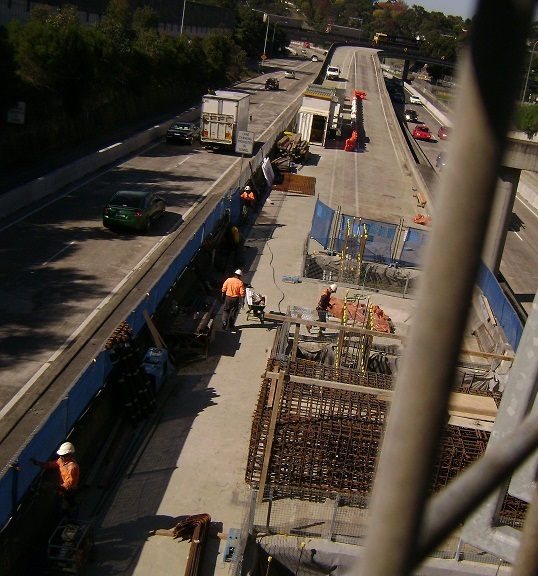 Foundation work for the Beecroft Rd bridge (7/5/2011) now permanently blocks  any future public transport solution which connects to the rail hub in Epping (to the right in the picture at the end of the bus ramp which will  be pulled down, a scandal of the 1st order). The new Liberal Government failed to re-negotiate the Transurban contract to use the 3rd lane for public transport.
8/5/2011 Professor Hensher [ITLS] wants a network of dedicated bus lanes, known as bus rapid transit (BRT). "I recently calculated that if we were not to build the north-west and south-west railways, we could purchase 28,500 new buses, increasing bus service capacity 7.5 times."
http://www.smh.com.au/nsw/the-transport-mess-to-be-unscrambled-20110507-1ed6z.html
In that case the ITLS should immediately contact the Premier and Transurban to recommend a stop work order for the above works.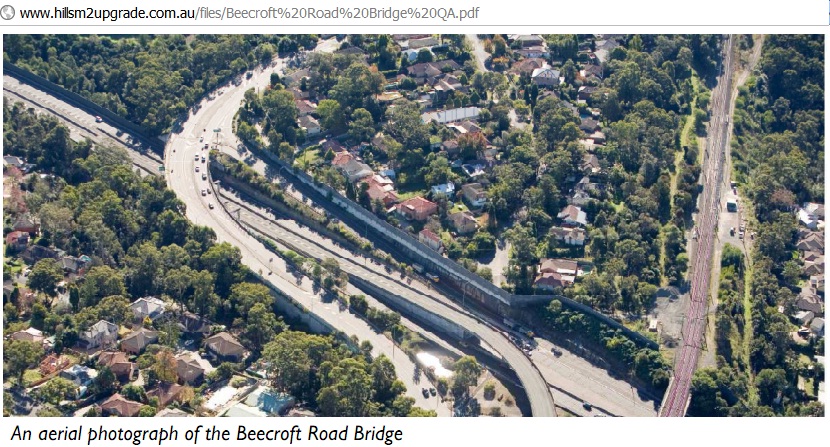 http://www.hillsm2upgrade.com.au/files/Beecroft%20Road%20Bridge%20QA.pdf
At a recent public information evening in Epping Heights Public School on the progress of construction work Leighton engineers and Transurban staff  had never heard of peak oil, not to mention they did not know we are already in year #7 of peak oil.
On the same day the above M2 picture was taken fuel tanks in Misurata, attacked by Gaddafi forces, went up in flames, part of the fight over oil.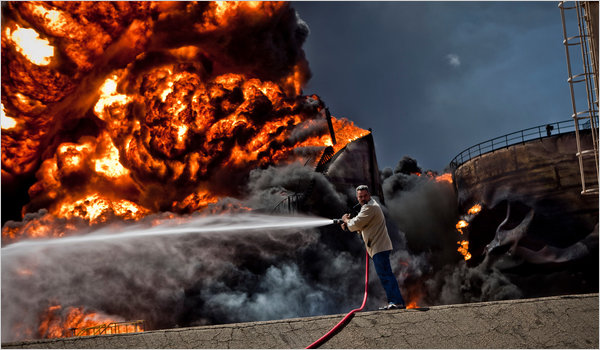 Fuel tanks burning in Misurata, Libya
http://www.nytimes.com/2011/05/08/world/middleeast/08libya.html?_r=1&hp
So these two pictures are symbols of two seemingly different worlds, connected by a fragile line of just-in-time oil tankers.
No one in government seems to have noticed that the war in Libya signals the beginning of the next phase of peak oil in which armed conflicts about the 2nd half of oil will dominate oil markets and limit oil supplies. These wars converge in complicated, not easily recognisable ways with the Arab uprising.
This website will deliberately contrast M2 widening work with peak oil related events in MENA countries to demonstrate that our decision makers are unable or unwilling to connect the dots.
Greiner himself was of course the initiator of the M2 in the late 80s. Although peak oil was not publicly known at the time the M2 created uncontrollable urban sprawl in the North West of Sydney in the last 15 years and a city structure wholly dependent on long distance commuting by car. This will have far-reaching consequences and costs for decades to come. In addition to these problems many environmental sins were committed including destruction of bushland for the M2 and a dramatic increase of air pollution and smog over the Sydney basin. All these impacts are perpetuated with the M2 widening. It seems only peak oil can stop this.
Let's put events into a table: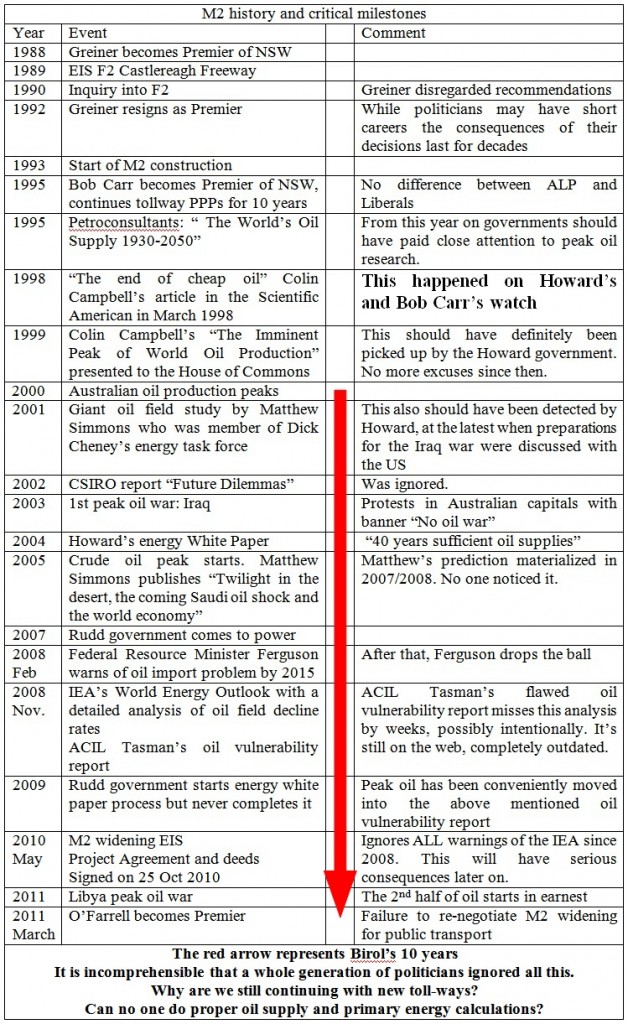 Specific IEA warnings ignored during planning process of M2 widening
It was the duty of care of governments to have checked these warnings, as late as June 2010.
WEO 2008 "Current trends in energy supply and consumption are patently unsustainable – environmentally, economically and socially – they can and must be altered" http://www.iea.org/weo/2008.asp
WEO 2009 "The time has come to make the hard choices needed to combat climate change and enhance global energy security"
http://www.iea.org/press/pressdetail.asp?PRESS_REL_ID=294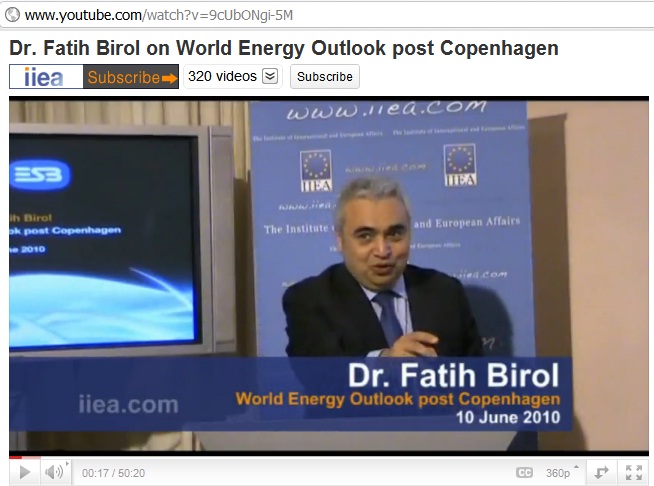 http://www.iiea.com/events/iea-2010–world-energy-outlook
WEO 2010 "We need to use energy more efficiently and we need to wean ourselves off fossil fuels  by adopting  technologies that leave a much smaller carbon footprint" http://www.iea.org/weo/docs/weo2010/press_release.pdf
List of failures of duty of care
Apparently the RTA bureaucracy and the new government
(1)   Do not realize that for the current car fleet using petrol and diesel the only determining factor during the life span of that fleet is oil supplies
(2)   Cannot or do not want to study oil statistics, including assessing the root causes of the 2008 oil shock and the underlying accumulated debt crisis
(3)   Do not watch TV and see that Arab unrest permanently impacts on oil supplies from MENA countries
(4)   Fail to understand that we have entered a period of armed conflicts about what ever oil remains in the Middle East
(5)   Do not care that Sydney's oil vulnerability is increased
(6)   Do not read IMF reports warning that steep rises of oil prices are ahead which are needed to bring rising world demand for oil down to stagnating or even declining oil supplies
(7)   Ignore advice from Saudi Arabia that their oil exports will decline over the coming decade
(8)   Cannot make primary energy calculations which would reveal that there is nothing which can replace oil in a carbon constrained future in quantities allowing business-as-usual
(9)   Live on the untested assumption that the car fleet can be transitioned to electric cars (or any other "green" cars) at the speed required to offset oil decline resulting from oil-geology and above ground factors
(10)   Allow their own love affair with the car to stop them from critically reviewing the above
(11)   Cannot develop bar charts which would relate oil decline to the lead times for oil-proofing Sydney (electric public transport)
Ultimately all decision makers will have to go through the painful process to correct their own failings. Circumstances will dictate whether this will be fast (quick deterioration of events in Middle East) or agonisingly slow.
The new world of Public Greiner Partnerships
We read:
2/5/2011  Greiner outlines vision for NSW
Mr Greiner declined to nominate the first projects Infrastructure NSW will back but said it's clear the government will have to get more private sector money, and go further into debt to fund projects like the M4 East and M5 duplication.
http://news.smh.com.au/breaking-news-national/greiner-outlines-vision-for-nsw-20110502-1e3ku.html
"In NSW, under the previous government, we went to a spectrum where the private sector took 100 per cent of the risk (for projects such as the Cross City Tunnel).
"The availability model is probably at the other end.  "I think there are various places in between, and it might vary from project to project."
http://au.news.yahoo.com/latest/a/-/latest/9291867/greiner-outlines-his-infrastructure-vision/
So this means that the taxpayer is supposed to provide the risk money for tollways.
Welcome to the new world of PGPs = Public Greiner Partnerships.
Conclusion: Even before Greiner's appointment car-pooling was pre-programmed. Much more so now. Sydney has to wait for physical oil shortages and/or very high pump prices which would prompt the public to demand a fundamental change in policy towards public transport.
Previous posts:
19/6/2010    M2 widening: Primary Energy Dilemma for cars
http://www.crudeoilpeak.com/?p=1631
4/4/2011     Sydney's RTA builds M2 exit lanes for $200 oil
http://www.crudeoilpeak.com/?p=2872
11/2/2011    Money in Transurban's cash box not enough to complete M2 widening
http://www.crudeoilpeak.com/?p=2578
.