This is part 2 of a series of posts on the willful destruction of a wonderful piece of bus infrastructure in Sydney, a bus ramp connecting 2 bus lanes on the median strip of a tollway with a major rail hub, Epping station, with express train services to Sydney Central Station, a newly built rail tunnel to the Chatswood commercial centre and other services on the main rail line to the North and the central Coast. This ramp will be pulled down to make way for a 3rd lane on the M2.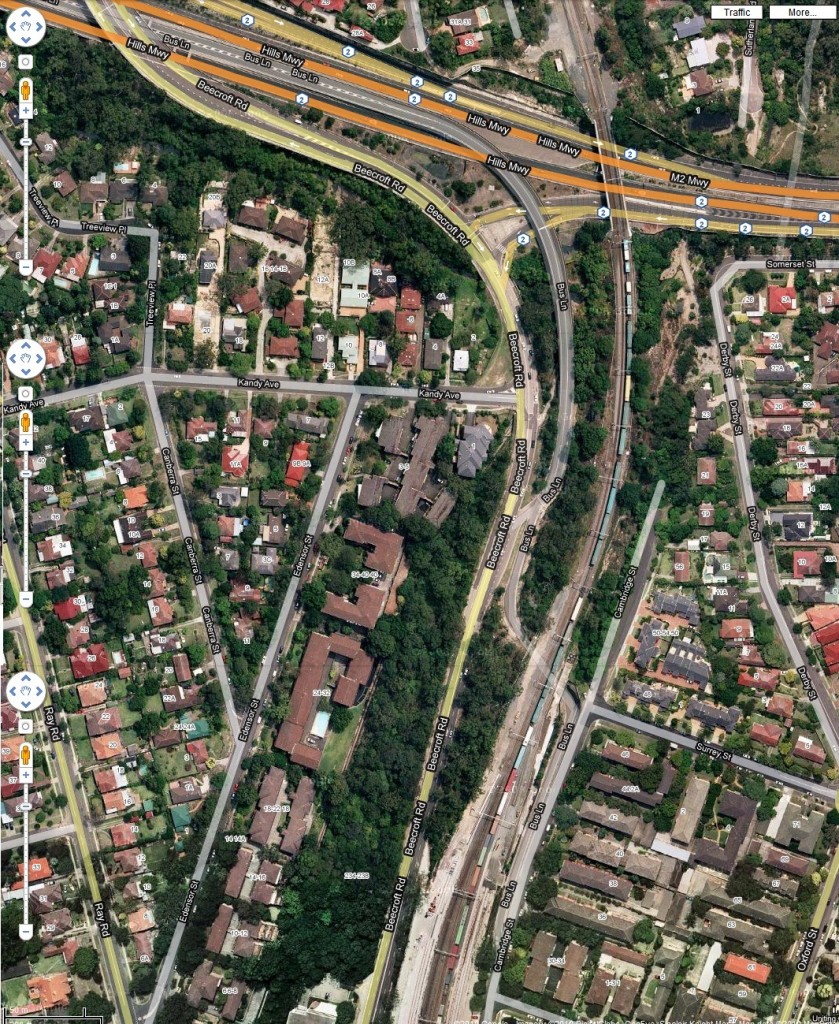 This is for the whole world to see – in particular town planning and transport planning departments – what is happening here in Sindney. If you want to write to the Minister who is responsible for this folly, his contact details are below.
Here are some pics on the bus traffic on that ramp, taken during the morning rush hr 7/12/2010
The RTA (Road Traffic Authority) claims there are only a few buses using the ramp, here is one, the 611: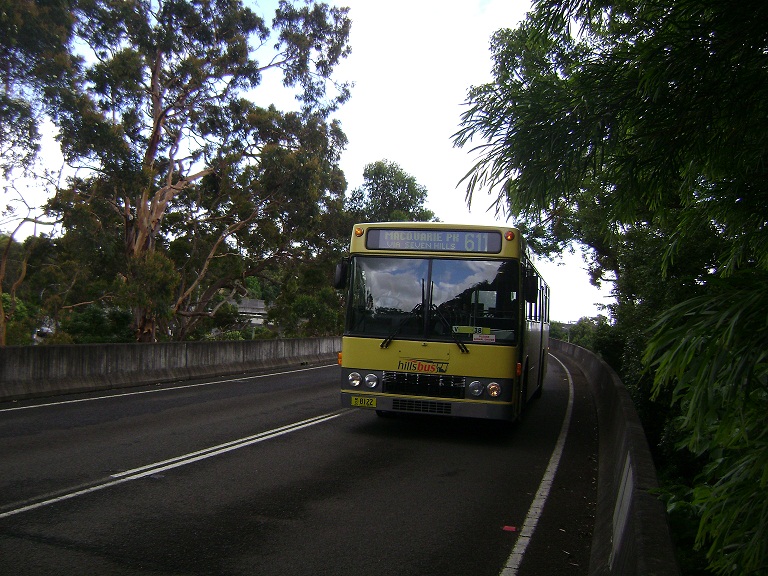 But what is forgotten is that the bus ramp becomes very busy with buses returning empty from the city, rushing back to the North West to start their next run back into the city. You can have 2, 3 buses coming in clusters through the tunnel under the rail way and speeding up the ramp:
If the bus ramp is demolished and buses are forced to go on clogged local streets, the turnover time of buses will substantially increase, thereby resulting in a reduction of bus services.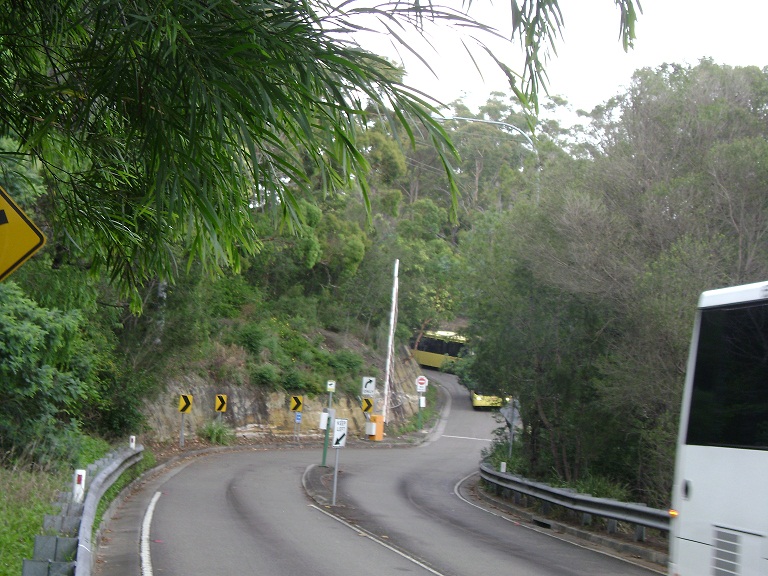 What is argued here is that when diesel shortages start, bus companies will no longer go to the city, but end their services at Epping station, cutting their trip in half and returning to the suburbs to pick up double the number of passengers. Then it will be bitterly regretted that the bus ramp has been pulled down.
Bus companies running bus services on the ramp should ask for compensation from the toll-way operator Transurban.
Transurban should also deposit a cash bond to the NSW government equivalent to the re-construction cost of the bus ramp. This is because there is a possibility that this tollway operator will not survive the next oil price shock and credit crunch which will not allow to roll-over A$ 4 bn of debt. More details are here:
22/11/2010
Yet more debt to finance Sydney's tollway expansion
http://www.crudeoilpeak.com/?p=2255
This is the ramp as seen from a train on the Northern line: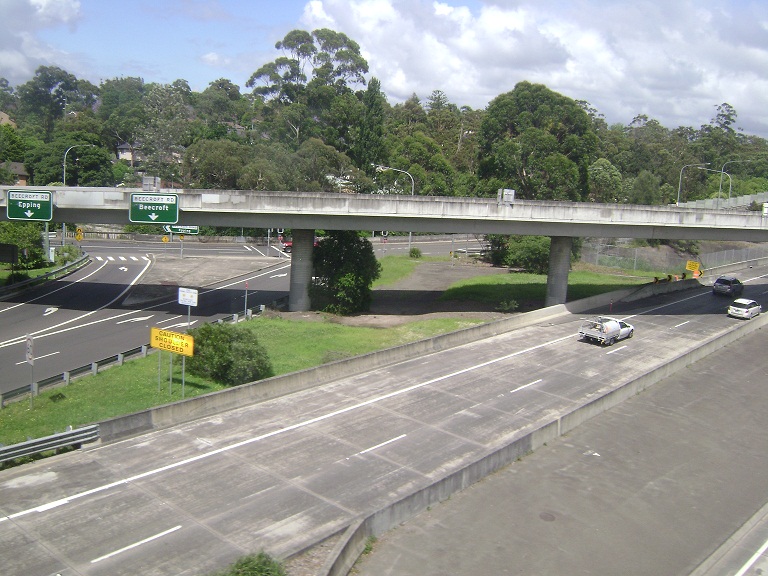 Related posts:
25/10/2010    Sydney's RTA about to pull down public transport infrastructure
http://www.crudeoilpeak.com/?p=1992
11/11/2010    Tollopoly on Sydney's orbital
http://www.crudeoilpeak.com/?p=2131
9/11/2010    M2 widening increases Sydney's oil vulnerability
http://www.crudeoilpeak.com/?p=2039
28/10/2010    Quick risk analysis for M2 widening (Part2)
http://www.crudeoilpeak.com/?p=2012
19/6/2010    M2 widening: Primary Energy Dilemma for cars
http://www.crudeoilpeak.com/?p=1631
Latest on peak oil:
17/11/2010    Diesel shortages in China
http://www.crudeoilpeak.com/?p=2149
10/11/2010    IEA World Energy Outlook 2010:  Global crude oil production will never grow again
http://www.crudeoilpeak.com/?p=2060
Send your complaints to:
NSW Minister of Roads
Governor Macquarie Tower
Level 37, 1  Farrer Place, SYDNEY NSW 2000
Fax 62 – 02 – 9228 3585
Hurry, while the bulldozers haven't arrived yet. X'mas and the holiday season will be used to do it quickly before the public realizes what is happening.