This article is part 3 of a series on peak oil in the South China Sea.
Bloomberg commented on 15/12/2016 that "Trump's Top Diplomat Would Bring Complex History With China From Exxon Days"
Exxon's work is focused on a field in undisputed territory about 80 kilometers (50 miles) offshore from central Vietnam, spokesman Aaron Stryk said in response to e-mailed questions. He declined to comment on reports China warned Exxon against exploring in disputed areas.
"Border issues are a matter for governments to address through appropriate channels," Stryk said. "We have a successful history of working with various governments and partners around the world to maximize the value of hydrocarbon resources."
https://www.bloomberg.com/politics/articles/2016-12-14/trump-s-top-diplomat-would-carry-chinese-baggage-from-exxon-days
So what's that complex history all about? Let's first look at the context, Vietnam's oil and gas production data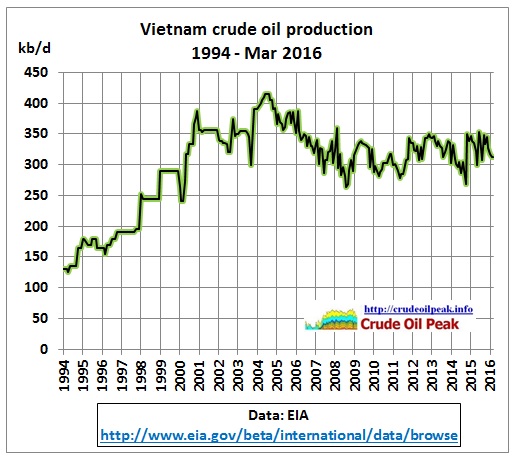 Fig 1: Vietnam's crude oil production peaked in 2004
For the last 10 years monthly crude production gyrated between 300 kb/d and 350 kb/d.

Fig 2: Post peak oil traffic in Vietnam (90 million population).
While gas production increased. Gas is mainly used for power generation and the chemical industry.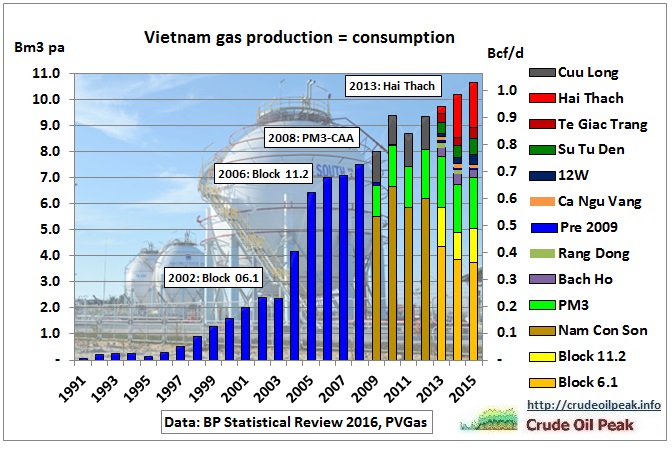 Fig 3: Vietnam's gas production/consumption
https://www.pvgas.com.vn/Content/Uploads/2ce0dd7e572c8935d1ad08119bd64845.pdf
We can see that this impressive growth has been achieved by adding more and more fields, especially in the Vietnam-Malay CAA basin (PM-3)  and the Cuu Long basin (Hai Thach). But the graph also shows the decline in the Nam Con Son basin (blocks 11.2 and 6.1) reflecting the endless battle against depletion.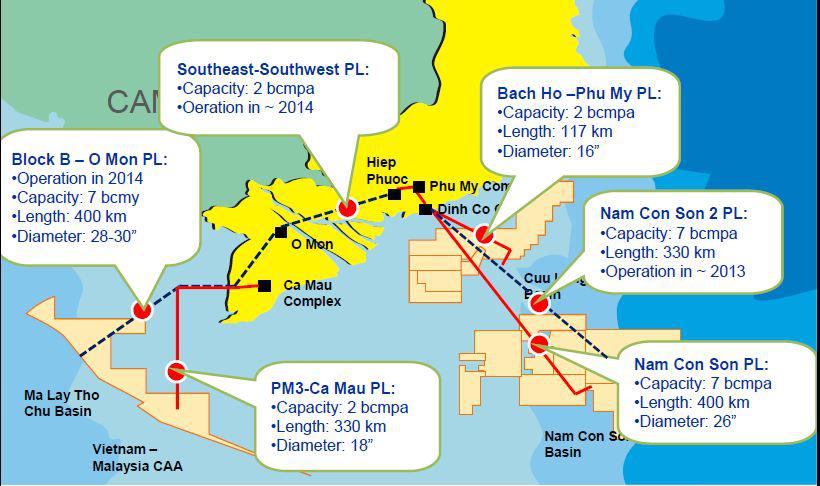 Fig 4: Basins and pipelines in offshore South Vietnam
http://offshoreengineering.com/images/Field_Development/Example-1-Vietnam/Nam-Con-Son-pipeline.jpg
In 2010, as gas production had reached yet another peak, the CEO of PetroVietnam, Dr P. Dinh Thuc, did a slide show for the World National Oil Companies Congress in London, showing gas demand going up to almost 25 bn m3 pa, but production peaking at 14 bn m3 pa in 2018. Reality so far was much less.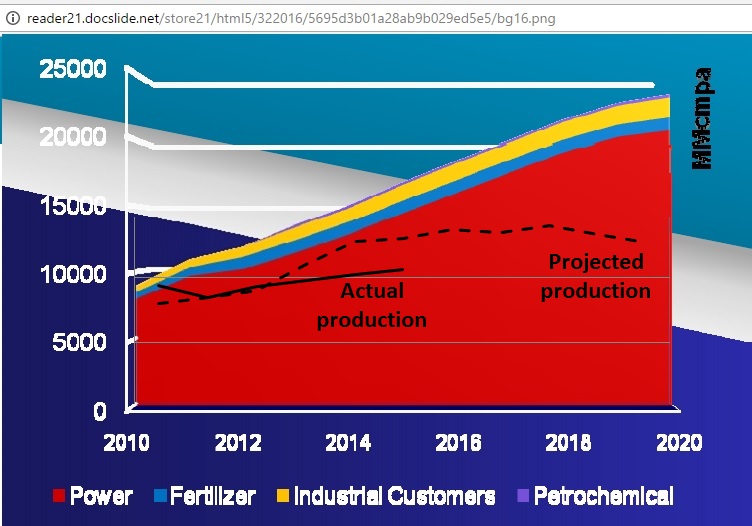 Fig 5:  Slide #22 with actual gas production added. Projection from slide #23
https://www.scribd.com/document/289998221/drphungdinhthuc-101122091831-phpapp01
Up to now gas consumption equalled production as there are no gas imports or exports. But Fig 5 suggested that
demand growth has to be reduced
there will be shortages
LNG may have to be imported
other types of power plants have to be built
A projection from Talisman Energy shows how the gas production profile might look like in the future (1 bcf/d is approximately 10 bn m3 pa):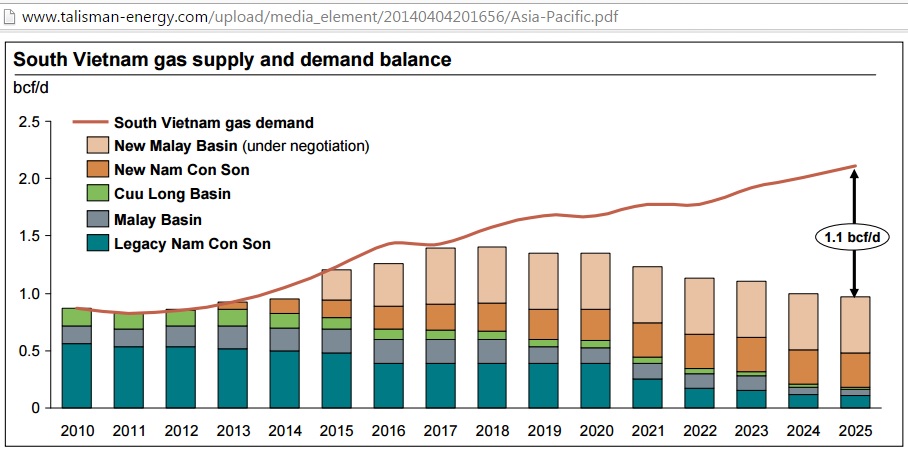 Fig 6: Talisman Energy's 2014 projection of demand and supply
http://www.talisman-energy.com/upload/media_element/20140404201656/Asia-Pacific.pdf
The Hong Kong based consultancy Lantau Group also sees a supply gap opening in the next decade: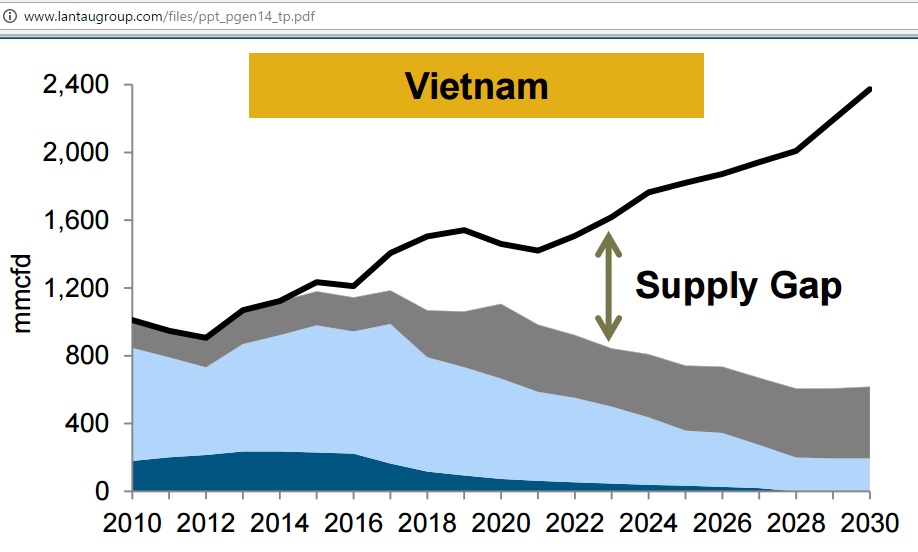 Fig 7: Vietnam's future gas production and consumption
http://www.lantaugroup.com/files/ppt_pgen14_tp.pdf
Whatever the supply/demand scenarios, they all require a massive effort to satisfy growing demand. So how about Exxon's blocks 117-119 (Ca Voi Xanh field) offshore Eastern Vietnam? Here is an extract from their 2015 Financial and Operating Review (p 21) of March 2016: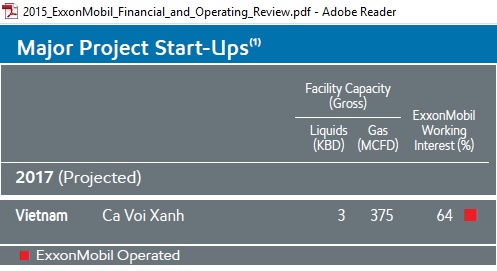 Fig 8: Exxon Mobil's 2017 start up in the Ca Voi Xanh (Blue Whale) field
http://cdn.exxonmobil.com/~/media/global/files/financial-review/2015_exxonmobil_financial_and_operating_review.pdf
3 kb/d of liquids is a minute amount and 375 Mcfd is just 0.04% of Vietnam's current demand. Apparently this is just some further testing.
The gas has a high content of CO2
PetroVietnam, ExxonMobil expect first gas from Ca Voi Xanh field in 2021
10/7/2015
The [PetroVietnam] chairman also asked ExxonMobil to use its advanced technologies to effectively produce the project's gas, which has a high CO2 content, and look for ways to lower expected production cost and gas prices.
http://www.platts.com/latest-news/natural-gas/hanoi/petrovietnam-exxonmobil-expect-first-gas-from-27599314
The Ca Voi Xanh field was first drilled in 2011
Little more information was released by Exxon Mobil at the time, but competitor Neon Energy had a slide for its annual general meeting in November 2011 as they were interested in drilling results of the same basin for their adjoining block 120.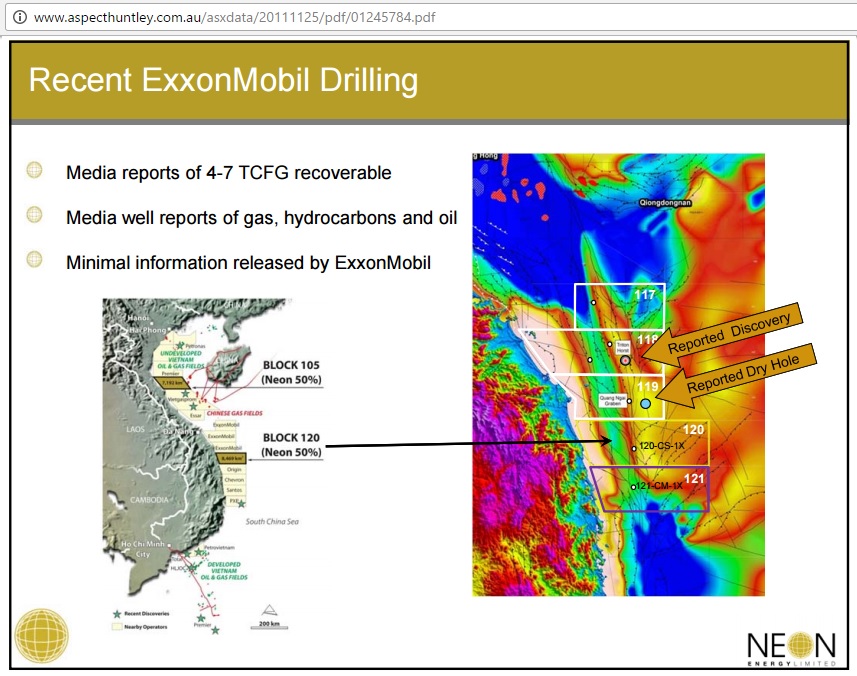 Fig 9: Neon Energy's slide on offshore blocks 117-121
http://www.aspecthuntley.com.au/asxdata/20111125/pdf/01245784.pdf
ExxonMobil Finds Additional Hydrocarbons Offshore Vietnam
27/7/2012
The well, 118-Ca Voi Xanh-3X well, was drilled by Seadrill West Aquarius (UDW semisub).
"We are analyzing data from the well and evaluating our future business plans," said the spokesperson.
ExxonMobil also encountered hydrocarbons in the 118-Ca Voi Xanh-2X well, the second well in the exploration program. Drilling took place from July through August of last year.
The first well in the exploration program, 118-Ca Voi Xanh, was drilled in May 2011 and did not encounter hydrocarbons.
http://www.rigzone.com/news/oil_gas/a/119664/ExxonMobil_Finds_Additional_Hydrocarbons_Offshore_Vietnam
4 years later, the recoverable gas had shrunk to 150 billion m3.
US energy giant to prospect Vietnam's largest gas field
2/12/2016
The Vietnamese government has just allowed US energy giant ExxonMobil to join in with the Vietnam National Oil and Gas Group (Petrovietnam) in Ca Voi Xanh, the largest gas field found so far in the East Sea.
It is estimated that Ca Voi Xanh holds reserves of 150 billion cubic metres of natural gas, which is three times bigger than the combined reserves of the country's two most productive gas fields, Lan Tay and Lan Do, in the southern Nam Con Son Basin.
PM Nguyen Xuan Phuc recently approved construction of four gas-fired power plants with total capacity of 3,000 MW which will use gas from Ca Voi Xanh.
According to their plan, PVN and ExxonMobil will produce the first gas from Ca Voi Xanh by 2021. It is hoped the field will produce about 10 billion cubic metres of natural gas a year.
https://www.vietnambreakingnews.com/2016/12/us-energy-giant-to-prospect-vietnams-largest-gas-field/
3,000 MW would require some 3.6 bn m3 of gas pa.
So where do these blocks lie in relation to China's claims? The Chinese government submitted a 9-dash line map to the UN in 2009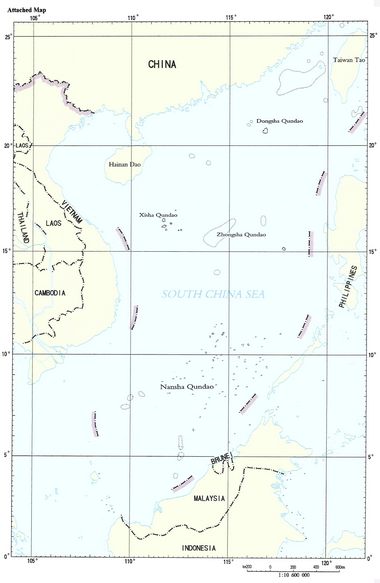 Fig 10: China's 9-dash line from Notes Verbales of 2009
http://www.un.org/depts/los/clcs_new/submissions_files/vnm37_09/chn_2009re_vnm.pdf
The US government has done some detailed work on dash 1 just East of Da Nang in a study titled:
LIMITS IN THE SEAS No. 143 CHINA MARITIME CLAIMS IN THE SOUTH CHINA SEA December 5, 2014
Office of Ocean and Polar Affairs Bureau of Oceans and International Environmental and Scientific Affairs U.S. Department of State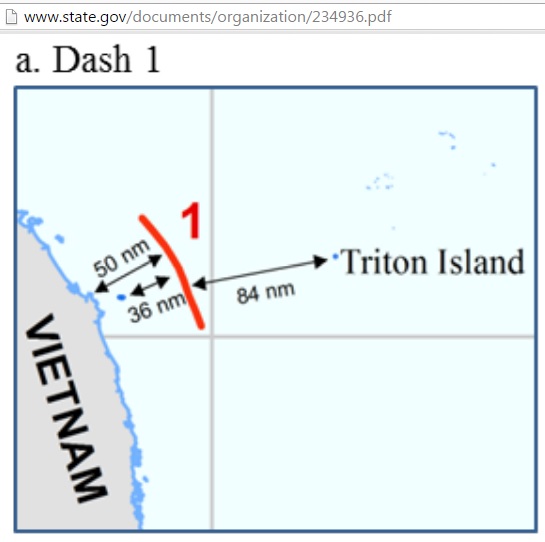 Fig 11: Dash 1 details of the US Department of State
Gridlines cross at 15 degrees North, 110 degrees East, 50 nm = 93 km
As shown on Map 4 to this study, the dashes are generally closer to the surrounding coasts of neighboring States than they are to the closest islands within the South China Sea. In other words, the distances between the dashes and the islands are generally farther than the aforementioned distances to the surrounding coasts. At their closest points, the dashes are 84 nm from the nearest island within the Paracel Islands (dash 1 to Triton Island)
http://www.state.gov/documents/organization/234936.pdf
http://www.state.gov/e/oes/ocns/opa/c16065.htm
The Vietnamese Navy has overlayed the dash line on a map of oil and gas blocks: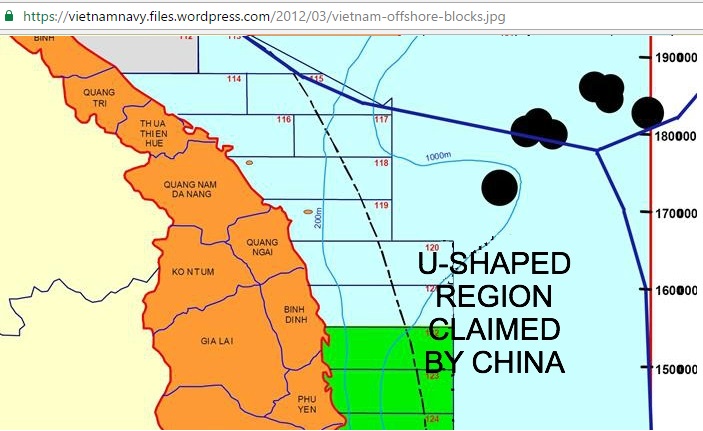 Fig 12: Extract from a Vietnam Navy map with Exxon blocks 117-119
https://vietnamnavy.files.wordpress.com/2012/03/vietnam-offshore-blocks.jpg
https://vietnamnavy.wordpress.com/south-china-sea/
The location of the discovery in block 118 (Fig 9) seems to suggest it is very close to the 9-dash line while it is entirely within a 200 nm EEZ (exclusive economic zone, dark blue solid line). Let's hope this problem can be resolved peacefully.
We conclude by looking again at what Vietnam's offshore gas is used for.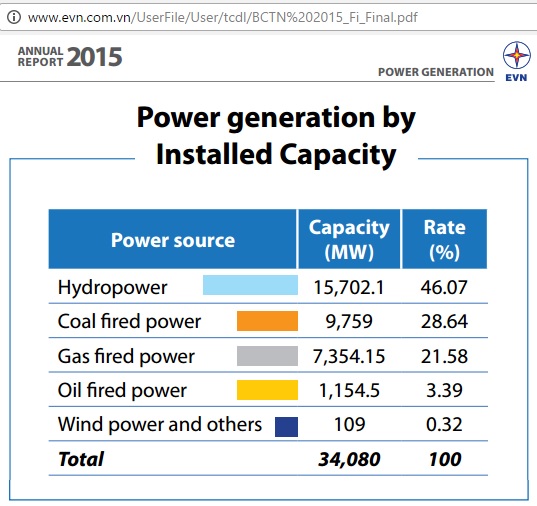 Fig 13: Vietnam's gas fired power plants make up 22% of installed capacity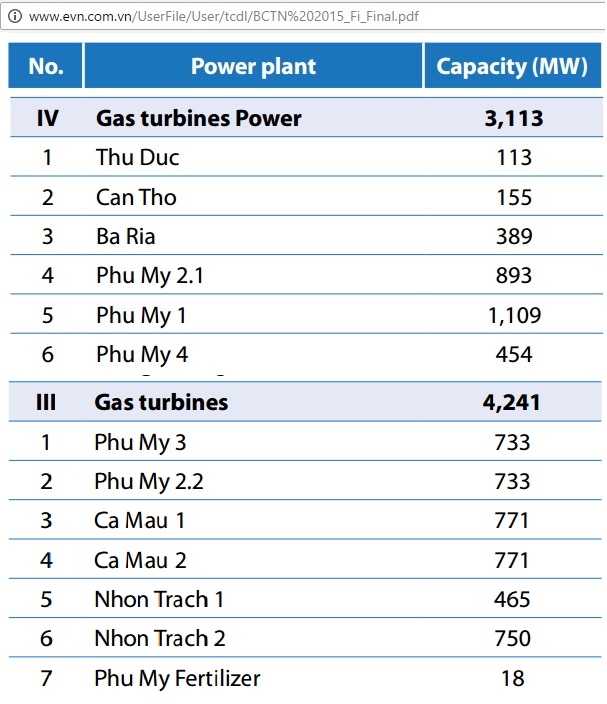 Fig 14:  A list of Vietnam's gas fired power plants
http://www.evn.com.vn/UserFile/User/tcdl/BCTN%202015_Fi_Final.pdf
Power shortages loom for south VN
22/11/2016
The southern region must speed up delayed power projects to ensure sufficient energy supply and use cutting-edge technologies to reduce energy waste, experts have said.
Recently, the government has given the go-ahead for more thermal plants in the Mekong Delta and gas-generated power plants in the central provinces of Quang Nam and Quang Ngãi.
Vietnam's electricity demand is expected to grow 13 percent annually in the next four years due to its fast-expanding economy.
https://www.vietnambreakingnews.com/2016/11/power-shortages-loom-for-south-vn/
Latest news in December 2016
Multi-billion dollar power complex steps closer to becoming reality
3/12/2016
The US' ExxonMobil Corporation is eager to exploit Ca Voi Xanh (Blue Whale) gas field stretching across the central provinces of Quang Nam and Quang Ngai to serve the power and petrochemical industries.
 At the recent meeting with Paul Greenwood, vice president for Americas, Africa and Asia Pacific Business Development at ExxonMobil Gas &, who is visiting Vietnam to study the feasibility of the Blue Whale gas field project, Deputy Prime Minister Trinh Dinh Dung highlighted the importance of the project for meeting increasing gas demands in Vietnam.
Dung also urged ExxonMobil to work with Vietnamese state-run oil and gas group PetroVietnam and the Ministry of Industry and Trade to finalise the project.
The exact amount of investment capital has not been released, but initial information suggested that the gas-to-power complex could cost as much as $20 billion, while PetroVietnam referred to a figure closer to $10 billion. However, according to the latest news, the project's investment capital is $4.6 billion.
ExxonMobil expects to exploit 8-9 billion cubic metres of gas per year, 1-3 billion cubic metres of which will go to Dung Quat Refinery for processing.
https://www.vietnambreakingnews.com/2016/12/multi-billion-dollar-power-complex-steps-closer-to-becoming-reality/
So the numbers still keep changing.
Conclusion
Given all the geopolitical problems, technical challenges and also financing limitations will there be first Exxon gas in 2021? Will it stop peak gas? Will power shortages continue? Good luck Vietnam.
Further reading:
For completeness, here are the links to the recent Hague Tribunal's decision on a dispute between China and the Philippines:
12 JULY 2016
PCA Press Release: The South China Sea Arbitration (The Republic of the Philippines v. The People's Republic of China)
https://pca-cpa.org/en/news/pca-press-release-the-south-china-sea-arbitration-the-republic-of-the-philippines-v-the-peoples-republic-of-china/
https://pca-cpa.org/wp-content/uploads/sites/175/2016/07/PH-CN-20160712-Award.pdf
Previous posts
24/12/2016
Peak oil in the South China Sea (part 2)
http://crudeoilpeak.info/peak-oil-in-the-south-china-sea-part-2
29/2/2016
Peak oil in the South China Sea (part 1)
http://crudeoilpeak.info/peak-oil-in-the-south-china-sea-part-1