At this event at the Australian Institute for Asian Affairs
31/10/2017
Australia in Today's World – some observations from former PM John Howard
https://www.internationalaffairs.org.au/news-item/australia-todays-world/
John Howard was happy to report that Chinese GDP growth is 6% and that a great future lies ahead for Australia.
In Q&A I asked him:
"Are you aware that Chinese oil production peaked in 2015? Therefore China is now where the US was in 1970 when US production peaked. That was followed by the Nixon shock in which the US cancelled the convertibility of the US$ to gold. In 2016, China's oil demand growth was around half a million barrels per day. Multiply this by 10 years and where will 5 mb/d come from?"
Here are a couple of graphs which highlight the situation: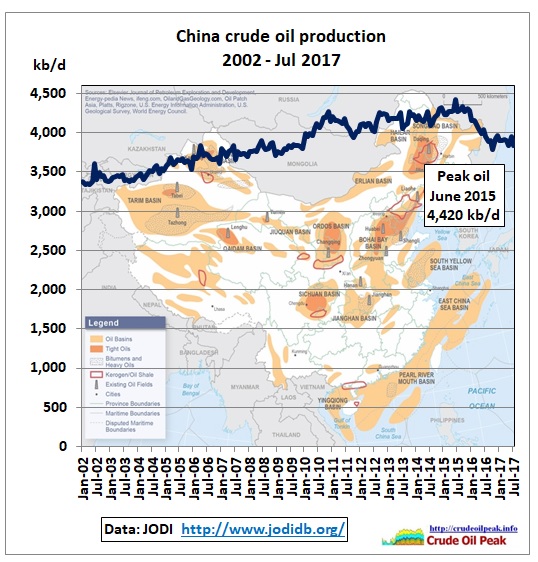 Fig 1: China's oil production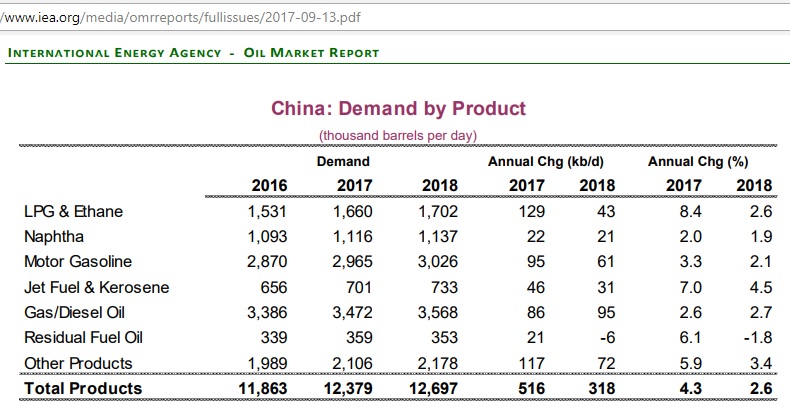 Fig 2: China's oil demand by fuel
Note that only 24% of fuels (and 18% of growth) is petrol which means electric cars won't help much.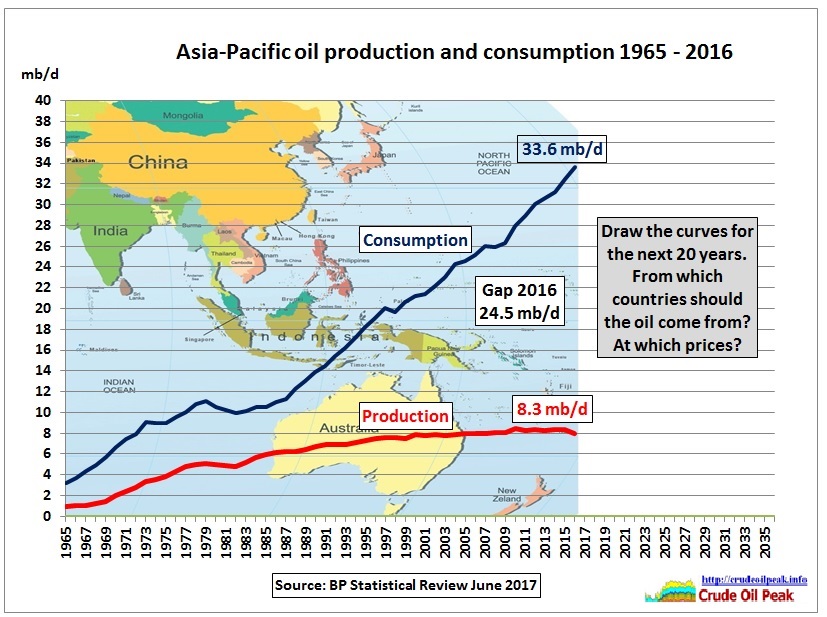 Fig 3: Asia Pacific oil production vs consumption
The above is my favorite graph to show that there cannot be perpetual growth in the "Asian Century"
Howard's answer:
"I was never asked this question….from US shale oil I guess"
Let's have a look at the US crude oil projections from the Energy Information Administration done in January 2017: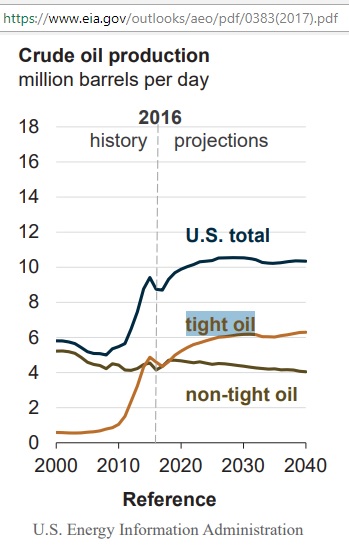 Fig 4: US crude production projection (reference case)
https://www.eia.gov/outlooks/aeo/pdf/0383(2017).pdf
Eyeballing the graph tight oil production growth is around 2 mb/d by 2030 and flat thereafter. Given the decline elsewhere, total US crude production may grow by 1.5 mb/d by the mid 2020s. A more recent projection (Short Term Energy Outlook Oct 2017) sees US production of 10 mb/d already in 2018. Even that is definitely not enough to drive China's oil consumption growth.
Let's look at the 3 main shale oil producing regions with data from here:
https://www.eia.gov/petroleum/drilling/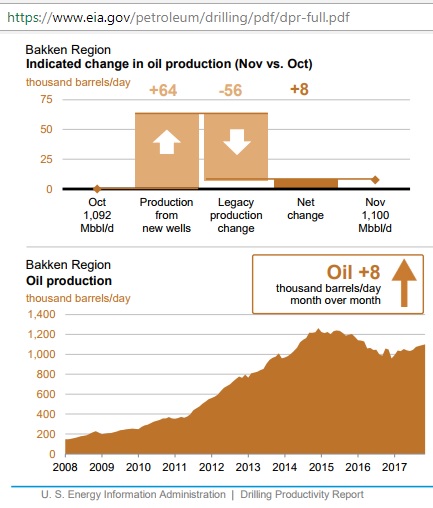 Fig 5: Bakken oil production
We see that new production (64 kb/d) is struggling to offset rampant decline (-56 Kb/d).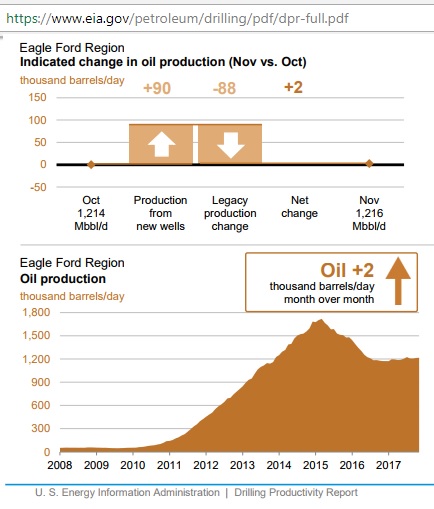 Fig 6: Eagle Ford oil production
This has already become a Sisyphus job.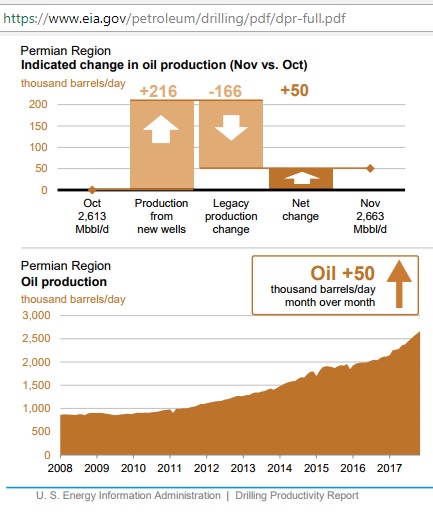 Fig 7: Permian oil production
The Permian is still growing because that's where the focus is at present. Note that here, too, 77% of drilling effort is lost in compensating for decline in wells drilled just a couple of years ago.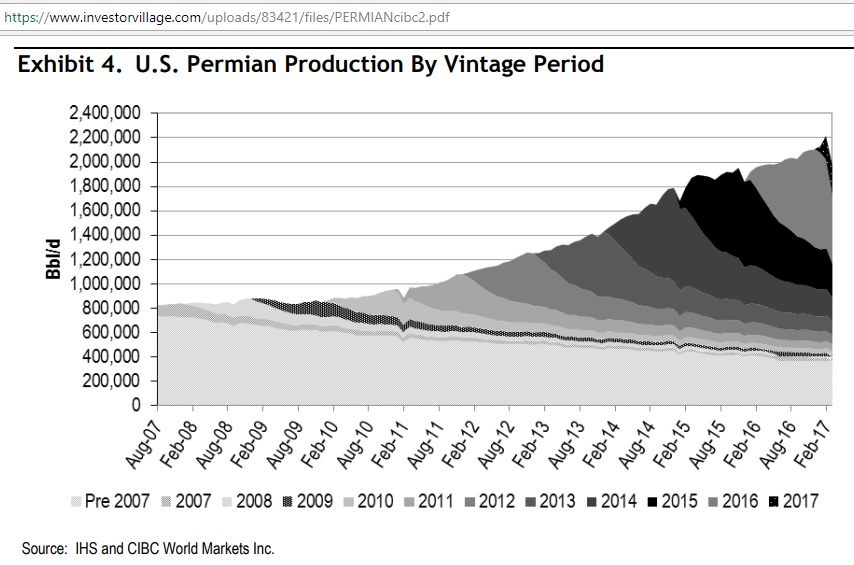 Fig 8: Permian production profile
This graph shows the fundamental difference between decline rates in conventional oil and shale oil (after 2010).
What's worse, the shale oil business is not profitable: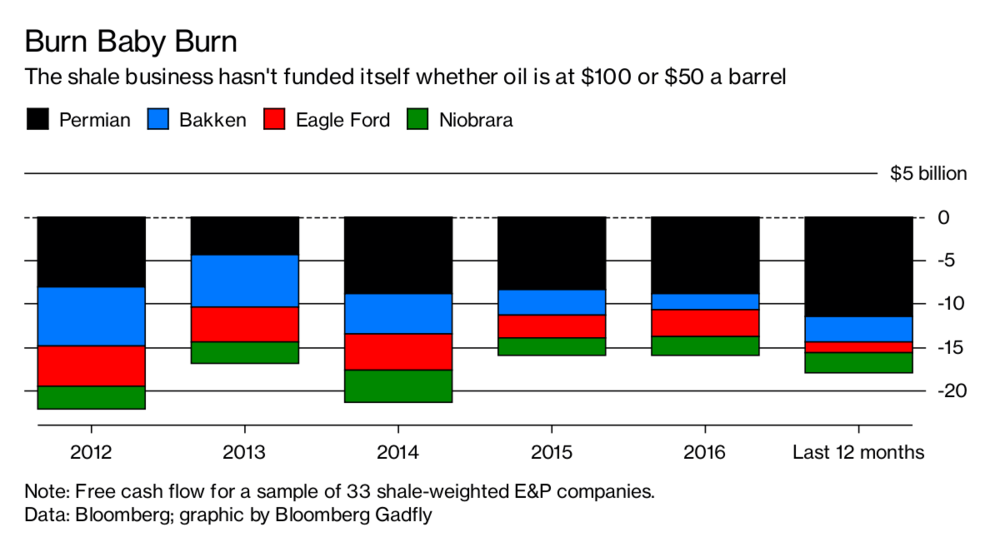 Fig 9: US shale oil industry burning cash
8 Aug 2017
"It doesn't require the closest examination of that chart to see fracking is very capital intensive, with E&P firms spending way beyond their means even in the relatively halcyon days of 2012 and 2013. The 14 Permian-exposed companies in that sample saw their cash burn accelerate over the past 12 months to a collective $11.5 billion."
https://www.bloomberg.com/news/articles/2017-08-08/shale-exploration-production-company-earnings-confidence-game
The Fracking Boom's Midlife Crisis
1/11/2017
"Crude prices bouncing around $50 to $60 a barrel have kept U.S. shale producers stuck on the edge of profitability. That hasn't been enough to shut down the oil boom in places such as North Dakota, Texas, and New Mexico—at least not yet. Drillers are heading into 2018 on the defensive as they face skepticism from shareholders who want to see less investment and more profit. They may also be finding that much of the easy oil has already been pumped.
"There's a complacency that shale is going to continue to produce at the kind of volumes that we had in the past," says Jim Brilliant, a portfolio manager for Century Management Investment Advisors in Austin, whose investments include shares in energy-related companies. Output has recently failed to meet expectations. As of June, the U.S. Energy Information Administration expected an average of about 9.3 million barrels a day, more than 220,000 barrels a day higher than companies reported."
https://www.bloomberg.com/news/articles/2017-11-01/fracking-boom-hits-midlife-crisis-as-investors-geologists-see-shale-limits
How about current US exports?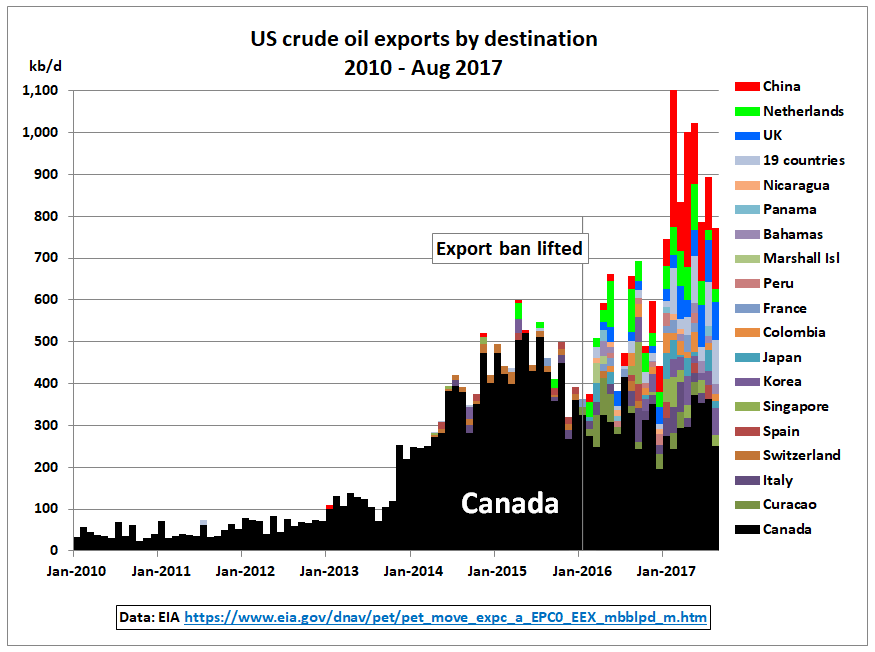 Fig 10: US crude oil exports by destination country
The US crude oil export ban to other countries than Canada was lifted in December 2015. Since January 2017 the US exported an average of 175 kb/d to China out of total exports of 900 kb/d. So the US has a long way to go to fuel China's refineries. In 2015 China had an installed refining capacity of 14.2 mb/d
https://www.eia.gov/beta/international/analysis.cfm?iso=CHN
Conclusion:
Although 10 years out of office, a former Prime Minister should be better informed about oil before spruiking endless growth in China. His successors were not better by 1 barrel. Untested assumptions including those on US shale oil dominate Australia's energy policy or lack thereof. Nothing has changed since Howard published his totally flawed energy white paper in 2004 (40 years sufficient global oil supplies, 100 years sufficient Australian gas supplies). We'd not be surprised if the current Prime Minister as well as all State Premiers would answer the question in a similar way. One may ask why the Prime Minister's office and other key departments like Resources, Energy, Transport and Planning are populated with oil-, gas- and energy-illiterate bureaucrats. A Prime Minister's office in particular should have the brightest minds with a critical mindset, being able to scan the horizon for upcoming problems and being able to audit oil and gas companies.
Related posts:
20/10/2017
Australia's east coast gas crisis will be permanent
http://crudeoilpeak.info/australia-east-coast-gas-crisis-will-be-permanent
27/3/2017
Howard's energy super power stuck in domestic gas shortages
http://crudeoilpeak.info/howards-energy-superpower-stuck-in-domestic-gas-shortages
8/7/2011
"Yes, Prime Minister", peak oil 2006 under your watch
http://crudeoilpeak.info/yes-prime-minister-peak-oil-2006-under-your-watch
The paper I handed over to John Howard is in the downloads menu http://crudeoilpeak.info/downloads