4 ½ years after I advised former Industry Minister Kim Carr to help the Australian car industry retool to manufacture CNG buses, rail cars and components for the renewable energy industry, the last Australian manufacturer, Toyota, announced its closure.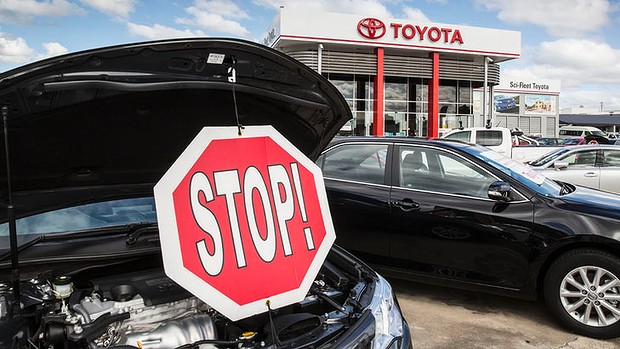 http://www.smh.com.au/business/comment-and-analysis/why-toyotas-exit-will-hurt-more-than-holden-20140210-32cx3.html
Toyota to close: thousands of jobs to go as carmaker closes Australian plants by 2017 10/2/2014 Toyota has made the "heart-breaking" announcement that it will stop making cars in Australia in 2017, bringing an end to the nation's car manufacturing sector. Toyota Australia president and chief executive officer Max Yasuda and Toyota Motor Corporation president and chief executive officer Akio Toyoda broke the news to employees at the company's Altona plant, in western Melbourne, this afternoon. He blamed the "unfavourable Australian dollar", high costs of manufacturing and low economies of scale.
http://www.abc.net.au/news/2014-02-10/toyota-to-pull-out-of-australia-sources/5250114
Flashback to 2009
At the 45th ALP National Conference in the Sydney Convention Centre I handed over to Industry Minister Kim Carr (and other Ministers and delegates) a peak oil paper "Australia in the last quarter of its oil age" which recommended:
=> Re-tool car industry to mass produce buses running on compressed natural gas (CNG), rail cars and components for the renewable energy industry.
31/7/2009
Australia in last quarter of its oil age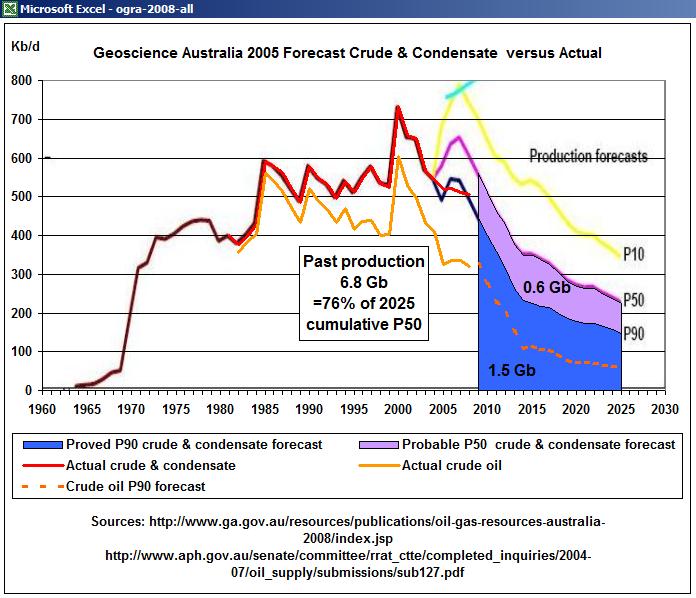 http://crudeoilpeak.info/australia-in-last-quarter-of-its-oil-age
That was a hard task in a totally car crazy city like Sydney. The convention centre itself is surrounded by freeways and tollways and not far from the exhaust stack of the Xcity tunnel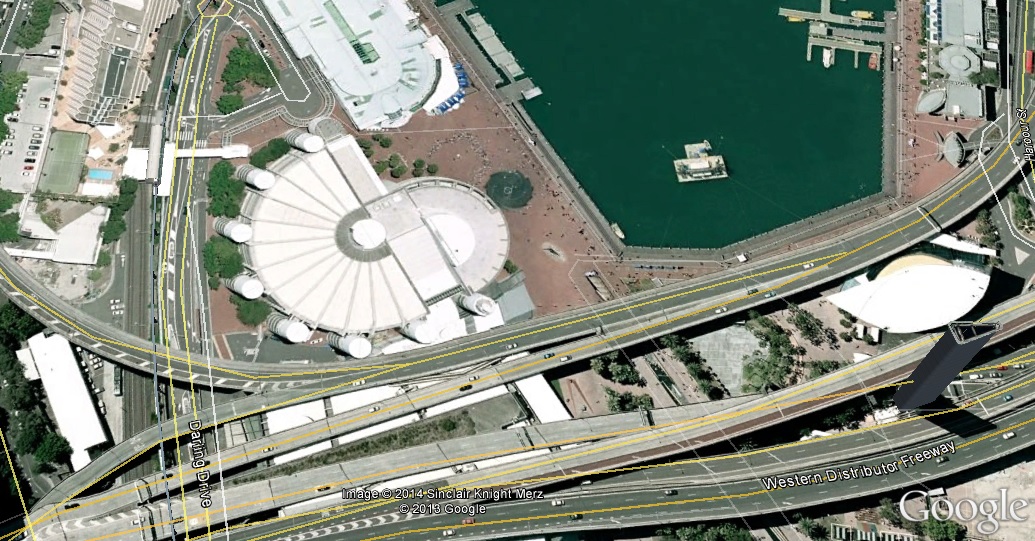 The Sydney Convention Centre  (built in 1988 now already being demolished!) only metres away from the Western Distributor.
The 2009 ALP conference was the 1st conference after the Rudd government came to power in November 2007.  It was dominated by the global financial crisis and the response to it.
31/7/2009
Rudd instructed that a sombre atmosphere be projected throughout the three-day conference, in order to cast an image of a government hard at work in the face of a deepening economic crisis. Unlike previous conferences, no grand entrance, complete with blaring music, accompanied the Labor leader's appearance at the meeting.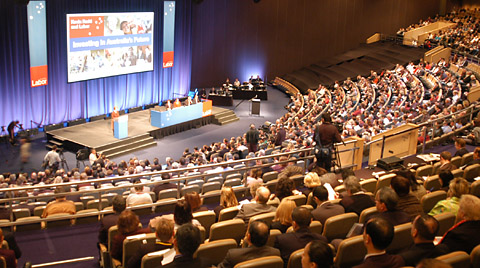 http://www.wsws.org/en/articles/2009/07/alpc-j31.html
Address to ALP National Conference
Sydney Convention Centre
Prime Minister – Rudd, Kevin
30/7/2009
The global financial crisis, which began in August 2007, has given rise to the worst global economic recession in three quarters of a century.
In 2009, the global economy is projected to shrink for the first time since the war.
What began as a global financial crisis, has become a global economic crisis, which has in turn become a global employment crisis.
This crisis has been caused by a combination of unrestrained greed, unlimited credit and unregulated markets – all cornerstones of an ideology of free-market fundamentalism promulgated by the political right over the last decade and more. ……
The Government has acted with a three stage economic stimulus strategy – to fill the gap left by a private sector in retreat.
The first stage – direct cash payments to pensioners, carers, veterans, farmers in hardship and working families – to support the 1.5 million Australians working in retail.
The second stage – medium term infrastructure including the biggest school modernisation program in Australia's history, the single biggest investment in social housing in Australia's history, and the biggest investment in energy efficiency measures for all Australian homes.
And the third stage – long term infrastructure investments in rail, road, port, universities, TAFEs, hospitals and medical research facilities, urban water projects, clean energy and a national high-speed broadband network.
The Government will now create 50,000 new green jobs, traineeships and apprenticeships aimed chiefly at helping young Australians to obtain new skills during the downturn – new skills which will be become highly applicable in the low carbon economy of the future.
Specifically, these fifty thousand positions will be made up of:
* 4000 disadvantaged job seekers participating in the current insulation program;
* 6000 local green jobs through the jobs fund;
* 10,000 places in a new National Green Jobs Corps;
* 30,000 trainees and apprentices in priority sectors of the building and construction sectors and other trades, where places will concentrate across the range of green skills competencies that will be needed in the future. These will be achieved through a new National Green Skills Agreement and will start building a new skill base in existing industries and cutting-edge industries, and create jobs and opportunities for generations to come.
The practical job-ready skills included in this training will include:
* Training electricians in the installation of solar energy;
* Training plumbers in the installation of water-recycling, plumbing systems; and
* Training workers in the booming home insulation industry and the retro-fitting of buildings to reduce energy consumption
That is why we have honoured our commitment to ratify Kyoto, to introduce a Carbon Pollution Reduction Scheme; to introduce a renewable energy target of 20 per cent of total electricity generation by 2020; a new $4.5 billion clean energy initiative, including ground-breaking clean coal technologies and a $1.6 billion investment in what will become the single largest solar energy project anywhere in the world.
http://pmtranscripts.dpmc.gov.au/browse.php?did=16724
A bad start in 2007/08…
Rudd's term had started with the closure of Mitsubishi in March 2008. 5/2/2008 ALI MOORE: You're a new minister in a new government, does this announcement depress you? KIM CARR: It's very depressing. It's disappointing. We did know that something of this type was on the cards.
http://www.abc.net.au/lateline/business/items/200802/s2155284.htm
…and problems were already 2 years old
Problems had started already in early 2006, under the previous [Howard] government.
Mitsubishi takes 3 weeks off
10/2/2006
The company announced three weeks ago that it was cutting production of the 380 from 30,000 units a year to 27,000. The plan also involved a voluntary redundancy for 250 workers. Since its launch last October, Mitsubishi's 380 has failed to produce impressive sales figures despite the model's honeymoon period as a newcomer to showrooms. It has not reached its monthly sales target of 2500 cars. Its best month so far was November with 1650 sales, dropping to 719 units last month. Mitsubishi has invested $600 million in manufacturing the car.
http://www.theage.com.au/news/national/mitsubishi-takes-3-weeks-off/2006/02/10/1139465805163.html
Mitsubishi also manufactures wind generators. It was Howard's failure to help a transition away from cars to renewable energies. New factories were going up in Mexico, for example. 24/10/2007 VienTek LLC (VienTek), a joint venture between Mitsubishi Power Systems Americas, Inc. (MPS) and TPI Composites, Inc. (TPI), has opened its second wind blade manufacturing plant in Juarez, Mexico [900 employees]

http://www.tpicomposites.com/press-room/archive/mitsubishi-tpi-open-second-wind-blade-plant-in-mexico.aspx
The Rudd government continued with car dreams, although the rhetoric was better:
10 Nov 2008
THE federal government's $6.2 billion automotive industry package will support jobs at a time of a global financial crisis and into the future, Prime Minister Kevin Rudd says.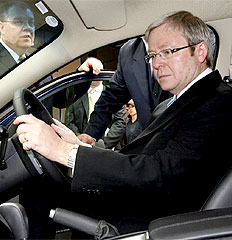 The plan sets aside $500 million – double the amount recommended by the Bracks review – for a green car innovation fund. "Australia needs a green car industry that manufacturers the fuel efficient, low-emissions vehicles of the future and creates the well paid, high skilled green jobs of the future." [Rudd] "Consumer preferences have shifted away from sedans, to both smaller vehicles on the one hand and four-wheel drives on the other." Higher petrol prices had driven consumer demands for more fuel-efficient vehicles, he said. Mr Rudd said the automotive industry had a key role to play in climate change and faced a complicated set of industry challenges.
http://www.theaustralian.com.au/archive/news/pm-injects-62bn-into-car-industry/story-e6frg6of-1111117992603
Peak oil and Public Transport as Fringe Events
Rudd's  Convention Centre speech 9 months later did not contain any analysis that peak oil and high oil prices in 2008 had triggered the financial crisis although research from James D. Hamilton became available in May 2009 CAUSES AND CONSEQUENCES OF THE OIL SHOCK OF 2007-08 "….the price run-up of 2007-08 was caused by strong demand confronting stagnating world production….The experience of 2007-08 should thus be added to the list of recessions to which oil prices appear to have made a material contribution."
http://www.nber.org/papers/w15002.pdf?new_window=1
At the ALP 2009 conference, the vital issues of oil and transport had been moved to what the conference organizers called fringe events http://www.alp.org.au/features/conference/fringe.php (link is dead) like this one, at 7 am in the morning:
The economy, our cities and transport (Currie, Stanley, Moore) Solving the Australian Urban Transport Problem by Prof Currie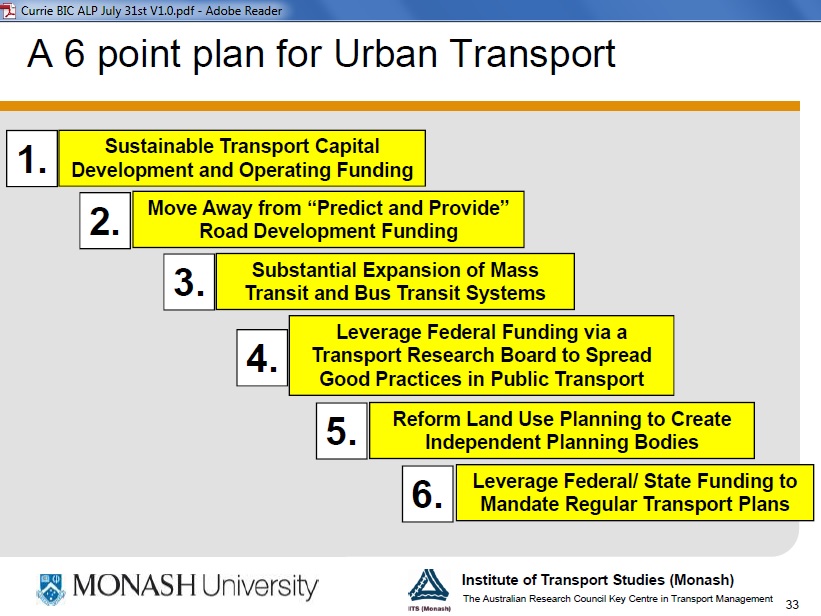 https://www.dropbox.com/s/17zm6c4vbctt4od/Currie%20BIC%20ALP%20July%2031st%20V1.0.pdf
Another related event at the conference:
The Perfect Storm – Australia's role in a time of crisis
31/7/2009
The Sussex Room, Crown Plaza Darling Harbour. The World faces a "triple crunch" the Global Financial Crisis, climate emergency and escalating food prices and resources shortages. Is Australia up to the challenge at home and in our region? Speakers will be:
The Perfect Storm will be chaired by Miriam Lyons Executive Director of CPD and is held as a fringe event to the 45th ALP National Conference.
http://cpd.org.au/2009/06/the-perfect-storm-australias-role-in-a-time-of-crisis/
Rudd's speech also ignored advice from its own department BITRE which had just completed a peak oil report in March 2009 (with a peak in 2016/17).  Even 2 ½ years later the government did not dare to publish it:
24/2/2012
Australian Government kicks own goals in Senate peak oil debate (peaky leaks part 3)
http://crudeoilpeak.info/australian-government-kicks-own-goals-in-senate-peak-oil-debate-peaky-leaks-part-3
Despite Rudd's pledge for green jobs, main objectives in the ALP 2009 platform paper on energy were just the opposite:
Australian Labor Party National Platform As determined by 45th National Conference 30 July – 1 Aug 2009
"Promote the sound development of Australia's coal, oil and gas resources, with particular regard to domestic requirements, the development of Australia's coal, oil and gas exports, and the need for a stable and profitable coal and oil and gas industry." (p 35) http://parlinfo.aph.gov.au/parlInfo/search/display/display.w3p;query=Id%3A%22library%2Fpartypol%2F1642945%22
Resource Minister Martin Ferguson can be seen here [right]  in the front row at the conference: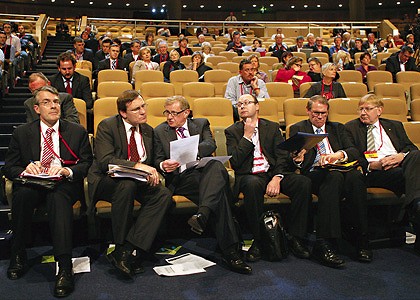 http://www.smh.com.au/national/passion-bypass-as-men-in-suits-rule-20090730-e337.html
Missed chance to become a millionaire
While distributing the above mentioned flyer in front of the Convention Centre, a black limousine pulled up, with a CC license plate and laden with Chinese business men. In my diary I wrote: "I thought let me see whether they are interested. One guy took the paper and immediately read it, another started talking and after reading the label on my suit said: 'I want to buy your peak oil company' but then someone else in the group called him back."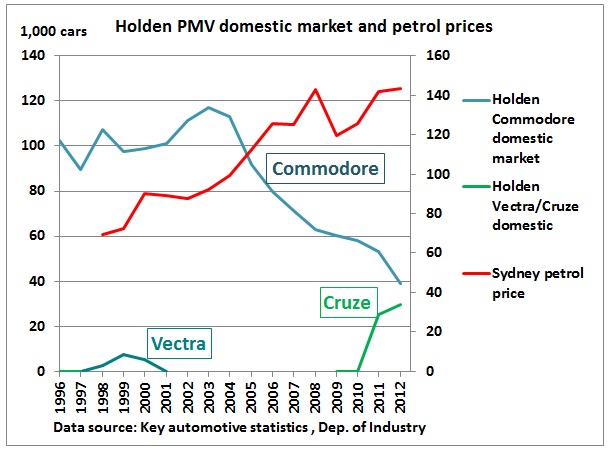 Conclusion:
Already in 2009 it was much too late to rescue Australia's car industry.  Holden's domestic market had already shrunk by half from a peak in 2003, the year of the Iraq war. In that year, all warning bells should have rung in governments and corporate headquarters. Until this very day no one wants to hear them as the new Australian government intends to embark on new ambitious, oil-dependent projects like road tunnels, highway extensions and additional airports.
Related posts:
9/1/2014
GM Holden did not prepare for peak oil – since 1998 (Part 1: The Howard years)
http://crudeoilpeak.info/gm-holden-did-not-prepare-for-peak-oil-since-1998
15/4/2011
Ford cuts jobs in Australia – more signs of peak oil
http://crudeoilpeak.info/ford-cuts-jobs-in-australia-more-signs-of-peak-oil …