The Australian electorate has voted for a Prime Minister who 3 years ago said he was sceptical that the concept of peak oil has any value as tool for policy makers. That is in addition to him being a climate sceptic which is well known. So Australia has a leader who is in denial of powerful physical processes which no doubt will impact on this new government in ways which will surprise many. Did the previous government not fail because it was unable to and disunited about dealing with fossil fuel addiction, how best to put a price on carbon and how to explain to the public why much of the cost of living pressures are caused by high oil prices as a result of peak oil? Does the new government think it will perform better by simply ignoring all these problems?
And what role will the media play? Even the public broadcaster ABC was in the last years not able or willing to link daily events to peak oil and global warming on a continuing, consistent basis. So the electorate remained basically uneducated which allowed the Rudd/Gillard government to self-destruct while at the same time no real alternative government could develop.
As the media dropped the ball on peak oil, this was not an election issue in 2013 so we have to go back 3 years to find the new Prime Minister's remark during the 2010 election campaign
Q:  Do you acknowledge that the world is facing a future of oil depletion and if so, how would you begin to prepare Australia for the major threat this poses to the way we live our lives?
TONY ABBOTT:  ….So, look, I know about the concept of peak oil [at the 2008 Sydney Writers Festival he hadn't heard of it so this is a pat on his own back]. I don't claim to be the world's greatest expert in it, but I'm sceptical as to its value as a tool for policy makers because at the right price, we've got a lot more reserves than we currently think. With better technology, we've got a lot more reserves than we currently think.
http://australianconservative.com/2010/08/tony-abbott-at-the-brisbane-peoples-forum/
Tony should give this valuable advice to Chevron, on which Caltex filling stations will depend when Sydney's Kurnell refinery closes in 2014.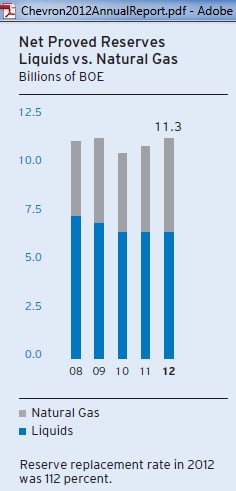 Let's have a look at Chevron's oil reserves. Liquid reserves (blue) declined after 2008 and stayed flat since 2010, contrary to what Tony thought in the same year.
In fact, despite reserves being flat and a production rebound in 3 countries, Chevron's oil production has again declined since 2010. Why did high oil prices not stop this?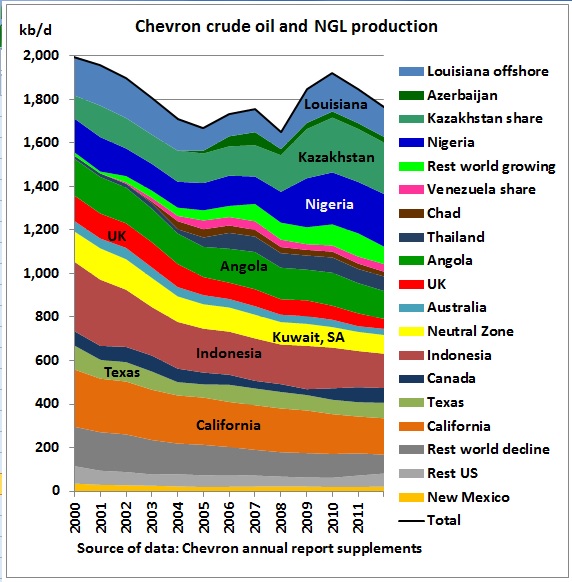 Because production decline in around 50% of Chevron's oil fields is persistent. Maybe the "right' oil prices must be much higher for any assumed additional oil reserves to be turned into actual oil flows?  But that of course would not be a vote winner. More details can be found in this post:
28/8/2012     Chevron's oil production, sales decline by 5%
http://crudeoilpeak.info/chevrons-oil-production-sales-decline-5
So how about Australian oil reserves? We take data from Geoscience Australia released in February 2012
http://www.ga.gov.au/products-services/publications/oil-gas-resources-australia/2010/reserves/table-1.html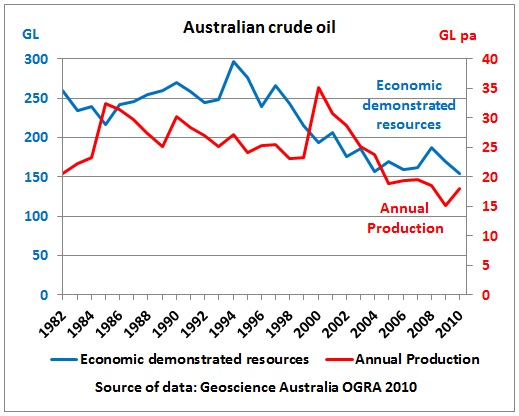 Nil return. Both resources (not only reserves) and annual production are declining.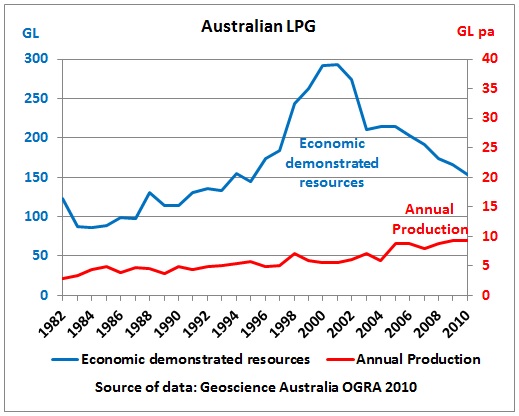 Nil return.  Both resources (not only reserves) and annual production are declining.  Millions of  Australian motorists assume they can switch easily to LPG just in case there is a problem with petrol.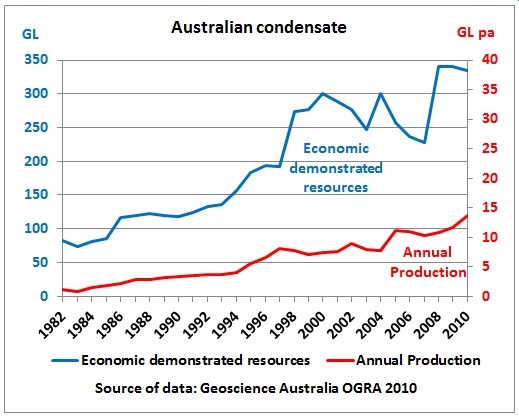 Finally we have some resources and production increasing. But what do we do with condensate? Australian refineries (those which will survive) can use only 5% of it so most if it is exported. What is done with corresponding royalties and tax revenue (if any)? Invested in oil dependent highways?
And how about global oil reserves?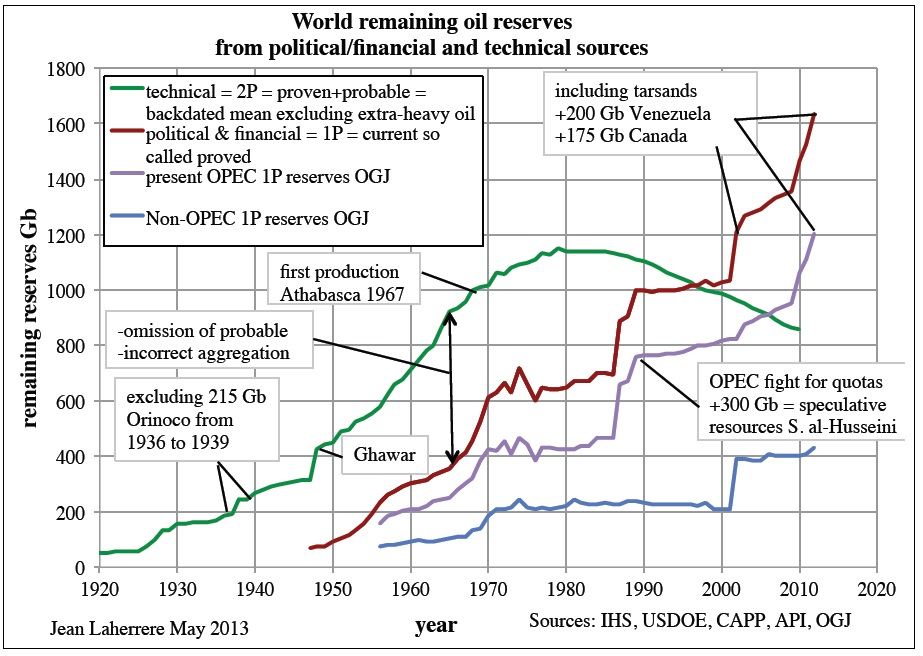 Graph from the French oil geologist Jean Laherrere. While political oil reserves are increasing technical reserves are in decline since a peak in the 1980s.
So where are the failures of the media? Let us take some recent examples in which geo-political events have not been put in the context of peak oil.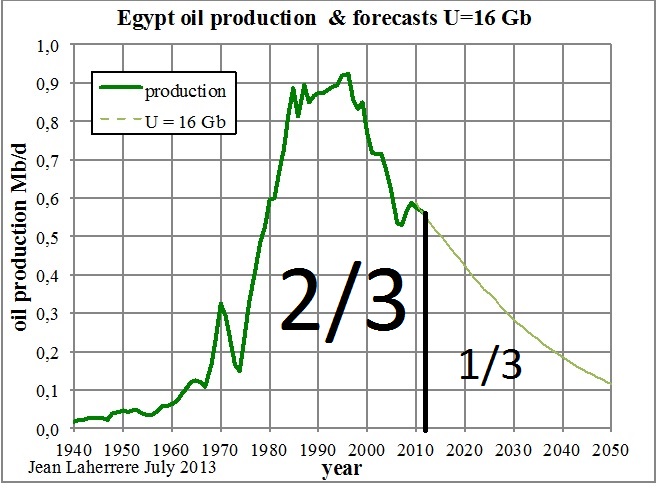 4/7/2013    2/3 of Egypt's oil is gone 20 years after its peak
http://crudeoilpeak.info/23-of-egypt%e2%80%99s-oil-is-gone-20-years-after-its-peak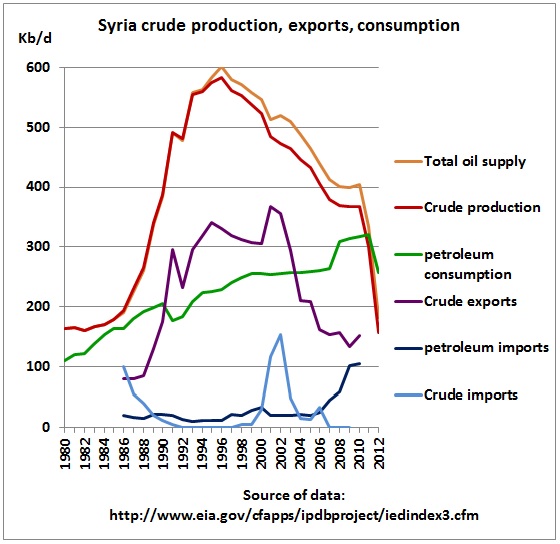 This peak oil graph for Syria shows that the conflict there is about much more than Tony Abbott's assessment of this being a war between baddies and baddies.
http://www.theguardian.com/world/2013/sep/01/tony-abbott-syria-conflict-baddies
Here is an article which connects the dots:
Syria background – oil and climate change
http://www.resilience.org/stories/2013-09-05/syria-background-oil-and-climate-change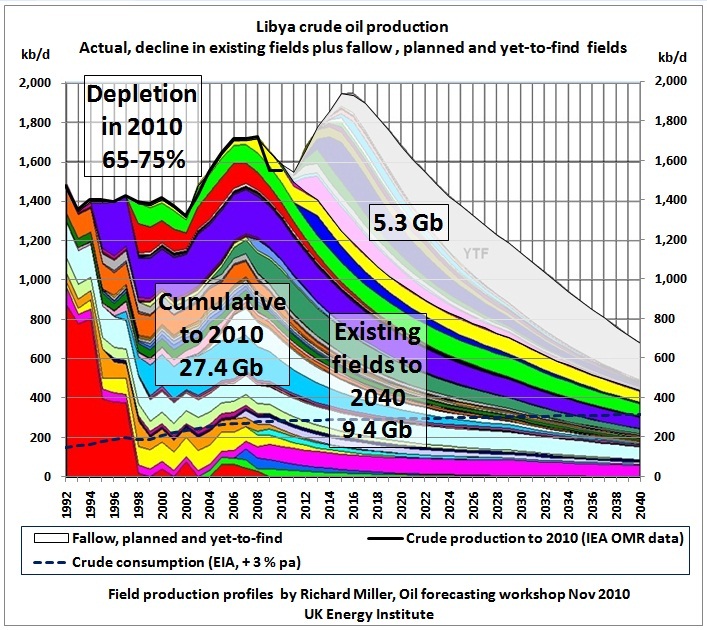 24/6/2011  War overshadows peak oil in Libya
http://crudeoilpeak.info/war-overshadows-peak-oil-in-libya
Libya at a crossroads as strikes threaten oil supplies
3/9/2013
Libya is facing its most critical moment since the ousting of Muammar Gaddafi with armed groups blockading oil fields and terminals, choking output to a 10th of normal levels and threatening economic disaster.
With the government forced to import fuel to keep power stations running and queues growing at petrol stations, the prime minister, Ali Zaidan, has repeatedly threatened to send troops to retake striking ports.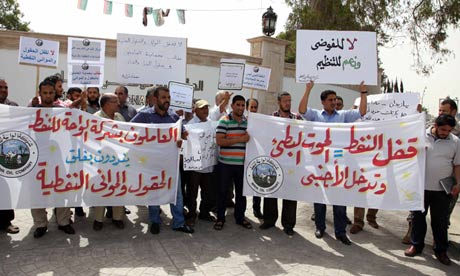 Ibrahim Ali Jathran, commander of troops who have defected to seize the terminals, warned his soldiers would fight back. "We will resist," he said.
The government controls just two oil ports, with production at about 160,000 barrels a day. The National Oil Corporation admits even this is guesswork, because its measuring gauges are broken, forcing officials to rely on dead reckoning.
Jathran insisted the strike was in reaction to what he said was a seizure of power – and oil revenues – by the Muslim Brotherhood in Tripoli.
"The Brotherhood has hijacked the state and parliament. It has infiltrated the oil ministry with armed groups," he said.
"We are currently witnessing the collapse of state in Libya, and the country is getting closer to local wars for oil revenues," said Swiss oil analysts Petromatrix.
http://www.theguardian.com/world/2013/sep/03/libya-oil-supplies-tripoli
Of course, this is too far away from Australia for anyone even to bother thinking about it.
Conclusion:
The public is left in the dark (or to search for themselves on the internet) about what is really happening in key countries with geopolitical importance. The Australian electorate has voted a government into power which promises to build the roads of the 21st century [Abbott slogan] without checking on oil supplies for this decade.
Related post:
26/8/2013
Australia's future Infrastructure Prime Minister will increase our oil vulnerability
http://crudeoilpeak.info/australias-future-infrastructure-prime-minister-will-increase-our-oil-vulnerability